Al Pacino portrays beloved and disgraced Penn State football coach Joe Paterno in new HBO film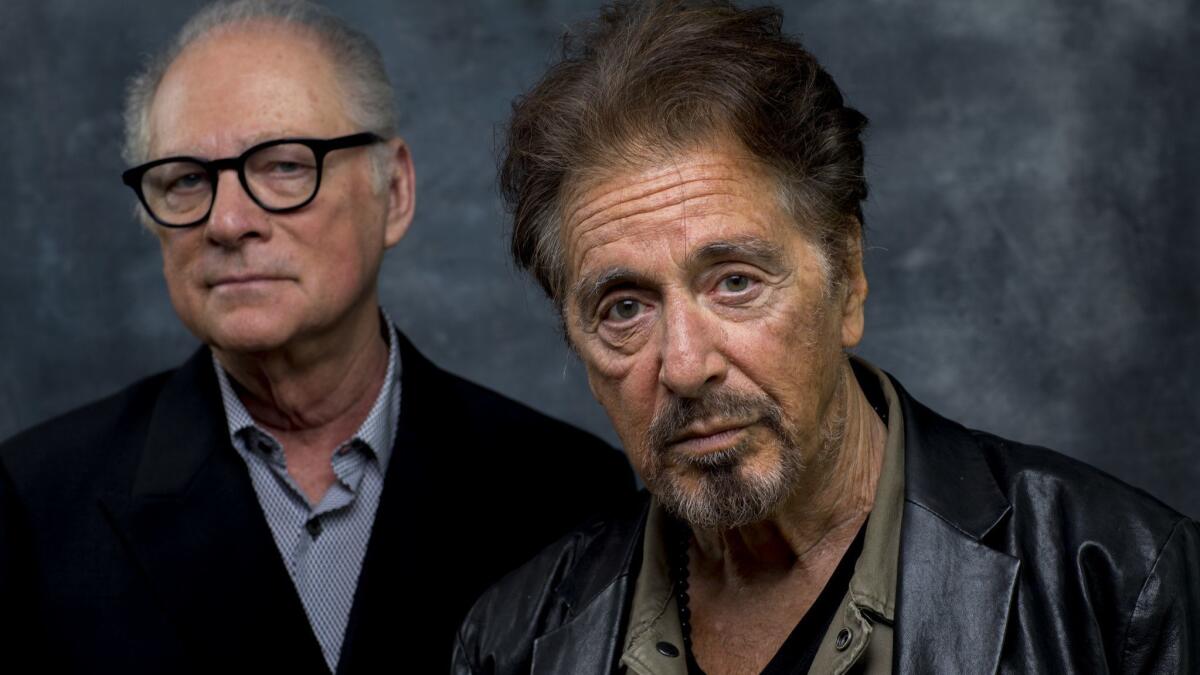 Penn State University head football coach Joe Paterno was already an icon in the sports world in 2011 when he reached perhaps the biggest milestone of his amazing career — a victory over Illinois that established him as the winningest coach in major college football history at the tender age of 84.
But the fanfare quickly faded over the next 11 days as events circling the beloved coach nicknamed JoePa, who had transformed Penn State's football program into a national powerhouse during a 45-year run, escalated into a thunderous scandal that all but destroyed his legacy.
News broke that Jerry Sandusky, Paterno's longtime assistant coach who had retired to launch a charity for underprivileged youth, had sexually abused minors over a period of at least 15 years — including during his time at Penn State. Paterno, who was never implicated directly in the scandal, faced mounting suspicions about the extent of his knowledge about the misconduct and his involvement in covering up Sandusky's behavior.
Ultimately, he was fired five days after his historic victory — three regular season games short of finishing his 46th season as head coach.
His inglorious fall from grace would recast the many obituaries written about him just two months later when, on Jan. 23, 2012, he died of lung cancer. That rapid period of turmoil, from Paterno's record win to his cancer diagnosis, is the focus of HBO's "Paterno."
Premiering Saturday and directed by Barry Levinson ("The Wizard of Lies," "You Don't Know Jack"), the film stars Al Pacino — a legend in his own profession — as the embattled figure who looks back on the events leading to his downfall while inside an MRI machine."In that two-week period, he went from his highest moment to his lowest moment" says Levinson, seated next to Pacino during a promotional stop for the film at a Beverly Hills hotel. "And in that MRI machine, he is running through his life, layer by layer. He's forced to examine all these things."
In that two-week period, he went from his highest moment to his lowest moment.
— Barry Levinson, executive producer and director of HBO's "Paterno"
Less than a decade after the furor — and following a multi-year journey that originally had Brian De Palma, who had directed Pacino in "Scarface" and "Carlito's Way," attached to helm the project — the depiction of the scandal arrives at an auspicious cultural moment where the subject of sexual abuse is intersecting with both sports and entertainment.
The sports universe was rocked once again by a recent case of serial sexual abuse, this one against girls and young women by USA gymnastics physician Larry Nassar. Hollywood's reckoning with a flood of sexual misconduct allegations, which have prompted a national uproar, is still in progress.
"If you applied this story to today, there are voices that were trying to speak out and they were not heard. It festered and it went on, and there were other boys, and then, at some point, it exploded," Levinson says.
Pacino says: "That kind of thing — not being heard — I don't think would happen again. There's an awareness now, if anything."
Sandusky was convicted on 45 counts of sexual abuse of children in 2012 and was sentenced to 30 to 60 years in state prison.
The project reunites Pacino and Levinson, who have worked together on HBO's Jack Kevorkian biopic "You Don't Know Jack" (2010) and 2013's "Phil Spector" as well as the indie film "The Humbling" (2014). The two say their main interest was directed toward the complexities of human behavior and the questions surrounding not only what Paterno knew but how effectively he responded.
At stake was this larger-than-life reputation of a coach who fostered a culture that demanded academic achievement from his players; a figure so beloved that full-size cardboard cutouts of him were a common fixture around town; a grandfatherly figure with hiked-up pants and Coke-bottle-thick glasses who was known as the King of Happy Valley, the nickname for the area that surrounds Penn State.
"He's compelling because he's the king and something is amiss in the kingdom," HBO Films President Len Amato says by telephone. "That was the real Shakespearean element to the story from the beginning."
Before his death, Paterno testified before a grand jury that he first learned about the abuse in 2002 after Mike McQueary, a former graduate assistant, told him that he witnessed Sandusky showering with a young boy at Penn State's athletic facility. Paterno reported the incident to university officials, who did not report it to police.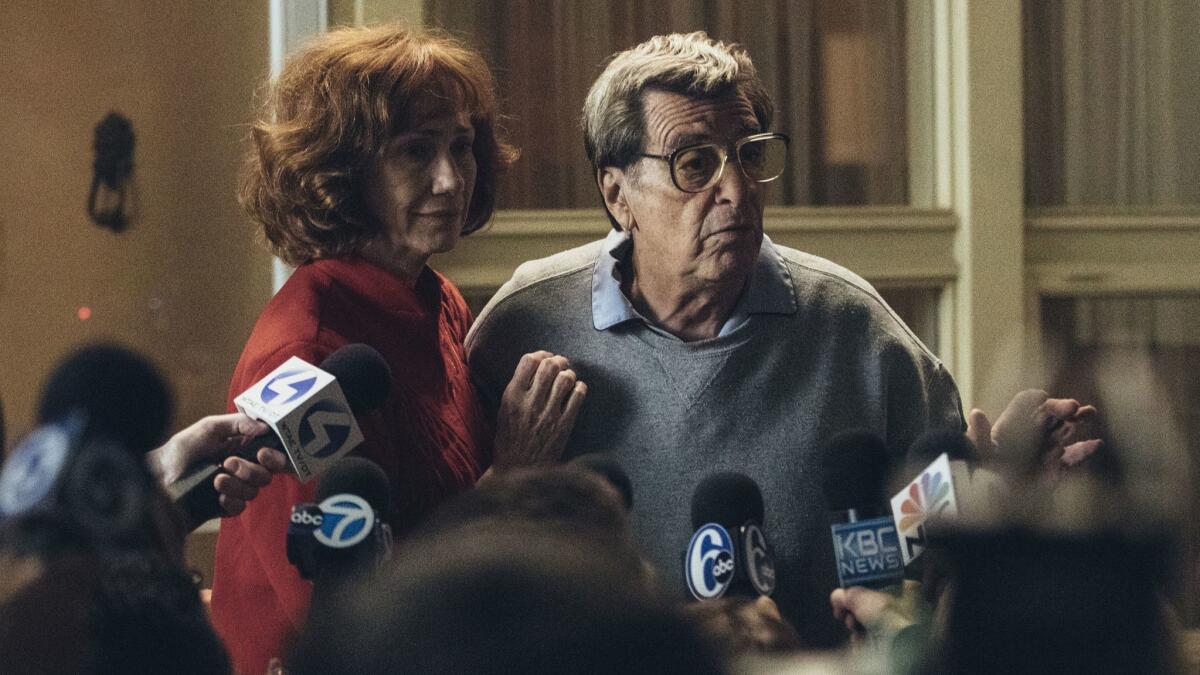 But former FBI Director Louis Freeh, who investigated the Sandusky scandal at Penn State, declared that Paterno actively worked to persuade university officials to not report Sandusky to authorities.
"This was a man who believed in education, someone of integrity, someone who wasn't just a coach. You couldn't have a more respected individual," Levinson says. "And these incidents took place under his watch. So what happened? I think that's what creates the wonder. If he was some deceptive guy, maybe it'd be less shocking. But he wasn't, by all accounts. He was a man of high integrity. So, again, what happened? We are just trying to make sense of it, but at the same time we present a picture of a man confronted with his downfall."
For Pacino, the interpretation that fueled his performance hinged on the idea that Paterno was a man unable to deal with external factors.
"[Paterno] was focused on football — that's what gave him both his pleasure and his identity," he says. "And, now, to focus on something else in the midst of this, I guess was not the easiest thing … I don't think he saw himself as someone who could take on any situation unless he really knew about it. Because he takes on football, which is something he really knows about, where he's comfortable, where he feels in control...That doesn't excuse not doing more, but I think that's where he was: just focus on what you know to the exclusion of much else."
Pacino, familiar with playing disgraced public figures such as music producer Spector and McCarthy-era lawyer Roy Cohn, was careful not to mimic the sports icon. His main research was to watch a lot of footage of the coach.
Levinson points to a moment near the end of the film — the Penn State vs. Nebraska game that marked the first time in 60 years that Paterno would not be on the field — that illustrates the depth of Pacino's embodiment of Paterno.
"Suddenly, Paterno is divorced from it and he goes into his bedroom and shuts himself off from it — it's like he's in prison," Levinson says. "I said to Al: 'What if I just played the sounds of the game and you just walk around the room. It's not even about what the game is, it's that you're not at the game.' It's a two-and-a-half minute scene. He doesn't say a word. And yet he says so much."
Production on the movie took place in Long Island, N.Y., with a few exterior shots filmed in Happy Valley. Levinson says neither Paterno's family, nor the families of the victims, were involved with the project. The book, "Paterno," by Joe Posnanski, was one of the many sources of material used in crafting the narrative.
Sara Ganim, the former Patriot-News reporter who broke the Sandusky scandal, served as a consultant. (She's also a key character in the movie, with actress Riley Keough playing the part.)
"[HBO] took a lot of care in dealing with the facts of what we know," Ganim, who had been approached by Hollywood a few times before about developing a Paterno project, says by telephone.
Asked about the film, a Penn State spokesperson said in a statement: "We do not feel it would be productive or appropriate for the University to engage in discussion about the film's depiction of events."
[Paterno] was focused on football — that's what gave him both his pleasure and his identity
— Al Pacino, who portrays Penn State University head football coach Joe Paterno in "Patern"
One key aspect explored in the film is the unflinching fan worship that surrounded Paterno, even as his culpability was questioned. One scene features a crowd of supporters chanting Paterno's name outside his home, unwilling to stop even as Paterno's son, Scott, tries to get them to say a prayer for the victims.
Levinson says he's not preoccupied with a backlash from Paterno loyalists: "You're trying to do a piece, which you think is based on a whole lot of credible information. Some people are going to say this, and some people are going to say that. A lot of people always dig their heels ..."
Asked what has kept some in the community from moving on, Ganim, now a correspondent for CNN in Washington, D.C., points to the gray area.
"It's not black and white," she says. "Human nature is we don't deal well with the unknown. I think people fill in where there is a blank and people have either filled in to one extreme or the other. You can't confront him with some of the facts that have come out of the trials. You can't confront him with emails...I think whatever lesson is being learned from this is maybe we shouldn't be participating in such idol versions of other people. But I'm not sure that that's resonated."
The most-read Entertainment stories this hour »
Twitter: @villarrealy
Get our L.A. Goes Out newsletter, with the week's best events, to help you explore and experience our city.
You may occasionally receive promotional content from the Los Angeles Times.