'PEN15' creators Maya Erskine and Anna Konkle on playing their uncool 13-year-old selves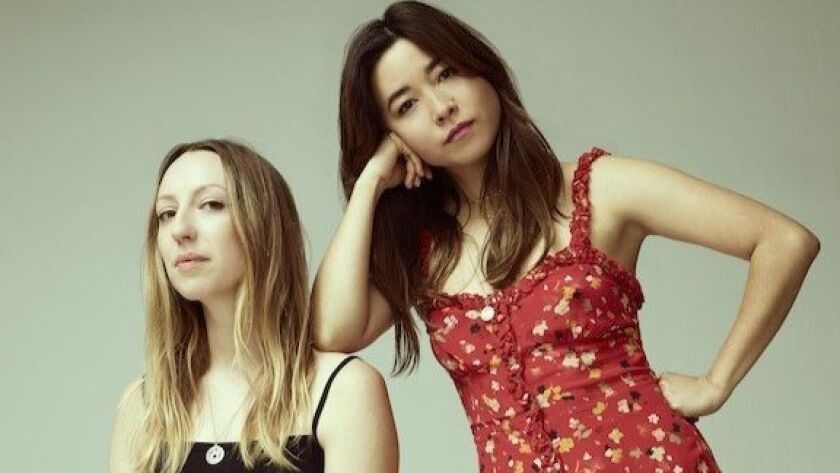 Comedy duo Maya Erskine and Anna Konkle have barely settled into their seats at a Silver Lake coffee shop when they learn Scott Speedman — the quintessential brooding heartthrob for a generation who snacked on WB network's bundle of young adult dramas in the late '90s — had just left the premises. The excitement, the kind that makes you wonder if you're sitting among teenagers while swapping teen magazine tear-outs, is hard to suppress.
"Wait, are you serious — he was just here?" Konkle, 31, asks as she strains her neck to scan the area on the slight chance the former "Felicity" star may still be within sight.
"Was he looking for me?" Erskine, also 31, deadpans while joining in on the rubber-necking.
It becomes easy to see how the pair have effortlessly channeled their inner seventh-graders for "PEN15," their charmingly weird adult comedy about middle school. The series, which premieres Friday on Hulu, is set in the year 2000 and features the two creators playing 13-year-old versions of themselves — school rejects Anna Kone and Maya Ishii-Peters — surrounded by actual teenage actors.
The series, whose title is a reference to a schoolyard prank, joins a smattering of projects in recent years — Netflix's "Big Mouth" and big-screen critical darlings like "Eighth Grade" and "Lady Bird" — that offer a portrait of adolescence in all its unforgettable and emotionally harrowing essence.
"I feel like when you talk to people, and bring up seventh grade, for some reason that is a compartmentalized part of the brain that never goes away," Erskine says. "The memories — that time of intense highs and lows — still feel so fresh … and mortifying."
Review: Never mind the joke title, 'PEN15' may be the year's best new show »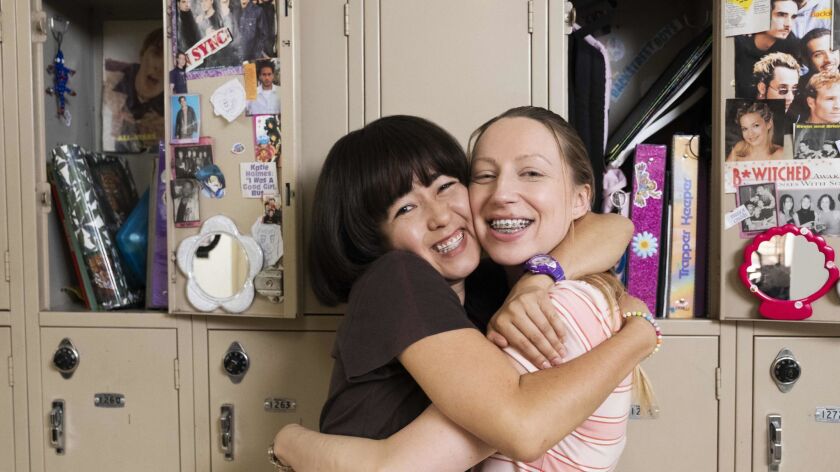 I feel like when you talk to people, and bring up seventh grade, for some reason that is a compartmentalized part of the brain that never goes away
— Maya Erskine, co-creator and star of Hulu's "PEN15"
So, what was seventh grade like for them?
Erskine grew up in Los Angeles and attended the elite Crossroads School for Arts & Sciences in Santa Monica — a fact she reveals almost apologetically. She was the girl who crushed on Brad Renfro, lined her bedroom walls with "Got Milk?" and Absolut Vodka ads and rented artsy coming-of-age French films like "Pauline at the Beach."
"It's funny," she says, "because my friends from that time are like, 'You seemed like you were so happy and you were friends with everyone,' " Erskine says. "But I was miserable. It was a time when class differences started to show, and I was not in the upper part of it. And I so desperately wanted to be that, and I desperately wanted to hold on to those friends who were veering away from me. I feel like most of my trauma comes from that time of feeling rejected by my friends."
Roughly 3,000 miles away, Konkle was navigating her teen years in a coastal town in Massachusetts. She prided herself on not being obsessive over celebrities at that age — but don't be mistaken, she definitely developed a liking for Justin Timberlake. Her room had a Winnie the Pooh border and Winnie the Pooh bedding — "that's so not cool," she says.
::
The two wouldn't know each other until their junior year at NYU's Tisch School of Arts when both attended an experimental theater workshop abroad in Amsterdam. The anxiety they felt about participating in the storytelling exercises required in the program was a special kind of bonding experience.
"We were bonding over our IBS issues and our anxiety," Konkle says. "It was a very intensive theater program, and everyone was performing constantly and having to create work and produce. And we had diarrhea."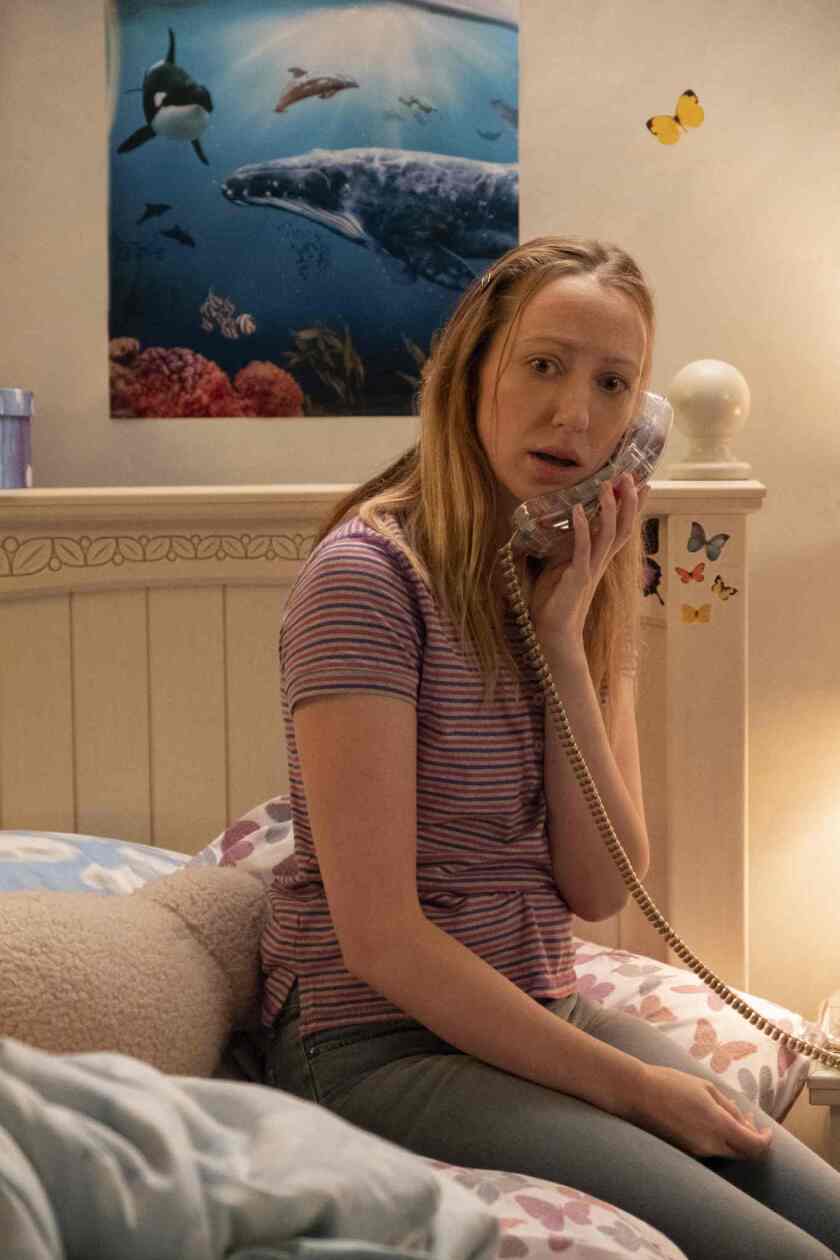 "And we just glommed onto each other because of our similar comedic tendencies and weird interests," Erskine adds.
After graduation, their goal was to live in New York and pursue theater. But things never quite took off. Erskine moved back to Los Angeles to see what acting jobs she could land; and Konkle, who had been waitressing in New York while trying to keep her stage ambitions alive, eventually joined Erskine in Los Angeles. The plan? Make a web series.
"It was all an experiment; we just wanted to see if we would like it," Erskine says. The series, "Project Reality," was essentially a faux reality-show where they played a variety of characters.
"It was incredibly difficult," Konkle says. "But afterwards I was like, 'I've never felt as empowered as I have when we're making stuff together.' "
Then one night, roughly five years ago, they went to a party that was attended by many of Erskine's former middle school classmates.
"I felt all of the insecurities that I felt in seventh grade," Erskine says. "I was like, 'at this age, how are you still reverting back to this time?' I thought I got over all the trauma and self-consciousness. But the idea that you never really leave seventh grade was really an exciting thought."
"And it just came through a couple days of brainstorming," Konkle adds. "We're just 13, surrounded by 13 year olds, in the year 2000."
But how? One idea, quickly scrapped, had them escaping a cult and having to hide in society as 13 year olds. Another concept had them as grown foster children.
The idea to play it straight on came from their writer-director friend Sam Zvibleman, who is the third creator on the show. The concept would catch the attention of Party Over Here — the production company founded by Andy Samberg and the rest of the Lonely Island — and the trio was commissioned to make a 15-minute presentation to shop to networks.
"At the time we conceived it, we hadn't seen middle school represented in a way that felt authentic, and true to our experiences, except for [the 1995 film] 'Welcome to the Dollhouse' — but that was really dark" Erskine says. "I think the idea of having us play these teenagers, as opposed to having real kids go through the traumatic experiences that we had, made it easier to laugh about because there is distance for the viewer to put themselves in those shoes."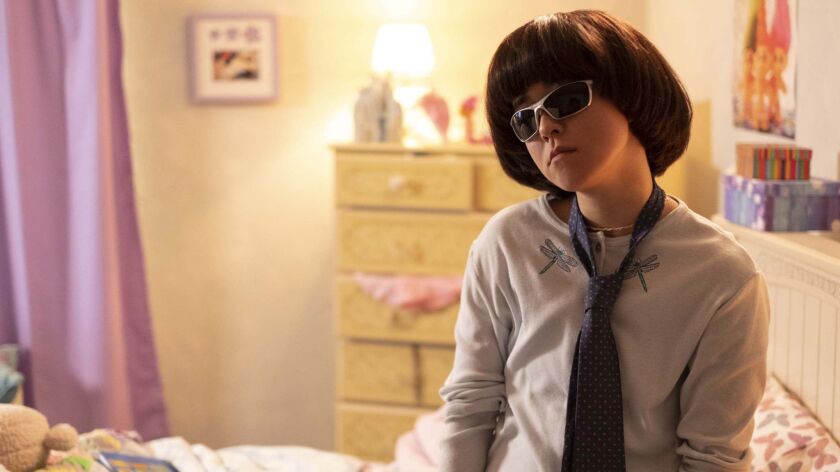 Erskine and Konkle wanted a realistic portrayal of those inelegant years, so, yes, there will be uncomfortable moments.
"It was vital to us," Erksine says, "to show things that traumatized us, that are ugly, that aren't necessarily pretty to look at or are uncomfortable to talk about or that are scary for us to share because, hopefully, other kids, or even adults haunted by their teenage years, can be like, 'Oh, good, I'm not alone.' "
Konkle says the look of her character — the braces, the hair — more closely resembles what she looked like in fourth grade. Erskine didn't have a bowl cut, as she does in the show, but she did have a "boy haircut" in the fourth and fifth grade. The slight mustache — "I had it then, and I still do," she says.
::
Of course, pitching "PEN15" was a comedic feat in its own right. The pair squirm recalling one particularly cringe-worthy meeting. During her enthusiastic sell, Erskine placed a photo of her as an awkward teenager, standing next to her father, square in front of a cable executive's face and said: "Before this picture was taken, I remember masturbating."
Konkle, laughing, adds: "It was just so bizarre."
"And I'm like, 'So, in the show, we're gonna go there — she's going to masturbate just like this,' " Erskine says.
Konkle: "And he was like, 'Can you put the picture down, please?' When it ended and we got to the elevator, everyone was like, 'Don't do that again.' "
It gets them talking about the ways in which Hollywood can sometimes feel like middle school. "It's constant comparing and striving to be relevant," Konkle says.
'PEN15'
Where: Hulu
When: Any time, starting Friday
Rating: TV-MA (may be unsuitable for children under the age of 17)
Twitter: @villarrealy
---
The complete guide to home viewing
Get Screen Gab for weekly recommendations, analysis, interviews and irreverent discussion of the TV and streaming movies everyone's talking about.
You may occasionally receive promotional content from the Los Angeles Times.