Q&A: A black boy and a Barbie named Kenya: Why Ava DuVernay's 'Queen Sugar' goes where many black stories won't
Director Ava DuVernay is no stranger to being bold. Not only was her 2014 Martin Luther King Jr. biopic "Selma" nominated for a best picture Oscar, she's the first woman of color to direct a live-action film with a production budget over $100 million. And she's used that clout to cast a young actress of color, 13-year-old Storm Reid, as protagonist Meg Murry, previously played by a white actress, in Madeleine L'Engle's beloved classic "A Wrinkle in Time."
Still, with "Queen Sugar," the scripted drama DuVernay created for Oprah Winfrey's OWN, bold might be an understatement. With a young male character who plays with a Barbie doll, the Long Beach-born writer-director is consciously aiming to stoke conversation about identity in the African American community.
"I wanted to make sure 'Queen Sugar,' in a lot of different ways, is pointing to parts of our conversation as a black American family," she said, "particularly the things we close our eyes to and don't talk about or don't know how to talk about."
"Queen Sugar," which is adapted from Natalie Baszile's novel of the same name, follows the life of a trio of siblings in Louisiana after their father bequeaths them an 800-acre sugarcane farm following his death. Starring in the hour-long show, executive produced by DuVernay and Winfrey, are Rutina Wesley, Dawn-Lyen Gardner and Kofi Siriboe. Playing the young boy Blue, with a love for a Barbie named Kenya, is Ethan Hutchison.
DuVernay spoke exclusively with The Times about the decision to have Blue playing with a doll, something that didn't happen in the book and isn't often present in stories about black family life. She also spoke about taking her time to tell the story of "Queen Sugar" and her hope that audiences will "sink" into the show.
How did you decide on this particular story line with Blue and having him play with a Barbie?
I wanted to make sure that the story of "Queen Sugar" reflects all parts of our identity as black people. I want to start to interrogate the ways in which we embrace our identity, and that's happening with all the characters. Everyone is upside down with who they are and what it means to be someone else. It felt like there was a good opportunity with Blue to do the same, particularly around issues of identity as it relates to the ways in which we conform to certain notions of masculinity in the black community.
I'm really sensitive to the story line because I don't want it to be something that we're flag-waving or using as a big story point in a "special episode of Season 1." I really want to start to seed it in. Literally for much of the first season, no one's paying attention to the doll except Ralph Angel [played by Siriboe], his father, who's very aware and very protective. As Blue becomes older, and as other people in the family notice [the doll], it will start to become a point of conversation. This is a commitment from me and the writers to really explore this story line in a long-term way.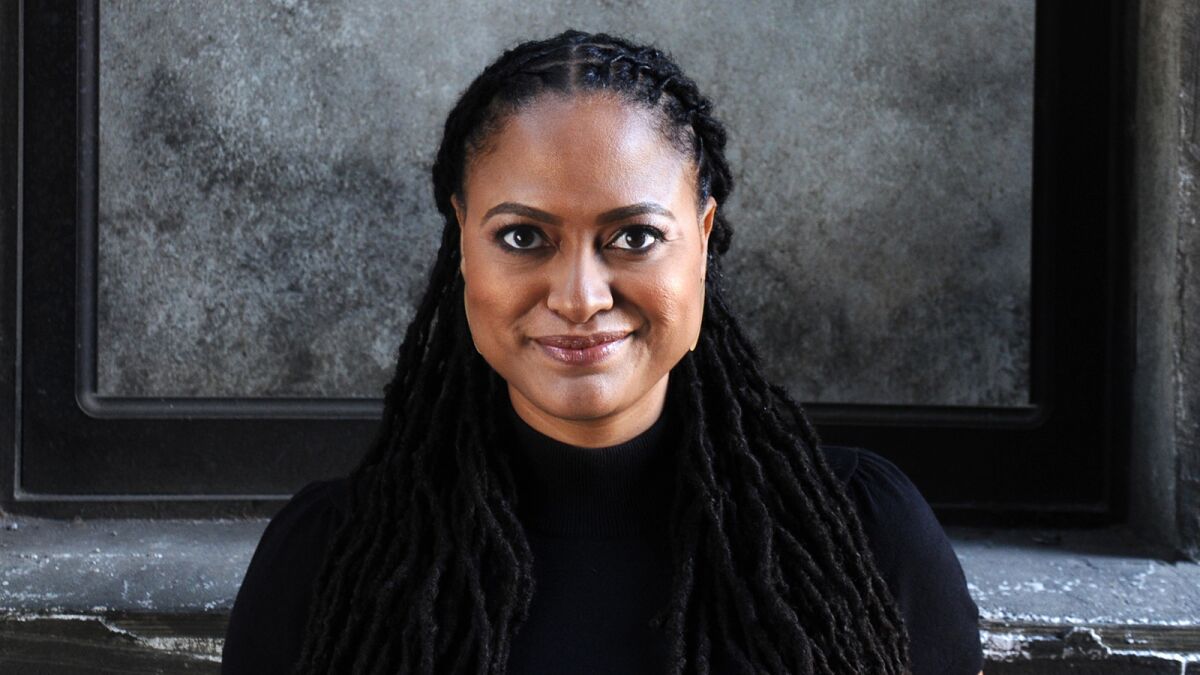 We don't typically see black male characters playing with dolls. Was the intention to do something fresh or different?
The intention wasn't for it to be fresh. The intention was for it to tell the story, and getting it to be a point of conversation among our audience. I want questions to be out there about this story line before we start to narratively unpack it. That's the construction of it. You're not going to see a lot of the characters yapping about this in Season 1, but [the doll] Kenya is present and Kenya is a part of this boy's life. So the questions is: How do we as black American families start to converse about this boy and this doll? I want to see what comes out of it.
At the Los Angeles premiere, you spoke about being able to take your time with "Queen Sugar." What did you mean by that?
I feel like we're in an era right now where it's a lot about individuality and the ability to be heard, which I am all for — I love me some Twitter and social media. But for all the individuality and ability to be heard, I wonder what we're really saying. It's become a collective reaction to things a lot of the time, and that comes because we're such an instant culture... I wonder if by slowing the narrative down, and making it so that every second doesn't have something to react to, could it elicit a different collective reaction? Or more individuality in terms of the way people are able to enter the piece, connect with it and then see and talk about it?
That's not something often given to creators to do on television. It's only because my homegirl happens to own a network that I think you get a little bit of space to try something different. I see this kind of pace in TV shows and films that don't feature black folks and people of color. I mean, Barry Jenkins' "Moonlight" is a lot about the spaces in between. It seems like folks are a lot more comfortable watching the spaces in between lives that they know than the spaces in between folks that they don't know. But if we say that black lives matter, then you've got to see black lives mattering and having meaning, and that's not just coming from the heightened moments. That's coming from the everyday moments, the real life that we live. So the question is can that be narratively compelling. I think it is.
I just want to get across the whole idea of people sinking into this. That's the only way it's going to work is if you stop, take a moment and watch it and sink into it.
'Queen Sugar'
Where: OWN
When: 10 p.m. Wednesdays
Rating: TV-14 (may be unsuitable for children under the age of 14)
Get your life! Follow me on Twitter: @TrevellAnderson.
ALSO
How Alexis Arquette and the Lady Chablis paved the way for Hollywood's transgender moment
Who will Emmys host Jimmy Kimmel thank if he wins?
'When The Bough Breaks' and the rise of the black romantic thriller
---
The complete guide to home viewing
Get Screen Gab for everything about the TV shows and streaming movies everyone's talking about.
You may occasionally receive promotional content from the Los Angeles Times.