Robin Weigert expands her gallery of distinctive TV characters in 'Dietland'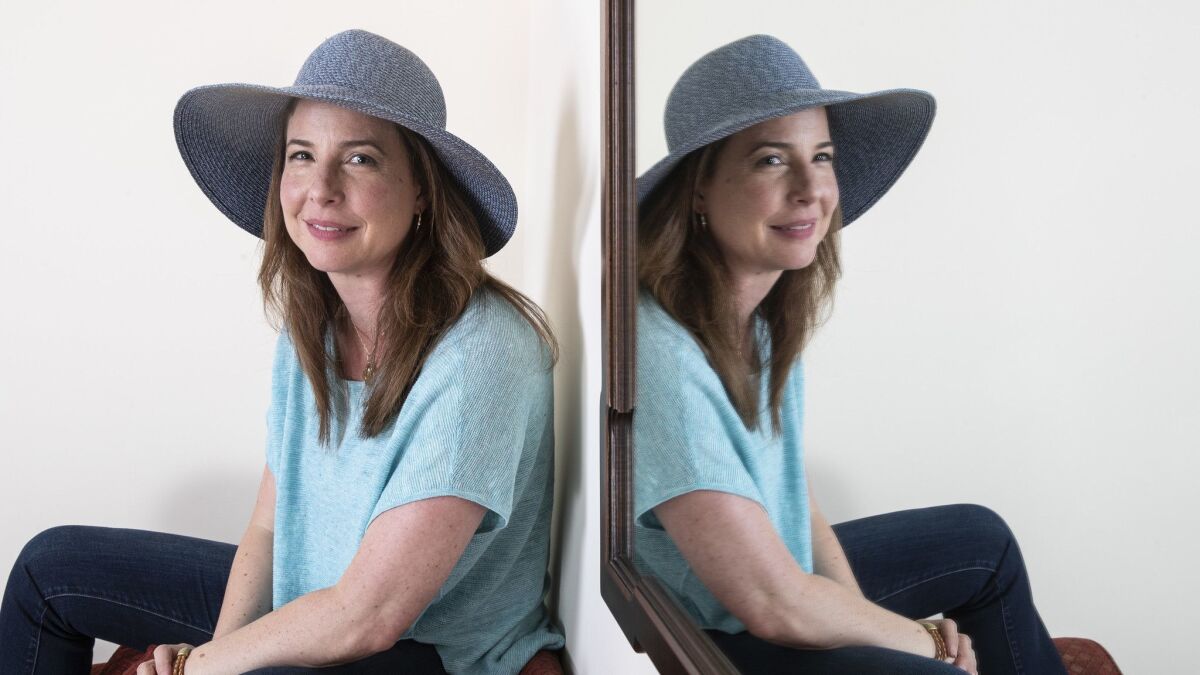 Robin Weigert sees parallels between her first acting role as the fairy tale villain in her elementary school's production of "Hansel and Gretel" and the silken-voiced therapist she plays on AMC's "Dietland."
The dramedy, an adaptation of Sarai Walker's 2015 satirical novel, revolves around Alicia "Plum" Kettle (Joy Nash), a ghostwriter for high-powered magazine editor Kitty Montgomery (Julianna Margulies). Weighing in at 300 pounds, the insecure and withdrawn Plum is tormented by her body image and is saving up for weight-loss surgery when she meets Verena Baptist (Weigert), the scion of a weight-loss empire who runs a commune of sorts for women called Calliope House.

For the record:
9:00 a.m. July 21, 2018An earlier version of this article reported that "Dietland" was nearing the end of its second season. This is the series' first season.
Baptist, who uses tough love and unconventional methods, is "a self-styled feminist Obi-Wan Kenobi," Weigert says. Whether she'll turn her newly woke Jedi knights into Darth Vaders for the #MeToo era remains to be seen, however.
"Is she a good witch or a bad witch?" Weigert asked recently at her West Hollywood home, comparing her childhood character to her current role. "She definitely has an agenda."
The "heiress with a mission," as Weigert describes her, is the latest in a string of distinctive roles for Weigert, who critics and costars say doesn't just step into the shoes of her characters — she inhabits them.
Her impressive gallery includes the hard-drinking, foul-mouthed Calamity Jane from HBO's "Deadwood," a disillusioned lesbian mom who moonlights as a sex worker in the 2013 indie film "Concussion" and a savvy lawyer for an outlaw motorcycle gang in "Sons of Anarchy."
"When she's working on a role, all that matters is what it requires," said Tony Kushner, creator of "Angels in America" who worked with Weigert on an off-Broadway revival of the epic play as well as the HBO miniseries adaptation.
"She has these absolutely bottomless reserves of feeling and immense intelligence. She can do five things at once, even if some of them are contradictory," Kushner said.
Before "Dietland," the actress played a counselor to Nicole Kidman and Alexander Skarsgard's Celeste and Perry Wright in "Big Little Lies," rooting out life-threatening abuse in their seemingly perfect marriage.
"Dietland" creator Marti Noxon wanted the Verena Baptist character to have "a lot of layers," saying that Weigert "can't help but bring so many colors to everything she does."
"Verena is a very complex white woman who is very awake to oppression but maybe not so awake to her own tendencies to control people," Noxon said via email. "Robin just perfectly captures that while still letting us like her."
Weigert said viewers are smart to be suspicious of her character: "What she's doing isn't exclusively for the health of her clients. She's trying to create a shift in consciousness one person at a time."
The series, which in its episodes incorporates hot topics such as rape culture, female empowerment, the beauty industry and citizen vigilantes in a sort of "Fight Club for women," as Noxon has described it, will run its inaugural season finale on July 30.
Though excited about "Dietland," Weigert is also pumped about the return next year of "Big Little Lies," where she will reprise her role of Dr. Amanda Reisman. Most of her filming is already finished, she said, though she won't have any scenes with her professional idol Meryl Streep, an addition to the cast who once wrote her a note that said, "There are brilliant things ahead for you. Mamma knows."
Kidman, who won an Emmy for lead actress in a limited series for the first season of "Big Little Lies," singled out Weigert in her acceptance speech. In a phone interview earlier this week, she called Weigert one of her "main dance partners" on the show.
"She's incredibly smart and fluid and responsive and present," Kidman added. "You're only as good as those you're working with, and she's an actor's actor. My kind of girl."
Weigert had some deep reserves to draw on for the role — her father and grandmother were psychotherapists. Even real-life practitioners gave her a thumbs up on social media for sensitivity and realism.
Her scenes in "Big Little Lies" are "filled with compassion, specificity and soul," said executive producer Per Saari, calling her work "a gift to the series."
"The fact that I'm afraid is a huge indicator that I should say yes."
— Actor Robin Weigert, on fear as a motivator for her career
And within months, Weigert is likely to revisit another past performance as the long-awaited "Deadwood" movie is scheduled to move forward. The series, which premiered in 2004 and lasted three seasons, was about a outlaw mining town in the post-Civil War years. The project has long been talked about; Weigert, showing off a prop pistol and bullwhip she managed to take when the series wrapped, said there's a 90% chance it'll finally happen.
Weigert, a fan favorite in the profane, cult-classic series, "absolutely brings alive the character of Calamity Jane — every bit the authentic creation the character was herself," said "Deadwood" mastermind David Milch.
Since it was one of her first roles for TV — she'd mostly done live theater up to that time — Weigert said she didn't yet know the mechanics of the process. Nor did she think twice about walking from her hotel to HBO's offices in full cowgirl regalia for a meeting, but that was before the New Yorker transplanted to Southern California and learned that nobody walks in L.A. (She prefers a fold-up bike these days).
"I was so green on that set that they had to sandbag me like an animal so I'd hit my mark," she said, though it became "the most extraordinary, life-changing experience I ever had."
She admits being terrified by the part initially, but she said fear has always been a good motivator in her career.
"The fact that I'm afraid is a huge indicator that I should say yes," Weigert added.
Weigert, who credits Streep's performance in "Sophie's Choice" as her "siren call" to acting when she was a preteen, said the diverse characters she's played "all run on different motors" that give her customized challenges.
"I've had the good fortune to play such an array of women," she said. "And they've shown that a character part doesn't have to be a tiny part or just a colorful side character. They stand on their own."
---
The complete guide to home viewing
Get Screen Gab for everything about the TV shows and streaming movies everyone's talking about.
You may occasionally receive promotional content from the Los Angeles Times.