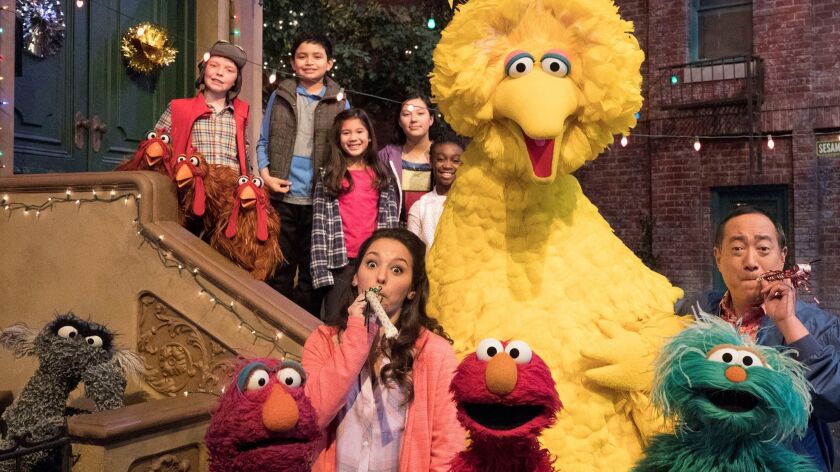 Elmo, Abby, Big Bird and Cookie Monster are chasin' the clouds away … all the way to Los Angeles this summer.
The beloved denizens of "Sesame Street" and Sesame Workshop (the nonprofit behind the children's educational series) have scheduled a visit to the city where the air isn't always so sweet from Aug. 1-3, organizers announced Tuesday morning. The road trip is part of the seminal program's 50th-anniversary celebration.
A free festival will take place on Aug. 3, capping the series' nationwide tour that kicks off in New York on June 1. "Sesame Street"-themed activities, including a giant maze, a treasure dig, a cookies-and-milk snack station and photo ops are among the scheduled activities.
"Sesame Street" will also tape a new segment for the 50th season that "will capture what local kids love about their community, visit local landmarks and community organizations across Los Angeles, and celebrate with live performances and kid-friendly activities at the free festival."
And much like the program, the "Sesame Street" road trip will be doing so with the help of community partners, celebrities and elected officials, such as L.A. Mayor Eric Garcetti.
"I will always have very fond memories of watching 'Sesame Street' when I was growing up," Garcetti said in a statement. "As a father who has seen how children's hearts and minds are enriched by the lessons of Elmo and Big Bird, and as mayor of a city that shares the timeless values — friendship, compassion, and respect for our differences — it has shared with generations of kids, I am proud to welcome the show to Los Angeles."
No word yet on where the event will take place, but more details will be released throughout the spring, organizers said.
Season 50 premieres in November with a star-studded prime time special.
Here's where and when the festival will be held nationwide:
New York — June 1
Washington, D.C. — June 8
Pittsburgh — June 15
Detroit — June 22
Chicago — June 29
Dallas — July 6
Kansas City, Mo. — July 13
Denver — July 20
Seattle — July 27
Los Angeles — Aug. 3
Follow me: @NardineSaad
---