In the wake of Shonda Rhimes' deal with Netflix, a look back at Shondaland's ups and downs at ABC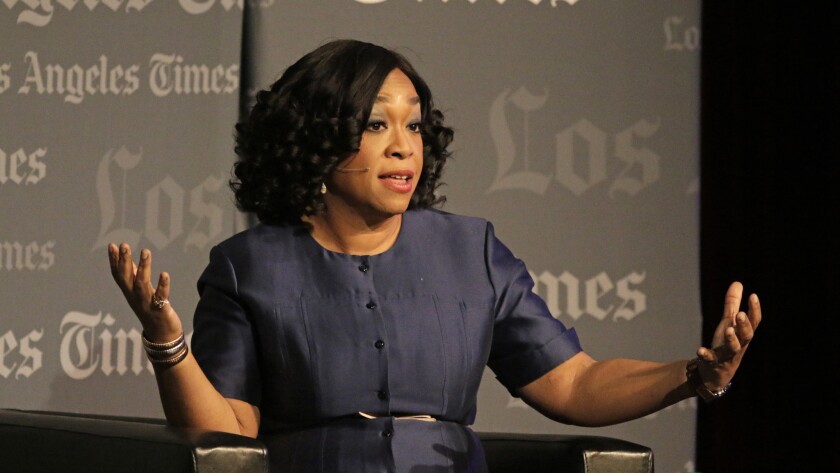 It's the television deal that has Hollywood talking.
Since 2005, prolific TV producer Shonda Rhimes has helped broadcast television in its ongoing battle against shifting viewing habits — fueled by DVR viewing and the convenience of on-demand streaming services — with a collection of ABC series built on high drama that drive viewers to tune in on a designated night and time. Now, Rhimes, well versed in high-stakes moves, is taking her TV empire to Netflix.
The mastermind behind prime-time hits "Grey's Anatomy" and "Scandal" has signed a multi-year deal with the streaming service. As part of the deal, Rhimes will bring her L.A.-based production company, Shondaland, to Netflix to produce original series and projects. (Betsy Beers, Rhimes' longtime producing partner, will also make the move to Netflix.)
Existing Shondaland shows on ABC — "Scandal," "Grey's Anatomy" and "How to Get Away with Murder" — as well as those in development at the network, will continue to air there . Here's a look at the hits and misses from Shondaland.
2005-present
"Grey's Anatomy"
The series follows the sordid lives of a group of doctors at a Seattle hospital, with Meredith Grey (Ellen Pompeo) at the center.
"I wanted to create a show that I wanted to watch," Rhimes told The Times in 2005. "I wanted it to be about women, about competitive women who were like me and my friends."
The series was slotted as a midseason replacement in spring 2005 and ended its first season with a hefty 20 million viewers. Though viewership has experienced some erosion since then, the series closed out its 12th season as ABC's highest-rated drama among the advertiser-coveted demographic of adults ages 18 to 49.
2007-2013
"Private Practice"
A spin-off of "Grey's Anatomy," the medical drama focused on neonatologist Addison Forbes Montgomery (Kate Walsh) as she moved to Santa Monica from Seattle in her search for a new life while working at a wellness center. The series also starred Taye Diggs.
After Walsh announced she'd be leaving the series at the end of its sixth season, the decision was made to end the show.
2011
"Off the Map"
The medical drama about a group of doctors working in a remote South American village starred Mamie Gummer and Martin Henderson. A Times review described it as "so inspirational and message-laden it would not be out of place on Oprah Winfrey's new network." The series aired on ABC from January to April. But Rhimes had something more promising in store.
2012-Present
"Scandal"
The series follows Washington, D.C., "fixer" Olivia Pope (Kerry Washington) and is loosely based on former George H.W. Bush administration press aide Judy Smith.
The show premiered to lukewarm reviews and soft ratings as a midseason replacement in 2012, but the fast-paced drama picked up steam after it generated strong word of mouth via social media, particularly Twitter. The heavy engagement on the social media platform has become a template in how television shows — particularly their casts — can engage with an audience and promote appointment viewing.
When it premiered, it stood as the first network television drama since 1974 with a black female lead character. In 2013, Washington became the first African American to earn an Emmy nomination for lead actress in a drama since Cicely Tyson in 1995.
The series will wrap its run at the end of its upcoming seventh season.
2014-Present
"How to Get Away With Murder"
Unlike the other shows, Rhimes is not the creator of "How to Get Away With Murder." The series, a sexy legal thriller in which Viola Davis plays a criminal defense professor who gets entwined in a murder conspiracy with four law students from her class, was created by Peter Nowalk, who had previously worked as a writer on "Grey's Anatomy" and "Scandal." Rhimes serves as an executive producer.
The launch of the series gave ABC an opportunity to make a night out of the Rhimes brand of programming. The network christened Thursdays as "TGIT" (Thank God It's Thursday).
"I think everybody else thinks it's a bigger deal than I do," Rhimes told The Times in 2014. "I know it's an incredible amount of trust that's being placed on me, I get that. ... But I'm not really thinking about, 'Oh, I'm the Thursday queen.' Uh, no. I'm thinking, 'Grey's' has to be good, 'Scandal' has to be good, and 'Murder' has to be damn good.'" The block remains a valuable assert to the ABC schedule.
Meanwhile, Davis has earned three Emmy nominations for lead actress in a drama — and, with her 2015 win, she became the first black woman to take home the trophy.
2016-2017
"The Catch"
The series, created by Kate Atkinson, Helen Gregory and Jennifer Schuur and executive produced by Shondaland, was anything but a catch for ABC. The caper drama, which starred Mireille Enos and Peter Krause, had been plagued by changes since its debut — it switched up showrunners and its format underwent retooling for a more romantic comedy tone. The series lasted two seasons.
2017
"Still Star-Crossed"
The Elizabethan period drama, from creator Heather Mitchell and produced by Shondaland, was a sequel of sorts to Shakespeare's "Romeo and Juliet." Based on the book of the same name by Melinda Taub, the series starred Lashana Lynch as Rosaline Capulet and Wade Briggs as Benvolio Montague, who are being forced to marry each other to unite their families. It premiered in May to low ratings and was quickly banished to Saturdays.
2018
Next up on ABC
Courtroom drama "For the People," from "Scandal" writer Paul William Davies, follows rookie attorneys on both sides of high-profile cases. "Samantha Who?" co-creator Don Todd has been tapped to serve as showrunner of the series, which is being prepared for midseason.
Also on deck is another "Grey's Anatomy" spinoff, which will revolve around Seattle firefighters. "Grey's" veteran Stacy McKee will serve as showrunner.
Already a subscriber? Thank you for your support. If you are not, please consider subscribing today. Get full access to our signature journalism for just 99 cents for the first four weeks.
---
The complete guide to home viewing
Get Screen Gab for everything about the TV shows and streaming movies everyone's talking about.
You may occasionally receive promotional content from the Los Angeles Times.