Southern California fires hit close to home for the upcoming TruTV comedy 'Tacoma FD'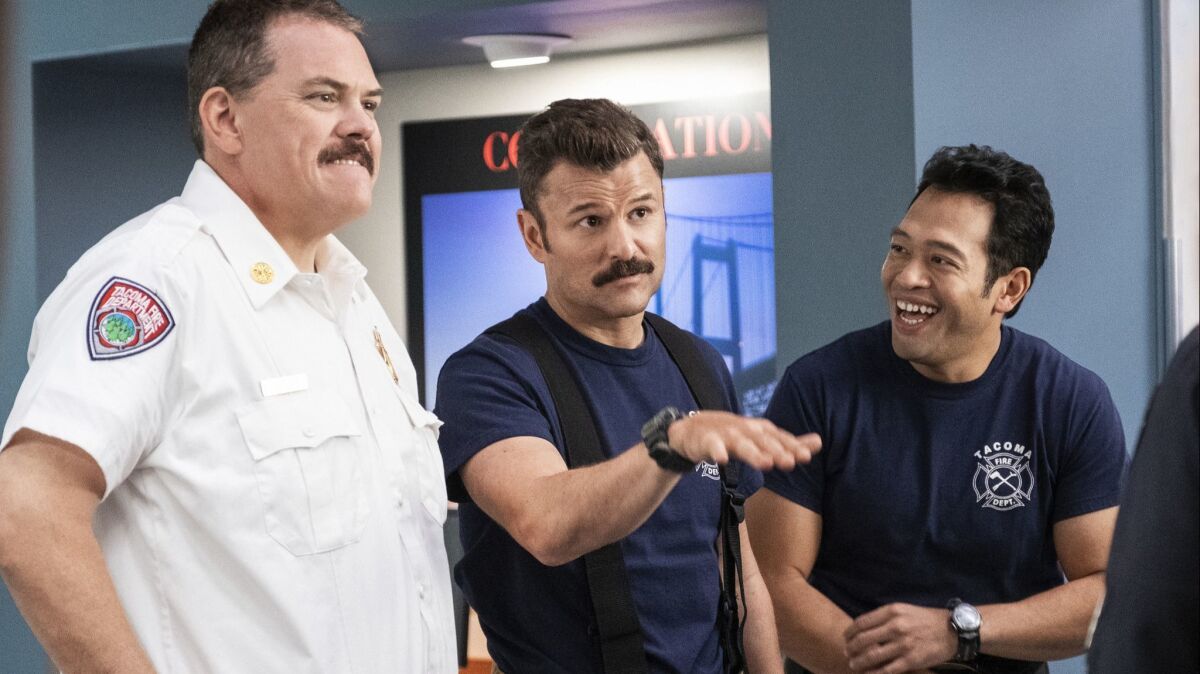 If there's one thing to be expected from the creators of "Super Troopers," it's a workplace stoner comedy involving people in uniform with too much time on their hands. What's less expected is their having to reckon with that comedy suddenly becoming topical.
Such was the situation on a recent afternoon in Woodland Hills, which stood as the improbable yet effective location for "Tacoma FD," the upcoming TruTV series led by "Super Troopers" co-creators Steve Lemme and Kevin Heffernan, which will premiere in the spring.
Set at a Pacific Northwest firehouse that the show's press materials describe as "the wettest city in America," the series fits squarely in the wheelhouse both for the laugh-centric cable network and the two comics. Their Broken Lizard troupe created the 2002 cult comedy "Super Troopers" and 2018 sequel, which both centered on the prank-riddled high jinks of a sleepy highway patrol unit in Vermont (the group is in talks for a third movie).
Any resemblance between "Super Troopers" and this series, as far as its creators are concerned, is purely intentional.
"We've been trying to get on TV for a while," Lemme says, wearing a firehouse T-shirt and, crucially, his familiar dark mustache from "Super Troopers" that pairs well with either uniform. "We kind of walked it backwards: What do people really want out of us? How can we get on the air? We're like, they want just more 'Super Troopers' — and by 'people,' I mean the networks."
Most weeks, "Tacoma" would be just another series wrapping production in any number of anonymous converted office parks in Southern California. Except this was not a normal week. Just over the hillside, the Woolsey fire continued ravaging the Santa Monica Mountains, spurring evacuations in Agoura Hills, Calabasas and Malibu, and destroying more than 1,500 structures and burning close to 100,000 acres.
The disaster, coupled with the concurrent horrors of the wind-driven firestorm that wiped out the town of Paradise and other mountain communities above Chico, has set all of California on edge. The state is reckoning with another record-setting fire season that points to a new normal, marked by red-flag warnings, wind-blown embers, and the piercing anxiety that comes with catching a whiff of smoke and hearing the echo of distant sirens.
Though a minor concern in the grand scheme of things, "Tacoma FD" found a somewhat delicate time to be playing dress-up as a fireman.
"It's an unpleasant juxtaposition," Lemme admits, "in that today what we're doing is we're going and fighting a little teeny fire in the back room of this weed dispensary and playing it for comedy. But just a couple miles away, there's really serious stuff going on.
"There's an uneasiness to that, and people are aware of it. Last week we could see the fires from the stage here," he adds, gesturing toward the hills.
"There's an uneasiness to that, and people are aware of it. Last week we could see the fires from the stage here."
— Steve Lemme, star of "Tacoma FD"
In recent days, that harsh reality came even closer. The director of the day's episode, Heffernan spoke about his family being evacuated as their home came under threat in Agoura Hills. Between takes, Paul Soter (another Broken Lizard member who writes for "Tacoma FD") joked with him about imagining agents fielding calls to get on "Celebrity Evacuations."
Lemme, who lives with his family in Topanga Canyon, experienced a flare-up in his neighborhood sparked by an ember blown miles away from the Woolsey fire. His family was next on the list to evacuate before the blaze shifted direction.
"I had neighbors saying, 'I'm not going to go until it's right at my door' and I was like, 'No, you're going to … go; these guys are working hard; you've got to get out of here,' " he remembers.
Disasters hitting close to home create a new appreciation for firemen and what they do, as does briefly — though with far lower stakes — walking in their shoes, even for the purposes of a proudly silly comedy series.
"Every time we complain about how heavy our tanks are or how hot our uniforms are, we go, 'Oh, wait a minute. There's a thousand guys in the hills doing it for real,' " says Heffernan, a bundle of cheery on-set energy who had begun pulling on the jacket and boots of his fireman's gear for the day's shoot.
Inside the show's imagined pot dispensary, Lemme gestures to the show's technical consultants, one of whom is a fireman from Connecticut wearing a Hawaiian shirt. "We'll be trying to put on our masks and take them off, and tubes are flying around and we're getting stuck in straps," he says. "These guys are just shaking their heads."
One difference between the mustachioed mischief of "Super Troopers" and that of "Tacoma FD" is that while Lemme described hearing a few complaints from real-life Vermont highway patrol officers as they weathered being mistaken for their goof-off, fictional counterparts ("Super Troopers" fans apparently tell them "meow" a lot), the firemen of "Tacoma FD" keep their antics to off-duty hours.
"The important thing is we don't want to make it seem like we're bad firefighters or we're bumbling firefighters," Lemme says. "When we're doing this, we're good at our jobs and, like real firefighters, our station is clean, we're prepared.
"The messing around starts after you've prepared."
As Lemme and his castmates break down the door of the show's smoke-filled dispensary for an early take, the show's only actual fire of its 10-episode season in every way looks the part. The actors get low and walk with purpose toward the glowing light ahead, dragging the hose behind them amid the ominous hiss of their oxygen tanks before Lemme takes aim at the flames in the dispensary's storage area.
"We told TruTV that we would do one fire per year because that's all we have the money for," Heffernan cracks. "[The show] is more about us cracking jokes in a fire station."
Between shots, he directs the actors to move "with urgency, storming the fire," and gears up to shoot his scene. Although the smoke streaming from hand-held machines is harmless and mostly odorless, a bit of reality intervenes as some of the crew don the same masks seen around the city as air quality plummeted.
While Heffernan and Lemme are quick to laugh off any real-world equivalence that "fighting" controlled propane flame bars may have with actual firefighting (Lemme points out the pad he kept under his knee while kneeling before the fire in his scene), the show's superficial resemblance to the real thing has caused a bit of confusion around town. Between takes, cast members Eugene Cordero and Hassie Harrison recalled with some embarrassment waving as some people cheered on their Tacoma-branded truck as they passed, looking as if they could be headed toward the real fires. It wasn't the first time such a mistake was made.
"There was a guy in a pickup truck; he had 'USA' [tattooed] on his arm," Lemme remembers. "And I was riding shotgun — I was right next to him — and he looked at the truck and said, 'You guys came all the way from Tacoma to fight the fires, huh? Right on, brother.' And I didn't have the heart to tell him I'm just an actor. So I was like 'Yeah, dude,' and he was like 'Cool!'"
Still, "Tacoma FD" could never fool the experts — not that they would want to. "One of our actors was driving it for a shot the other day, and he was driving it back to the set. The local firetruck pulled up next to him, and he's like 'How's the filming going?'" Heffernan says with a laugh.
"They're like, 'We're looking forward to the show!' They knew."
Follow me over here @chrisbarton.
ALSO:
Get our L.A. Goes Out newsletter, with the week's best events, to help you explore and experience our city.
You may occasionally receive promotional content from the Los Angeles Times.