Review: TruTV's 'Those Who Can't' is a teachable moment in subpar comedy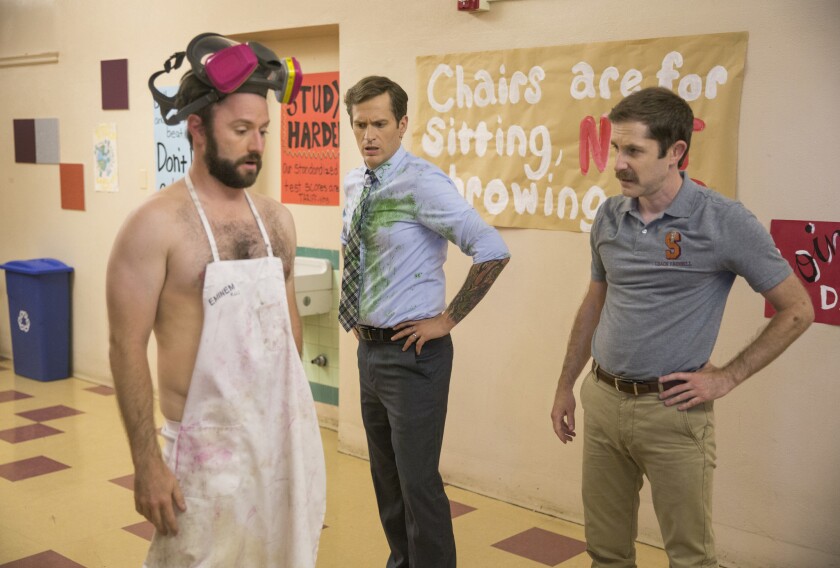 Los Angeles Times Television Critic
In the new world of television, streaming services now regularly come to the rescue of canceled cable and network shows — Netflix finished off "The Killing" and gave a home to "Unbreakable Kimmy Schmidt." "The Mindy Project" can now be seen on Hulu, etc.
But what happens to those shows created for, and then rejected by, streaming services? Well, in the case of "Those Who Can't," they go back to TV.
The first scripted series for TruTV, the Turner channel previously known for reality and prank programming, "Those Who Can't" was originally commissioned for Amazon, where its pilot premiered. Alas, the comedy about three pathologically immature high school teachers did not make the cut.
See more of Entertainment's top stories on Facebook >>
TruTV, however, thought it would be just perfect for the network's continuing revamp and picked it up (the pilot, airing Thursday, was reshot).
For the record, it's tough to imagine Amazon looking back with regret.
It's true that we've come a long way from "Room 222" and "Welcome Back Kotter." The cliques, clashes and catastrophes of high school are now the go-to-metaphor for just about everything; "Glee" didn't just kick-start a renewed appreciation for hits of the '80s and '90s, it also kicked open the faculty room door to expose the foibles, and comedic potential, of educators.
But bad teachers aren't guaranteed comedic gold, as the epic fail of a recent TV version of "Bad Teacher" proved. TV land, however, has been getting some attention for "Teachers," which may have encouraged TruTV to give a second season order to "Those Who Can't" even before the show premiered.
Because honestly, it's difficult to imagine the network doing so after the premiere.
Like "Teachers," "Those Who Can't" focuses on the dysfunctional high jinks of a group of single-gender educators played by members of a comedy troupe. In "Teachers," it's Chicago's Katydids; in "Those Who Can't," it's a trio of guys from Denver's Grawlix.
There's a big difference, though. "Teachers" is set in an elementary school, which lends its characters a kinder, gentler air. Even today we are not ready to see teachers interact with third-graders in an emotionally abusive way for laughs.
Not so with high school students, whom television has long branded as adults capable of sophisticated sex lives, byzantine treachery and, occasionally, saving the world from monsters.
In "Those Who Can't," the students of Smoot High are just a bunch of psycho bullies who push their teachers around in order to give those teachers, and the show, an excuse to go infantile ballistic.
Coach Fairbell (Andrew Orvedahl) is the wimpy one, Spanish teacher Loren Payton ( Adam Cayton-Holland) is the sensible one and history teacher Billy Shoemaker (Ben Roy) is the nerdy/henpecked one, but they're all just versions of the wearisome man-child who occupies so much of our current screen time.
There are a couple of women in the show — Maria Thayer as Abbey Logan, Sonya Eddy as Tammy Sherman — but as a librarian and a secretary, respectively, they are secondary characters. This could be perceived as sexist except that the male characters are all so idiotic and incompetent that it seems quite the opposite.
The joke is that the teachers of Smoot High have never grown up so they interact with the students as peers. This is supposed to make the endless cycle of scheming and abuse hilarious, but it's far too familiar to be anything but exhausting. And a little bit depressing.
As fun as it is to say, the world is not defined by high school, and high school is a far more nuanced place than our personal memories, or most modern depictions, allow. At some point someone will write a show capturing the world of teaching as deftly as so many workplace comedies examine the legal, law enforcement or medical professions.
But "Those Who Can't" ain't it.
Twitter: @marymacTV

------------
'Those Who Can't'
Where: TruTV
When: 10:30 p.m. Thursday
Not rated
---
Get our daily Entertainment newsletter
Get the day's top stories on Hollywood, film, television, music, arts, culture and more.
You may occasionally receive promotional content from the Los Angeles Times.