New TV, stage and film projects are looking at slavery with a bold new emphasis on empowerment
Slavery, the most horrific and shameful chapter of American history, has been an irresistible lure for Hollywood over the years, from the rose-colored tableaux of "Gone With the Wind" to the ancestral journey of "Roots" to the revelatory saga of "12 Years a Slave."
Though many of those films and projects have been successful, audiences have often had a complicated relationship with stories set in the slavery era. While offering presentations of good versus evil, they are almost always punctuated by depictions of nightmarish violence — whippings, hangings and torture — and scenes of physical and psychological degradation that can be unsettling for black and white viewers alike.
Films and television shows that have depicted slavery in the U.S. on screen.
(Handout)
"Gone With the Wind," starring Vivien Leigh, left, as Scarlett O'Hara, and Hattie McDaniel as house servant Mammy, garnered McDaniel the first Oscar for an African American performer.
(MGM)
Uncle Remus (James Baskett) spins a tale of fun and adventure for his young friends Toby (Glenn Leedy, left) and Johnny (Bobby Driscoll) in the Disney classic live-action/animation fantasy movie. The film portrayed Uncle Remus as a happy-go-lucky former slave, singing the Oscar-winning song "Zip-a-Dee-Doo-Dah."
(Walt Disney Pictures)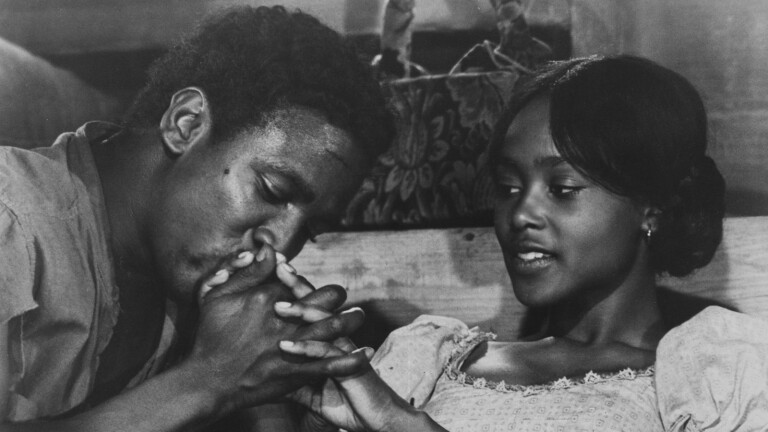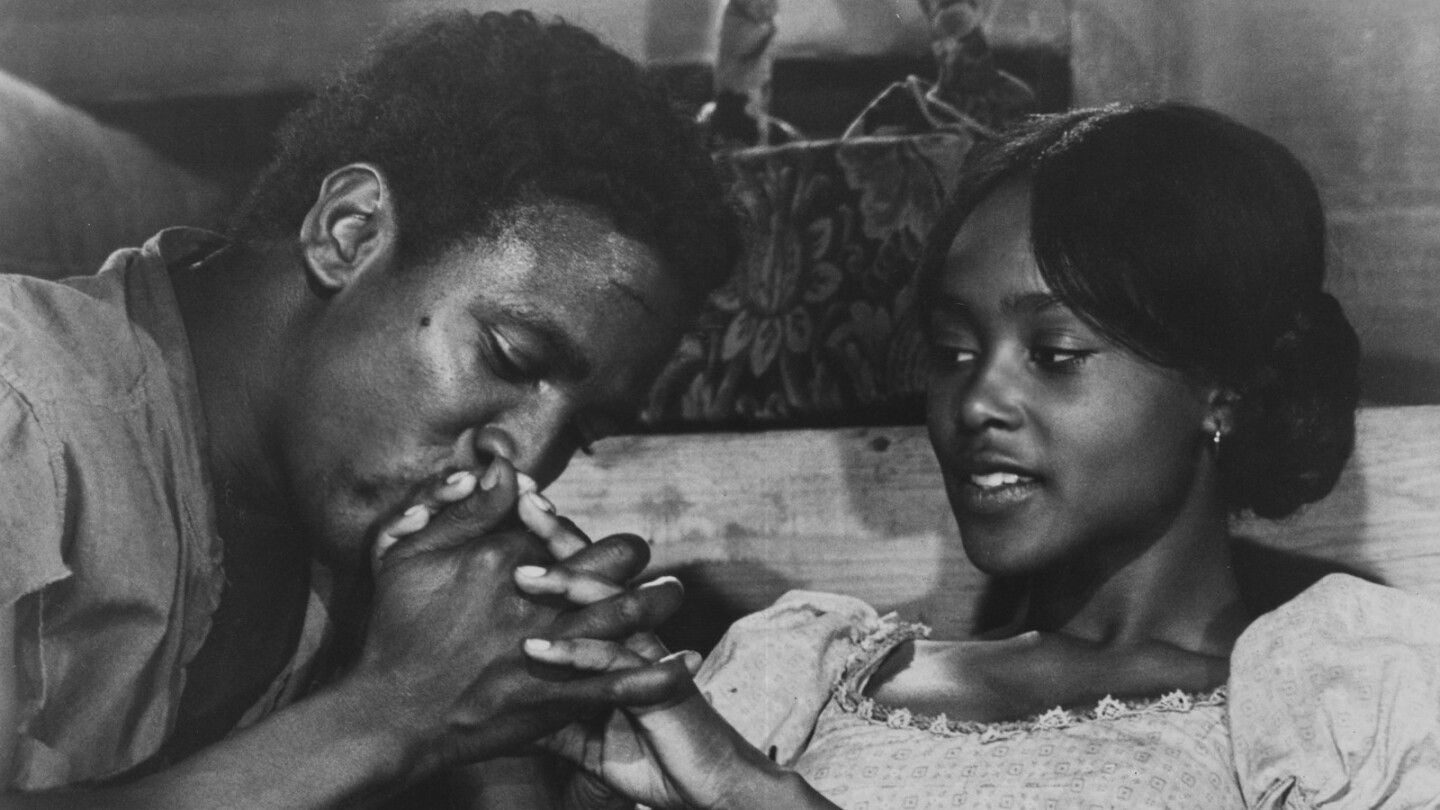 Two con men, Quincy Drew (James Garner) and his black friend Jason O'Rourke (Louis Gossett Jr., left), work a hustle In 1857. Drew sells Jason, who's a free man, to slave owners, then they split the profits when he escapes. Brenda Sykes also is pictured here.
(Warner Bros.)
Based on Alex Haley's bestseller, "Roots" -- a 12-hour miniseries from ABC -- followed 100 years and several generations of the author's African ancestors, from the arrival of Kunta Kinte (LeVar Burton, right), through emancipation after the Civil War.
(ABC Photo Archives)
Denzel Washington, center, and Morgan Freeman, right, starred in "Glory." Washington won an Oscar for his portrayal of Private Trip, a soldier caught up by prejudice.
(Tri-Star Pictures)
Djimon Hounsou is Cinque, an African taken from his homeland and sold into slavery, in the movie "Amistad."
(Andrew Cooper / DreamWorks)
Chi McBride portrays Desmond Pfeiffer, a onetime British nobleman who became the butler-servant in the household of Abraham Lincoln. Danny Bakewell, then leader of the Brotherhood Crusade, and other civic leaders protested vehemently about the content of the show and its comedic portrayal of slavery.
(UPN)
Sally Field, right, is Mary Todd Lincoln, and Gloria Reuben is Elizabeth Keckley in the movie "Lincoln." The film depicted Abraham Lincoln's struggles with his own government in outlawing slavery.
(David James / DreamWorks)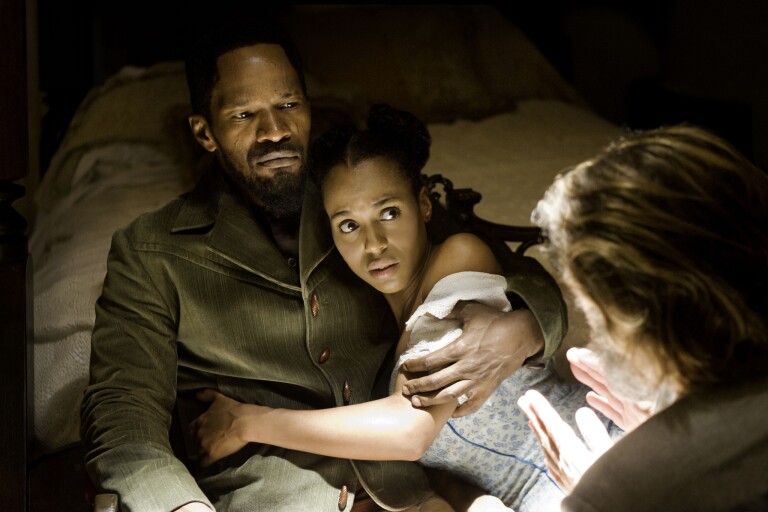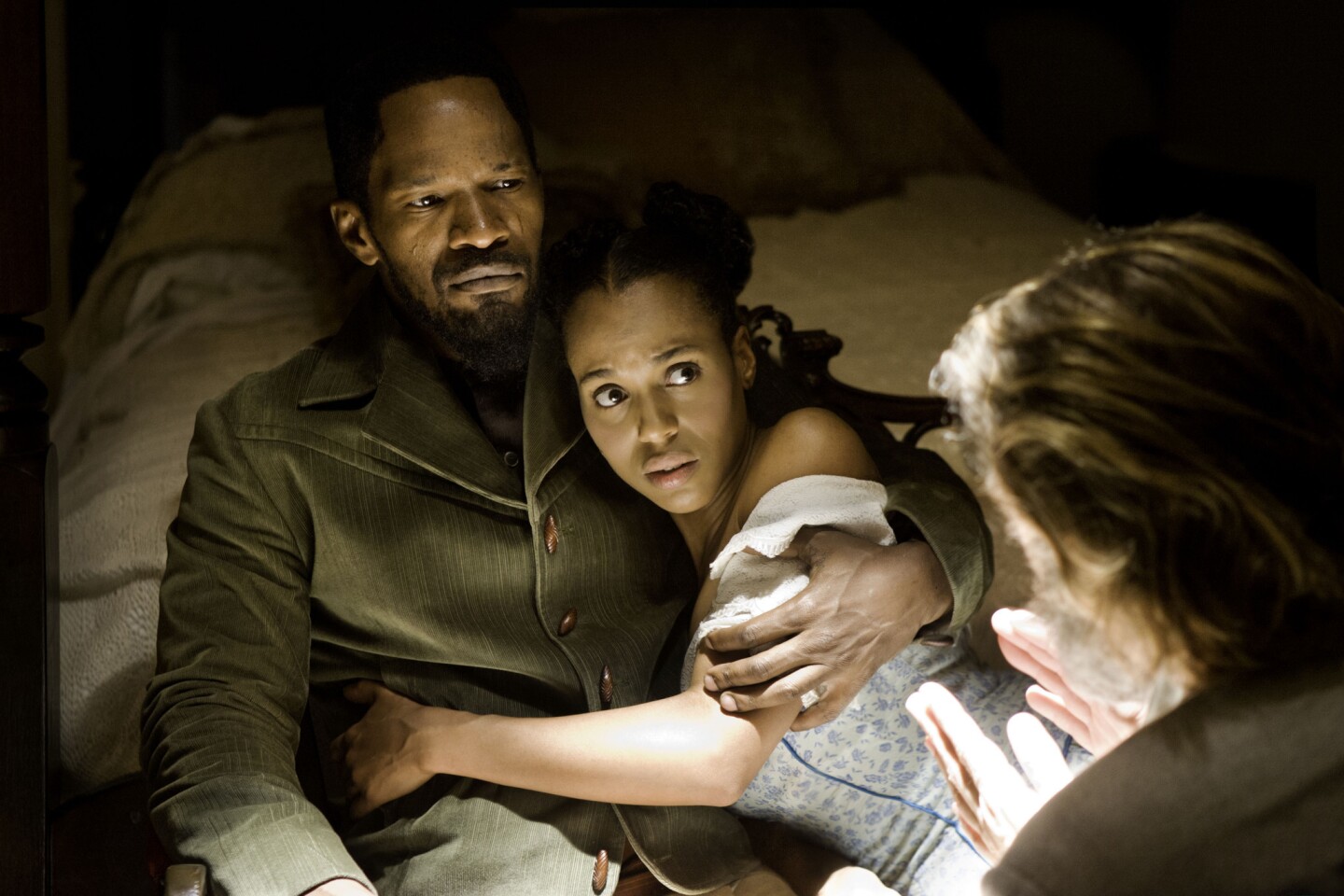 Jamie Foxx and Kerry Washington star in "Django Unchained," the tale of an escaped slave who joins with a bounty hunter to enact revenge.
(Andrew Cooper / The Weinstein Co. )
Michael Fassbender plays slave owner Edwin Epps, Lupita Nyong'o portrays Patsey, and Chiwetel Ejiofor is Solomon Northup in the movie "12 Years a Slave." The film depicts the kidnap and forced servitude of a free black man by Southern slave owners.
(Francois Duhamel / Fox Searchlight)
However, there's now a dramatic shift taking place in how this country's slavery period is portrayed in popular culture. Picking up on the against-all-odds triumph of 2013's "12 Years a Slave," a flurry of slavery-related projects are landing on the film, TV and theater landscape during the next several months with a new emphasis: showing empowerment over adversity.
SIGN UP for the free Indie Focus movies newsletter >>
Bookended by Wednesday's premiere of WGN America's "Underground" — the first prime-time TV series revolving around slaves and the Underground Railroad — and the highly anticipated arrival this fall of the Nat Turner slave revolt film, "The Birth of a Nation," the projects are launching in the midst of heightened racial tension in the country. The latter is defined by a series of widely publicized police shootings of unarmed black men and more recently the combative discourse regarding race in the Republican presidential race and the furor over #OscarsSoWhite.
Those issues and the creative forces behind many of the upcoming accounts have prompted a fresh look at the legacy of slavery — a perspective fueled by the idea of African American perseverance, survival and courage.
"Over the past year and a half, two things have been converging," said Erica Armstrong Dunbar, an associate professor of black American studies and history at the University of Delaware. "People are interested in seeing black slavery through a different lens and a different voice. The current interest around racial and social justice are fueling these works. People move backward to investigate and understand the direct correlation between the lack of humanity connected with black slavery with some of the racial and social issues we're seeing today."
The upcoming projects include a new version of "Roots," the 1977 miniseries based on Alex Haley's book about his ancestors that broke ratings records; Pulitzer Prize-winner Suzan-Lori Parks' Civil War-era play "Father Comes Home From the Wars (Parts 1, 2 & 3)," which will premiere next month at the Mark Taper Forum; and Viola Davis' developing film about Harriet Tubman and the Underground Railroad for HBO.
Heavy promotion has preceded "Underground," which is airing on WGN America (a network owned by Tribune Media, which until 2014 was part of the same company as the Los Angeles Times), and lists Sony Pictures Television as one of its producers. The drama centers on Noah (Aldis Hodge), who covertly organizes a group of his fellow slaves to escape across hundreds of miles to freedom via the Underground Railroad, a network of safe houses. They are continually confronted by oppression and other obstacles, but sympathetic whites provide valuable assistance.
"What we're showing is really the first integrated civil rights movement," said Grammy- and Oscar-winning musician John Legend, an executive producer on the series. "It's inspiring to see stories about heroes, people who decided to step out there and do the courageous thing. This is about blacks and whites working together to abolish an evil institution."
Legend was recruited to provide music for the series and was so impressed with the script and the drama that he and his Get Lifted production company signed on as executive producers.
"This show is empowering for everyone," he said.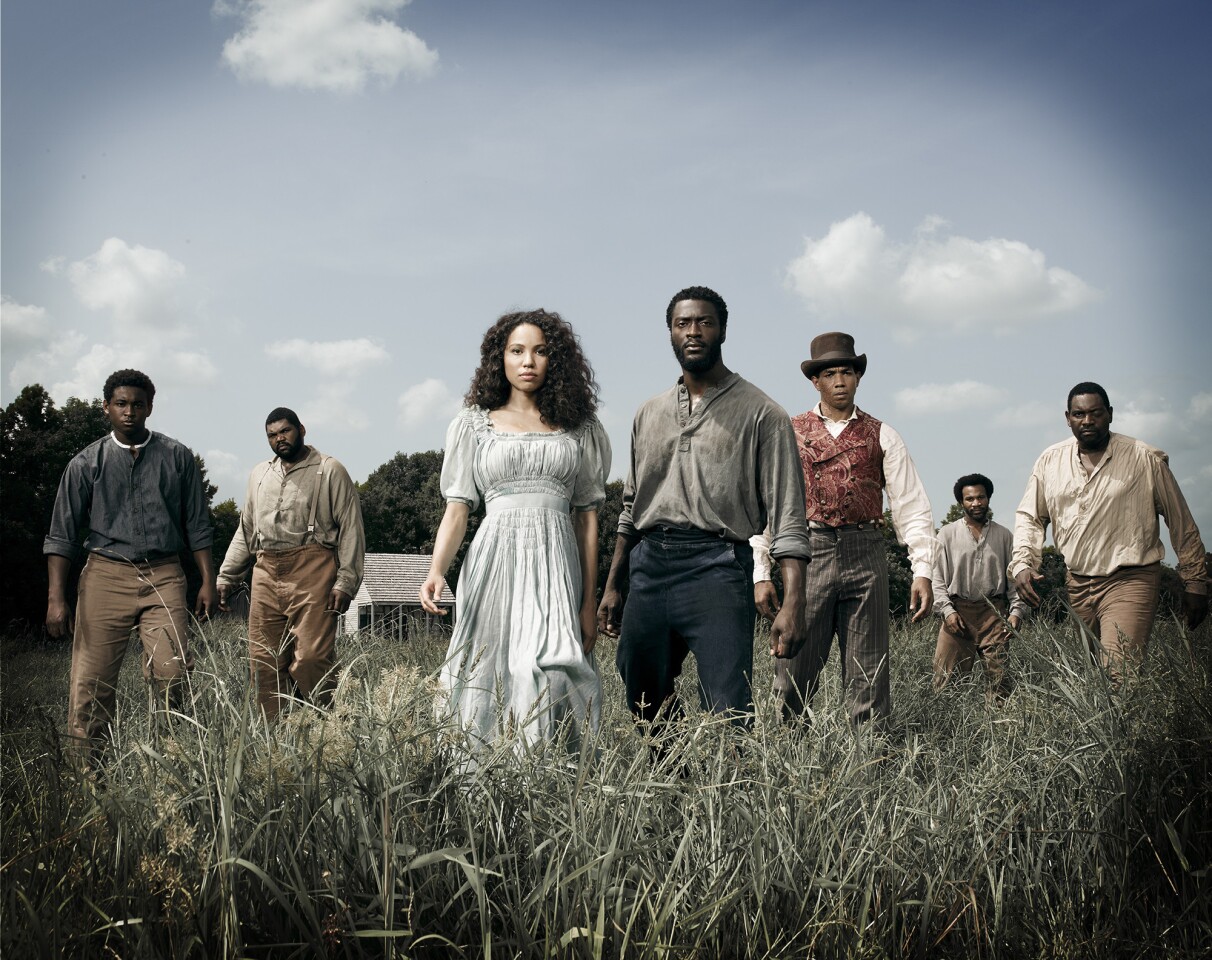 Renwick Scott as Henry, Theodus Crane as Zeke, Jurnee Smollett-Bell as Rosalee, Aldis Hodge as Noah, Alano Miller as Cato, Johnny Ray Gill as Sam, and Mykelti Williamson as Moses in WGN America's "Underground."
(Handout)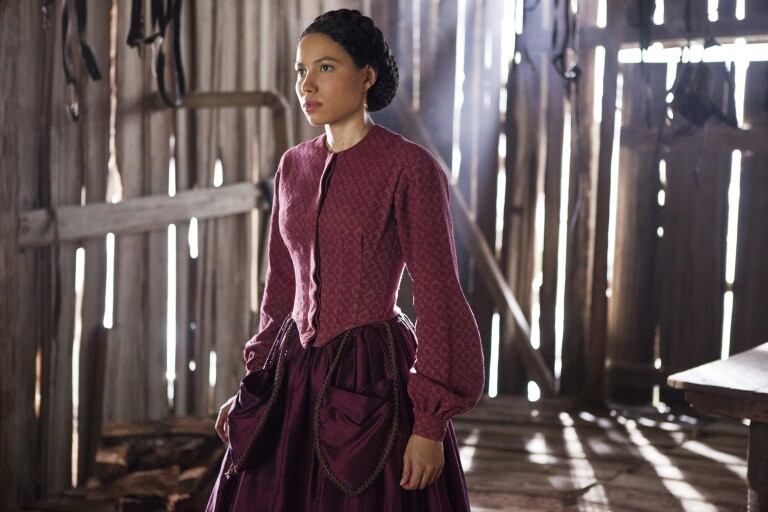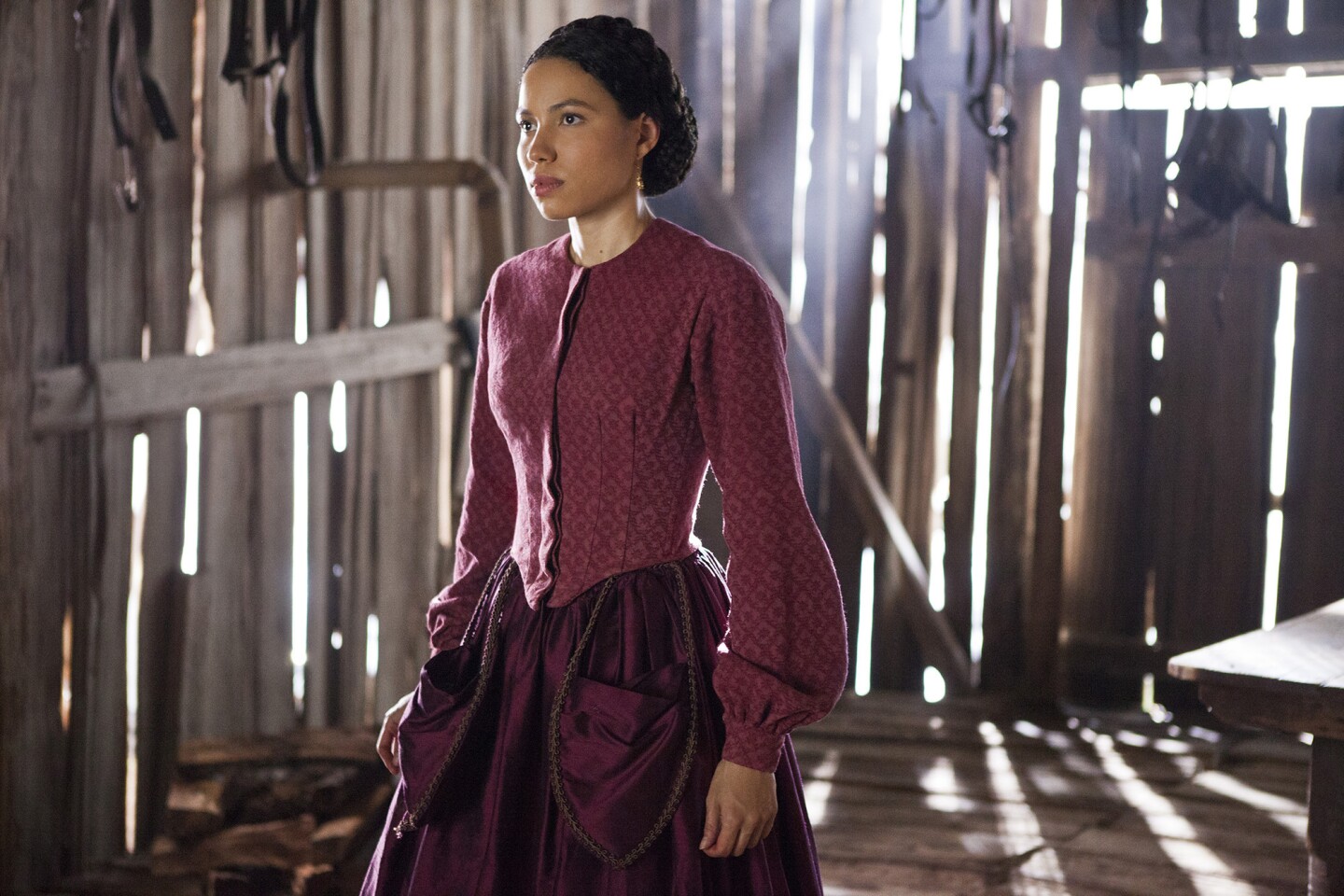 Jurnee Smollett-Bell as Rosalee
(Kimberly Whitfield / Sony Pictures Television)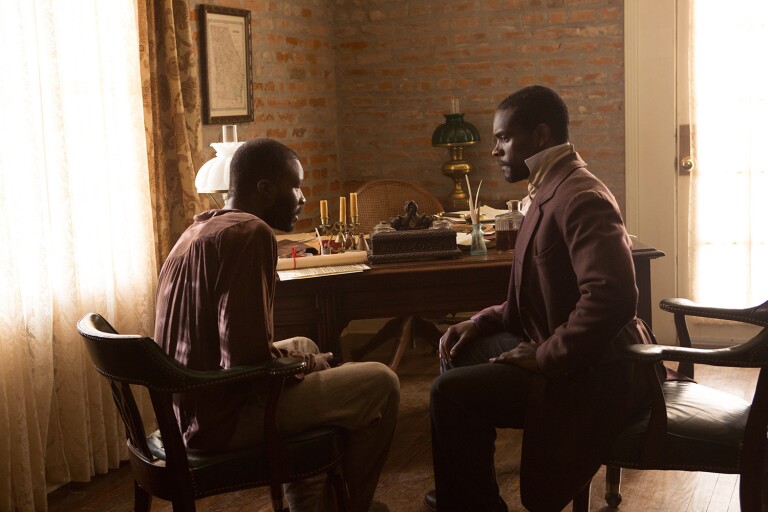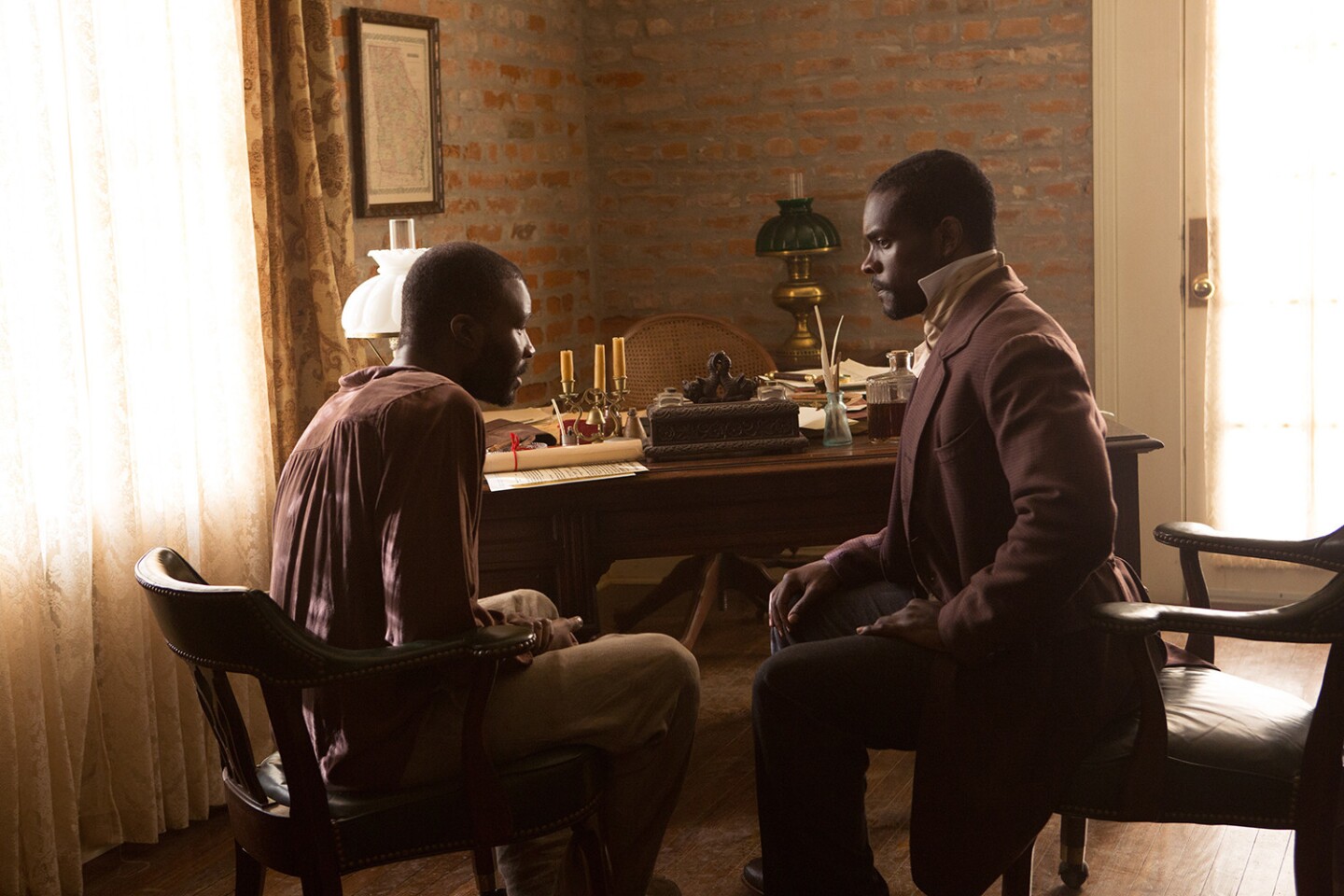 William Still (Chris Chalk), right, and a runaway slave talk.
(Steve Dietl / WGN America)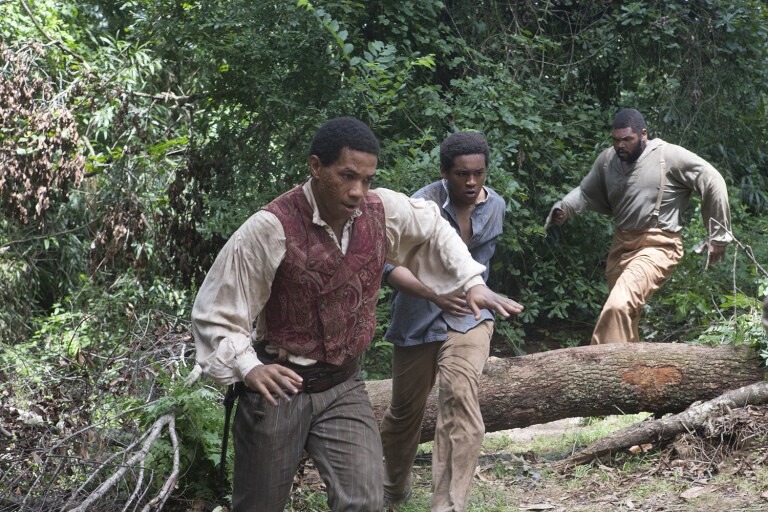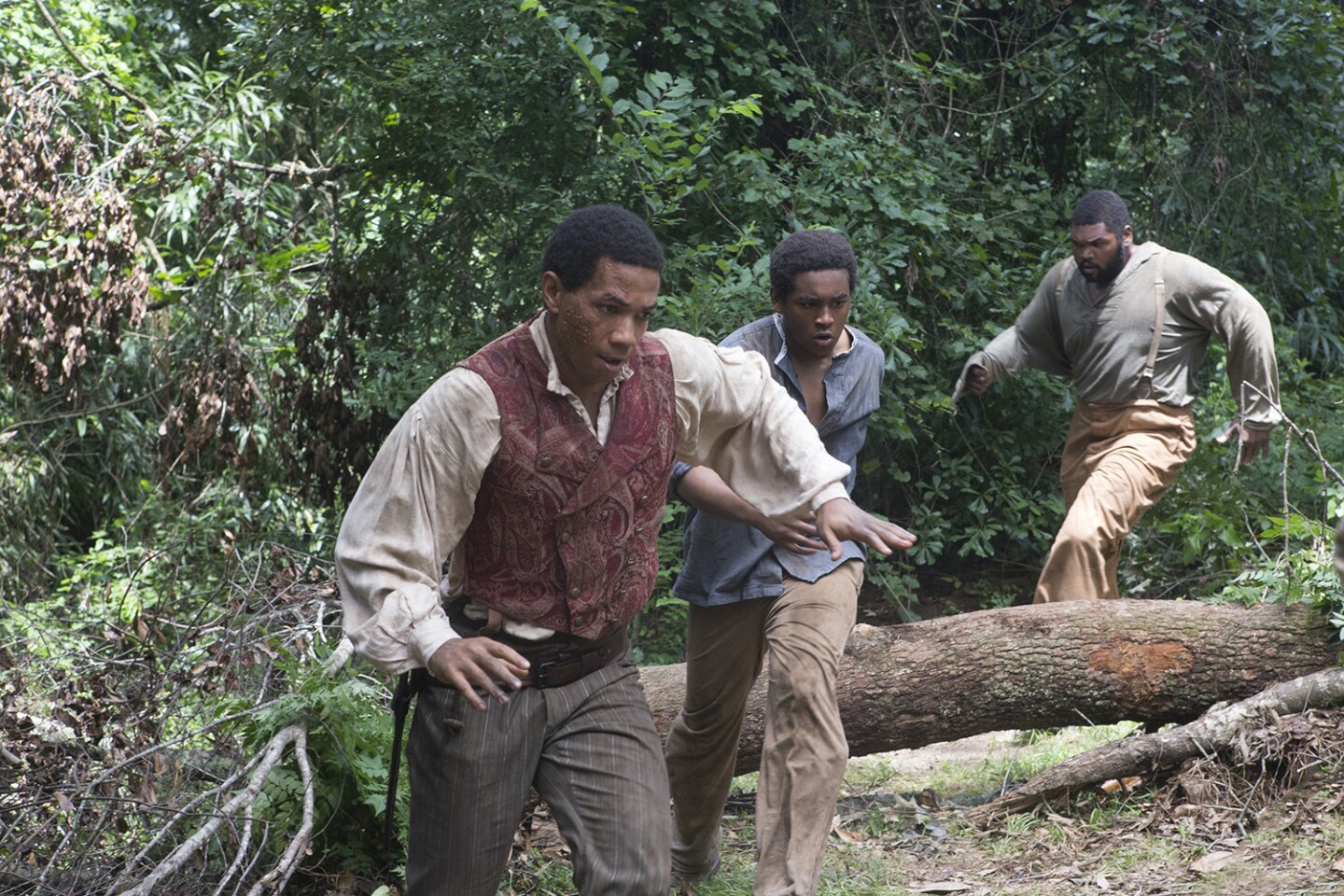 Cato (Alano Miller), Henry (Renwick Scott) and Zeke (Theodus Crane) are on the run in a scene from "Underground."
(Skip Bolen / WGN America)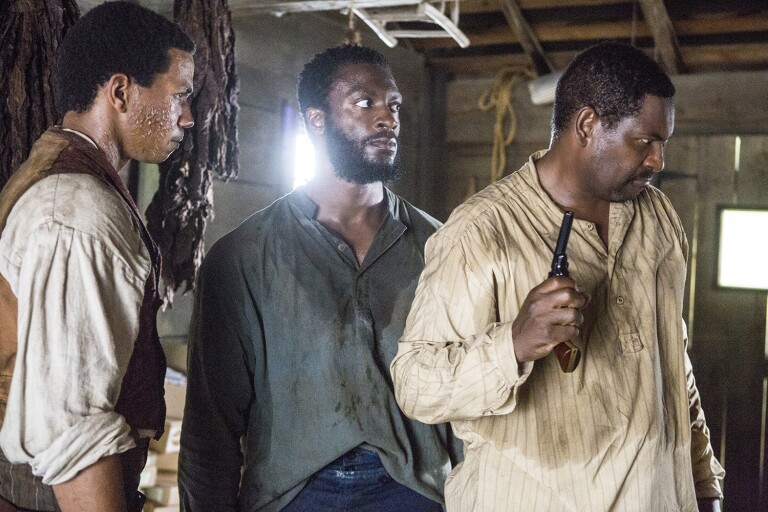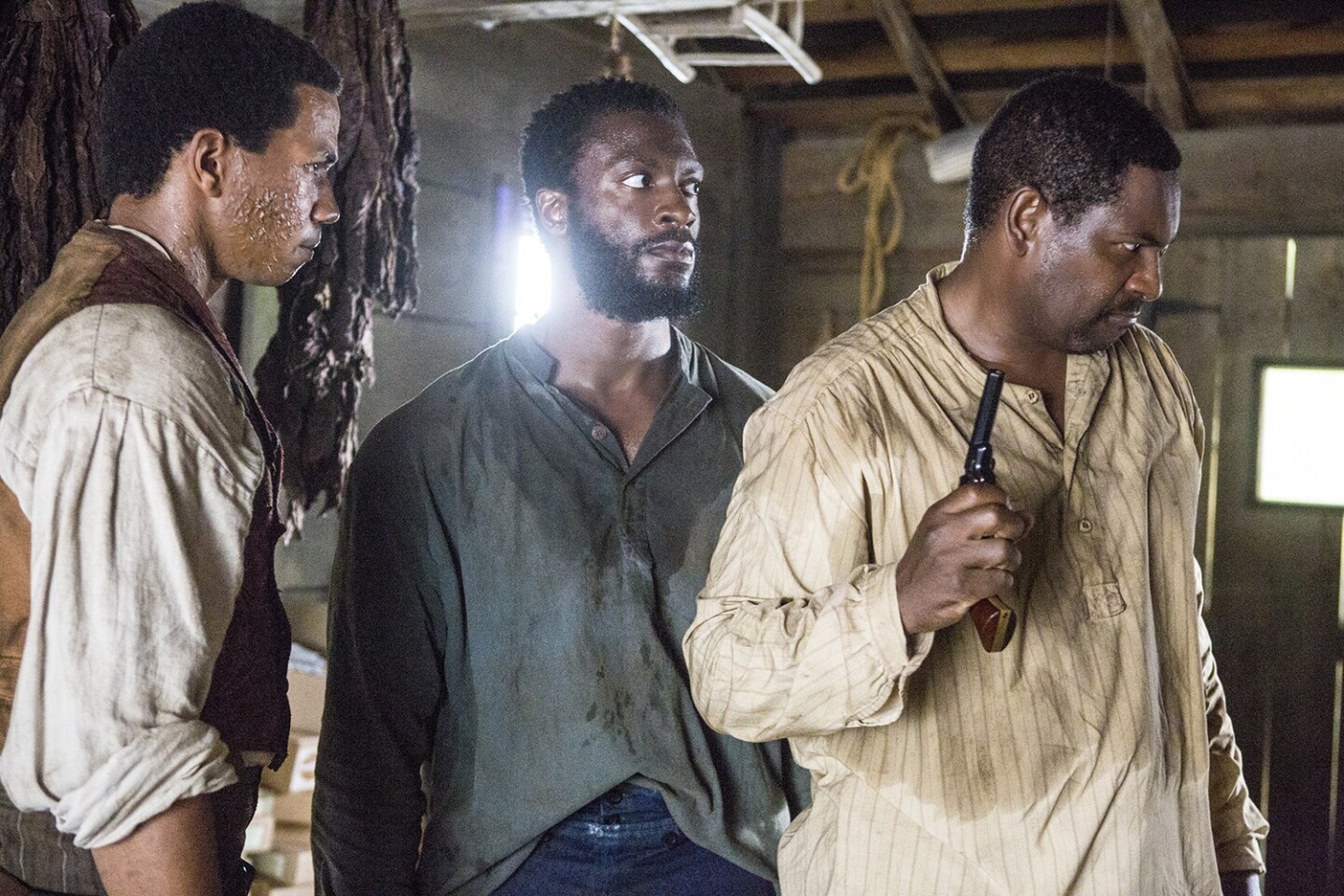 Cato (Alano Miller), Noah (Aldis Hodge) and Moses (Mykelti Williamson) are poised for action.
(Skip Bolen / Sony Pictures Television)
Clyde (David Kency), Elizabeth Hawkes (Jessica de Gouw) and John Hawkes (Marc Blucas) meet.
(Skip Bolen / WGN America)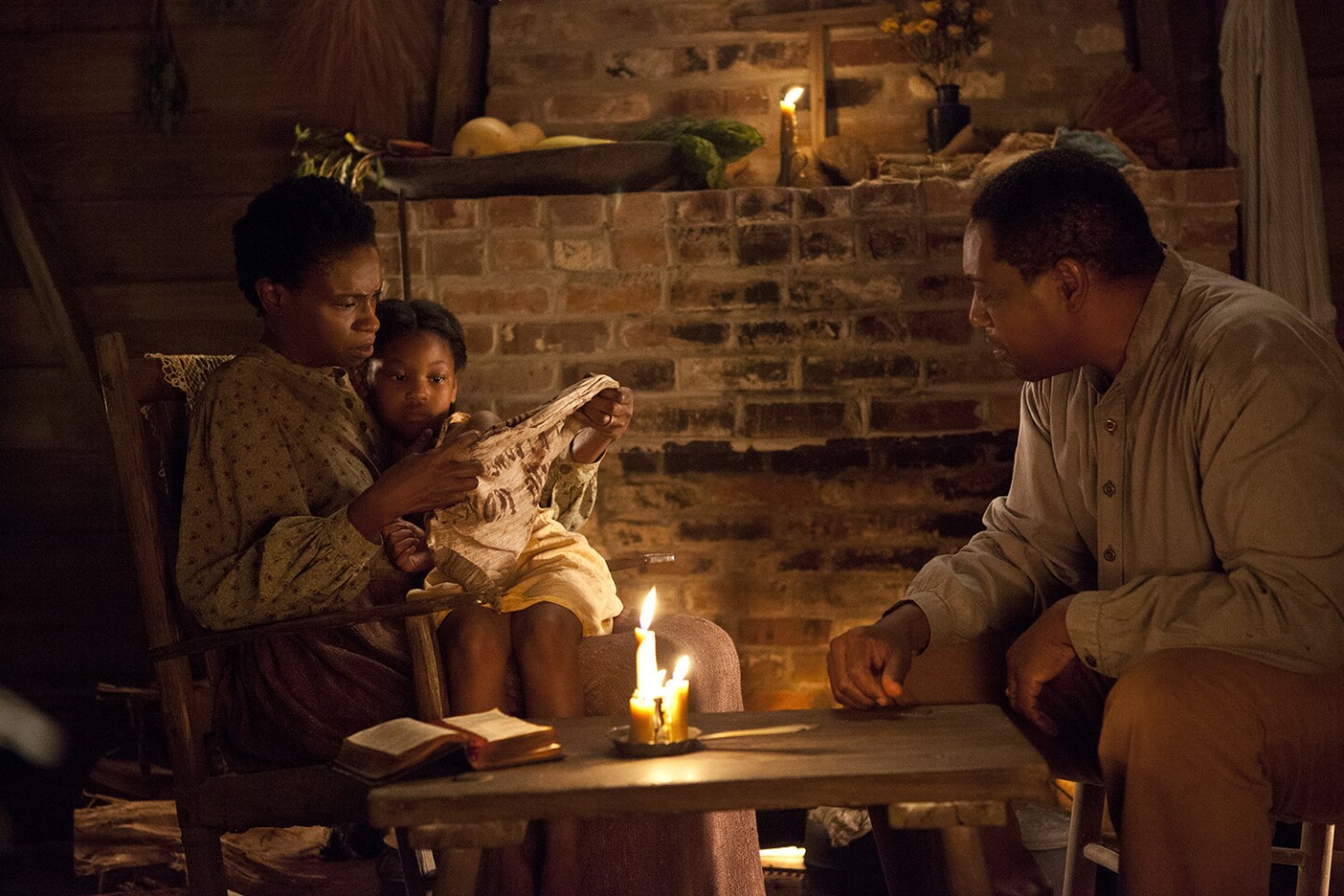 Pearly Mae (Adina Porter), with Boo (Darielle Stewart) on her lap, reads the song cloth to Moses (Mykelti Williamson).
(Kimberly Whitfield / Sony Pictures Television)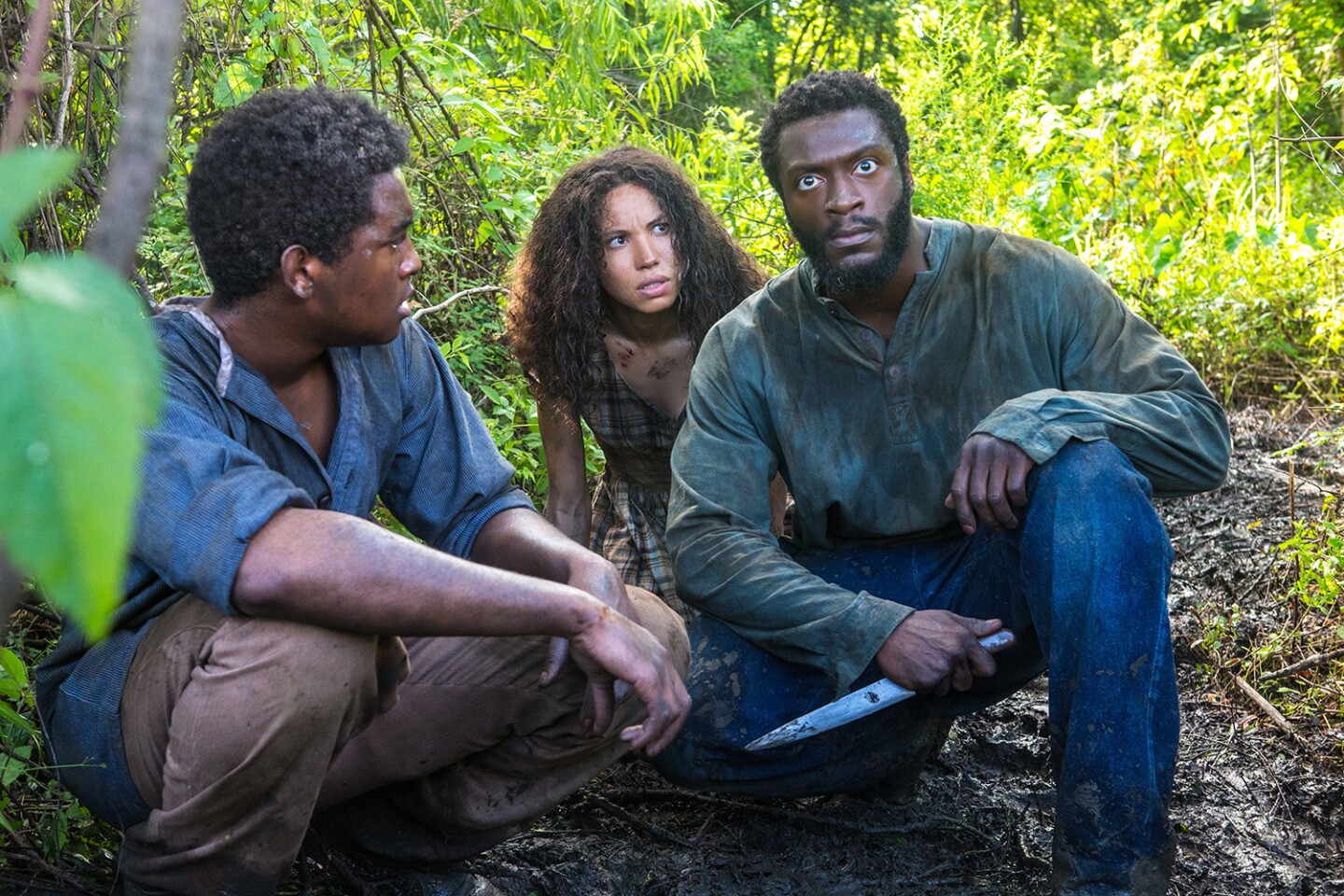 Henry (Renwick Scott), Rosalee (Jurnee Smollett-Bell) and Noah (Aldis Hodge), with a knife, in a scene from "Underground."
(Skip Bolen / Sony Pictures Television)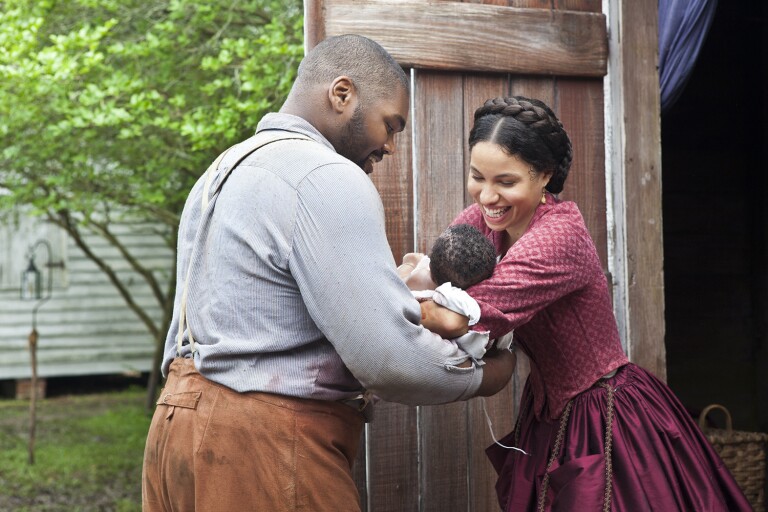 Zeke (Theodus Crane) holding his newborn son that Rosalee (Jurnee Smollett-Bell) helped deliver.
(Kimberly Whitfield / Sony Pictures Television)
Jurnee Smollett-Bell as Rosalee
(Steve Dietl / Sony Pictures Television)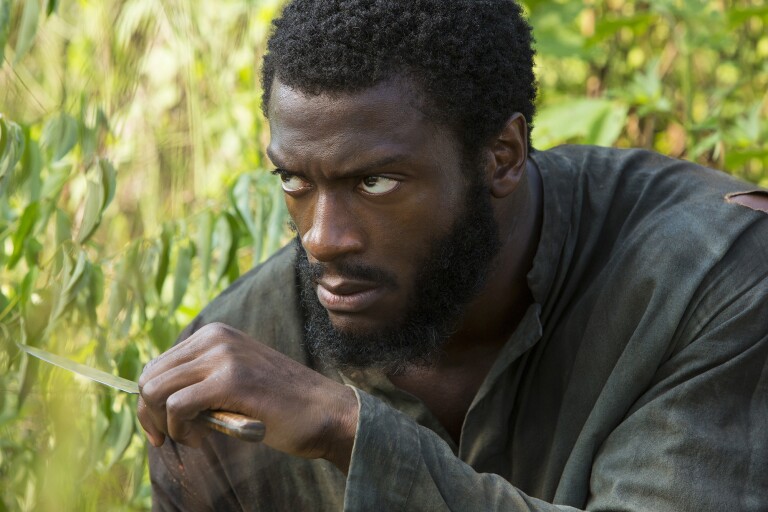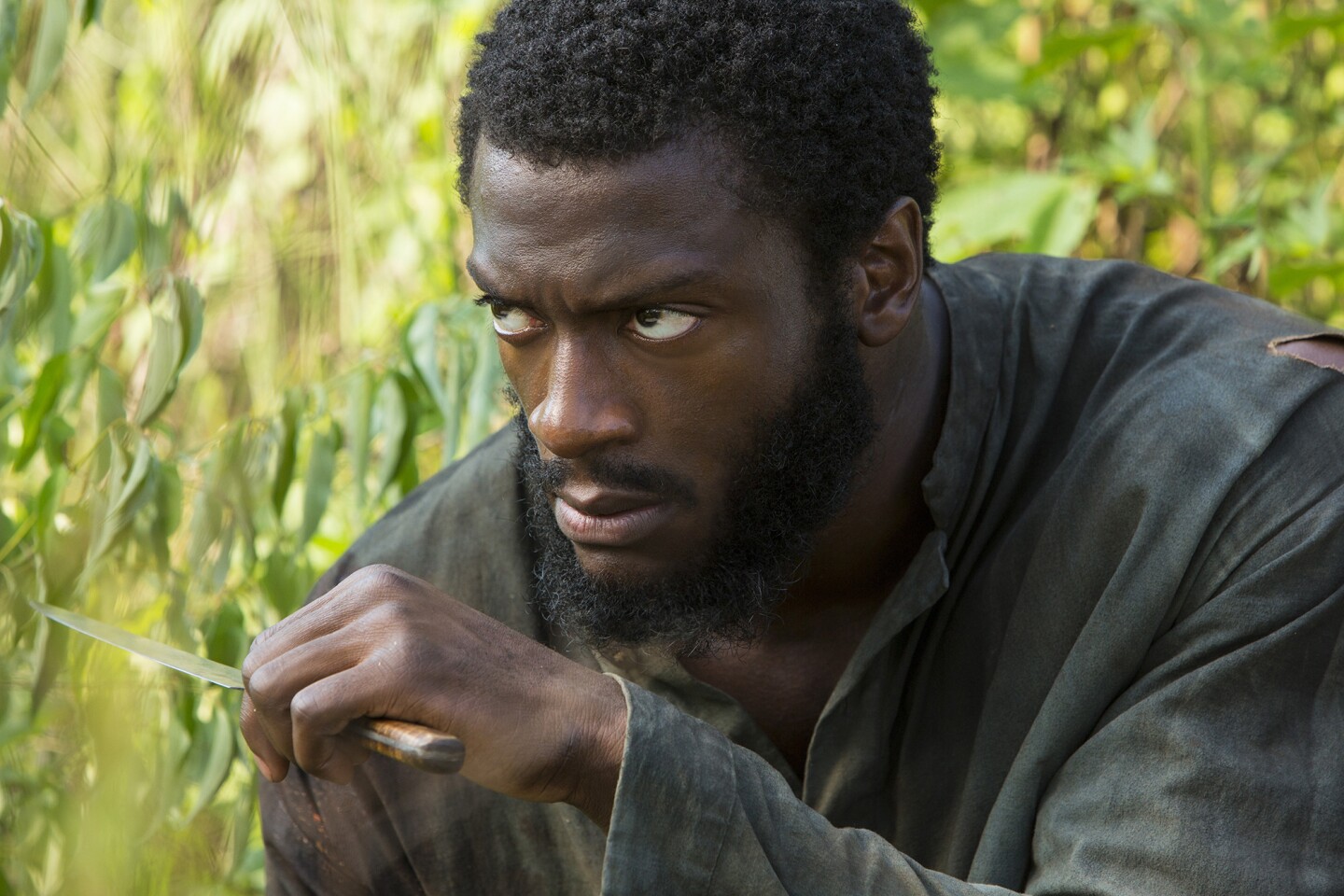 Aldis Hodge as Noah
(Steve Dietl / Sony Pictures Television)
Added Joe Pokaski, who created the series with fellow executive producer Misha Green: "For us, it's not about the occupation but about the revolution. This is about a story about American heroes that hasn't been told before. Truth is stranger than fiction — it was a desperate and dangerous time."
The show also seeks to give its story a contemporary flavor. The opening scene of an escaped Noah being pursued by a bounty hunter is accompanied by Kanye West's "Black Skinhead." And there are the swooping camera shots that have become a staple of live televised events and current big-screen action films — the first several episodes were directed by Anthony Hemingway, whose credits include "The Wire."
Said Legend, "We really wanted to take this story off the museum wall."
The BET.Com Web series "Send Me" is another slavery-themed production. Steve Harper created the series (now available on YouTube) in which a professor of African American studies (Trace Thomas) has the power to send black people back to the slavery era. Harper, who's also the show's producer, said that despite the pain and guilt associated with slavery, it's important that it be recognized as a large part of our nation's story.
See the most-read stories in Entertainment this hour >>
"Race is the fundamental thing that's in the DNA of who we are," Harper said. "Until we deal with slavery, we will be stuck in a place of ignorance. This painful piece of history is as American as apple pie."
"12 Years a Slave," about a free black man from upstate New York who was kidnapped and sold into slavery in the South, was the key force in changing the narrative about the slavery era when it was released three years ago, professor Dunbar said.
"As brutal and difficult as that film was, it provided the audience with hope at the end," Dunbar said. "Even with the degradation and humiliation of slavery, we see the black moral compass, we see black activism and black decency. Especially for this moment in time, it's really important."
And even though she had not yet seen the pilot for "Underground," she praised the series: "I applaud them for moving forward. Many of the men and women involved in the crusade to end slavery were white. I hope that the larger audience sees the merit of this American movement."
Still, "Underground" may face challenges.
At a gala premiere last week at the Theatre at the Ace Hotel, the celebrity audience gave the pilot a rousing reception. But at the after-party, some attendees privately said they were shaken by some of the more graphic violence, particularly one scene in which Rosalee (Jurnee Smollett-Bell), a slave who works in the "big house" of the plantation, is savagely whipped on her arms by an angry slave master.
Smollett-Bell said she initially had concerns about the show's setting.
"I was a little skeptical at first, wondering how they would do this as a TV show," the actress said. "But when I read the script, I was blown away. I was pretty much told in the beginning it was a slave drama, but it's so much more. There's just something so overpowering about seeing these awful conditions that these slaves were under and seeing their bravery and courage to overcome."
MORE:
'Underground' producer weighs in on recent slavery comparisons
---
The complete guide to home viewing
Get Screen Gab for weekly recommendations, analysis, interviews and irreverent discussion of the TV and streaming movies everyone's talking about.
You may occasionally receive promotional content from the Los Angeles Times.