'UnREAL' showrunner breaks down the finale and the show's move to Hulu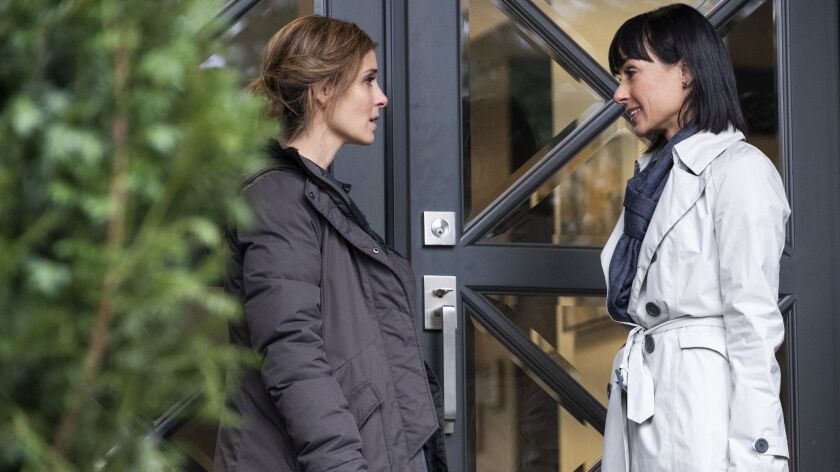 (Warning: This article contains spoilers about the series finale of "UnREAL.")
You could say "UnREAL" brought the heat with its series finale Monday.
The cult drama, a dark look at the underbelly of reality-dating competitions, started things off with a bang Monday when it was announced the series would move from Lifetime to Hulu for its fourth and final season, with all eight episodes available to stream that same morning.
The fourth season, which stars Constance Zimmer and Shiri Appleby as cutthroat reality TV producers, saw "Everlasting," the reality show-within-the-show, tackle an "All-Stars" season featuring former contestants and a new format. It also featured a sexual-assault storyline inspired by the recent "Bachelor in Paradise" scandal.
Along the way, Rachel (Appleby) leaned fully into her manipulative ways, while Quinn (Zimmer) grappled with possible motherhood and the question of what comes next.
Once the series reached its closing minutes, Rachel and Quinn's friendship was renewed just as "Everlasting," which had already imploded on national television, saw its mansion engulfed in flames.
The Times spoke to showrunner Stacy Rukeyser about the fiery ending, the evolution of Rachel and Quinn (apart and together) and the show's move to Hulu.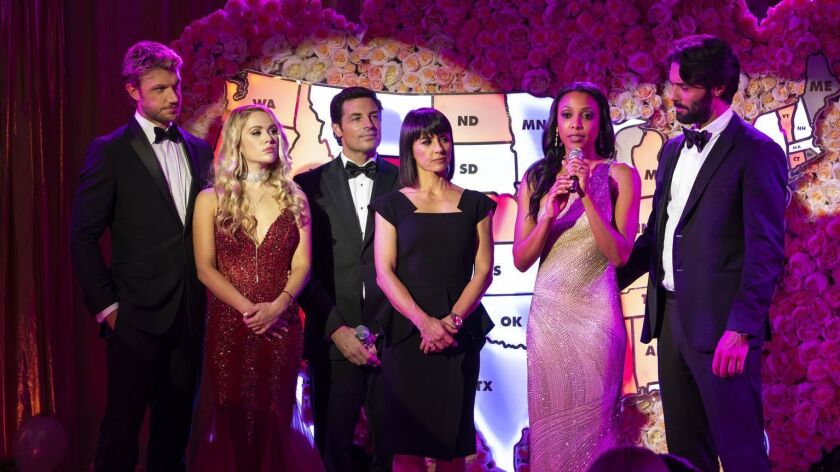 What did you set out to get the audience thinking about this season?
This season was always conceived as a Frankenstein story in the sense that Quinn has created a monster in Rachel. And Rachel has gone all in on "Everlasting." And she is unapologetically tossing aside her feminist guilt as Quinn calls it. And she's really a monster. Halfway through the season, Quinn really realizes it, and three-quarters of the way through this season, Rachel finally realizes it. So we had to look at how would we show that? Rachel really becoming a monster and taking it to that point where she finally would have the realization that this is not who she wants to be.
And then, of course, I was very inspired by what happened on "Bachelor in Paradise." "The Bachelor" has been on for over 20 seasons — I'm not going to get the number right — but for at least 20 seasons. And no one [had] ever made a [misconduct] complaint. And from what we hear from a lot of reality producers who watch "UnREAL," they tell us that it is so real. And so that tells me that a lot of stuff went down in those 20 seasons and yet nobody ever made a complaint.
So when a producer actually called the studio to make a complaint, I thought, "Wow. This had to have been really awful." It was just huge to me. And then what happened in the wake of it was kind of confusing because at first the woman, the contestant, she hired a lawyer, and she said that she was a victim and it was all about how she was too drunk to consent. And then she backtracked from some of that and they were friends and appearing socially together. And that was strange. And my husband, who perhaps has been too influenced by "UnREAL," he said, "I don't believe any of it, anything actually ever happened. I think it was all a publicity stunt." And I was like, "Wow. That's super, super dark." Even dark for "Unreal."
Then that certainly inspired the part of the season where Jay [Jeffrey Bowyer-Chapman] does make a complaint to the network, but then it turns out that that's exactly what Rachel wanted and that she wanted to leak the complaints to the press in order to get more ratings. And that's a huge part of what we wanted people to get from this Season 2 — that the darker and the worse that Rachel becomes, and the terrible things that she is doing at this new low, she is spinning it into reality TV gold because they're getting huge ratings.
But then, in what ways does that become meta for you in the fictional space?
We always try to look at things to be honest with our characters. And so Rachel is dealing with her own past sexual trauma as well. So when we looked at her going all in as a producer on "Everlasting," this idea to bring back Maya [Natasha Wilson] and Roger [Tom Brittney] — the woman who was date-raped and her assaulter — and put them in a room together and wait for the explosion.
As gross as that is, it's smart producing. That is the way to get big ratings. And yet it's also very related, as I said, to her own past sexual trauma, because last season, she confronts the man who raped her. But it very quickly turns into a family story and into what her father knew or didn't know or what her mother did or didn't do for her. I do believe, at least unconsciously, that Rachel is working out her own trauma here and thinking that if Maya can confront her attacker that she can live vicariously through that.
I do believe that Rachel never expected things to go as far as they did with Maya. Yes, she was then trying to orchestrate this thing between Roger and Noelle to force Maya to confront Roger, but she never believed that it would go as far as it did. I mean, she saw Maya walking right after them. I think she fully believed that Maya would walk into the room as soon as they closed the door. And yet there it is. In the seconds or whatever it is where Maya is, unbeknownst to Rachel, going to get a knife and, then, why she's not bursting into the room right away. And it really goes further than she thought.
That is all coming from what do we think Rachel would do, you know. And trying to tell a story that feels truthful to these characters and because of the path that we've given to these characters. But I don't think we ever sit in the writers room and say, "Look, we know these stories are going to be controversial." And even some would say, "Triggering for some," but you know, we're trying to talk about things that are happening in our world and experiences that we've had and that feel truthful for our characters. And so we don't ever want to shy away from those difficult conversations just because they might be difficult for people.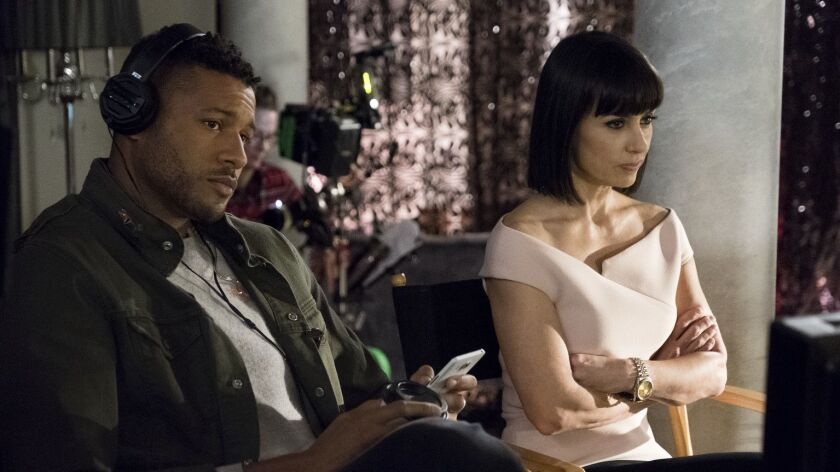 How would you describe the evolution of Quinn and Rachel?
When I read the pilot script that [creators Marti Noxon and Sarah Gertrude Shapiro] had written, what was most fascinating to me was this inner conflict in Rachel [in which] she is really good at her job and derives a great sense of power from how good she is at her job and how she is able to manipulate these women. But she also hates herself for it. And that inner conflict of deriving power and yet hating herself for it has been a driving force for Rachel through the whole series.
And I find that very interesting, and certainly we're starting to learn more about Rachel's family and her crazy mother and why someone like Quinn is very appealing to Rachel, like how sometimes the way that Quinn treated Rachel, it's felt like love. And how Quinn was a better mother to Rachel really than her own mother ever was. But that inner conflict of, "I have to do this. I must not do this. I shouldn't do this, but I love it and I love the way it makes me feel," that has been the crux of this character situation right from the beginning.
So as we take it all the way through inSeason 4, I think she is trying to deny that side of her that says, "I hate myself for this. And I must not do this." And she sees how far that gets her, which is yes, to great ratings and buzz and acclaim, but she is in a devastated personal state. And so I think that then by the very end, she and Quinn burning down the mansion, it is really sort of getting rid of that toxic place for good. I think it was important to leave us in a hopeful place that Rachel could get out of this stuck place and actually do something better, as Quinn says.
Why didn't Rachel, if she's reconsidering this path, intervene when Quinn threw Tommy under the bus?
That's the "UnREAL" part of it. It's never going to be that neat-and-tidy ending. That is absolutely right. We had so many discussions about that in the writer's room — that she lets Quinn do it basically. And certainly, even after the fact, she could have said something. There were discussions even about that final scene between Quinn and Rachel, and should Rachel be talking about Tommy and either, at least, [show] that she's worrying about Tommy, or has she done something for Tommy to get him out of this bad situation or whatever. But ultimately, we decided no, that's the "UnREAL" piece of it, that it really is just about Rachel and Quinn, and there is definitely collateral damage along the way.
You wrote this under the assumption that it might be the end? But you didn't know for sure, right?
When we were writing Season 3, we didn't know if that was gonna be the final season or not. And the ending of Season 3 was actually the alternative ending that we shot in case it was going to be a series finale. There was an ending where Rachel decides to stay at "Everlasting" and gets the idea for "Everlasting All-Stars" and starts putting those pictures up on the board, kind of obsessively. We shot that. We've even had scenes where that's been cut into the episode. But when the networks saw the footage of Rachel going to the cabin, they really just fell in love with that. And it is really beautiful, and the idea that she gets out even for a brief second.
But since we didn't know, we sort of did have it ready that she, like I said, would go all in and do "Everlasting All-Stars." And we had pitched a Season 4, just sort of very broad ideas about "Everlasting All-Stars," and I think at that point also about Quinn being pregnant. So we knew if we were coming back, that we'd be sort of going to that place, but that was about as much as we knew.
We still wanted to go all in with this ending of burning down the mansion because we had talked about this before as wanting that to be a potential ending for the series. We said, "Look, if they want to order more, they can order more and we'll just change it up and see what is Quinn talking about when she says we can do better." I do think that, since this is the end, that it is a really appropriate way to go.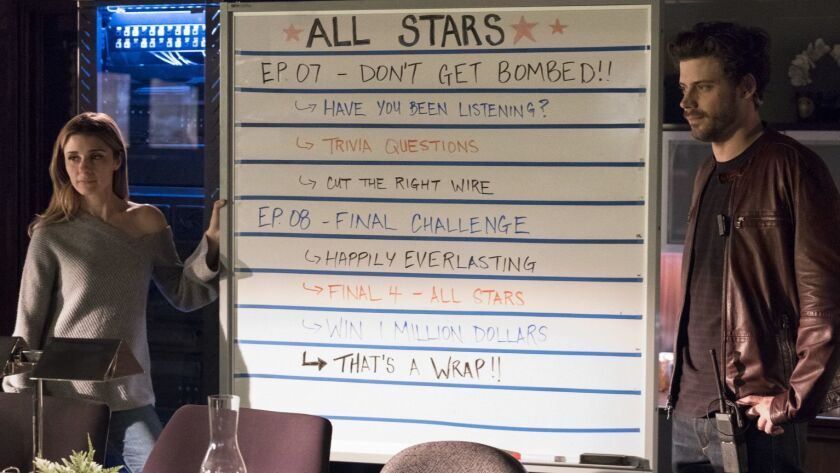 When did the final words, "We can do better," get locked in?
It was very late in the process. That last scene between Quinn and Rachel was rewritten many, many times. It was really an all-hands-on-deck with all of our writers situation and wanting it to be simple and fair but, as I said, also really hopeful.
As I mentioned, Quinn has had to be the Frankenstein that she has created. She's in a new place, where she's looking to do better.
Do you view it as a happy ending for Rachel and Quinn?
I do. I really do. I think that it's absolutely the right thing for them to be rid of "Everlasting" and the mansion and the toxicity and what that place either makes them do or what they are inspired to do in that place, depending on how you look at it. They are together. They are back together..., and since that relationship is the true love story of this series, I do think that's a really happy ending.
I hope [fans] love it. Of course, it's a rough season — we had to take Rachel to such a terrible place because she's done plenty of terrible, vicious things over the past three seasons. So to say, "Oh, no, now she's all in a completely different place and a monster that we haven't seen before," that takes it to a really low place. What's exciting about being able to binge all the episodes is that you don't have to live with her being that terrible person for a week at a time before you take the next step in her character development.
What did you think about the move to Hulu? Were you worried that the final batch of episodes wouldn't make it to air?
No, I wasn't worried about that because Lifetime has always just loved this show so much. We were working very, very closely with our Lifetime executives on all of these episodes, as you can imagine, with this kind of controversial material for the season. None of these things were easy or taken lightly. We had many, many deep conversations about all of these things, both [at] the script stage and at the editing stage.
It was really surprising to hear that we were going to be sent to Hulu. Of course, it's great for us because I did know that Lifetime couldn't air more than one season in a calendar year, so it would [have been] 2019 before the season was out. It was great that the fans could get to see it right away and that they could binge it.
Twitter: @villarrealy
---
The complete guide to home viewing
Get Screen Gab for weekly recommendations, analysis, interviews and irreverent discussion of the TV and streaming movies everyone's talking about.
You may occasionally receive promotional content from the Los Angeles Times.