How Natasha Bedingfield updated her hit anthem 'Unwritten' for MTV's revival of 'The Hills'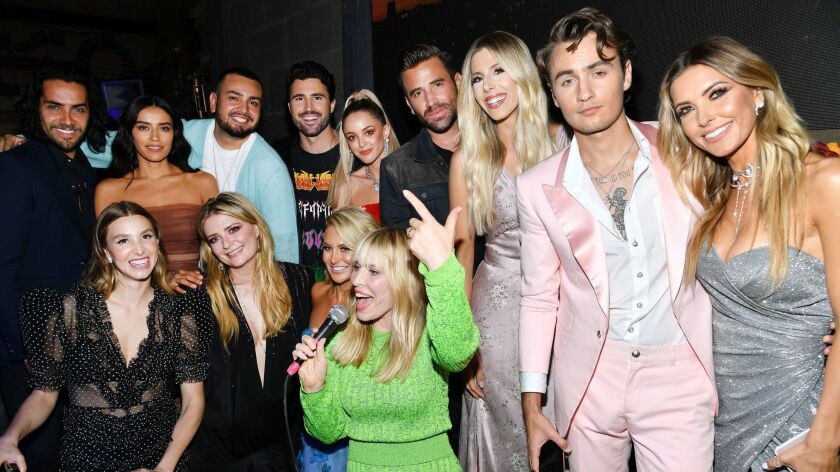 Even if you haven't sung the chorus of "Unwritten" at the top of your lungs at least once in your life, you know someone who has.
The catchy pop song from Natasha Bedingfield was a hit in the U.S. in 2006, and as the theme song to MTV's wildly popular docu-soap "The Hills," became the anthem for a generation of young people transitioning into adulthood.
Bedingfield, then in her early 20s, wrote the song for her younger brother on his 14th birthday: "I was on the road, so I wrote a song for him, thinking of what someone his age needs to hear, what I wish I had heard at that point in my life. There are a lot of pressures and expectations."
For longtime fans of the "The Hills," MTV's update to the series — "The Hills: New Beginnings" — wouldn't have been complete without the iconic theme song. But like the new iteration of the series, the song has undergone some changes. Bedingfield teamed with veteran producer Linda Perry for the song's reconfiguration.
The new version makes its TV debut when "New Beginnings" premieres Monday night. Ahead of that, The Times spoke to Bedingfield about reworking the song to capture a new phase in life, the good and the bad of its hit status, and what her brother thinks of its success.
What was it like to come back to the song, creatively, after all these years?
I never went away from the song, because I've been singing songs around the world for years. Now that I think of it, I wish I'd counted how many times I've sung it. But I never did. But I must have sung it at least a million times. The coolest thing about writing a hit song is that everybody knows the words. And so when you sing, everyone sings along. It really is a good feeling every time.
When MTV announced it was doing this sequel to the series, how did the idea come to remix the song? And what were you going for with the new take on it?
We were like, "Look, why don't we actually do a whole new version of the song, because we need to celebrate growth and what this show meant to so many people, and where we're at in life." And so I sent it out to a number of different producers... [W]e chose the remix by a guy called Kyle Moorman and I loved it. I loved what he did. And then I went in and I recut the vocal. And I kind of worked with him a bit on the structure and that kind of thing. I actually sang some of it different to the original. It was really fun.
I wanted the song to feel like, sexier, because we're grown-ups now. I wanted the song to have this kind of tension and release. Something that will get you moving and dancing. And when I sing the song live, the whole crowd goes bananas, they go crazy. People rush up to the front. Anywhere I sing it, even if it's like a stuffy corporate event, with businessmen, they end up running up, and they're just dancing like crazy and singing on the gospel part...
I wrote the song with a friend called Danielle Brisebois. For us, it was our own little idea of all the things that we've gone through and all of the advice combined in one little three-minute song. And then the song just took on a life of its own.
What do you remember about MTV approaching you to use the song for a reality show?
I was on the road. The song was doing well, and I was just riding that. And I was in that excitement of that feeling of working really hard and then being rewarded for it and being known. So, I was just in the middle of that whole blur, that whole whirlwind, when they approached me. And there weren't a lot of reality shows like it back then. And Instagram didn't exist. And I remember MTV asking my team if I would like to put my song on their show. It was a brand new show, so I had nothing to go off of. The only reality shows I think that I knew of were like "The Osbournes" and that one with Jessica Simpson and Nick Lachey ["Newlyweds"].
So it was kind of a risk, because it was a newish thing. Whereas now, with Instagram, every single person's life is a reality show. A heightened reality, because it's not real reality. It's airbrushed and curated — which, I guess, in a way "The Hills" was as well, because how do you really get every single moment? But yeah, we were asked to do the song, and we were just like, "Yeah, why not?" I love MTV, we've done great stuff with them before.
When did you realize that it was taking on a new life because of the show?
I started to hear so many stories of how many people love the show, that it was MTV's biggest-ever show... I even met someone recently, and they said that they played "Unwritten" at their wedding, and they actually used parts of the script from "The Hills" in their wedding vows. And around this time of year when there's graduations, I'm reminded that it's still what people are singing.
Did you have much interaction with the cast in the past?
I've met Lauren. I've met a whole bunch of the cast at different parties and different places over the years.
I hung out with Heidi and Spencer the other day. It was fun. I feel like they're comedians. I did a thing with them just to promote ["The Hills: New Beginnings."]. And we hung out all day. They have a kid, he's about the same age as my kid, maybe two months younger, and so we were comparing stories. They're really funny. They're quite comedic. You might not notice, but they really are.
As an artist, what's the good and the bad of having one of your songs reach these kind of heights?
The good is that everybody knows you before you walk into the room — they know your song even more than they know you. The song became its own thing. The hard part is you just have to let go, and let people have that song. It's not just my song. And everyone has a memory attached to it. I looked on Instagram the other day and P Diddy — his daughter was singing "Unwritten" at her graduation, and he posted about it.
But you have to be very careful, because once you start selling records, you could become like a chef, who loses his love for cooking because you're just doing it so much, and because [there's] so much demand, and you have to keep people happy. So I think it's all about your motive and if you're thinking about "How do I sell?" you're going to lose your creativity really quick. But if you're thinking, "How do I say something that needs to be said, and move people?" then you resonate and you keep your relevance.
What did your brother think of what the song became?
He's a very generous guy. I tell you, the next birthday I had to buy him something concrete like an Xbox, because he was like, "Come on, like with these gifts. I want something I can hold, not just an IOU."
Do you have a favorite lyric in the song?
"We've been conditioned to not make mistakes, but I can't live that way." I give myself such a hard time. I just want to be perfect and I can't be. And so I have to remind myself and give myself a break. And, yeah, sometimes the mistakes actually lead to even better things.
Twitter: @villarrealy
---
The complete guide to home viewing
Get Screen Gab for everything about the TV shows and streaming movies everyone's talking about.
You may occasionally receive promotional content from the Los Angeles Times.