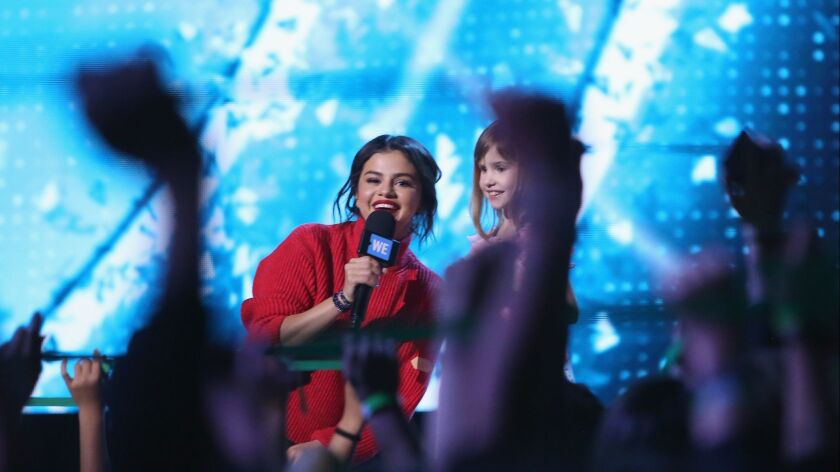 From eradicating hunger and homelessness to improving literacy rates, youth can make a positive impact. That's the message behind the We Movement — a collection of organizations that empower students and their families to get involved with causes that matter most.
Airing Friday on ABC, the "We Day Special" is a celebration of social good, recognizing students for their community service work during the school year. The hour-long television event was filmed earlier this year at the Forum in Inglewood. It's reflective of 18 similar events held in the U.S., Britain and the Caribbean that inspire and energize young change-makers.
Hosted by John Stamos, the television event features performances and appearances by the Chainsmokers, Jennifer Aniston, Selena Gomez and March for Our Lives organizers Jaclyn Corin and Cameron Kasky. But the real stars are the student attendees who earned tickets through their community service.
During the event, Corin and Kasky addressed the 16,000 youth and educators from California in the audience, urging their peers to vote.
"We strive to move forward to make this world a better place," Corin said.
"One of the strongest ways to do that is with a vote, which not all of us have yet," Kasky added. "For every vote you can't cast, you have family members, friends and neighbors that you can inspire. You can inspire them to vote for your safety."
In another memorable moment, Oscar-winning actor Morgan Freeman joined the first-ever youth poet laureate, Amanda Gorman, to recite "Life Is Like a Roller Coaster" — a poem written by Alex Schachter, a 14-year old who was killed in a mass shooting at his high school in Parkland, Fla. in February.
How exactly can today's youth make change in their communities? The Times spoke with several of the event's participants about the power of young people.
We Movement co-founder Craig Kielburger
More than 20 years ago, Kielburger read a story in a newspaper that set him on the path to the We Movement. The story was about a 12-year-old former slave who was killed for speaking out about human rights.
Inspired, Kielburger, along with his seventh-grade classmates and older brother (We co-founder Marc), formed an organization to free children and their families from poverty and exploitation. Since then, the We Movement has grown exponentially, involving 3.8 million students around the world.
Kielburger says that now, more than ever, young people have the opportunity to make an impact on the world around them.
"With the rise of social media, youth have unparalleled abilities to get their voice out," he said. "There's always been this idealism of youth to create change, but today you can match that idealism with the tools to create change."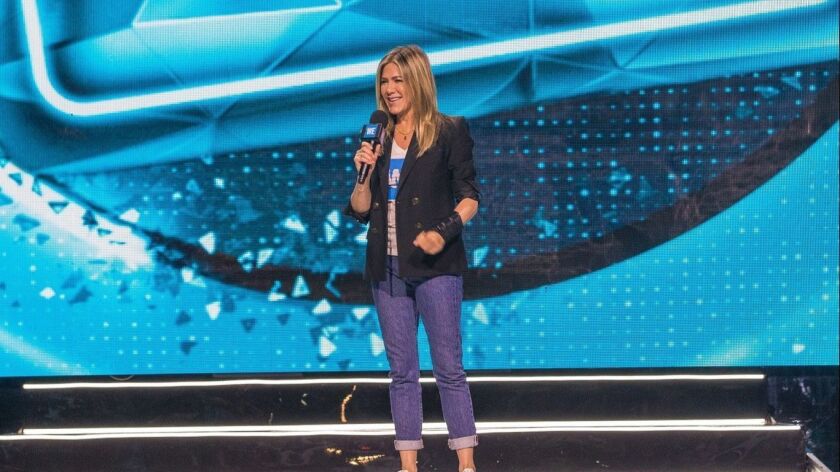 Actress Jennifer Aniston
Aniston said she felt particularly inspired by recent youth movements like March for Our Lives, a series of marches across the country and abroad calling for an end to gun violence and mass shootings in schools.
"I wish I knew if I could open my mouth when I was in high school, and we had a force of kids coming together, we could make a difference," she said. "No one taught me that.
"It's extraordinary. When [youth] finally do realize the power of their voice, people listen, because they're innocent, they don't have a political agenda yet."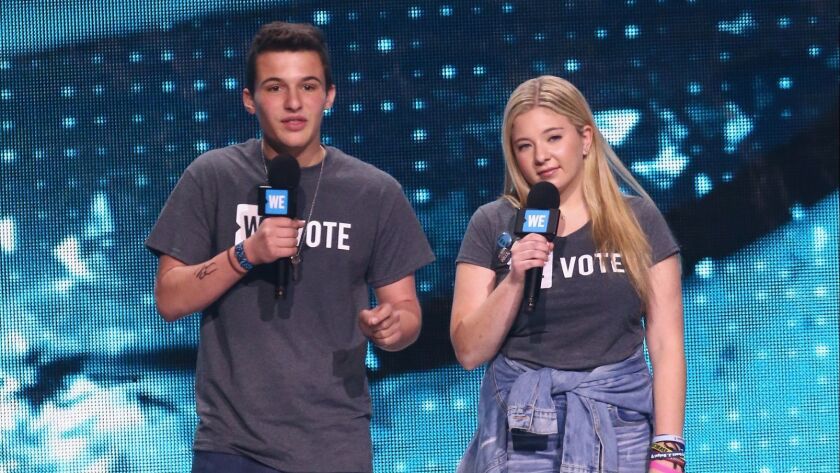 March for Our Lives co-founders Jaclyn Corin and Cameron Kasky
After a mass shooting at their Parkland high school left 17 dead in February, survivors Corin and Kasky sprang into action. They worked with fellow students to organize one of the largest rallies against gun violence. The Parkland activists also launched #NeverAgain, a social media campaign calling for tighter gun control.
"When we're empowered, we have the future ahead of us," Kasky said. "We aren't the old people controlling the money that already have a grasp on the world. We have a world ahead of us that we need to protect."
Both offered advice to other young people who wanted to make a positive impact on their communities.
"It's so easy to reach out to your local officials," Corin said. "Just create conversation at the school."
"If you're dealing with lawmakers, be calm, be cool, collected, be respectful," Kasky added. "Don't let anyone off the hook until you get the change you need."
---