Larry Wilmore discusses the end of 'The Nightly Show'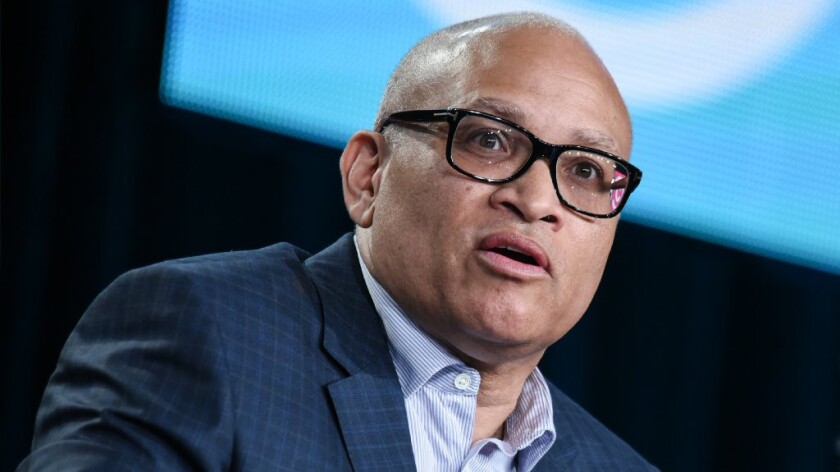 Larry Wilmore is "keeping it 100" (i.e. keeping it real) about the cancellation of "The Nightly Show," his Comedy Central series, which is coming to an end Thursday after a year and a half.
Though sad to see the curtain close on the late-night show, he remains proud of the series, which is being yanked because of low ratings.
"It's TV," Wilmore said in a phone interview Tuesday about the series, which followed "The Daily Show with Trevor Noah" at 11:30 p.m. "I've been here before, so I take it with a grain of salt. But I'm so proud of what we've done. We're trying to hold our heads high."
Starting Monday "@midnight with Chris Hardwick," which now follows "The Nightly Show," will temporarily move into the 11:30 p.m. time slot.
Wilmore's main regret is that "Nightly" didn't last long enough to weigh in on the conclusion of the presidential election. "The Nightly Show" had comedically called the showdown between candidates Hillary Clinton and Donald Trump "The Unblackening."
"I knew there was a possibility that we wouldn't get picked up — that's always a possibility no matter what show you're on — but I thought we would have at least have made it through the election, and then it would have been a question after that," Wilmore said. "So I was surprised that it happened so quickly. We were having so much fun with it, so we're really disappointed not to keep commenting on it."
In a statement after the cancellation was announced, Wilmore quipped, "I guess I hadn't counted on 'The Unblackening' happening to my time slot as well."
"The Nightly Show" premiered in January 2015, replacing "The Colbert Report," whose host, Stephen Colbert, moved to CBS to headline "The Late Show" following David Letterman's departure.
The naming of Wilmore, who had previously been the "senior black correspondent" on the network's "The Daily Show with Jon Stewart," was part of a major shift in the post-prime-time landscape. Stewart departed "The Daily Show" in August 2015 and was succeeded by Trevor Noah. Other "Daily Show" contributors, including John Oliver and Samantha Bee, moved on to their own shows on HBO and TBS, respectively.
Also notable, Wilmore and Noah were the only hosts of color in the late-night hours dominated by white men, including Colbert, Conan O'Brien, Jimmy Kimmel, Jimmy Fallon, James Corden and Seth Meyers.
Wilmore, an L.A. native, had a solid comic resume with his "Daily Show" stint and other projects, including creating "The Bernie Mac Show" and working as a writer-producer on "In Living Color." But "The Nightly Show" never connected with a sizable audience, and the ratings were considerably lower than those for the "The Colbert Report."
Wilmore said, "It's hard for me to do a forensic analysis of why the show didn't work out. There can be a number of reasons why we didn't get the numbers. If I knew those answers, I would have changed it."
"The Nightly Show" often tackled topics surrounding race. Its trademark segment was "Keeping It 100," slang for being truthful, no matter what. "It was always clear what our mission was — to be completely authentic, with a point of view," said Wilmore.
Asked whether being an African American host in the white landscape of late-night made his job more difficult, Wilmore said: "Someone might make that analysis. Being on the inside, it's tougher to say. But if you want to draw that conclusion, I'm not mad at you."
But he does wish that Comedy Central had been more proactive about jointly promoting his show with Noah's.
"With the big change in Comedy Central, the missed opportunity was to have had a synergy between 'The Daily Show' and 'The Nightly Show,'" Wilmore said. "It would have been great to have dual promotions or have had a handoff like Jon did with Stephen. Then people could have gotten to know the both of us and seen a relationship there between me and Trevor."
The comedian said he did suggest such a strategy, but "it didn't happen. It didn't work out."
He also denied suggestions that his hosting of the White House Correspondents Dinner earlier this year, which received mixed reviews, may have hurt the show. During that performance, many of his jokes, including barbs at CNN and other media outlets, received a muted response from the audience, and he also used the N-word in a complimentary shout-out to President Obama.
"I really don't think that had anything to do with it," Wilmore said. "We were having issues with the numbers before that."
(Colbert also sparked controversy when he hosted the event in 2006, taking several shots at the media and then-President George W. Bush. But his show was not seriously affected.)
As for the future, Wilmore said he had no specific plans. "I love doing storytelling, so I will be looking to do more of that. I also enjoyed hosting, so I will be looking for an opportunity to do this somewhere else. I'm keeping my options open."
Before he landed "The Nightly Show," Wilmore was an executive producer on ABC's hit series "black-ish," as well as a consultant on the upcoming HBO series "Insecure," featuring author and web star Issa Rae. He said he was proud of both shows, and although returning to either was only a distant possibility, "that would definitely make me happy."
In the meantime, he was preparing for the final "The Nightly Show," which may include a special guest and a few clips from past shows. "We haven't been on that long, so it's not like we're Johnny Carson signing off. But I just want to show I really appreciated the show and being on."
---
Get our daily Entertainment newsletter
Get the day's top stories on Hollywood, film, television, music, arts, culture and more.
You may occasionally receive promotional content from the Los Angeles Times.