7 Images
'So You Think You Can Dance': L.A.'s finest
'So You Think You Can Dance': LA's finest
'So You Think You Can Dance': L.A.'s finest
By Stephanie Lysaght, Times Staff Writer
For the last few months, the judges of "So You Think You Can Dance" have scoured America, in search of the nation's best dancers. A skilled and diverse crop emerged, plenty of whom auditioned right here in Los Angeles.
After wowing the judges at tryouts, the following six L.A.-based dancers survived the perils of the Las Vegas round and secured spots in the Top 20. I caught up with the six victors in a phone interview Tuesday morning.
(Fox)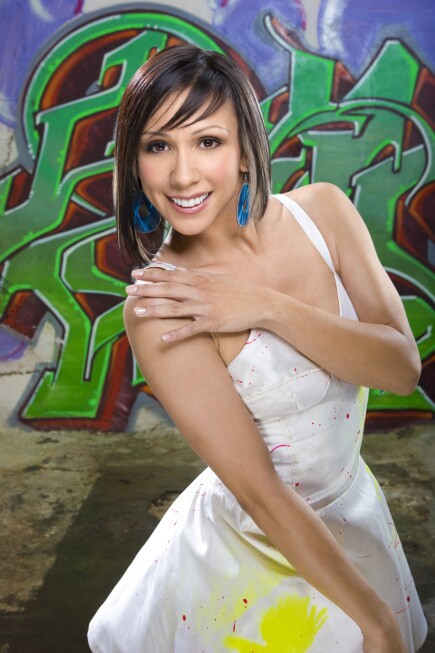 Rayven Armijo
Rayven Armijo
grew up in La Puente, where she perfected her moves at her mother's La Puente dance studio and at L.A. County High School for the Arts. Today, Rayven lives in La Puente where she mentors children.
When Rayven's students found out that their teacher was competing on "SYTYCD," they could hardly contain their excitement. "A lot of them started crying," Rayven recalled. "They're already telling me they're so proud of me."
Rayven, 28, is the oldest member of the Top 20. Looking at her, you'd never know it – and neither did the other contestants. "When the kids find out," explained Rayven, "they're like, 'You're 28?' I think it's just that I have a young spirit."
She may have the spirit of a younger dancer, but Rayven has the confidence of a seasoned professional. "I've had so much practice," said the longtime student of contemporary dance and ballet. "I'm so ready for it."
(Fox)
Kourtni Lind
Kourtni Lind
graduated high school at 16 so that she could jump-start her career. After graduation, Kourtni spent a year working and saving money in her hometown of Forest Lake, Minn. Then she moved to L.A.
Now 18, Kourtni lives in Sherman Oaks, where she shares her bedroom with a roommate. Being in L.A. "was like super exciting at first," recalled Kourtni. Now, however, the thrill has worn off, and Kourtni is ready to move. "I just don't like where I'm living. I'm not a person that should have roommates."
Kourtni is honest about how difficult it is to make it as a dancer in L.A.. At times, Kourtni thinks, "I don't have anybody out here and it's lonely and this sucks."
It seems that through her loneliness Kourtni has found her strength. "You really have to rely on yourself," she said.
(Fox)
Kherington Payne
Kherington Payne
, 18, is the baby of the group. She missed her graduation from El Dorado High School to compete on the show. As if juggling her dancing and her studies wasn't enough, Kherington also plays soccer.
She was slightly bummed on the phone, namely because as we spoke, she was missing her graduation. Still, she was upbeat about the experience thus far. When asked what had been the most rewarding part of "SYTYCD", Kherington said: "Definitely bonding with all these people. I've never met so many new people all at once!"
(Fox)
Katee Shean
Katee Shean
, 20, studies leadership and dance at Chapman University. The San Jose native was drawn to the leadership major because of its focus on community service. "My parents do a lot of volunteer work so it's something that I grew up doing," explained Katee. "I did a lot of work with the underprivileged children and the cancer patients around my area."
Katee first got hooked on dancing at age 4, when her parents noticed her walking around the house on her toes and enrolled her in dance class. When asked if her parents are dancers too, Katee couldn't help but giggle. "My dad does a pretty mean step clap, but my mom has the rhythm."
When she's not perfecting her contemporary dance skills, you might catch Katee at your local Pinkberry. "Food is my second hobby."
(Fox)
Jamie Bayard
At just 22,
Jamie Bayard
is already a professor of dance at Loyola Marymount University; he teaches salsa and swing. He also was the U.S. Swing Dance champion in 2000 and 2002.
Jamie started his swing career in his hometown of Palm Springs. "I was dancing at a studio where I was introduced to a choreographer who actually had a swing team," recalled Jamie. "So I joined the swing team."
But just because he's a decorated dance champ, don't assume Jamie has it easy on "SYTYCD." "Having to dance solo basically is so different," explained Jamie, who is accustomed to dancing with a partner. In partner dancing, Jamie pointed out, the man is "basically the frame and [the woman] is the picture." Now Jamie can be the picture.
It's "really difficult," he said, but "it's about what I expected. I knew it was gonna be hard."
(Fox)
Will Wingfield
"I saw L.A. the first time when I was 14," recalled
Will Wingfield
, a contemporary dancer from Nashville, Tenn. Eventually, Will moved to L.A. to study dance with Debbie Allen at the Debbie Allen Dance Academy.
Now 21, Will reflects on L.A. with mixed emotions. "Everybody's so busy. Down South, you know, its very laid back. It's very slow."
But Will can handle the fast pace of L.A.-life; it's being away from his family that's making things tough. "I really, really miss my family," Will said. And although his girlfriend and mentor came to his first show to cheer him on, Will's family didn't make the trip. "They're waiting for the Top 4," he said with a chuckle. "I gotta make it there for them to come."
(Fox)