Critic's Notebook: Leno, Lauer are now not-so-gracious hosts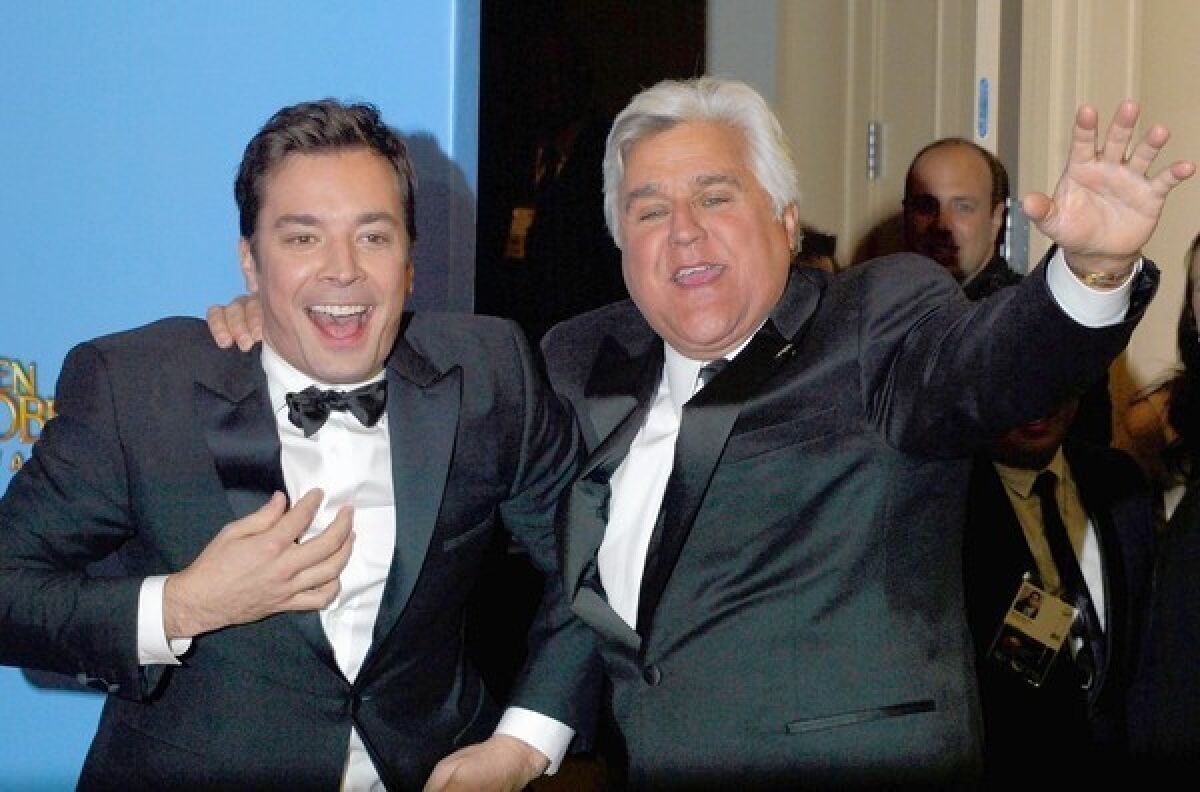 You can say what you want about the labyrinthine nature of the Vatican, but when Pope Benedict XVI decided it was time to go, he announced he was leaving and then he went. A few weeks and a few puffs of smoke later, voila — a new pope.
If only the good folks of NBC could follow the same game plan.
Jay Leno has, mercifully, finally and formally announced that he will leave "The Tonight Show," this time for reals, to be replaced by Jimmy Fallon. Of course, we're talking a year from now — Spring 2014 —plus a cross-country move for the show, from Burbank to New York.
PHOTOS: Classic 'Tonight Show' moments
Still, one hopes this will end a cycle of preoccupation and speculation that has lasted longer than most of NBC's recent scripted dramas — also that there will be no more singing, at least by Leno. But with Jay's infamous take-back play against his previous and outrageously short-lived replacement Conan O'Brien still burning in recent memory, let the "pinkie swear" jokes begin.
This does not mean we are done with NBC's White Boy Shuffle — Fallon must now be replaced, and the name that is floating closest to the top is Seth Meyers. (Seriously, what to say about a world in which we have had a Latino pope, a black president and a female secretary of State before the networks throw some diversity into late night?)
Meanwhile, on the A side of the M, "Today" host Matt Lauer seems ready to take up where Leno left off, publicly whining about how he was framed by his evil network, which did not protect him from the fallout of Ann Curry's ouster — another numskull take-back — and generally painting himself as a wide-eyed victim who just wants to continue doing the job he is honored to have, which is serving the good people of America.
How do you say "give me a break" in Latin?
If Lauer is as savvy and self-aware as he seemed until recently, he will keep quiet, do his job, hope for the best and see if he can book a spot with "Nerdist." He has had a fine, long-lived and lucrative career as the pasha of "Today," a fixed-point mini-monarch around which a bevy of beautiful women have revolved. If it is time for him to go, he should do it with grace and dignity.
Not like Jay Leno.
PHOTOS: Jay Leno - Career highlights
Until 2010, it was impossible not to like Jay Leno. Many viewers may have sought other company in the late-night hours — David Letterman, Craig Ferguson, Jon Stewart and Stephen Colbert or, increasingly, whatever show was stacked too high in the DVR queue — but Leno's affable persona and intentionally middle-of-the road humor made him seem like the slightly wacky uncle you could always count on to smooth over fights and keep things moving at holiday dinners.
Many were truly outraged when NBC executives decided to move him off "The Tonight Show," which they had long ago promised to the snarkier and younger-skewing O'Brien. None more than Leno himself.
His attempt to create "a whole new kind of show" at 10 p.m. was desultory at best. "The Jay Leno Show" looked remarkably like "The Tonight Show," a fact that did neither show any favors. Put off by the sight of a beloved star caught acting like a child forced to fold laundry — see, I can't do this the way you want me to so why should I do it at all? — viewers turned away. In droves.
Still playing the baffled wisecracker ping-ponged by callous network suits, and totally ignoring all the ancient maxims about being careful what you wish for, Leno got "The Tonight Show" back. In the process, he also managed to do what almost no one else could — shatter his beloved persona and permanently damage his legacy.
Instead of handing off the baton, Leno was seen as having thrown it into the bushes and then, after O'Brien patiently retrieved it, snatching it back. O'Brien, his brief tenure tainted by Leno's obvious and implacable unhappiness, never had a chance to prove whether he could deliver big numbers. When he was yanked, his fellow comedians rebelled by turning Leno into a comedic piñata, one shaped to look like an ogre.
VIDEO: Jimmy Fallon's musical moments
Now, Leno's real departure (or is it?) has no hope for the bittersweet flow of sentiment usually accompanying the departure of a television luminary.
Which is a shame, really.
Since replacing Johnny Carson more than 20 years ago, Leno has had far more good years than bad. He still entertains millions of fans who will mourn his departure. And no doubt the situation with O'Brien was much more complicated than it appeared.
But that doesn't matter. When you have a job based on your ability to seem like family to millions of people, your behavior gets raked over the coals of the collective hearth, and no story is more delicious than the nice guy acting like a brat.
There is also an intrinsically double-edged danger to being a professional host, something Leno learned, and Lauer is learning. Your star must be bright enough to attract the multitudes but never bright enough to outshine your guests; it is celebrity based on a certain level of humility.
After all, the main duty of a host is to make everyone feel comfortable, to facilitate conversation, not be the center of it.
You may allow yourself to be loved, but you must not actively court that love. And if it cools, you must never react angrily. No one wants to visit the house of a person who is going to rant like an unhappy parent or spouse about the unfairness of not being recognized for all your hard work.
A bitter host is a former host.
PHOTOS: Hollywood Backlot moments
Like Leno, Lauer is good at what he does, which happens to be in a high-profile, highly paid profession. At a time when many Americans are having their livelihoods threatened by downsizing and salary cuts, it is perhaps not wise to complain too much about your perceptions of being hung out to dry after your co-host has been let go. Better to remain silent and appear regretful — though thank you for not singing.
Lauer too has had a very good run, which may in fact continue for years to come. (Do we honestly see Anderson Cooper or Ryan Seacrest in that chair? No.)
But to every TV host there is a season. (Rumor has it even Alex Trebek may retire. Someday.) As Lauer replaced Bryant Gumbel, so too will Lauer be replaced.
We can only hope that he will remember what Leno forgot: It's the host's job to recognize when the party's over.
PHOTOS, VIDEOS & MORE:
PHOTOS: Behind the scenes of 'Downton Abbey'
VIDEO: Winter TV preview
PHOTOS: Violence in TV shows
Get our L.A. Goes Out newsletter, with the week's best events, to help you explore and experience our city.
You may occasionally receive promotional content from the Los Angeles Times.