Emmys pre-show: The red carpet was red hot
It was scorching hot (like Mario Lopez had to change his shirt hot) on the red carpet this year. Here's a look at the stars in the moments before the 67th Emmys got underway.
Samberg's opening musical number
It looks like Andy Samberg is weighing in on the concept of "Peak TV" with the Emmys opening ceremony, singing a song about how it's impossible to keep up with all of the best show's on television.
It's shades of Samberg's digital shorts with Lonely Island on "SNL" and a great encapsulation of how difficult it is to be a TV fan. All in all, one of the best award show opening numbers in recent memory.
Final touches for Andy Samberg
As the host's prerecorded introduction number kicks off the Emmys, the man himself gets ready to go on.
He, for one, is calling it for Jon Hamm (sort of: "No member of 'Mad Men's' impeccable ensemble has ever won an Emmy. And the show's final season generated more think pieces than viewers. So if, say, Kevin Spacey's name is read, don't be shocked. (Be angry. But don't be shocked.) And "Game of Thrones."
Armisen pays homage to Wes Craven on red carpet
Though Wes Craven died on Aug. 30, he's not forgotten at tonight's 67th Emmy red carpet. Actor and comedian Fred Armisen appeared tonight wearing both a Freddy Krueger-inspired tie and coordinating bladed glove. Krueger is Craven's most famous creation, star of the "Nightmare on Elm Street" series.
If nothing else, it should keep fellow Emmy attendees on their toes, as no one will want to be caught napping with the threat of Freddy lurking.
Selfie sticks prohibited
Ricky Gervais takes a selfie the only way a person can take a selfie at the Emmys: with his arm outstretched. Selfie sticks are banned at the event "due to safety concerns."
Emmys red carpet trends
Claire Danes in Prada
Hey Andy Samberg ... I realize it's late, but here are a few things that would be great to see.
Mary McNamara
Kerry Washington in Marc Jacobs
Jane Krakowski in Bibhu Mohapatra
Sofia Vergara tells Ryan Seacrest that her upcoming fragrance was inspired by her upcoming wedding to Joe Manganiello. She goes into detail about all the sweet scents that have gone into the mix, but we like to think it smells like rock-hard abs, wavy dark hair and a big ol' engagement ring.
And love, of course. Yeah, love.
(Joe, incidentally, had already gone inside to grab a bite to eat ... men!)
At least the theater has air conditioning
Mario Lopez, running around outside in a suit for "Extra," has had trouble staying fresh this afternoon.
Lucky for him, he's been able to change his clothes a few times. Most Emmys attendees don't have that option.
Arrival: Uzo Aduba in Jonathan Cohen
Tatiana Maslany wearing American designer Bouchra Jarrar
Los Angeles Times television critic Mary McNamara has some words of advice for 2015 Emmys host Andy Samberg. For more tips, here is what she had to say about last year's show, hosted by Seth Meyers .
Jimmy Fallon's new technology? His kids
Jimmy Fallon flashes his tiny new "iPhone 6SS" — actually a silver locket with pictures of his kids. Then he fanboys out over recent "Tonight Show" guest and "Scream Queens" star Emma Roberts.
Roberts immediately proceeds to share her favorite catchphrases from the upcoming show with Giuliana Rancic.
The publishable one: "Good evening, idiot hookers."
What Emmys? Mo'Nique says she's going to prom
Forget the Emmys -- Mo'Nique and her husband, Sidney Hicks, are going to prom, the "Bessie" actress said.
Her latest projects have been films that challenged her and allowed her to tell stories not often discussed, she said. Roles such as as Ma Rainey in "Bessie" and the lead of Patrik-Ian Polk's "Blackbird."
"Blackbird" follows a gay man (Julian Walker) as he comes into his sexuality and deals with his devout mother (Mo'Nique).
"What I took away from that film was the same thing I went in with," she said. "We wanted people to not be ashamed of the way they were made."
Arrival: Elisabeth Moss in Oscar de la Renta
'Just keep laughing, guys'
Jorma Taccone, left, and Akiva Schaffer -- who with Andy Samberg form the comedy trio Lonely Island -- flank Jack McBrayer, best known for playing Kenneth Parcell on "30 Rock."
They really try to hold those smiles. There are so many smiles today. So many smiles.
The 'Game of Thrones' gang
All we're saying is SPIN-OFF SERIES.
Arrival: Laverne Cox
Sarah Paulson loves the nods, but a win would rock
Sarah Paulson, nominated this year for "American Horror Story," has actually been nominated four times in four years, thrice for "AHS" and once for "Game Change," E!'s Giuliana Rancic notes.
"Winning, that would also be great too," Paulson says with a big, pretty smile and a touch of sass. She's in off-the-shoulder Prabal Gurung, by the way.
Forte is nominated for lead actor in a comedy for his role in "Last Man on Earth," a series he also created.
In May, "Last Man" actress Mary Steenburgen told The Times how she came to write a song for the show.
Women in suits
Alexander Wang's custom dress for Taraji P. Henson
'Bikram Emmys'
Inside the Microsoft Theater
The show starts in 45 minutes.
Amy Poehler's glad she's not hosting
With darker hair, multiple-nominee Amy Poehler is a little hard to recognize on the red carpet. She's also a little more relaxed than she was on her way to co-host the Golden Globes.
Read: She'll be cocktailing, and host Andy Samberg gets her total vote of confidence
Pant game strong
"Mad Men" is over and the world is weeping. Cast member Kiernan Shipka is dealing with the loss the only way she knows how -- with laughter.
"Comedy keeps my spirits up," she said.
She suggests "Veep" or reruns of "Arrested Development."
With darker hair, multiple-nominee Amy Poehler is a bit unrecognizable on the red carpet, but the Golden Globes cohost says she's a lot less stressed for the Emmy Awards than she was for the Globes. Read: She'll be cocktailing tonight. She has faith that Andy Samberg will do a great job.
On the red carpet's other end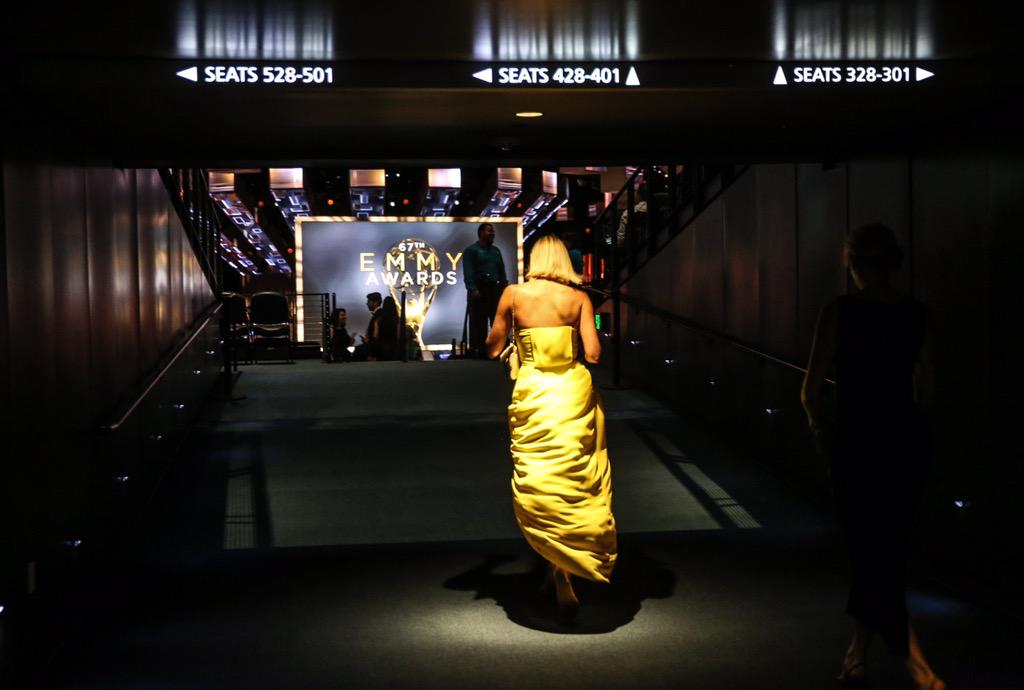 People are trickling into the theater to await the main event.
'Transparent' feels the heat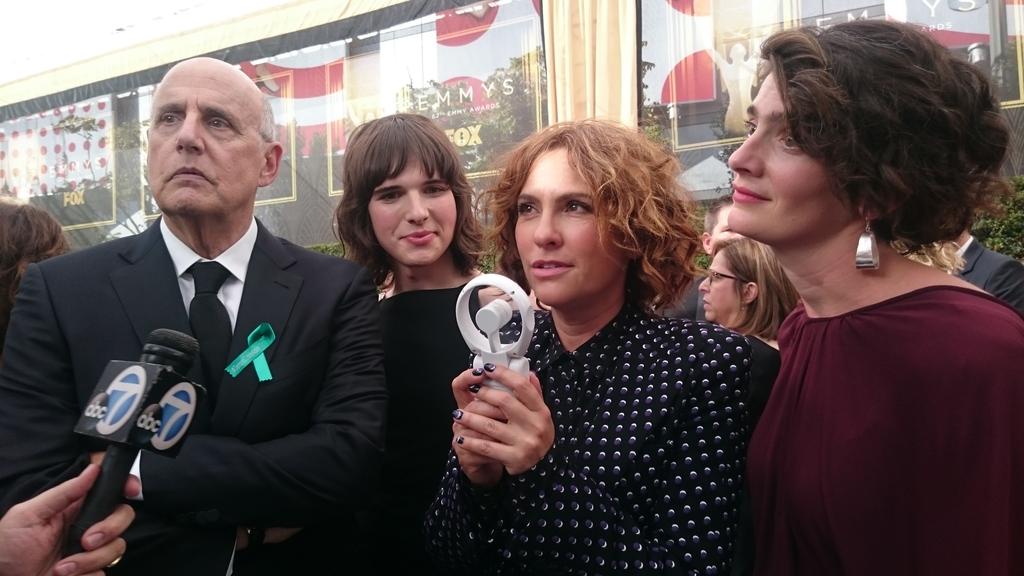 The "Transparent" crew. Creator Jill Soloway is fan-ready.
Kiernan Shipka in Dior
Yellow on the Emmys red carpet
It was a hot hue on the runways at the spring 2016 fashion shows at New York Fashion Week, which just wrapped on Thursday. And marigold yellow is making an impression on the Emmys red carpet. Mindy Kaling is wearing a short-sleeve Salvador Perez gown (best), Padma Lakshmi, above, a strapless, draped silk charmeuse Romona Keveza style (honorable mention); and Heidi Klum is strutting in a kooky, canary-bird Versace (worst).
Emmy's biggest trend so far? How to beat the heat
So far, beating the heat is the biggest trend on the red carpet. Jaimie Alexander, above, kept cool in her long-sleeve, multi-colored sequin stripe Armani Prive column gown by carrying a personal fan. And Tatiana Maslany wore her white Bouchra Jarrar tuxedo with nothing underneath, though she told Ryan Seacrest she wished the pants were cut-off shorts.
Jaimie Alexander in long sleeves
Mindy Kaling promises a longer, racier 'Project'
Mindy Kaling's show "The Mindy Project" is on Hulu now, and E!'s Ryan Seacrest wants to know what's the big difference since leaving the network.
"I think the show is better than it's ever been," the star-writer-showrunner said on the red carpet. It's a little longer, she says, and they can put in more of the racy stuff.
(That jingling sound you hear are all the "Mindy Project" fans digging for change as they figure out how to subscribe to yet another streaming service.)
The hug seen round the world
After the Emmy nominations were announced, actress Amy Schumer was very vocal in congratulating Tatiana Maslany for finally being recognized for her work on "Orphan Black." The two actresses have never met, setting the stage for this great red carpet crossover moment.
Arrival: Sarah Hyland
Arrival: Taraji P. Henson in custom Alexander Wang
Top Chef tip: Vegetables before the show. Burgers after.
"Top Chef" judge Gail Simmons knows food. For award shows she suggests "something crunchy, vegetables and champagne."
"You don't want something that's going to weigh you down," she said.
But all bets are off at the end of the night, she said -- you'll probably find her chomping on a cheeseburger at In-N-Out.
Arrival: Giuliana Rancic
Arrival: Heidi Klum in Versace
The hug seen round the world
Amy Schumer's leaving 'em sweaty
Didn't believe it when we said Amy Schumer got icky-sticky with Ryan Seacrest? Then you don't know Amy Schumer.
"Games of Thrones" star Maisie Williams, who plays Arya Stark in HBO's hit show, is about to hit the red carpet.
"Game of Thrones" is nominated fordrama series. It's supposed to be a big night for the show.
Is this the year an African American woman will finally win an Emmy for lead actress in a drama? Will Jon Hamm finally get a lead-actor win for his role as Don Draper on "Mad Men"? Will Lena Dunham show up in a frothy ombre dress? How will first-time host Andy Samberg do? So many questions, and we can hardly contain our excitement.
For more on what to look for, click read more below.
Christina Hendricks has some 'Mad Men' souvenirs
Christina Hendricks admits to E!'s Ryan Seacrest on the red carpet that she lifted some memorabilia from the "Mad Men" set before wrapping up production: a piece of art from her character Joan's apartment, and a pin that had sentimental value. And she wasn't the only one.
"Everyone grabbed a little something," she says.
If only we could have grabbed Don Draper's office bar ...
Emmys love
"Orange Is the New Black" made history this year as the first show to be nominated as both a comedy (last year) and drama (this year). Cast member Lea DeLaria is loving the attention.
"But none of us do it for the trophies. We do it for the whores," she joked.
The series has also been noted for its championing of diversity. For DeLaria, an open lesbian, the show has had a tremendous effect on her.
"If someone would've told me in 1982 that I, looking like this, would be at the Emmys, I'd tell them they were lying," she said. "I've literally gone to lezzy-feminist heaven."
Schumer has said they're co-writing the comedy and will play sisters.
Arrival: Host Andy Samberg and singer Joanna Newsom
Laura Prepon's prep
Prepon plays Alex Vause on Netflix's "Orange Is the New Black," nominated for the drama series Emmy.
The heat is scorching at LA Live and "Orange Is The New Black" star Lorraine Toussaint is making a bid for a Bounty commercial. She's tucked a sleeve of the paper towel into her purse use as a sweat rag.
The veteran actress played Yvonne "Vee" Parker, a character introduced in the Netflix drama's second season.
Amy Schumer offers to blot a sweaty Ryan Seacrest
Amy Schumer, so thoughtful! She offers to wipe the sweat off Ryan Seacrest's forehead at the end of their red carpet interview for E! network. Relatable, right? Plus apparently not above getting a little icky and sticky to do a solid for a buddy. Especially one who can't take off his tuxedo jacket in the blazing SoCal sun.
Early red carpet arrivals: TV hosts, Samberg and — Jon Hamm?
Who's first to hit the red carpet? It's usually TV personalities — think Maria Menounos, Debbie Matenopoulos, Nancy O'Dell, Keltie Knight, Brad Goreski, Louise Roe, Stephanie Bauer, Deborah Norville and the perennial Giuliana Rancic
Host Andy Samberg also made an early entrance. Hey, he's got to get ready to work, right?
We can't quite explain Jon Hamm's early presence — let's assume traffic was lighter than his driver expected, or maybe he just wanted to get as close as possible to the moment he might finally win the Emmy for lead actor in a drama. He's been nominated every year since 2007 for "Mad Men."
Andy Samberg's textured tux
Decisions, decisions
"Modern Family" is once again up for the Emmy for comedy series. Looks like Ariel Winter, who plays Alex Dunphy on the show, will be walking tall.
Keeping it simple
Ricky Gervais, nominated for lead actor in a miniseries or TV movie for playing the title role in "Derek: The Final Chapter," is -- well, he's certainly wearing a tie.
Uzo Aduba, who plays Suzanne "Crazy Eyes" Warren on "Orange Is the New Black," is nominated for outstanding supporting actress in a drama.
Earlier this year, she talked to The Times about her twin passions of acting and sports, and how she came to love the terrific gap in her smile.
It's 99 degrees in downtown L.A.
Last year's Emmy color was red. What will this year's color be?
We've got provisions
Or at least one of our on-site photos editors does.
The Times' Meredith Blake notes that the nominations announced in July already included some pleasant surprises, and tonight could bring still more. Here are four races Blake is watching for signs that Emmy Awards is getting its act together after years of tending to honor a handful of favorites.
---
Inside the business of entertainment
The Wide Shot brings you news, analysis and insights on everything from streaming wars to production — and what it all means for the future.
You may occasionally receive promotional content from the Los Angeles Times.