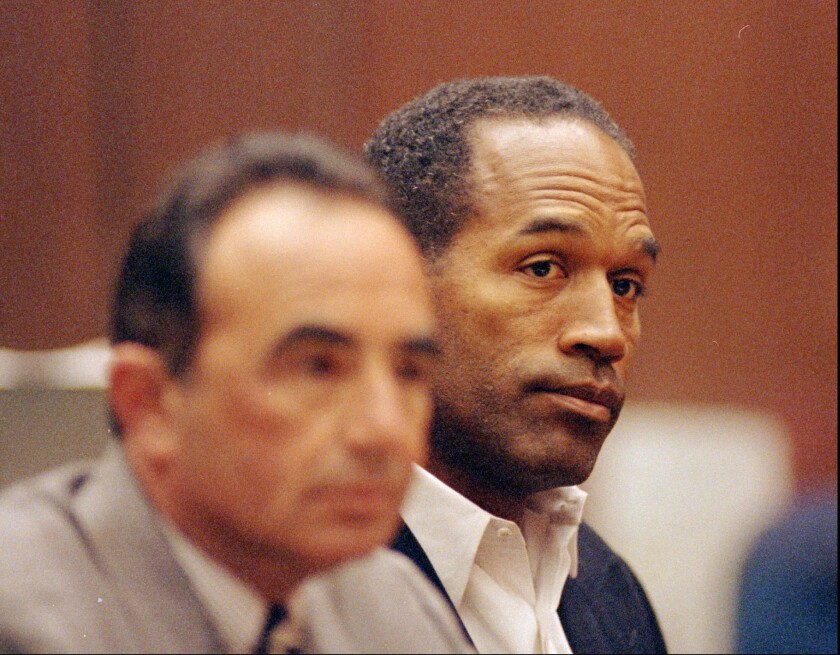 For months, FX's "American Crime Story: The People v. O.J. Simpson" has captivated viewers as it revisited and occasionally fictionalized the events surrounding the murders of Nicole Brown Simpson and Ronald Goldman and the subsequent investigation and trial.
The crime was a Los Angeles tragedy through and through, with the trial taking place just a couple of blocks away from the Los Angeles Times building in downtown L.A. As evidenced by recurring mentions throughout the run of the series, The Times covered the events surrounding the Simpson circus from the first. It seemed only appropriate then to dig into our archives and see if we could answer some burning questions from the first season of "American Crime Story."
Was Robert Kardashian conflicted about O.J. Simpson's innocence?
Though "American Crime Story" may exaggerate the extent of Kardashian's doubts about his friend's innocence, it wasn't all fiction. It seems like Kardashian himself wasn't quite sure how he felt about Simpson's potential guilt.
"O.J. Simpson never lied to me. He has told me that he did not commit these horrible crimes and I have no reason not to believe him. It was from that perspective that I came to stand by his side during his trial," wrote Kardashian in a piece for the Los Angeles Times in October 1995.
Yet when speaking to Barbara Walters in an October 1996 interview, Kardashian told her, "I have doubts," going on to add, "The blood evidence is the biggest thorn in my side; that causes me the greatest problems. So I — I struggle with the blood evidence."
Read the story from our archives: "Robert Kardashian, 59; Served on O.J. Simpson's Defense Team"
Did the jurors really stage a revolt?
Indeed.
Thirteen jurors donned black garb in protest of the dismissal of several deputies responsible for overseeing the jury after complaints accusing the guards of favoring white jurors. The protesting jurors — black, white and Latino — also gave Judge Ito a hand-signed letter registering their displeasure.
"I just think that [the deputies] got a raw deal. I really do," a 37-year-old black female juror told the judge in his chambers on April 21, according to transcripts from the trial, with another juror, a 52-year-old black woman, telling Ito she was upset about the dismissals because two of the deputies had been with her when her sister died: "They were there with me through a lot of crying times."
Read the story from our archives: "THE O.J. SIMPSON MURDER TRIAL: Transcripts give details of 'juror revolt'"
Why did Dennis Fung, LAPD criminalist and witness for the prosecution, shake hands with the lawyers after his testimony?
Out of relief from finally being off the witness stand.
"I was so happy to get off the stand. I was high," Fung told The Times in October 1995. Fung spent a grueling nine days on the stand as Simpson's defense picked apart his professionalism and the alleged incompetence of the LAPD crime lab.
Read the story from our archives: "How the case changed the lives of those it touched: Dennis Fung"
Did Marcia Clark and Chris Darden have a romantic relationship?
Sadly, no.
When Clark was on "The Ellen DeGeneres Show" in March she assured the host that while the pair did dance and did go on a trip to the Bay Area, as shown in the series, the relationship was not a romance but a partnership.
"We were really partners," Clark assured DeGeneres, adding, "We were trench mates. He wasn't my second chair ... we were co-counsel and he was my partner and I can't tell you how important it was to have him there."
Read the story from latimes.com: "Marcia Clark talks Chris Darden romance rumors with Ellen DeGeneres"
Did Johnnie Cochran really shame Clark in the courtroom about needing child care?
He did.
Cochran suggested that perhaps Clark had begged off on a proposed evening session because she was attempting to delay the testimony of Rosa Lopez, a witness for the defense. Clark was incensed by the accusation and asserted that she was "offended as a woman, as a single parent, as a prosecutor and as an officer of the court."
Read the story from our archives: "Marcia Clark's husband cites trial in custody fight"
Who is the woman behind the Mark Fuhrman tapes?
Laura Hart McKinny, wannabe screenwriter, interviewed Mark Fuhrman for over 13 hours between 1985 and 1994 as research for a screenplay she was writing about women police officers. During the interviews, Fuhrman used the N-word more than 40 times and described incidents of police brutality against African American suspects.
McKinny's tapes were admitted into evidence by Judge Ito, but the defense was allowed to use only two small portions.
McKinny's husband, Daniel, told The Times, "She has done a lot of journalism to reveal [racism and sexism] at the LAPD, and she thinks it's important for the public to hear about it, but she wants to be the one to tell them," speaking of his wife's as-of-yet unproduced screenplay "Men Against Women" (the novelization of which is available for purchase on Amazon).
Read the story from our archives: "Sudden fame is frustrating for writer behind tapes"
Did the Los Angeles Times really write an expose that revealed Cochran's alleged domestic abuse past?
Yes.
Barbara Jean Berry and Johnnie Cochran were married in 1959 and divorced in 1977. When first filing for divorce in 1967 (the couple eventually reconciled) and again in 1977, Berry alleged that Cochran had been physically abusive on a number of occasions throughout their marriage.
Cochran denied the allegations and Berry, when interviewed by The Times, declined to comment, saying, "I will not discuss it. I never said I wanted to be interviewed."
Cochran, in his inimitable style, told The Times, "'That's a terrible comment. Looks like somebody wrote that out for her. She probably called her lawyers. They said don't say anything; they'll get you for perjury. Nobody is going to try her for perjury."
Read the story from our archives: "Johnnie Cochran's whole career has been a prelude to what is happening in courtroom 103"
Did Cochran show up at closing arguments with bodyguards from the Nation of Islam?
He did.
Though Cochran had eschewed protection for the majority of the trial, death threats spurred the head of Simpson's dream team to enlist muscle from Louis Farrakhan's religious organization.
Apparently, two guards even followed Cochran into the men's room for his protection.
Read the story from our archives: "Tales of bodyguards, ribbons and Krazy Glue"
How long did the jury deliberate before rendering the verdict?
Three hours. After spending 266 days in sequestration, the jury in the Simpson trial wasted no time in coming to a decision.
Read the story from our archives: "Simpson not guilty: Drama ends 474 days after arrest"
Did President Clinton talk about the verdict in the aftermath?
Clinton addressed the verdict at a news conference with Mexican President Ernesto Zedillo and registered his shock at the country's polarized reactions to the trial's outcome.
"I must say that, even though I thought I knew a lot about how people of different races viewed things in America, I have been surprised by the depth of the divergence in so many areas," Clinton said.
When the verdict was officially released, Clinton also released a statement insisting that Americans respect the verdict, as stipulated by the nation's justice system.
Read the story from our archives: "President says he's 'very concerned' about apparent racial gulf"
Follow me @midwestspitfire
MORE:
'The People vs. O.J. Simpson' makes fact fiction and finds something profound in the process
Simpson Held After Wild Chase: He's Charged With Murder of Ex-Wife, Friend
KCBS Takes 'Action' Too Far . . . Once Again (featuring pre-TMZ Harvey Levin)
---