Aziz Ansari appeared with his father on Wednesday night's "The Late Show with Stephen Colbert" and, once again, the elder Ansari stole the show.
On Ansari's new, critically-acclaimed Netflix series, "Master of None," he cast his parents, Dr. Shoukath and Fatima Ansari, as the parents of his character, Dev, resulting in his father becoming something of a breakout star.
NEWSLETTER: Get the day's top headlines >>
On "The Late Show," Dr. Ansari recounts his hopes that son Aziz would become a doctor, before the younger Ansari admitted that what he really wanted to do was be a stand-up comedian, a concept Dr. Ansari was unfamiliar with.
"He said, 'I'll stand up and tell jokes in front of the audience.' Is this a job?!" quipped Dr. Ansari.
Ansari's father resonating with audiences will likely come as no surprise to the young man. When the Los Angeles Times spoke with Ansari before the debut of "Master of None," he spoke of the importance of casting Dev's parents.
See the most-read stories in Entertainment this hour >>
"Every time I see Indian parents portrayed on film or TV, they're not three-dimensional, they're excuses for hacky ethnic jokes. I wanted the parents to feel real," Ansari said.
But before his father joined him on stage for his "Late Show" interview, Ansari spoke with fellow South Carolinian Stephen Colbert about diversity, joking that Colbert inviting him on CBS was about as diverse as the network gets.
It's a pointed, if good-natured, barb from Ansari who uses "Master of None" to tackle many of the nuances of diversity, from Dev refusing to do an Indian accent in an audition to the difficulties between second-generation immigrants and their parents.
In his Times interview, Ansari also remarked on the importance of addressing such issues, saying of the episode when Dev refuses to do an accent: "The chance for an Indian guy to star in his own show and do an episode like 'Indians on TV' -- that doesn't come around a lot, right?"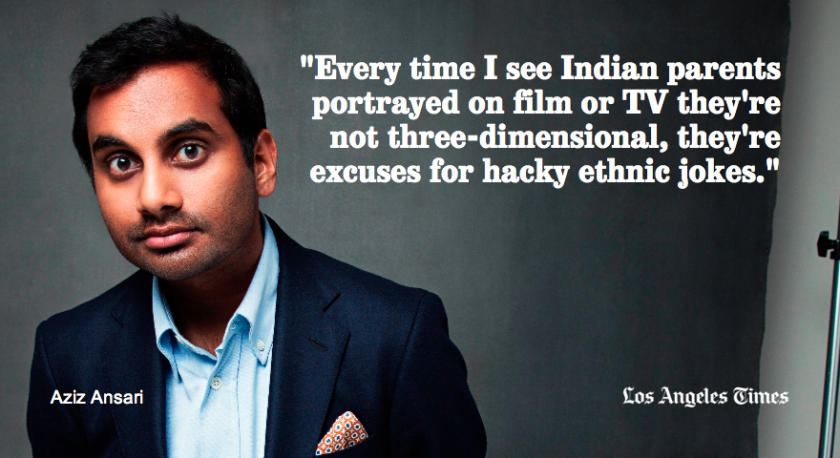 As for Dr. Ansari, his successful "Late Show" appearance was capped with a beautiful story from his son that the young Ansari recounted on his Tumblr. It included the sentiment: "If your parents are good to you, too, just go do something nice for them. I bet they care and love you more than you realize."
Twitter: @midwestspitfire
---