Chelsea Handler on her new Netflix life: 'I'm very happy where I am now'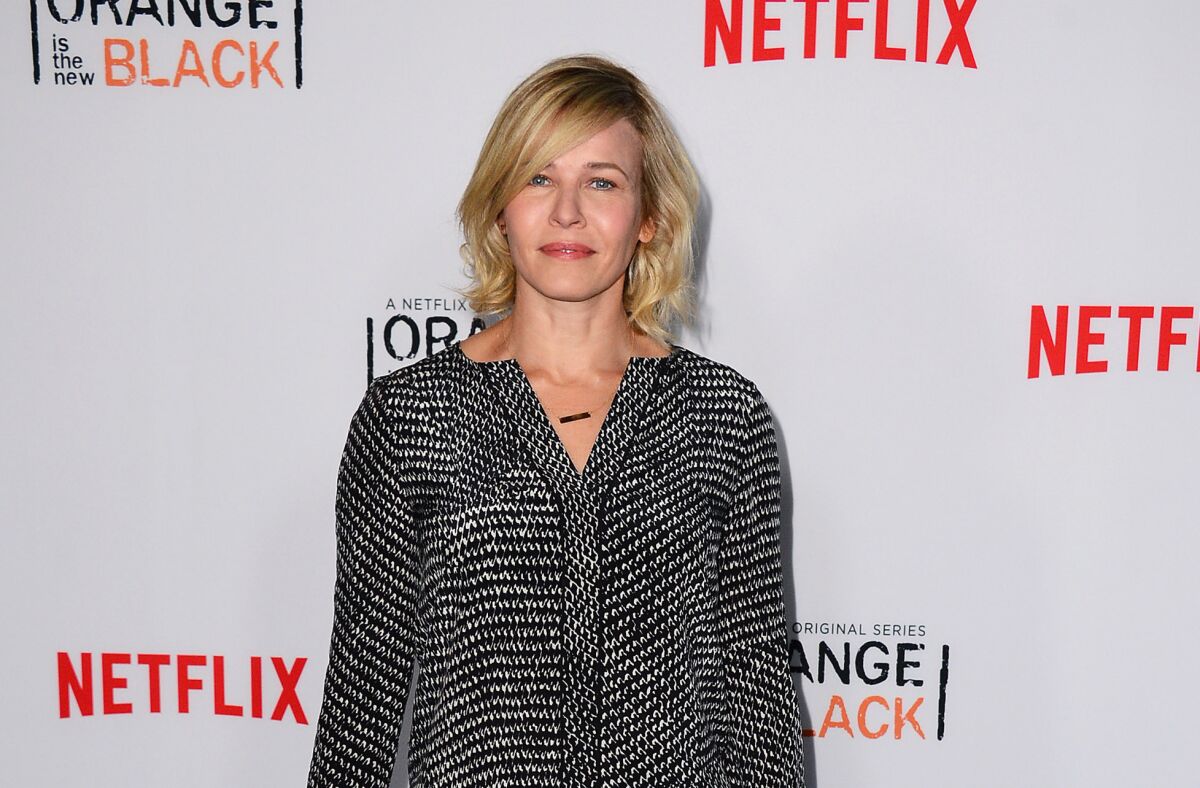 Nothing has made Chelsea Handler miss having a talk show quite like Rachel Dolezal.
Handler was on hand Tuesday at the Television Critics Assn. press tour to promote the roster of projects she has on tap with Netflix. And while she's been vocal about her relief at having ended her E! network talk show, the story surrounding Dolezal, the former NAACP chapter president accused of pretending to be black, is one that caught her attention.
"That was a very enjoyable story for me to watch," Handler told reporters. "I thought it was beyond ridiculous."
That's not to say Handler has any regrets.
After seven seasons of "Chelsea Lately!" on E!, the 40-year-old funnywoman said she "had to get her brain working again." She struck a deal last year with Netflix to launch a new, as yet determined talk show that is expected to debut next year.
The deal generated headlines because it came amid Handler's jabs at her former employer and at a time when the next generation of broadcast's late-night hosts was being decided.
Handler got thrown into the mix herself with speculation that she was a possible successor to Craig Ferguson on "The Late, Late Show."
"I was approached about network jobs," Handler said. "I was never interested in taking somebody else's job. I wanted to do something different."
Included in that "something different" deal are four documentary specials that she has developed. Each will focus on a different topic — marriage, Silicon Valley, racism and drugs — and will launch on the streaming service "soon."
"It's been a really amazing experience for me, work-wise," Handler said. "It's a lot different than anything I've ever done before. It's a great entree into Netflix-world."
Handler said that once editing commences on those documentary specials, focus will shift to the identity of her talk show for the video streaming site. Handler says she's not looking to do another nightly format. She said the show will probably be more in the vein of two or more episodes per week.
"I'll be in your face, don't worry," she quipped.
If Handler, known for her biting and crude wit, seems a lot happier in her current work situation, it's because she's been at the wheel more than she was in the past.
"I think Netflix is very well known for letting talent drive its own car," Handler said. "They get onboard with you and give you the structure that you need, but they let you drive. It's such a pleasure to work with people who have faith in you and let you blossom."
As far as her outspokenness about E!, Handler says she has pressed forward and acknowledges the position it put her in.
"I was just talking honestly about how I felt then, which I always do," she said. "I don't think anyone needs to hear me bitch about E! now. I'm very happy where I am now."
"It was a great, fun time for me. It brought to a different level of success. It wasn't a place I wanted to live for a long time .... After 7 or 8 years, I wanted to do something else."
I tweet about TV (and other things) here: @villarrealy
ALSO:
Current season of TV's 'Key & Peele' will be its last
'Keith Richards: Under the Influence' doc due Sept. 18 on Netflix
Diane Keaton to star with Jude Law in Vatican-set HBO drama 'The Young Pope'
---
Get our L.A. Goes Out newsletter, with the week's best events, to help you explore and experience our city.
You may occasionally receive promotional content from the Los Angeles Times.