Chuck Todd to replace David Gregory as NBC 'Meet the Press' moderator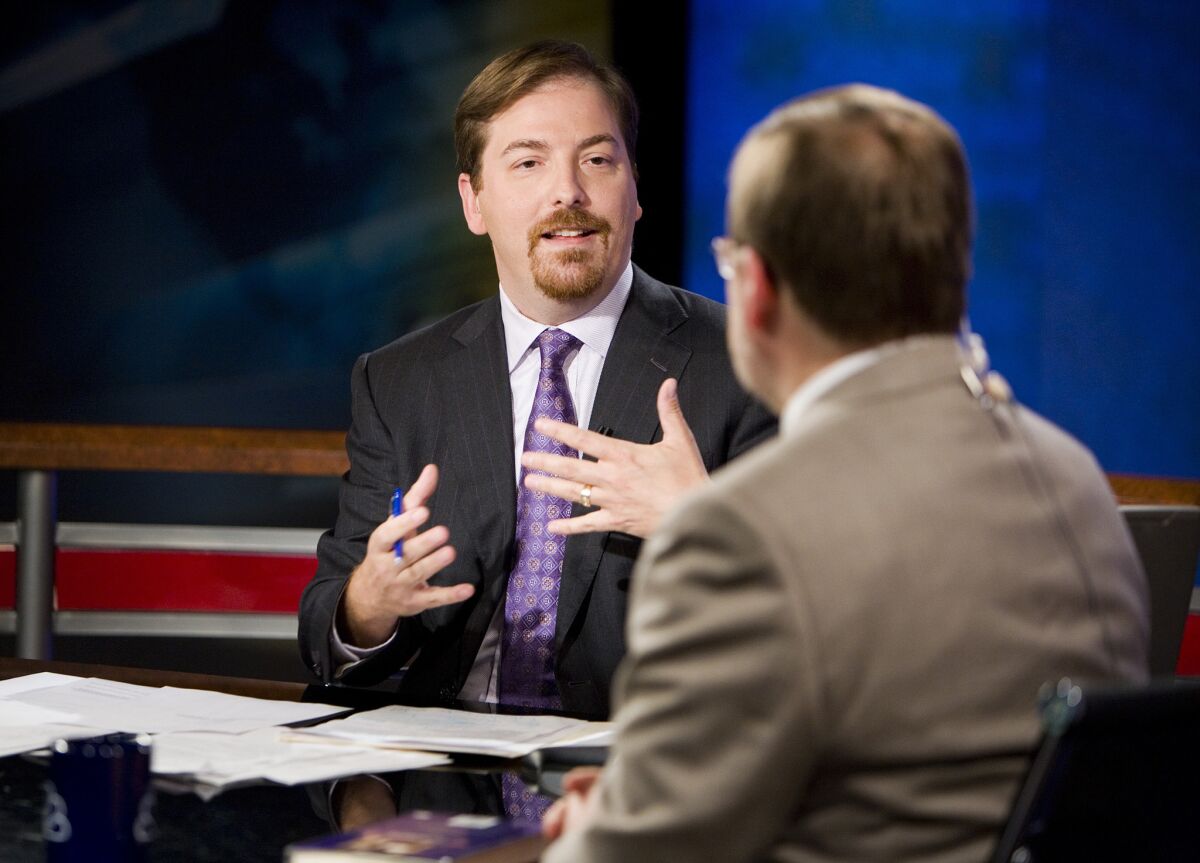 Following a sustained ratings slide, NBC is shaking up its Sunday morning newsmakers show, "Meet the Press," by replacing moderator David Gregory with the network's resident political wonk, Chuck Todd.
NBC said Thursday that Gregory, who has been the host of the show for nearly six years, would be exiting the network after 20 years.
"I leave NBC as I came — humbled and grateful," Gregory said on Twitter. "I love journalism and serving as moderator of 'Meet the Press' was the highest honor there is."
NBC's Sunday morning public affairs talk show has the distinction of being television's longest-running program, launching in 1947. Until recently, it was dominant over CBS' "Face the Nation" and ABC's "This Week With George Stephanopoulos," but as the show lost viewers it also seemed to lose its verve, which prompted rampant speculation that Gregory was vulnerable.
Gregory in 2008 succeeded the late Tim Russert, who had built "Meet the Press" into a must-see program. Russert maintained his reputation as a political insider and hard-nosed moderator who was not afraid to grill influential political leaders, some of whom seemed to flinch under the lights and Russert's tough questions.
Todd serves as chief White House correspondent and political director for NBC News. He also hosts "The Daily Rundown" on sister network MSNBC. He will take over "Meet the Press" on Sept. 7, according to a memo that NBC News President Deborah Turness sent late Thursday to her staff.
Once at "Meet the Press," Todd will continue his role as political director but will hand over his other duties.
"There is no one with a bigger passion for politics than Chuck," Turness said in the memo. "His unique ability to deliver that passion with razor sharp analysis and infectious enthusiasm makes him the perfect next generation moderator of this beloved broadcast. Chuck will ensure that 'Meet the Press' is the beating heart of politics, the place where newsmakers come to make news, where the agenda is set."
Top NBC executives had been unhappy with the performance of "Meet the Press" for some time, and this summer the show fell into third place behind "Face the Nation" with Bob Schieffer and ABC's "This Week With George Stephanopoulos," which is frequently moderated by Martha Raddatz.
ABC's "This Week," which averages about 2.6 million viewers, has grown its audience 14% in the last year while "Meet the Press" has seen its audience fall 5%. "Meet the Press" has been averaging about 2.4 million viewers an episode. "Face the Nation" on CBS draws nearly 2.9 million viewers.
"This Week" in recent months had been landing more exclusive interviews, including scoring sit-downs with President Obama and Russia's President Vladimir Putin.
In addition to his ratings woes, Gregory has failed to impress many media observers and has come under attack from seemingly all sides of the political spectrum. "Fox News Sunday With Chris Wallace" recently was drawing higher ratings than "Meet the Press" in the D.C. market.
Last year, New York magazine columnist Frank Rich pilloried Gregory as a journalistic lightweight after an accusatory interview with reporter Glenn Greenwald regarding NSA leaker Edward Snowden. Meanwhile, gun rights advocates called for his arrest in December 2012 after he displayed a 30-round gun magazine on the air during a conversation with NRA Chief Executive Wayne LaPierre, even though such high-capacity ammunition is illegal in Washington, D.C.
Gregory also had the difficult task of coming after the highly regarded Russert, who also was known for assiduously resisting Washington's schmoozy social scene, according to Judy Muller, a professor at the USC Annenberg School for Communication and Journalism and a former ABC News correspondent.
In contrast to Gregory, Todd is widely considered one of the wonkiest and most well-versed broadcast journalists covering Beltway politics. He is likely to earn the respect of the "smart, politically astute and savvy audience" of "Meet the Press," Muller said.
"The political junkies are going to love a Chuck Todd more than a David Gregory," she said. "Bringing in Chuck Todd is an admission by NBC that when it comes to interviewing people who are making policy, they need to have someone who can ask tough questions about the intricacies of that policy."
The move also suggests that NBC News, which is still smarting from "Today's" slide into second place behind "Good Morning America" two years ago, is eager to shore up its weekend programming in advance of the new TV season, which kicks off next month, and the upcoming midterm elections.
Although the Sunday morning shows are not huge money makers, they remain important vehicles for network news divisions, helping to set the political agenda and appeal to a highbrow crowd of opinion makers, political leaders and political junkies.
The shows have also long captured premium advertising rates from defense contractors and other industrial giants seeking to influence members of Congress.
Because "Meet the Press" has historically been the leader of the pack, it hauls in considerably more advertising revenue than its competitors. Last year, "Meet the Press" generated $55 million in revenue — more than the combined total of the rival shows on ABC and CBS, according to advertising firm Kantar Media.
By contrast, "Face the Nation" fetched $25 million in advertising revenue, while ABC's "This Week" captured $20.7 million.
"I think David Gregory did his best, but he had six years," Muller said. "You can go for a long time on the strength of a name like 'Meet the Press.'"
---
Get our L.A. Goes Out newsletter, with the week's best events, to help you explore and experience our city.
You may occasionally receive promotional content from the Los Angeles Times.