'Dancing With the Stars' recap: Gone too soon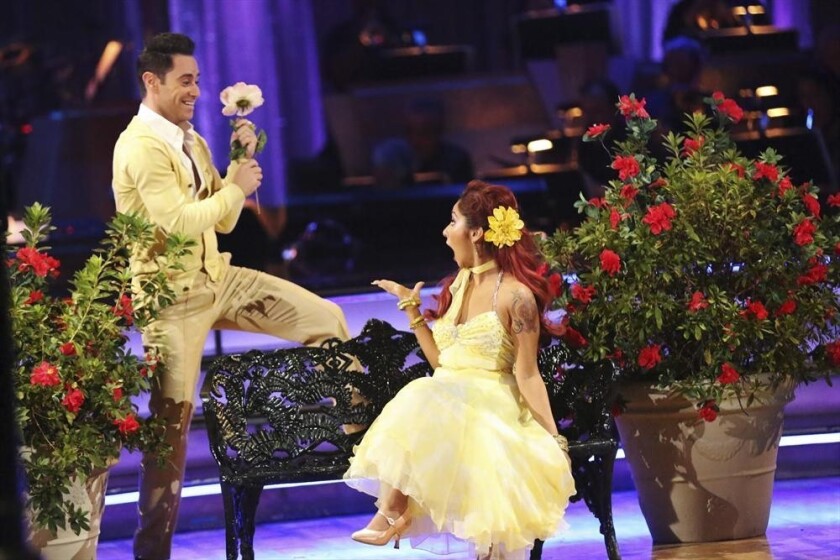 Halloween came early to the "Dancing With the Stars" ballroom as Week 7 offered a night of crazy costumes, tons of makeup, a bunch of sweet, high-stepping treats and one cruel elimination of a trick.
The trick, of course, was the surprise elimination of Nicole "Snooki" Polizzi and her partner Sasha Farber, which stunned the crowd into silence. Bill Engvall and Emma Slater were also in the bottom two, and it was widely assumed that the low-scoring comedian would be the latest star booted from the glitterverse.
"Pocket rocket" Nicole's worked tirelessly and her dancing's grown leaps and bounds. She was also visibly upset by this result.
PHOTOS: Hollywood Backlot moments
"I can't even talk right now," a teary Nicole said. Unfortunately, her bloody team dance makeup made it look as though she had feasted on a squirrel monkey and made this somber exit that much more ghastly. "Why am I leaving a zombie?" she moaned. "Zombies come back!" Tom replied optimistically.
It was a macabre ending to a hard "DWTS" week filled with "mid-season blues." Good thing we got two triumphant Team Dances.
Team Spooky Bom Bom, consisting of Elizabeth & Val, Bill & Emma, Nicole & Sasha, and Leah & Tony, went first, and theirs was a graveyard delight. Yes, the team was composed of "underdogs" but the motley crew really came together in a Beetlejuicy, "Thriller"-like event. Bill was the Ichabod Crane-type figure who happened upon the other undead dancers. Leah looked like Helena Bonham Carter. "The parts together were tight and right on the money. The individual bits were fun," Len said. "I never thought you could have so much fun with the walking dead," Bruno said. Carrie Ann said it was "thoroughly entertaining" and Bill was "the glue that held that performance together." Total: 27.
Next came Team Foxing Awesome — made up of Amber & Derek (who has yet to lose a group dance), Brant & Peta, Corbin & Karina, and Jack & Cheryl and set to that head-scratching YouTube sensation "What Does the Fox Say." And put me in a furry suit and stick me in the forest: Team Foxing Awesome really was … foxing awesome. The routine matched the energy and extreme battiness of Ylvis' paean to animals and pulled off a furry-laden performance that was like an "Arrested Development" chicken dance montage meets "Where The Wild Things Are" on LSD — without missing a beat. "That was so clever. That was so inventive, the choreography gave me goosebumps!" Bruno purred. "I feel like I was just on an acid trip," Carrie Ann said. "All your choreography was completely in sync." Both dances had Len up in applause, but this one "was full of little touches that made it irresistible," he said. So irresistible that it got a perfect 30!
FALL TV 2013: Watch the trailers
Here's how each individual couple fared:
Both Amber Riley and Derek Hough's bum knee and back, respectively, were hampering their efforts to perform the perfect paso doble. Derek's done trying to please the fickle Len. He's more concerned with his back, and with Amber's frustration at not being able to move the way she wanted. Derek reminded her that this is the point in the competition where contestants get injured or tired, or where they step up. And whoa, did they really step up in this show-stopping performance! Amber's skirt swooshing showed her knee braces, but her fierce game face and amazingly lithe, sharp movements did not betray any sort of handicap whatsoever. Bruno told Amber she was "full of depth and flavor and full of color" but cautioned her to be careful of her shoulders. Carrie Ann nearly exploded with glee. "You slayed the beast!" she exclaimed. "You lift this ballroom up." Len loved "every nuance in that music was picked out. You are back in the game!" 32 (last week) + 29 (paso doble) + 30 (team dance) = 91.
Brant Daugherty was determined not to let the jive get the best of him, and even put in extra time in his backyard to develop his muscle memory. Peta Murgatroyd played Mariah Carey with the ice cream cart while Brant just played adorable in red suspenders and plaid pants in this tutti-frutti-flavored routine. Peta lost her skirt (sexy) but then Brant slipped on it (not so sexy). Bruno thought the jive was "fully loaded" but Brant "lost timing a couple of times." Carrie Ann agreed. "The routine was just a hair too challenging for you," she said, though she liked how Brant pushed himself and "missed not one step." Len loved Brant's "energy," "attack" and "enthusiasm." "After I slipped on the skirt I thought the whole thing was over," Brant confessed." It's a metaphor of my life, really." Interest: piqued. 31 (last week) + 27 (jive) + 30 (team dance) = 88.
Elizabeth Berkley Lauren and Valentin Chmerkovskiy were coming off their perfect 30 score from last week and ended up with a "technically intense" quickstep. And while they hoped for an out of this world performance with their alien-themed routine, it didn't quite reach the same stratospheric heights time around (though kudos to Troupe member Henry for ably playing what Tom called "the Edward R. Murrow of ballroom"). "That was a U.F.O.: utterly full on," Len said, though they "lost a bit of body contact occasionally." "No need to panic: the aliens are not coming!" Bruno assured. Carrie Ann was impressed with how far Elizabeth's grown as a ballroom dancer. "I think the hold and the frame and the body contact is coming." 32 (last week) + 27 (quickstep) + 27 (team dance) = 86.
Corbin Bleu and Karina Smirnoff were determined to avenge last week's Red Wedding-like massacre from the judges with their cha-cha. So much so that Karina kept tinkering with the choreography until the last minute. The pursuit of perfection paid off, as their cha-cha ended up like sunshine after the rain, with glum Corbin transformed by Karina, looking like a cross between a literal ray of sunshine and Big Bird's Vegas-bound sister. "Crystal-clear moves, the timing, the shape, the finish — immaculate!" Bruno said. "That was the tightest cha-cha I've ever seen – I could have put a quarter in there and we would have lost it," Carrie Ann said, venturing into questionable language territory. Len added to his own vocabulary by admitting he's "not a lover of the gyratery," but conceded that all the gyrating "fitted beautifully with the music." 27 (last week) + 29 (cha-cha) + 30 (team dance) = 86.
Nicole "Snooki" Polizzi had grand plans to channel Beyoncé and attack the dance floor like a Chihuahua. Or, you know, a squirrel monkey. She even wore animal print for her samba. But her grueling traveling schedule finally caught up to her, her son had a fever, and Nicole found herself moving more like a zombie (or a turtle) than Sasha Fierce. But the judges thought her samba with Sasha Farber, set to Black Eyed Peas' "Hey Mama," was decidedly more alive than undead. Len said she got "a little screwed up in your feet" but the dance had "speed and showed rhythm and control." "It took you a little while," Bruno said, but "once you got into it, it was good." Carrie Ann did not like the Chihuahua reference. "Sometimes you're ahead of the movement because you stop too quickly," she cautioned. "Extend your movement just a little bit." 30 (last week) + 27 (samba) + 27 (team dance) = 84.
"Week 7 — this is like big boy stuff," Jack Osbourne said. Jack also hit a wall this week with his jive training. Jack felt a "bit of the mid-season blues" but Cheryl Burke encouraged him to hold his head up and hold on. And hold on he did, prancing all over the dance floor and all the way up to the top of the grand staircase. Len commended Jack's lightness and musicality, though "I'd like the jive to be a bit crisper in the feet." Bruno also liked Jack's ease of movement but said at times Jack went "a bit flat-footed." Carrie Ann, however, said this dance "was perfectly suited for you" — and even awarded him a perfect 10 for his efforts. Which seemed a bit excessive (and does it count if the paddle breaks?). But "I'm built for comfort, not speed, so this is a big deal," Jack said. 27 (last week) + 27 (jive) + 30 (team dance) = 84.
Leah Remini and Tony Dovolani were coming off of their season-high score of 27 last week. "I'm not used to being that happy," Leah admitted. Tony tried to ratchet up the complexity of their salsa with a whole new set of dance ingredients. And with more lifts! Chelsea Handler was in the audience lending her support. And despite suffering from a rib injury, Leah showed a lot of hustle in her bustle in her snappy, sassy routine. "You are in the zone my dear!" Carrie Ann exulted. "That was like going to the hottest salsa club." Len liked that Leah "kept my interest throughout" though "one or two of the lifts weren't quite clean enough." Bruno said Leah went "salsalicious on me." 28 (last week) + 26 (salsa) + 27 (team dance) = 81.
It was all about Vegas this week for Bill Engvall. The comedian was in Sin City last Friday for a stand-up show, and he and Emma Slater also performed their quickstep to Elvis Presley's "Viva Las Vegas." And kudos to Bill for gamely channeling his idol while Emma served as the King's Tropicana girl with a feather bustle. "The good news is that you did not break hold – the bad news, the hold wasn't strong enough to support the dance," Carrie Ann said. Len liked how the routine "had speed and it had energy" but "you lost your technique in places," he said. "If I could judge with my heart, you'd get a 10." "You rolled the dice and you hoped for the best and you had a good go," said Bruno, who sure sounded like he expected this week to be Bill's last. 24 (last week) + 23 (quickstep) + 27 (team dance) = 74.
What do you think, ballroom fans? Surprised to see Snooki leaving the competition? Excited about Cher next week? Were these the best team dances to date?
ALSO:
'Dancing With the Stars' recap: Forget you
'Dancing With the Stars' recap: The Switching Hour
Complete 'Dancing With the Stars' coverage on Show Tracker
---
From the Emmys to the Oscars.
Get our revamped Envelope newsletter, sent twice a week, for exclusive awards season coverage, behind-the-scenes insights and columnist Glenn Whipp's commentary.
You may occasionally receive promotional content from the Los Angeles Times.