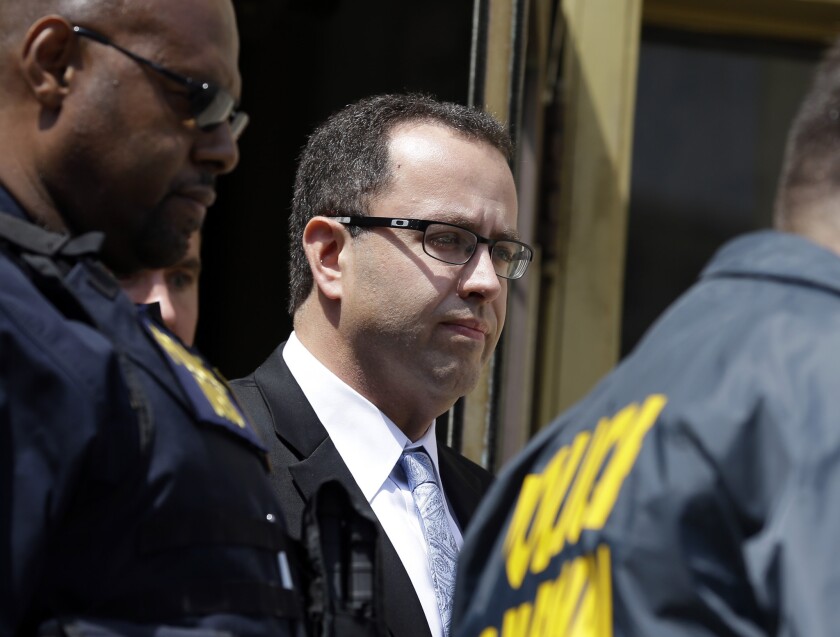 "Dr. Phil" will broadcast audiotapes in which Jared Fogle reportedly discusses his sexual interest in children. The conversations were recorded by former journalist Rochelle Herman-Walrond, who will appear on the daytime talk show Thursday and Friday.
According to a news release from "Dr. Phil," Herman-Walrond met Fogle, then a spokesman for Subway, when he appeared on her Florida radio show in 2006. Troubled by remarks he made during that interview, she befriended Fogle and secretly recorded their telephone conversations over the ensuing five years. In the tapes, he is said to have discussed his sexual preference for children and detailed various instances of abuse.
SIGN UP for the free Essential Arts & Culture newsletter >>
Herman-Walrond contacted the FBI and made a complaint to Subway about Fogle, though Subway has said that her complaint did not specifically include information about his involvement in criminal activity.
Fogle rose to fame 15 years ago after losing 200 pounds on a diet consisting of Subway sandwiches, becoming a prominent and highly paid brand ambassador for the franchise and a cornerstone of its image as a healthier fast-food alternative.
In July, the FBI and Indiana State Police seized computers and other electronic equipment during a search of Fogle's home, prompting Subway to cut ties with its spokesman.
The following month, the 38-year-old father of two agreed to plead guilty to one count of distribution and receipt of child pornography and one count of traveling to engage in unlawful sex acts with minors.
Fogle, who will be sentenced by a federal judge Nov. 19, faces up to 12 years in prison for the crimes.
The episodes will air Thursday and Friday at 3 p.m. on KCBS in Los Angeles. Check local listings in other areas.
Follow @MeredithBlake on Twitter.
MORE:
The Subway guy: How Jared Fogle went from overweight student to cultural icon
Jared Fogle, onetime face of Subway, faces years in prison for child sex charges
Nick Gordon in rehab after erratic 'Dr. Phil Show' appearance
---