Q&A: A conversation with 'Real Housewives' star Erika Girardi, our latest reality TV obsession
Ask Erika Girardi to explain the origins of the glamazonian, over-the-top dance-pop alter ego that resides within her and she doesn't opt for words.
Instead, she calls for an assistant to grab the luxurious coffee table book she had specially commissioned as a gift for her inner circle.
"It's the whole 'pretty mess' philosophy," Girardi, 44, said, placing the book filled with glossy photos, intimate backstage moments and personal mantras on my lap.
See more of Entertainment's top stories on Facebook >>
In one photo she's in a risque patent leather and lace number while toting a bedazzled toy gun. Another has her striking a sultry pose as layers of blinged-out Chanel jewelry sparkle. And barely midway through there's a topless photo that is best summed up by the words "Va va voom" that are superimposed over the image.
What the 162-page self-tribute -- given to only those who have worked with her -- doesn't showcase is the woman seated on the plush cream couch inside the lavishly decorated study of the five-acre 1920s Pasadena estate she shares with her husband, famed attorney Tom Girardi.
"It's really all about fantasy, love, escape, glitz, glamour and fun," Girardi explains of the provocative photos and saucy dance music she independently releases as her alter ego, Erika Jayne.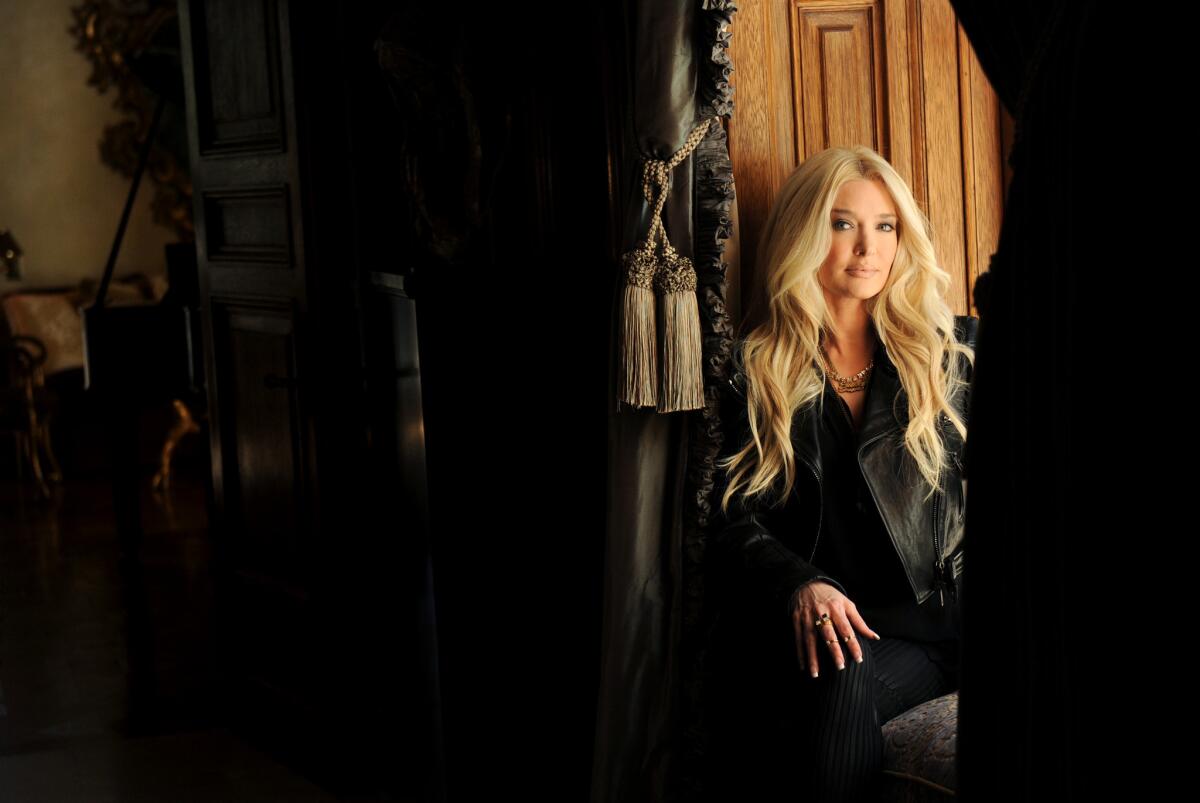 As the latest addition to Bravo's "The Real Housewives of Beverly Hills," Girardi (or Jayne, depending on the setting) has become a scene stealer with her big hair, unprintable quips and a persona that is equal parts down-home charm and upper-crust extravagance. "I'm an enigma, wrapped in a riddle, and cash," she boasts in her tagline that opens the show.
For most, Girardi's introduction on the sixth season of the hit franchise, which premiered in December, was their first glimpse of the self-proclaimed "pretty mess" -- but she's been masquerading as Jayne since 2007, amassing eight No. 1 dance club singles in the process.
That duality between party-starting pop star (think Madonna meets RuPaul) and "housewife" has made Girardi a compelling, infectious television personality.
Throughout the season, viewers have seen Girardi perform at a gay club (Jayne is extremely popular in the LGBT community), perfect a dance move with an unprintable title that immediately went viral, casually wear a $200,000 Cartier ring for a night of cocktails, fly across the country on one (of two) of her private jets and coolly brushing off whatever shade is thrown her way by some of the other cast members -- and much has come her way between criticisms of her provocative music videos and her relationship with her husband who is more than 30 years her senior.
Whatever comes her way, the Atlanta native handles it with Southern charm and gusto. Besides, anyone who wears a necklace with a slang word that is not only blunt, but rhymes with it, too, certainly knows how to roll with the punches.
As a neon-colored painting of Jayne hung nearby, Girardi opened up about venturing into reality TV and what's next for her sparkly alter ego.
How did the opportunity to join "Real Housewives" happen?
Tom and I were at [cast members] Yolanda and David Foster's house in Malibu and we were chatting. I think something had happened and they needed some cast members. Yolanda asked if I had ever thought about doing the show. And at first I was confused because I had never watched the show.
You hadn't seen the show? Beverly Hills or any of the franchise?
I hadn't seen any of them. But I knew who the women were. It's impossible not to because the show is so big. But I had never thought about ... me being on the show. [Longtime friend] Yolanda said it could be a great way to challenge yourself and to step outside of my comfort zone. She said, "It's just a phone call." I had a really nice phone call and before I knew it, I was on tape and now I'm on the show.
What took the most getting used to, having cameras around or exposing your personal life?
Surprisingly it wasn't so much having the cameras around. What's really interesting is how quickly you forget they are there because you get sucked in to what's going on around you. I was shocked at how quickly I was able to shed that skin.
Your tagline -- an enigma, wrapped in a riddle, and cash -- is ridiculously great. How did you come up with that?
[Laughs.] It was a collaboration. Lots of little suggestions. What I think is great is it does kind of describe what is going on with me. People see me and assume one thing, and they get to know me and see that there's more there.
What were some of those assumptions?
Well, I think, much like the comments that I saw [after the show's premiere], was she's a lot of blonde hair and this big personality and I couldn't possibly have any substance. I couldn't possibly be kind or warm. I think people thought I was just pure surface.
Erika Jayne, the artist, is really a completely different character you've created for yourself. Why?
So I've performed all my life. I was married and really living Tom's life, being the wife of a very successful attorney. I wanted to create again. I was 35 years old at the time. I mean, who does this, but I said to my husband, "You know what, it's time for me to be creative again. It's time for me to rediscover those talents that I have." I put one foot in front of the other and started to say the things I wanted to say and do the things I wanted to do. And in 2007 I created her.
My ultimate goal was to make the music that I wanted to make, and give shows. I was never going to get a major label deal -- I never wanted a major label deal -- so I was really free to express myself.
Why didn't you think a deal would happen?
I'm too old. ... Come on, the music business is for 20-year-olds.
The music is something you do for fun, but you've been lucky enough to have a great deal of success in the process.
Well, I am competitive. I think anything you take on you should want to be the best. And this wasn't my first foray into entertainment, either. I grew up performing. I hadn't done it in a while, but I wasn't starting out fresh. I had some stuff under my belt already. When I started making my first album, dance music at that time was just beginning to blossom [again] and it hadn't turned into the big monster we know as EDM, which is so huge now. I was making records that I wanted to dance to and the first record did well and I kept making music that I liked and things that I enjoy and that's what I still do to this day. I make music that speaks to me.
Does any of that competitive spirit make you then want to pursue this beyond a hobby -- pushing your songs for radio, touring...

Yes, of course. But I'm the type of person that I want to live life to the fullest, so I'm going to explore every option that there is.
How has being on the show pushed your music?
Well, it has brought me millions of eyeballs. When I was performing as Erika Jayne exclusively, no one knew about this life. No one knew about my husband. No one knew about my son. The people who came to the show, they don't want to see that. They don't want to see a 44-year-old woman onstage. They want to believe the fantasy. They don't need to know all the nuts and bolts -- you want to see a great show and escape. But that's what makes "Housewives" such a unique opportunity. Those who knew me as Erika Jayne now get to see me as Erika Girardi as well. It's kinda great. Obviously I've made a lot more fans -- and a lot more friends.
It has been seven years since your debut album. Is there a return to the studio on the horizon?
Yes. I just shot a new video last month. I'm looking for new material. This is my love, this is my passion so this is what I'll always be doing.
Early in the season there was an episode where there were critical comments made about your music. It didn't appear to bother you, but does any of it get to you?
You hear a lot of [stuff] all the time. And you also have to have a thick skin to be in this business as I'm sure you know. When I hear "I didn't like this" or "I didn't like that," it's like, "OK, well, that's great girl, but I'm gonna do me and you do you." Instead of ripping each other apart, let's celebrate each other. Everyone is entitled to their own opinion, but I know what I have and what I do and I stand behind my product, so I feel really good about who I am.
I am what I am. It's taken a long time to get to this place. I'm in my mid-40s. I have nothing to hide. I mean this is it. I feel good, I love what I do. I get excited to do what I do -- to get in the studio, go to rehearsal, get dressed up and put on a show. It feels like fun instead of work.
When can we expect the return of Erika Jayne?
I'm definitely targeting summer. I have to have some summer jams. Erika Jayne is known for a dance floor, lose-your-mind jam. I've gotta get on it. I have some things to whip into shape for sure.
What have you enjoyed most about being on the show, and in this world?
You know, it's a totally different experience. Here's the thing: People are always focused on your conflict with this one and that one. But here's the great thing about the women on my show: We all have different professions, whether it be restaurants or acting, it's so varied. We all have a life outside of family and home and in that way we can all relate. There is something so very special about all of these women. You may not gel with them 100%, but these women are smart and intelligent and they do have something to offer. Some days are harder than others, however, but I think that's true of any relationship.
Happy you did it?
Very. I have no regrets and I don't need therapy. [Laughs.] I don't feel bad, I feel like I was myself. I feel like I was there for my friend Yolanda when she needed it the most. I made some friends along the way, and probably upset some people along the way. I don't feel like I've been misrepresented in any way. I have nothing but nice things to say about my experience.
For more music news follow me on Twitter: @gerrickkennedy
ALSO:
'Real Housewives' star Yolanda Foster lands a stylish condo in Westwood
Yolanda Foster of 'Real Housewives' and producer David Foster are splitting up
Kelly Clarkson is still making 'American Idol' history
'Matrix' director Lilly Wachowski comes out as transgender, like her sister Lana before her
Kendrick Lamar's 'Untitled Unmastered' to get CD and vinyl release
Get our L.A. Goes Out newsletter, with the week's best events, to help you explore and experience our city.
You may occasionally receive promotional content from the Los Angeles Times.