'Food Network Star' recap: Did the judges err by ditching Stacey?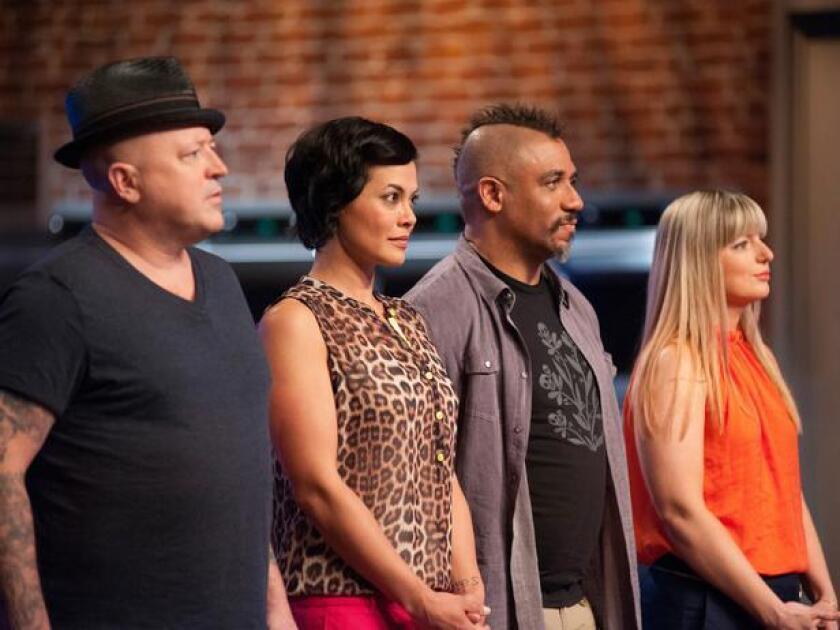 Who will be the next "Food Network Star"? Damaris, Rodney or Russell?
They're the final three after a tumultuous season that saw seeming front-runners -- Chad, Nikki and finally, Stacey -- fall by the wayside in the bid to find a Food Network Star that could genuinely connect with the audience and bring cooking chops and authority.
Now viewers will get to decide by voting online for their favorite finalist. Judging by the comments on Food Network's website here and here, many viewers are upset with this trio and are angry that Stacey and her vintage-cooking POV was passed over.
INTERACTIVE: Fall 2013 TV preview: Watch the trailers
In fact, many of the commenters -- admittedly, a small but vocal group -- seem to think that Stacey had the best idea for a new show.
"Both [Stacey] and Nikki were better than these 3," wrote one. Another remarked on the gleeful unhealthiness of Russell's (add bacon, lard and bourbon to everything) and Rodney's (turn everything into a carb-bomb pie) ideas: "All those culinary sins used to be staples in my family. It would be a difficult show to watch since none of us can eat those foods anymore. ... I would not watch the show. It would be just too painful!"
Stacey hung on as long as she could. She made it to the final four. Repeatedly through the competition, she seemed so polished and at ease in front of the camera -- such as during the 4th of July challenge -- that she seemed like she was gliding to the finish line.
PHOTOS: Hollywood Backlot moments
But it was that very same polish that began coming off as staged, phony and even condescending when she was talking on camera during the challenges. Which was weird because "off-camera" -- when she was talking to her fellow competitors, or even in her confessional interviews -- she didn't seem like that at all.
When she went into pitch mode, however, she turned into a syrupy car salesman.
Did the judges fail her by not working hard enough to help her with her delivery? They seemed overly harsh during her pitch. Giada De Laurentiis nailed it when she said Stacey was simply trying to be real and create an emotional connection that didn't involve grinning from ear to ear.
The result is three pilots that seem overly niche and two that seem outlandishly caloric. Unless you are on the prowl for a woman, or you have plenty of room in your diet for lard, bacon and pie crust, would you watch these shows?
And what do you think about the overall season? Did Food Network miss an opportunity to give America a health-minded show? (Or is that even its role?)
ALSO:
TCA press tour: 'Back in the Game' hopes to win while losing
TCA press tour: Joss Whedon talks 'Marvel's Agents of S.H.I.E.L.D.'
TCA press tour: 'The Goldbergs' brings a 'Wonder Years' vibe to ABC
---
Inside the business of entertainment
The Wide Shot brings you news, analysis and insights on everything from streaming wars to production — and what it all means for the future.
You may occasionally receive promotional content from the Los Angeles Times.