9 Images
It's not 'Game of Thrones,' it's game of hosts
Johnny Carson, Iron Throne from 'Game of Thrones'
The prize in the late-night battle, equivalent to the Iron Throne of "Game of Thrones," is the top spot in the Nielsen ratings, which has traditionally been held by whomever sits at the Burbank desk once held by the "king of late night," Johnny Carson, on NBC's venerable "Tonight Show."
(Carson Entertainment; HBO)
Mark Addy, Jay Leno
Like King Robert Baratheon (Mark Addy, left) Jay Leno inherited his position after a power struggle, and his ascendance depended on one who eventually came to represent a fierce challenge.
(Helen Sloan / HBO; Paul Drinkwater / NBC / Associated Press)
David Letterman, Sean Bean
The sword of Ned Stark (Sean Bean, right) and his armies were key to putting King Baratheon in power. Jay Leno's rise to prominence was made possible only by his numerous appearances on "Late Night with David Letterman." Of course, Stark's fate was not as merciful as Letterman's. "Late Show" on CBS isn't such a bad gig.
(CBS / Associated Press; Nick Briggs / HBO)
Richard Madden, Jimmy Fallon
Jay Leno's heir apparent is young upstart Jimmy Fallon, right, who, like Robb Stark (Richard Madden), seems to be waging a carefully planned and effective campaign. But it's far from over, and there are other potent competitors on the field.
(Nick Briggs / HBO; Lloyd Bishop / NBC / Associated Press)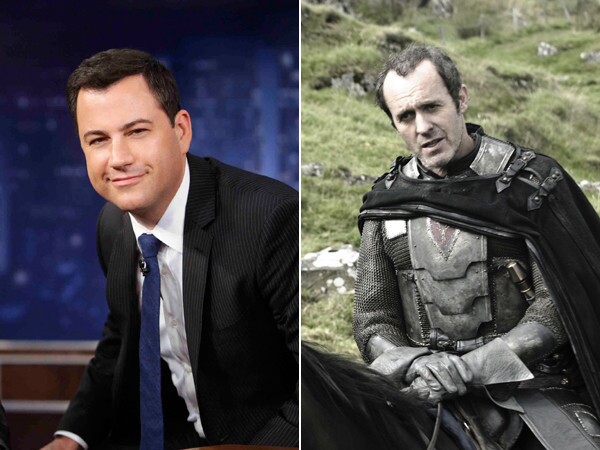 Jimmy Kimmel, Stephen Dillane
After finally dispatching intra-network rival "Nightline," Jimmy Kimmel, left, swiftly established a foothold in late night on ABC, and is winning a larger segment of the audience. But, just as Stannis Baratheon's (Stephen Dillane) failed assault on Kings Landing initially appeared successful, Kimmel's first direct ratings encounter with Jay Leno looked promising, but his advances were beaten back. Yet he too remains a force to be reckoned with and has many powerful allies (namely the 18-to-24 demographic).
(Randy Holmes / ABC / Associated Press; Helen Sloan / HBO)
Kit Harington, Jon Stewart
The comparison between Jon Stewart, right, and Jon Snow (Kit Harington), Ned Stark's illegitimate son, is pretty easy. Both are audience favorites but neither of them are really considered contenders for the top spot. Each has chosen a self-imposed exile in a cold and dreary world where they selflessly fight the good fight. Stark at the wall, and Stewart on basic cable. And there are other casualties in the late-night struggle as well.
(Helen Sloan / HBO; Rob Loud / PictureGroup / Comedy Central)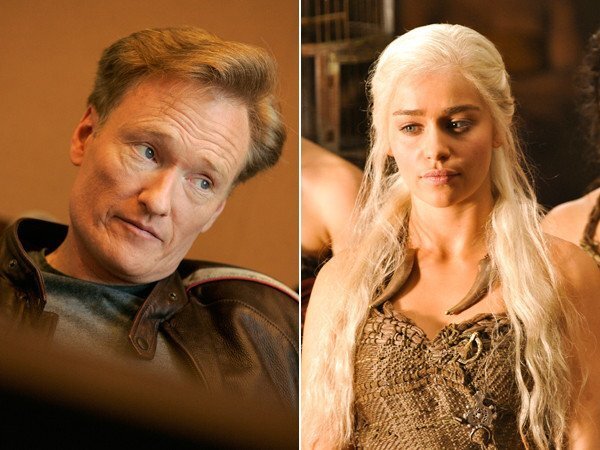 Conan O'Brien, Emilia Clarke
Conan O'Brien was crushed and humiliated in his bid for late-night supremacy, and is in exile on TBS. Princess Daenery Targaryen (Emilia Clarke) also struggles to build her strength in exile across the seas. Don't count either of them out ...
(Ricardo DeAratanha / Los Angeles Times; Helen Sloan / HBO)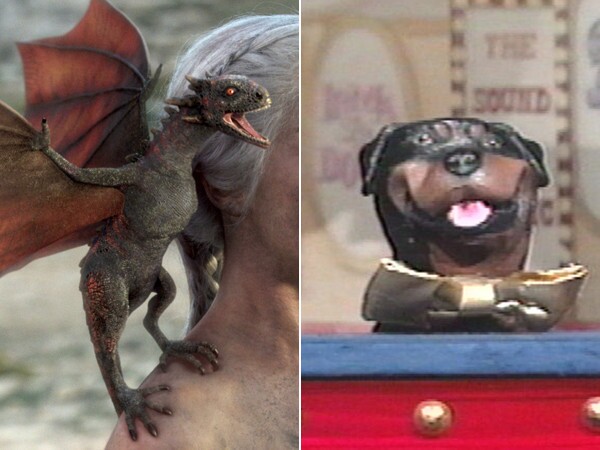 A dragon from "Game of Thrones," Triumph the insult-comic dog
The princess has her army and her dragons, and "Team CoCo" has its own mysterious creatures preparing to do battle -- or preparing to do something on something.
(HBO; NBC)
Julianne Moore: Career in pictures