Hulu unveils 'Seinfeld: The Apartment' pop-up installation in West Hollywood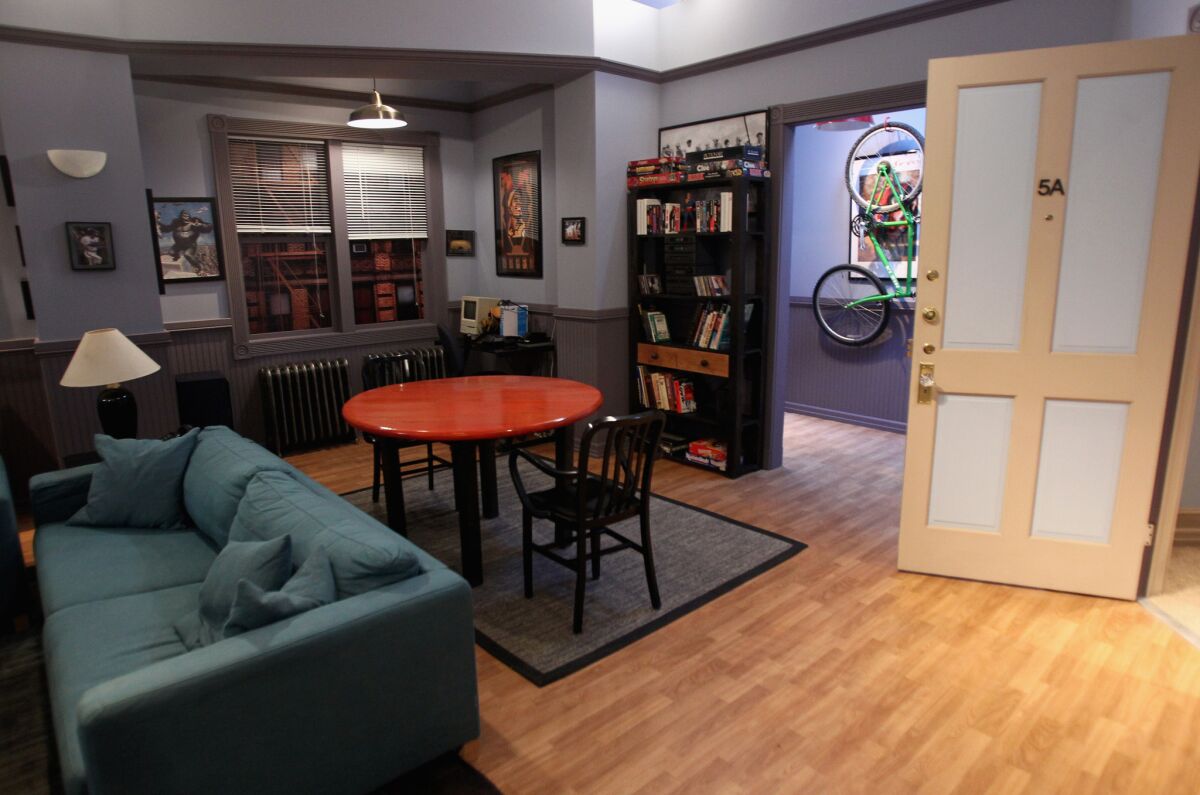 Angelenos can now unleash their inner Kramer.
Earlier this year, Hulu announced it had acquired the streaming rights to every single "Seinfeld" episode (that's 180 shows). To celebrate the mondo deal, the streaming service reconstructed the iconic apartment that Jerry Seinfeld (the character) lived in on the show.
Dubbed "Seinfeld: The Apartment," the pop-up installation, which already made the rounds in New York this summer, is open for public view in West Hollywood.
It's hard to miss the site on Melrose Avenue. A mural of George Costanza in tighty whities and posing seductively on a chaise lounge — a re-creation of a scene from Episode 139, "The Package" — envelops the exterior of the locale.
While the famed apartment — complete with the hanging bike, turquoise couches, and a VHS tape of "Pretty Woman" — is the main attraction, visitors can also peep through the reverse peephole on Kramer's door across the way and get a glimpse of what Silvio saw. There is also the option to re-create George's aforementioned risque photo shoot, or channel one's inner Seinfeld and do comedy against the red velvet backdrop.
There's also a gallery of Seinfeld props and set pieces, including copies of the "Tropic of Cancer," the Festivus pole, the "retouched" beach photo belonging to George's boss Mr. Kruger, and the actual booths and table from the diner scenes.
Basically, it's selfie-central for the "Seinfeld"-obsessed. Just be careful not to pull an Elaine and yell "Get out!" in excitement — it might leave the rest of the visitors feeling unwelcomed.
"Seinfeld: The Apartment" is located at 8445 Melrose Ave. in West Hollywood and open daily through Sunday from 10 a.m. to 7 p.m. Admittance is free.
I tweet about TV (and other things) here: @villarrealy
Get our L.A. Goes Out newsletter, with the week's best events, to help you explore and experience our city.
You may occasionally receive promotional content from the Los Angeles Times.