Jimmy Fallon shares his hand-scribbled guide to L.A. and where he cried when he was almost famous
Friday marks the final night of "The Tonight Show's" week-long stint in Los Angeles.
And, oh, what a week it's been. From an opening night that featured a reimagining of LL Cool J's "Going Back to Cali" and host Jimmy Fallon jumping thought an inflatable version of local landmark Randy's Donuts icon to an impression of Donald Trump that might forever change the way we watch "Full House" reruns -- and who could forget Jennifer Lopez as an eye-rolling (and twerk-adept) teenager in that "Ew" sketch?
It was Fallon's second time bringing the New York-based late-night show to Los Angeles, the former home of "The Tonight Show" for over four decades. And when we sat down with him on Sunday, an energetic Fallon was all too ready to discuss the spots he used to visit during his two years living in LA before moving to New York in 1998 to join the cast of "Saturday Night Live."
RELATED: Jimmy Fallon's annotated guide to L.A.
"You'll learn quickly that I like to eat," Fallon said before embarking on his trip down memory lane, which includes his first fancy wine experience and a beer run with Kobe Bryant. But don't take our word for it. Check the notes he jotted down above, and read on.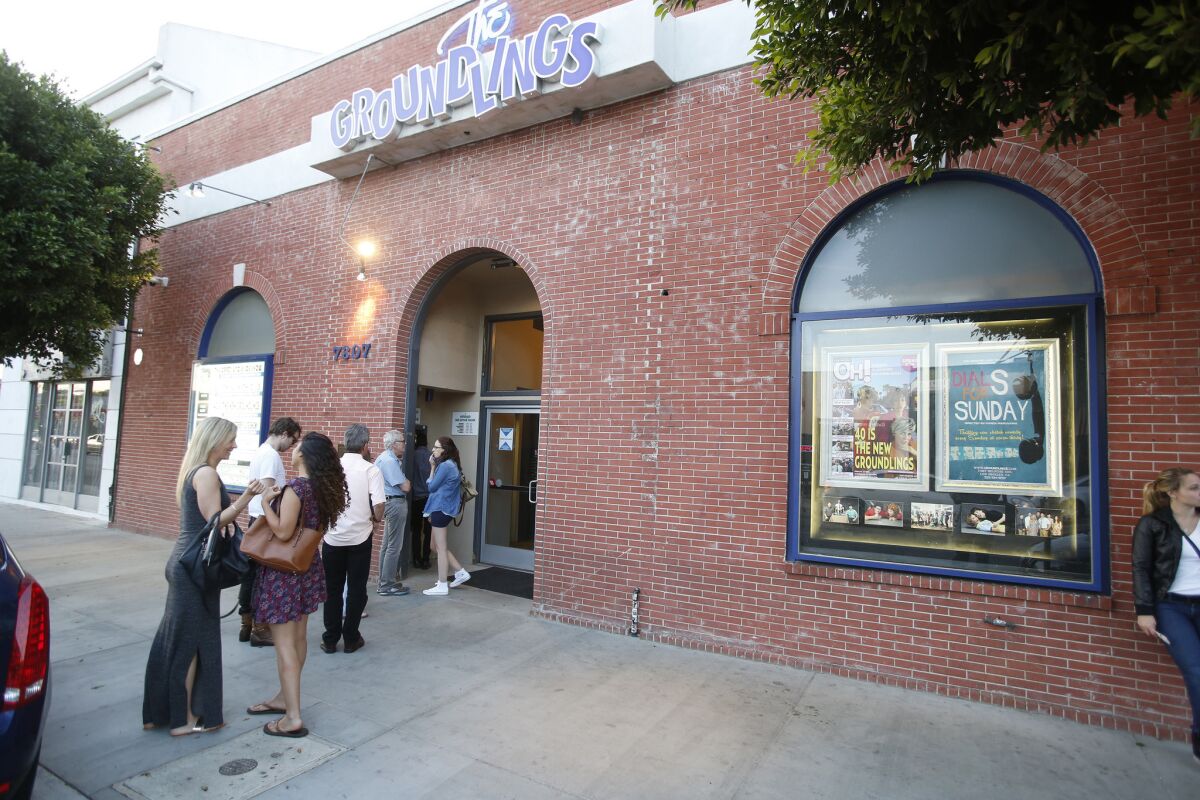 The Groundlings on Melrose: "That cost a lot of money to go to school there. Most of the money I made from the Improv would go to classes at the Groundlings."
The Improv off Melrose Avenue: "That's where I did stand-up all the time. It was one of my first paid gigs. I think they paid me $7.25 a gig. It might have been less, but I think that was it. But they gave you food, which is key when you have no money. My mom was so happy when she found out I was working at the Improv. She was like, 'Thank God, you have food to eat. Tell Budd Friedman I love him.' And also, obviously, ramen noodles kept me alive. If you did well, they have a franchise, so they could book you at their other places."
RELATED: Jimmy Fallon on why he won't be near tears again while he's back in L.A. with 'Tonight Show'
Pepy's Galley in Mar Vista (closed): "On the weekends, I would listen to 'Breakfast With the Beatles.' Deirdre O'Donoghue was the DJ. She was the best. I would listen to that and just drive to this place called Pepys -- it was in a bowling alley in Mar Vista. And it was a diner and we used to go every weekend. We'd get the paper and we'd just listen to Deirdre on the way over there, listen to Beatles songs, and then just hang out."
Patrick's Roadhouse: "If not there [Pepy's], we used to go to Patrick's Roadhouse on the PCH. Not one chair matched. Every chair was different. This guy Bill used to work there. Corned beef hash, I would get, and eggs and rye toast. That was my jam."
The Apple Pan: "If you want a burger, you gotta go to Apple Pan. And Gordon used to work there. He was the guy you'd see when you would walk in and it was like going back in time. There's like three things on the menu, you either want a burger or a tuna sandwich or pie. If you don't want any of those three things, you should eat somewhere else. and they give you heavy, heavy cream with the coffee, not half and half, not milk, not 2%. They give you like 102%. They give you a tiny little shot glass of heavy cream and you see the clouds form up. Its like a little explosion in your coffee."
Mar Vista: "I told everyone that I lived in Marina del Rey, but it was really Mar Vista. I lived off Venice and Beethoven."
Lamonica's NY Pizza: "The dough is from New York. John Lamonica is the owner, I knew him. He was friends with my uncle. They went to Fordham in Brooklyn. When I first came out, he was like (uses accent): 'Jimmy boy, you come in, you get free slice, if you want.' And Id be like, 'I don't want any free slices. I want to earn everything.' So I would pay for my slices. He always brings that up. He's like 'you always paid for your slices. You never let me give you nothing.' I think he painted a mural of me ordering a pizza. I'm not kidding. Or it's like me holding hands with Magic Johnson or something. It never happened, but in my mind it could have."
Van Go's Ear: "That was in Venice. I don't know if it exits anymore. I would order a Pee-wee Herman, which was a chicken breast sandwich. And I would split it with my buddy because we didn't have that much money to buy stuff. That was a great spot. I would get chamomile tea, for some reason. It was a real hippie, cook place."
Gelson's: "It's my favorite supermarket in the entire history of the world. Its too expensive, but you go there and its like going to a museum. It was close -- it was in Mar Vista, the one I would go to. I'd go in and I remember the soup aisle. All the cans of Campbell's tomato soup were all lined up front. It looked like a Warhol painting, I'm not kidding you. I'll never forget it. I had the best time not even buying anything. I couldn't afford anything. I think there was a movie theater nearby. I'd go to Gelson's and look at everything and go like, 'Oh, I remember food,' and then go and check out a movie."
Poquito Mas: "I remember someone was like, 'This is the freshest taco.' I didn't know what tacos were until I came out here. Tacos were El Paso powder with ground beef and I still make them to this day. They were like, 'That's not a taco, this is a taco.' It was the most freshest, amazing thing. I think it was Jason Lee who told me about that."
Carl's Jr.: "I remember there was a Carl's Jr. right near CBS Radford. I used to go on auditions and get nothing. It was really discouraging. I remember going into that Carl's Jr. and crying. Not sobbing, but almost losing it. When I came here last year, I rented a convertible Bentley, which I didn't know you could do.... But I took it to that Carl's Jr. and was like, 'Who's crying now?' I went in and got a burger it's still a delicious burger. I have here 'Carl's Jr. with teardrops' [points to notes he jotted down] just to remember how sad I was."
Aunt Kizzy's Backporch (closed): "Doesn't exist anymore. It was in Mar Vista. That was soul food."
Carmine's II: "There's a bullet hole over the exit sign in that restaurant that Frank Sinatra shot. He was drinking there one night and shot a gun that's what people did apparently when they had too much to drink. You just shoot the ceiling."
Peppone Ristorante: "That's where I first had my first glass of expensive wine. I went with Hutch Parker. I had a meeting for him -- it wasnt for a movie role because movies didn't really take off for me. I forget why I was with him. Maybe I was parking his car or something. But, anyway, I got to talking to him about wine. He said, 'Oh, I love wine.' And I told him I would like to learn about it. I was like, 'you can be as nerdy as you want. Teach me about wine.' I love when people know about anything and really tell me about it. He took me out one night and we had this amazing wine and he was telling me about how to swirl it and the 'legs,' when it would drip down the side of the glass and you would look at it. And decanting. When you pour the wine in a decanter and it sits and the flavor of the wine changes. It totally tasted different. And he was like, 'OK, now let's order food.' So I got spaghetti and meatballs -- you can take the Upstate N.Y. boy out of Upstate N.Y. I realized the flavor of the wine changes with the sauce. So that was the first time I got nerdy with wine. I still don't know what Im talking about."
Carney's: "You can get the hot dogs at Carney's on Sunset Boulevard. But the secret there was to get the frozen banana. The frozen banana dipped in chocolate was the coolest."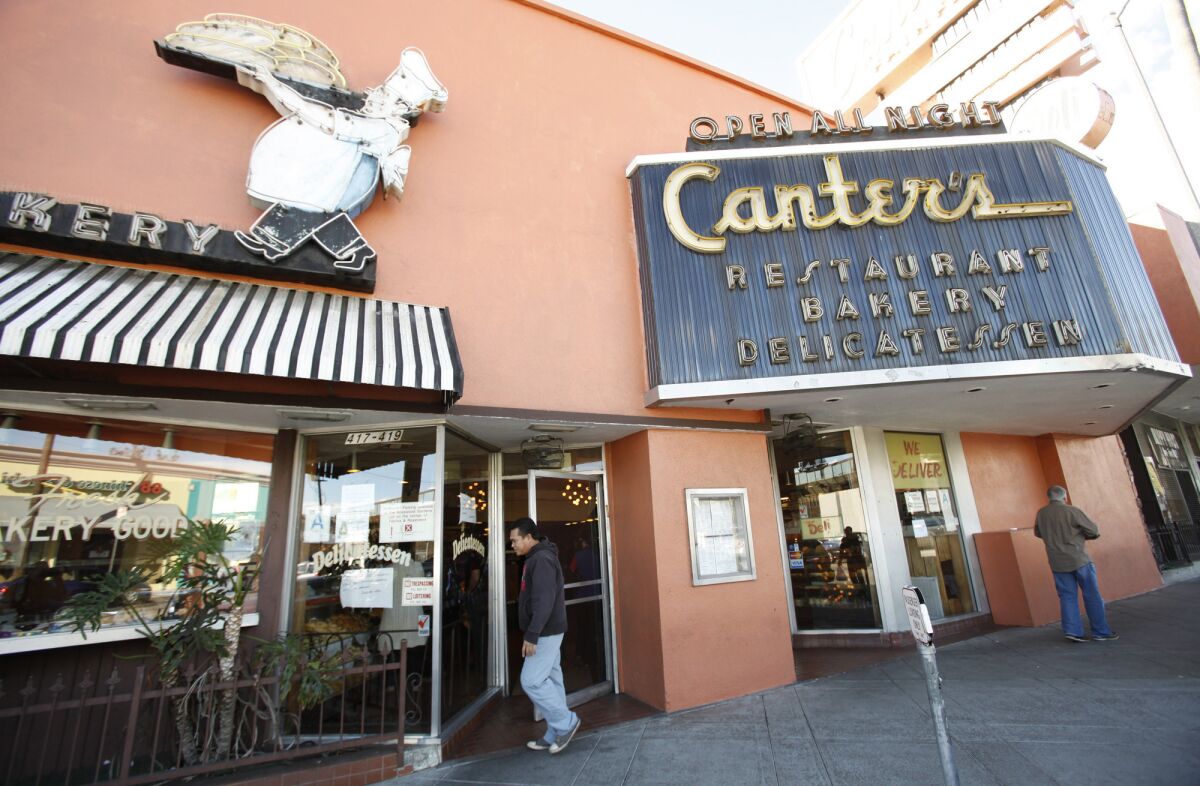 Canter's Deli: "I would go after being at the Improv and talk about my set. Or Jerry's Famous Deli."
Ed Debevic's: "The waiters would, like, dance. It was a diner where they would do bits and sing. It was weird and fun."
Madeo Restaurant: "I go every time I'm out here. And I get meatballs there, if they have it there."
Foster's Freeze: "I remember going there one time and laughing I don't know why I was with my roommate. Neither of us had any money, but we had enough for ice cream. It was one of those days where it was a laughing fit over nothing. I don't know what we were laughing at, but we were laughing in the car eating a soft-serve vanilla ice cream."
Johnnie's Pastrami: "My go-to place, Johnnie's Pastrami on Sepulveda in Culver City. The best, best, best. I go with corned beef. It's less fatty. They steam the buns and they have the hottest mustard ever. Every time I'm out here, I get it. Every time. They have great pickles too, that's top secret. You can get a half gallon. If you know somebody who likes pickles, you can get them in a giant gallon thing and it's unbelievable."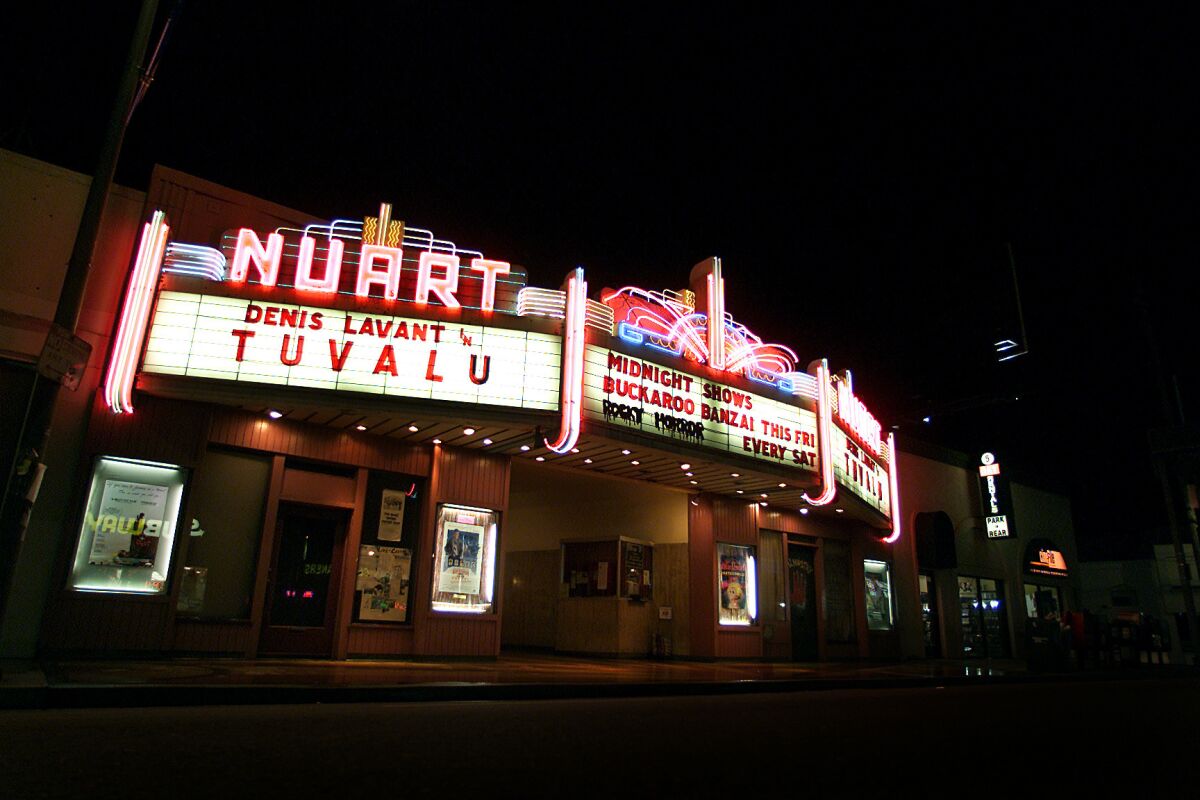 Nuart Theatre: "It was a cool movie theater out here. The kids at my class at the Groundlings would meet up and we'd sneak a 40-ouncer in the theater, and we'd go see 'Rocky Horror' or whatever was playing that night. Thats the way to do it."
Cat Club (closed): "It's closed, but I would go see a band called Happenin' Harry and the Haptones and I would get onstage and sing with them. Now and then you'd have Dizzy Reed from Guns n' Roses and Lemmy from Motorhead. I sang with all these dudes. Someone sent me a photo of me with Lemmy."
Cock 'N Bull: "It's a cool British pub and I remember starting a conga line around the pool table. I wasn't driving that night. They had a good jukebox, when jukeboxes were around. I remember a Clash song was on. And I started doing the conga line and people were like, 'What is going on?' and my friend was like, 'Come on!' And the whole bar started going around in a conga line. It was so lame, but it definitely happened. Thank the lord there weren't smartphones back then."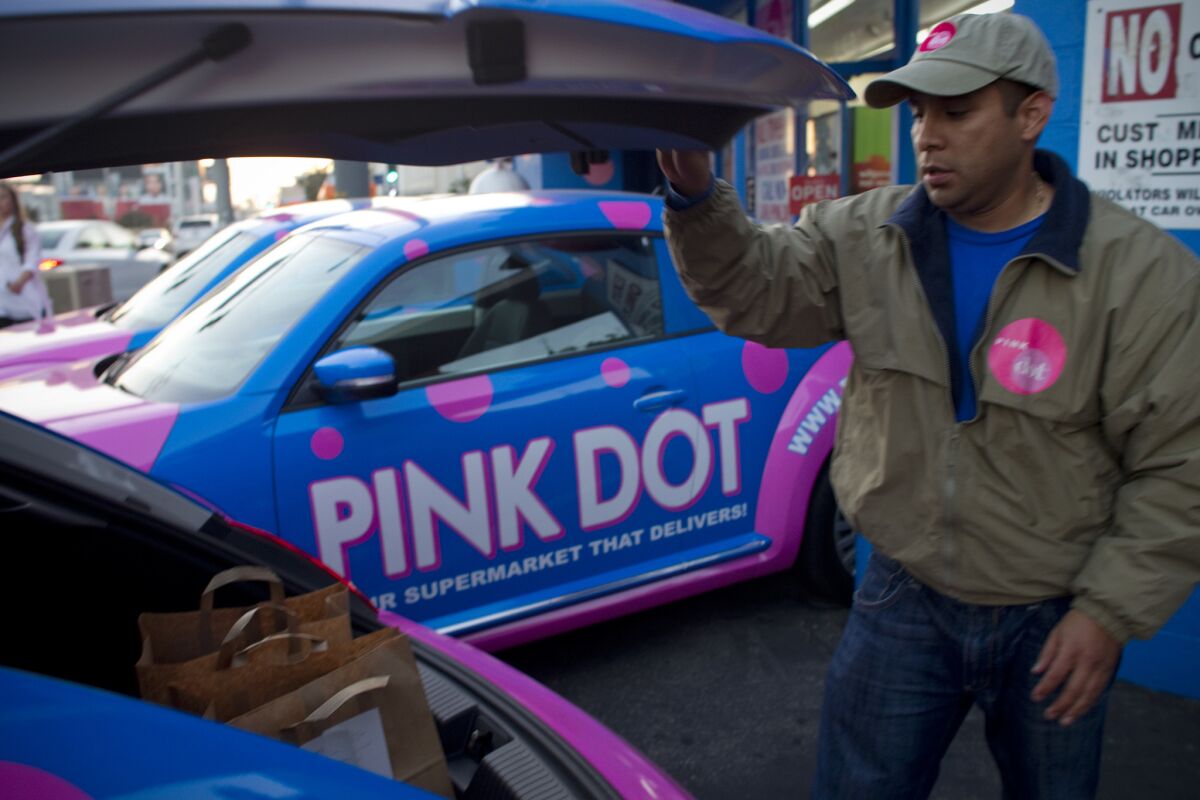 Pink Dot: "I went to a party once and I was talking to this kid. He was there with his sister and we were talking and I go, 'What do you do?' And he was like, 'I play basketball.' I go, 'What do you play?' And he was like, 'I'm a Laker.' 'What's your name?' And he said, 'Kobe Bryant.' This is a true story. I don't know anything about sports. We're hanging out at this party. I think I got invited by some guy who worked at Maverick Records or something. He came to the Improv and saw my act and told me to come to the party. It was a small party. He said, 'Hey, were out of beer, who wants to go on a beer run?' And Kobe's like, 'I'm not drinking. I'll go.' He goes, 'Jimmy, you want to come with me.' I was like, 'Great.' So we go up to Pink Dot, but apparently you can't just go in and buy stuff. They were like, 'We're delivery only. You can't buy stuff here.' We're like, 'We just need a couple cases of beer.' Theyre like, 'We're delivery only. We can't sell you anything.' Kobe pulls out his ID, true story, put it on the glass and says, 'I'm a Laker.' The guy looks at it, opens the door and sells us four cases of beer and we went and saved the party."
American Rag: "The first time I got some money I had gotten a development deal with Warner Bros. or something. I said, I'm going to go buy a pair of awesome jeans. And they were Levis, but they were made in Japan or something like that and I did this you had to lay in your bathtub and let the water run and let the jeans shrink around you. I swear I did this. And I dont even know if I had a bathtub. Wait. I think there was a bathtub in the apartment we were staying in. I was like, 'Dude, don't come in, I need this bathtub.' And I sat in the bathtub and I ran the water. I did what the guy told me to do and I sat in this bath water. I just remember sitting there thinking, 'What a moron. What a waste of money. What am I doing? I could have eaten something.' It was totally ridiculous. But I will totally never forget that."
------------
FOR THE RECORD
March 21, 11 a.m.: An earlier version of this article misidentified Happenin' Harry and the Haptones as Harry and the Halftones.
------------
ALSO
Warning: Judd Apatow's fascinating 'Love' on Netflix could cause bingeing

Netflix's 'Fuller House' revives TV family sitcom 'Full House,' with a few twists and updates

New ABC President Channing Dungey talks 'whirlwind' week and her plans for the network

---
Get our L.A. Goes Out newsletter, with the week's best events, to help you explore and experience our city.
You may occasionally receive promotional content from the Los Angeles Times.