Jon Stewart lands at HBO with four-year production deal
Less than three months after signing off from "The Daily Show," Jon Stewart has signed an exclusive four-year production deal with HBO, the network announced Tuesday.
The partnership will find Stewart developing "timely short-form digital content" for HBO Now, the network's over-the-top subscription video service. The content will be refreshed multiple times throughout the day and will "view current events through his unique prism."
NEWSLETTER: Get the day's top headlines >>
It will be produced with the assistance of cloud graphics company OTOY.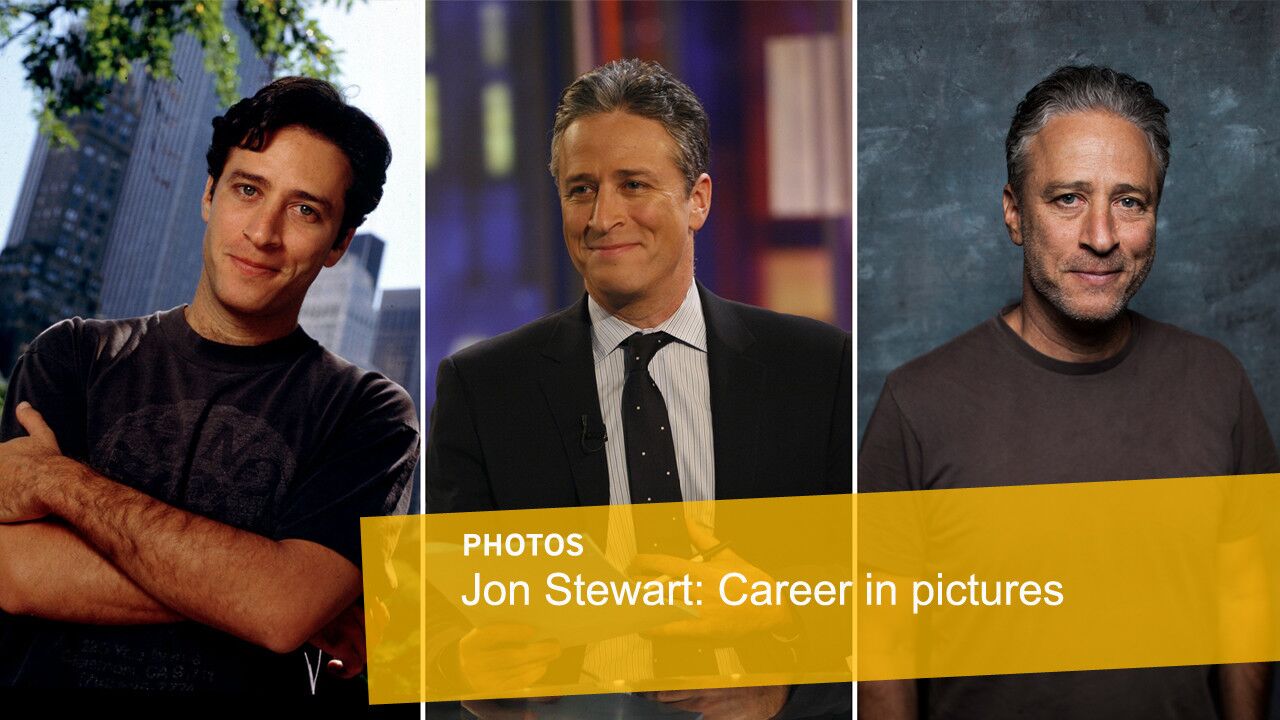 Jon Stewart, host of "The Daily Show" on Comedy Central, announced he will be leaving his popular late-night show. In this photo gallery, we look back at Stewart's career.
(MTV; Comedy Central; Jay L. Clendenin / Los Angeles Times)
At one point Jon Stewart made a special appearance on the talk show supermodel Cindy Crawford helped host, MTV's "House of Style." They had a "girl day," as it was called. The two are photographed at the 1994 MTV Video Music Awards.
(Tabacca / AP)
As host of "The Daily Show," Jon Stewart interviewed all kinds of people, solidifying his role as one of the most-loved satirical talk show hosts. He's pictured here interviewing former Sen. Bob Dole in 1999.
(Al Levine / Associated Press )
When Tucker Carlson and Paul Begala had Jon Stewart on their CNN series "Crossfire" in 2004, Stewart begged the hosts to "stop hurting America." Carlson, clearly taken aback by Stewart's allegations, urged Stewart to be funny. "I'm not gonna be your monkey," Stewart retorted.
(Scott Gries/Getty Images)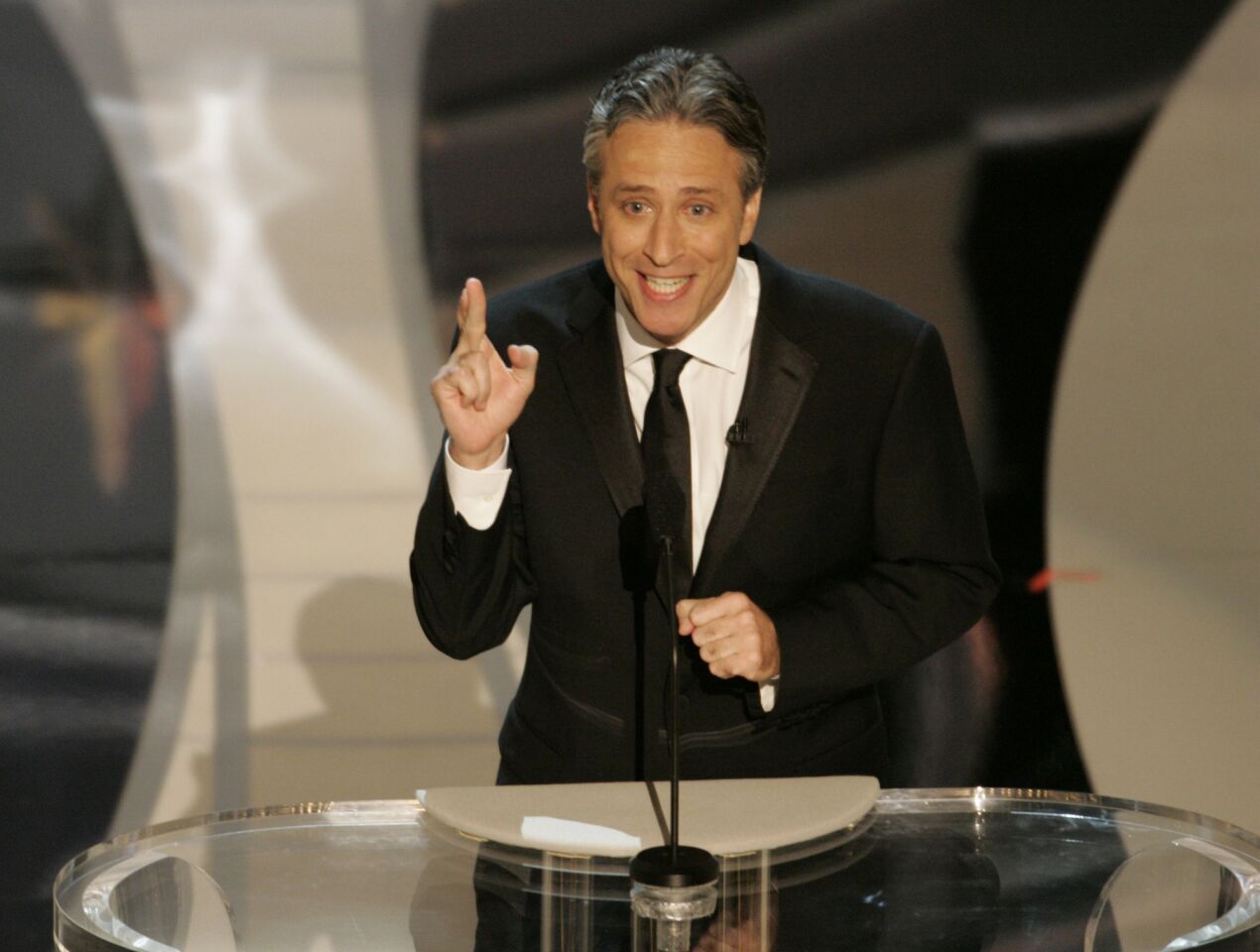 Jon Stewart hosted the Grammys twice, and the Oscars in 2006. When Stewart received mixed reviews for his work on the Oscars, he made those lemons into some "Daily Show" lemonade: "I sucked and was great! I was a painfully smug and unfunny heir to Johnny Carson," he exclaimed.
(Mark Boster / Los Angeles Times )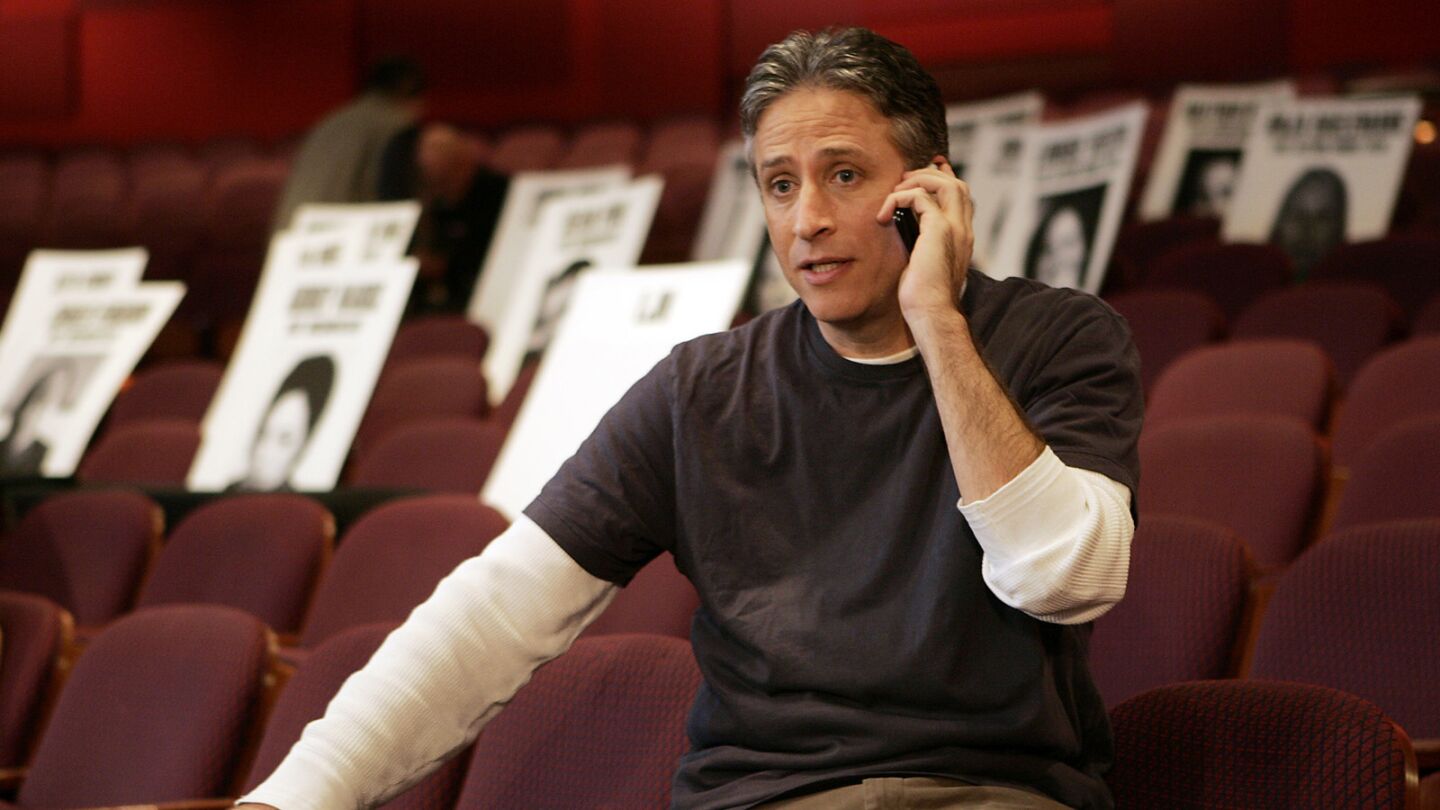 With his track record, some were surprised to hear that Jon Stewart was tapped to host the 2008 Academy Awards. Stewart, for his part, said: "I'm thrilled to be asked to host the Academy Awards for the second time, because, as they say, the third time's a charm."
(Al Seib / Los Angeles Times)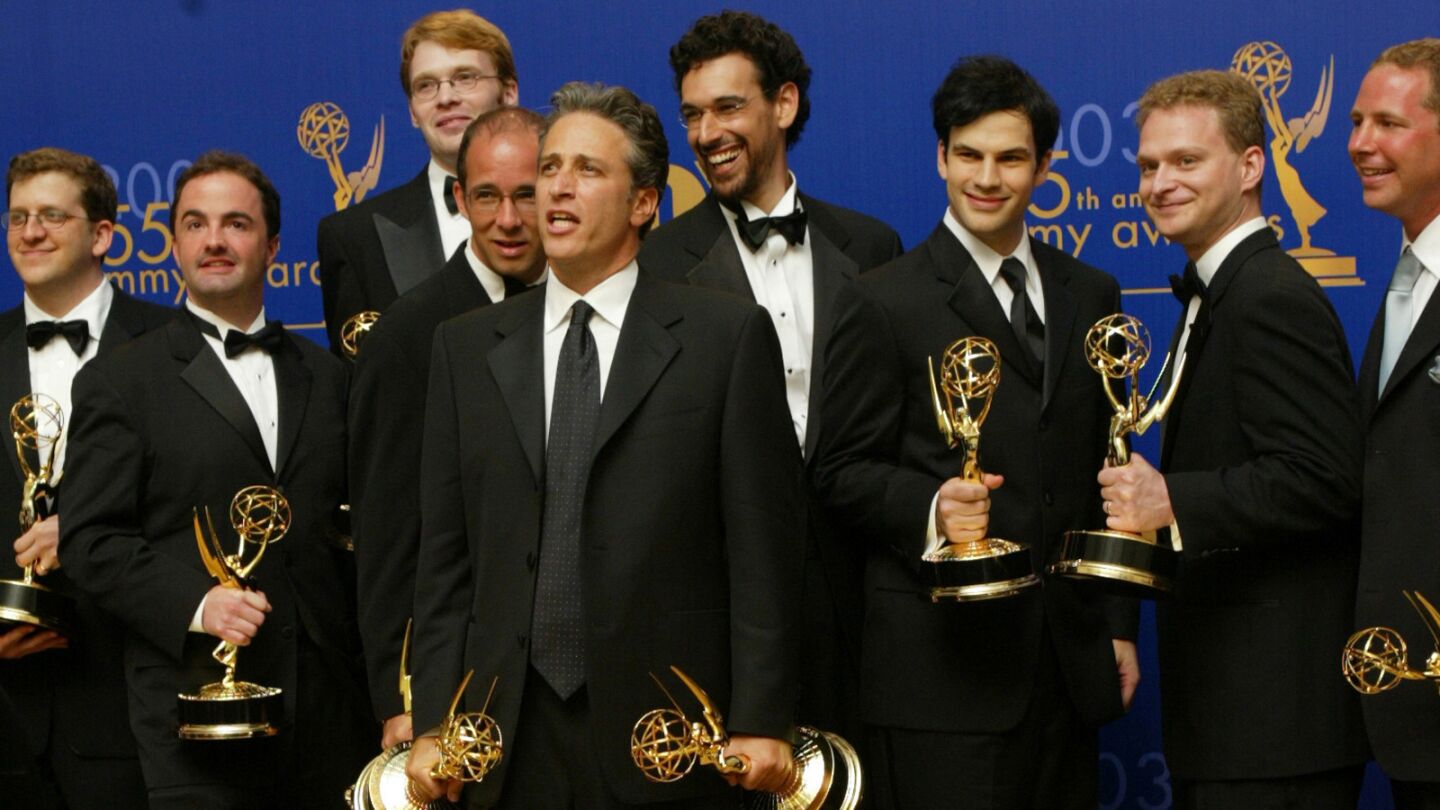 "The Daily Show" won the Primetime Emmy Award for variety, music or comedy series for 10 consecutive years from 2003 to 2012. In 2013, the award went to another Comedy Central show, "The Colbert Report."
(Lawrence K. Ho / Los Angeles Times)
Jon Stewart, left, took on directing duties to helm "Rosewater," an adaptation of the memoir written by journalist Maziar Bahari, right, recounting the 118 days he spent as a political prisoner in Tehran's dreaded Evin prison.
(Jay L. Clendenin / Los Angeles Times)
President Obama visited Jon Stewart's "The Daily Show" three times as president. As Stewart bids adieu to his program, he booked some of the biggest guests, including the president.
(Evan Vucci / AP)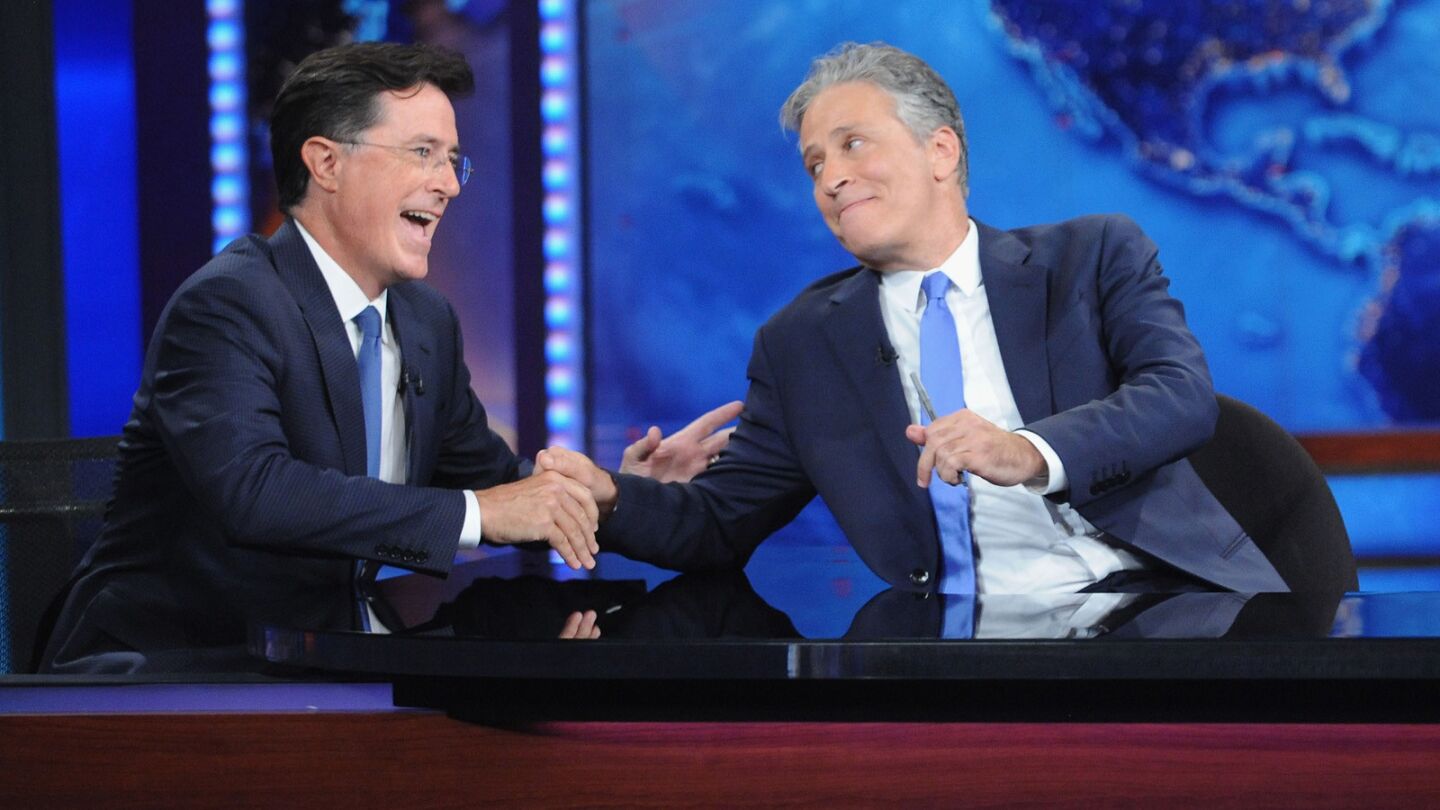 After a 16-year run as host of "The Daily Show," Jon Stewart bid farewell and was surrounded by what seemed like every correspondent and contributor to ever be on the show. Stephen Colbert was the final guest, praising Stewart for the careers he launched and the legacy he left behind.
(Brad Barket / Getty Images for Comedy Central)
The content will also be available on HBO GO, the network's streaming portal, and other platforms. The deal also includes a first-look option for television series and other potential projects, according to HBO.
See the most-read stories in Entertainment this hour >>
"Jon Stewart led a revolution that changed the face of TV comedy on the 'Daily Show,'" said HBO president of programming Michael Lombardo in a news release. "He graced our network nearly 20 years ago, so we're thrilled to welcome back his immense talents in this next chapter of his career."
"Appearing on television 22 minutes a night clearly broke me. I'm pretty sure I can produce a few minutes of content every now and again," Stewart joked.
With his move to HBO, Stewart is following the footsteps of former "Daily Show" correspondent John Oliver, who scored his own show, "Last Week Tonight," at the network following a well-received run as Stewart's fill-in.
The Stewart collaboration is the latest in a string of programming coups for the premium-cable giant, including partnerships with the producers of "Sesame Street" and former ESPN commentator Bill Simmons.
Follow @MeredithBlake on Twitter
MORE:
Nine times Jon Stewart proved he was more than just a comedian
Our take on Jon Stewart in 1998: 'He's practically made a career out of almost hosting other people's talk shows'
---
The complete guide to home viewing
Get Screen Gab for everything about the TV shows and streaming movies everyone's talking about.
You may occasionally receive promotional content from the Los Angeles Times.