From the Archives: 'Mad Men' creator: Don't hate Don Draper
By Meredith Blake, Special to the Los Angeles Times
Over the course of four seasons, "Mad Men" has repeatedly used enclosed spaces -- elevators, closets, backseats -- to re-enforce the themes of secrecy, repression and isolation that are central to the show. But as the show has moved from the twilight of the Eisenhower era into the more permissive mid-1960s, these dark corners have slowly begun to transform. Here's a guided tour of the show's most notable tight spots, with some assistance from "Mad Men" cinematographer, Chris Manley.
RELATED:
In 'Mad Men,' fewer places to hide
(AMC)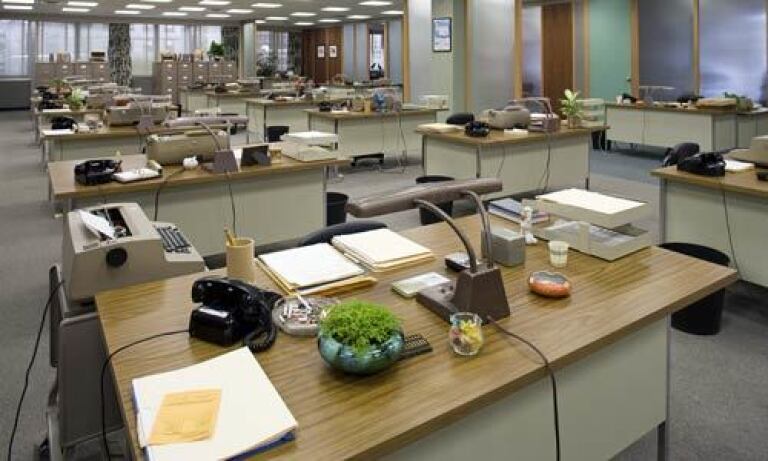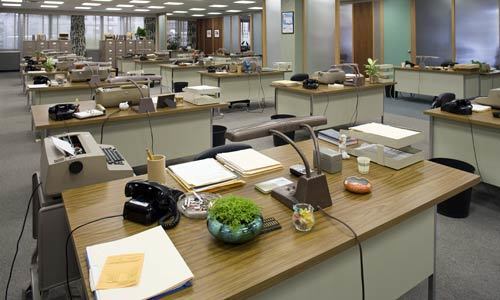 The layout of the old Sterling Cooper office reflected the rigid hierarchy of the American workplace of the 1950s. The women were corralled in the wide-open secretarial pool, while the men carried on as they pleased behind the closed doors.
(Carin Baer/AMC)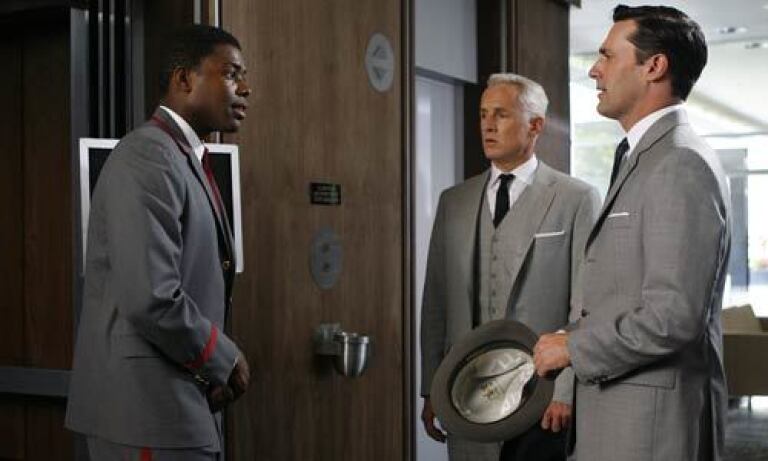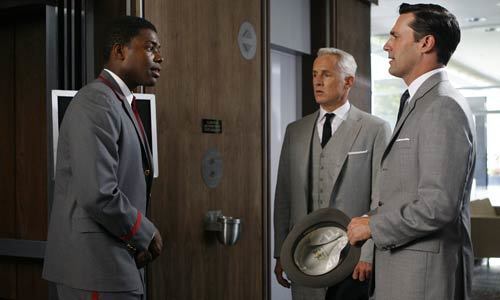 For three seasons, the elevator had one very specific function: It was the only really integrated space in the "Mad Men" universe. In this episode, Don Draper (
Jon Hamm
) bribes African American elevator operator Hollis (LeMonde Byrd) into saying the elevator is out of service in order to get back at Roger Sterling (John Slattery).
(Carin Baer/AMC)
"Elevators are great for storytelling, because they can be a public and a private space," says "Mad Men" cinematographer Chris Manley (pictured above with Becky Stockton, left, Courtney Podraza and Jessica Wrabel). But shooting in cramped quarters is tricky. "If you were shooting a real elevator, you'd have a really wide lens, but that's antithetical to the look of our show. We take the walls out and move the camera back as far as we can without feeling like we've left the elevator."
(Michael Yarish/AMC)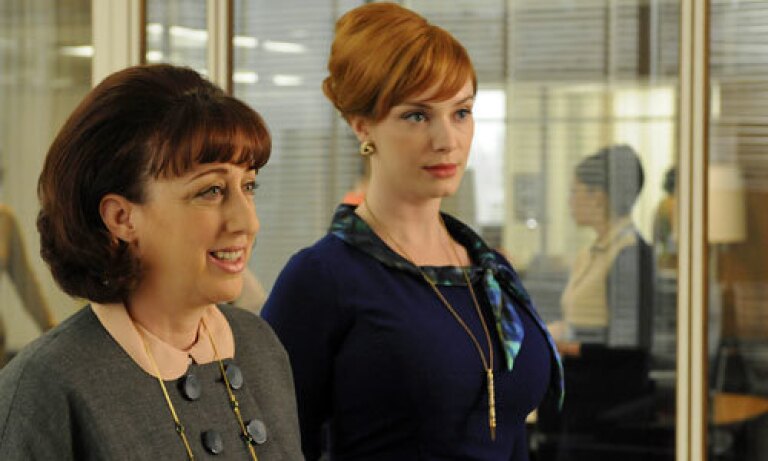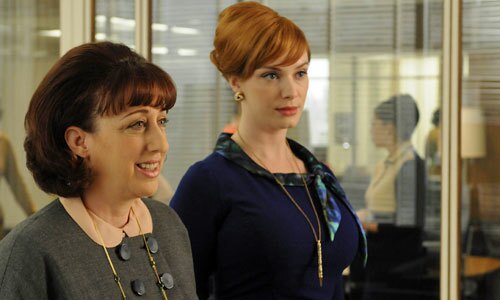 The new offices of Sterling Cooper Draper Pryce are a rabbit warren of interconnected offices, hallways and glass walls. "We tend to shoot lower angles, so you're always aware of the other offices," Manley says. "This gives you an unexpected bonus of depth, but also a feeling of less privacy." Joan Harris (Christina Hendricks) and secretary Caroline (Beth Hall) stand near the reflective glass walls of the new conference room.
(Michael Yarish/AMC)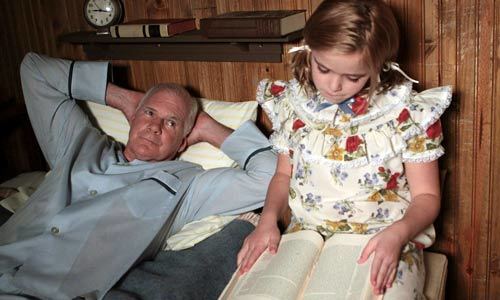 While he was recovering from a stroke, Betty's father Gene (Ryan Cutrona) stayed in the Drapers' small spare room. Young Sally Draper (Kiernan Shipka) spent hours reading to him from "The Decline and Fall of the Roman Empire." After Gene's death, Sally's new little brother -- also named Gene -- moved into the room. Sally was spooked.
(Carin Baer/AMC)
"We like to frame people within doorways, very often it adds to a feeling of isolation," Manley says. It's no surprise that Betty Draper (January Jones), who is probably the show's most repressed character, often appears in these kinds of tableaus.
(Carin Baer/AMC)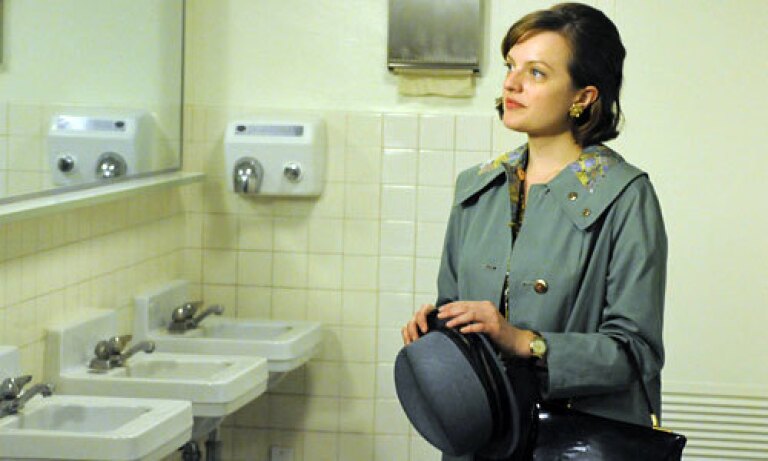 The agency bathroom has always been a favorite hiding spot for the teary-eyed women of "Mad Men," but lately it's also been a setting for more pivotal drama. In the episode "The Suitcase," Peggy Olson (Elisabeth Moss) follows a very drunk Don Draper into the men's room. It's an indication of their special bond, but also of Peggy's trailblazing career.
(Michael Yarish/AMC)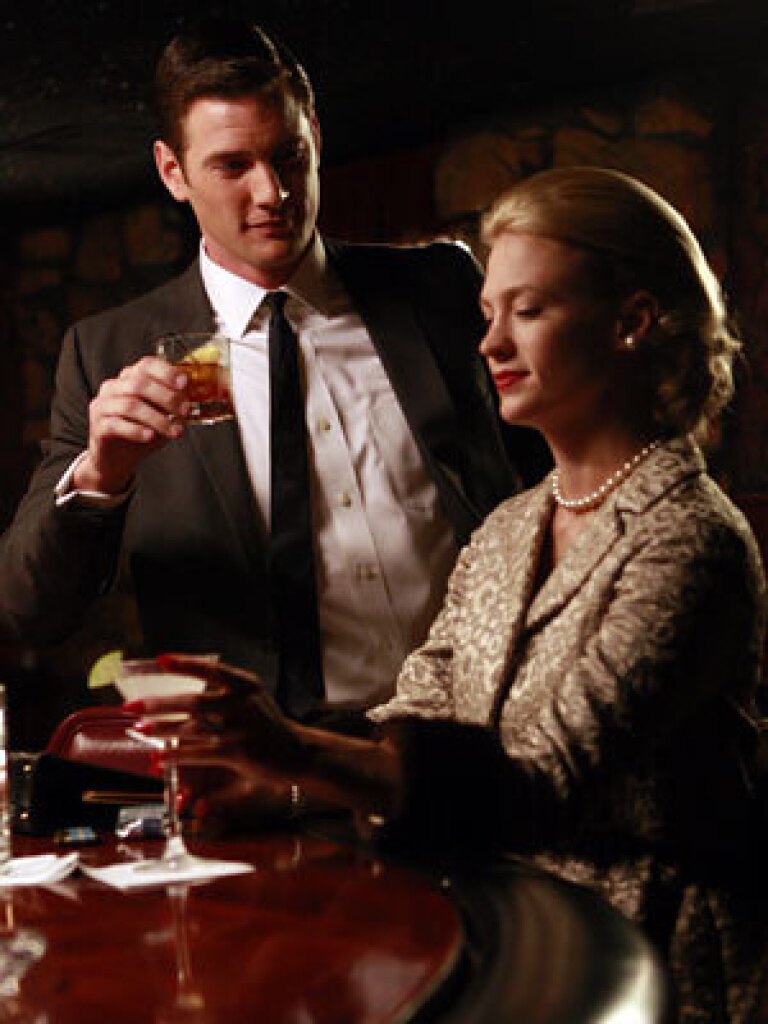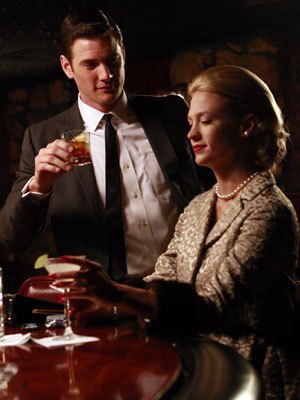 "Mad Men" began in 1960, and part of the pleasure of the show is seeing the gradual move away from the repressive Eisenhower era. For the first three seasons, taboo sexual behavior was largely confined to the show's dark and secretive spaces. In this scene from the Season 2 finale, "Meditations in an Emergency," Betty Draper (January Jones) initiates a tryst with a handsome stranger (Ryan McPartlin) in a shadowy
Manhattan
bar.
(Carin Baer/AMC)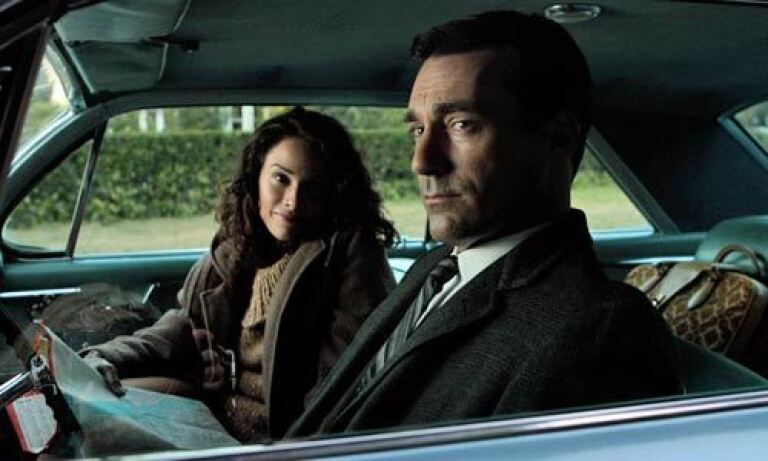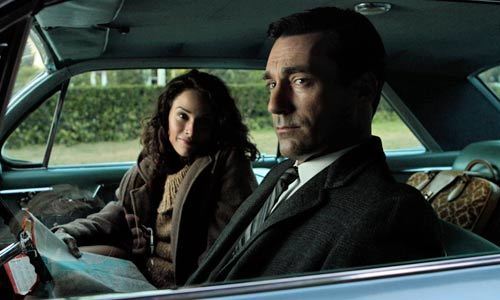 Betty's husband, Don (
Jon Hamm
), prefers cars for his illicit encounters, as in this scene with his mistress (and daughter's teacher),
Suzanne Farrell
(Abigail Spencer).
(Carin Baer/AMC)
In Season 3's "The Wee Small Hours," tobacco executive Lee Garner Jr. makes a pass at closeted gay art director Sal Romano in an editing booth. Sal rejects him, and loses his job as a result.
(Carin Baer/AMC)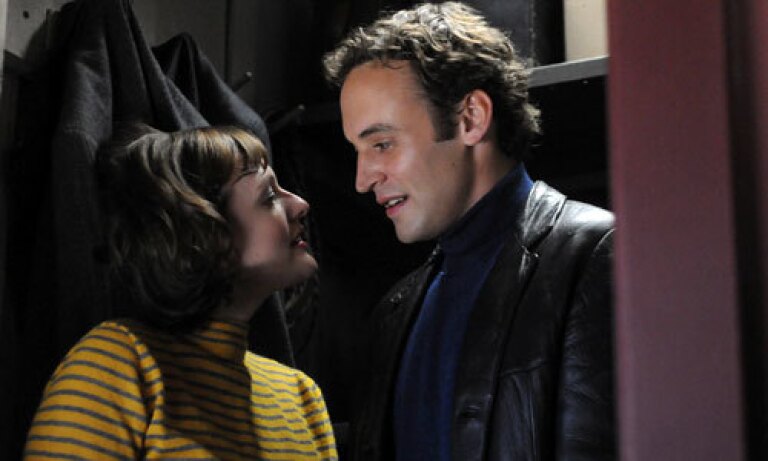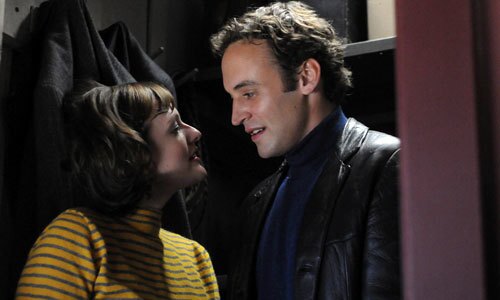 Peggy's romance with Abe Drexler (Charlie Hofheimer) began with a kiss in a closet at an illegal
Tribeca
loft party. "That was my least favorite small space to shoot ever," says Manley. "You want to keep a sense of realism, but these characters would be in complete darkness. In the end, people will believe it, or they won't."
RELATED:
In 'Mad Men,' fewer places to hide
(Michael Yarish/AMC)
If nothing else, AMC's "Mad Men" has been the deliberate and artful chronicle of the psychological undressing of the secretive Don Draper. In its current season, the drama laid the character even more bare when he was caught with another woman — and with his pants down — by his 14-year-old daughter.
The excruciating moment, a culmination of self-imposed humiliations in a season awash in shame for the Emmy Award-winning show's central character, prompted a fresh round of howling at the depraved depths of its charismatic antihero. He's a terrible father. He's a monster. He's the devil.
But Don Draper is none of those things, counters the show's creator Matthew Weiner, who after Sunday's season finale will only have 13 episodes left to tell the troubled ad executive's tale. Don, he says, is 1968.
PHOTOS: Fashion of 'Mad Men' Season 6
"People expect Don to be out of touch, but given society's identity crisis in 1968, he's never been more in touch," said Weiner, who spent much of this season exploring the tumult of one of the nation's most painful and divisive years. "It's like the entire world is in a state that Don is in all the time — the id has overtaken the culture."
It was a state some critics found wearisome this season, particularly when it came to Draper. While there were new examples of his morally reprehensible behavior, the most common complaint among many of the show's devoted legions of episode recappers and social media commentators was they'd had enough. The New Yorker's television critic Emily Nussbaum wrote midseason that "Don, instead of being the show's engine, has become its anchor — heavy, even in the sixties sense."
In an interview at his Los Angeles Center Studios office earlier this week, Weiner talked about his penultimate season and the critical reaction to it, as well as elaborating on some of the key narrative developments. The 47-year-old show runner, famously guarded about revealing plot details, also hinted at what might lie ahead for his leading man.
If last season was about the agency managing with unexpected success, this season was about Don's bloodier battles with familiar problems, said Weiner. Rather than being merely repetitive, Don's "self-destructive acts were amped up exponentially," something that fit with the turbulent year of 1968, added Weiner. The gloom and doom was also there to open the door to the possibility of growth.
In speaking with him about the show, Weiner says people have been complimentary, but he acknowledged it could be different in the loud and echoing canyons of social media.
"I can't control what they say," said Weiner. "The only thing that has been consistent through the history of the show is from Episode 2 on, the show is never as good as it used to be. I am both completely thrilled there is so much conversation, but also I'm really bored of that conversation."
Moreover, Twitter and social media commentators are like "baseball fans who scream at the players, 'You're nothing, you're blah blah blah.' It's a one-way conversation that empowers powerless people who are trying to look smart," he added. "There are so many derogatory things you could say about them, most importantly, where is your show?"
PHOTOS: 'Mad Men' Season 6 premiere
But Weiner quickly made a bow to the rising new medium favored by the culture's nattering nabobs of negativism. "The success of our show is completely tied to whatever happened to television and the Internet and social media in the last seven years," he said.
Once derided for small ratings of a couple million viewers or less in its early seasons, "Mad Men" today commands a combined and highly prized audience of affluent, well-educated viewers that hovers between 8 million and 10 million per episode. Though this season's official Nielsen average per episode is a modest 2.5 million viewers, that doesn't take into account (unfairly, many argue) a host of other entertainment platforms, including all DVRs, video on demand, iTunes and others that would greatly increase that figure.
This season those viewers witnessed Don's life deteriorate on every front. He's having an affair with a woman in his building, a friend's wife. He sours a lucrative public offering at work, and then he sets out to destroy a onetime competitor, Ted Chaough, who has become a firm partner. He's drinking screwdrivers for breakfast and vomiting at funerals.
And worst of all, his already rocky relationship with his daughter, played by Kiernan Shipka, is shattered after she walks in on Don making love with his neighbor's wife.
"One of the things I'm proudest of about the show is that it is very honest about childhood," said Weiner. "A lot of things that happen to her or that happen to other kids on the show are collected from real people's childhoods, either from writers in the room or mine personally."
Almost as mysterious as Don Draper is the new character Bob Benson, played by James Wolk. A recent episode shocked many viewers when Benson, a smiling handsome ad executive, appeared to proposition Pete Campbell in his office with a now famous brushing of the knees. To many, it implied a gay relationship.
"Honestly, Bob is in love with Pete," said Weiner. "I don't know that he's gay. He's just in love with Pete."
"It was one of the most beautiful love proposals we've ever had on the show," he continued. "Pete has everything Bob wants. Bob is someone like Don that grew up on the outskirts of things and had a fantasy of who he wanted to be, and Pete really is that person."
It's hard to conceive of a happy ending for the drama that put AMC on the cultural map in 2007 and is still enormously influential. After all, the opening credits depict an ad man falling to his doom, as he plummets down the building he worked so hard to climb.
As usual, Weiner won't hint at what's ahead next season. But he was willing to answer a fundamental question at the heart of the show that will bear on the narrative end for Don — can people change in a meaningful and positive way?
"I don't know," said Weiner. "It's the eternal question. It's as important to me as what is the meaning of life. I don't think it's easy, but I guess I think it's possible."
-----------------------------
'Mad Men'
Where: AMC
When: 10 p.m. Sunday
Rating: Not rated
---
The complete guide to home viewing
Get Screen Gab for weekly recommendations, analysis, interviews and irreverent discussion of the TV and streaming movies everyone's talking about.
You may occasionally receive promotional content from the Los Angeles Times.