Matthew Rhys is as intriguing as his character on 'The Americans'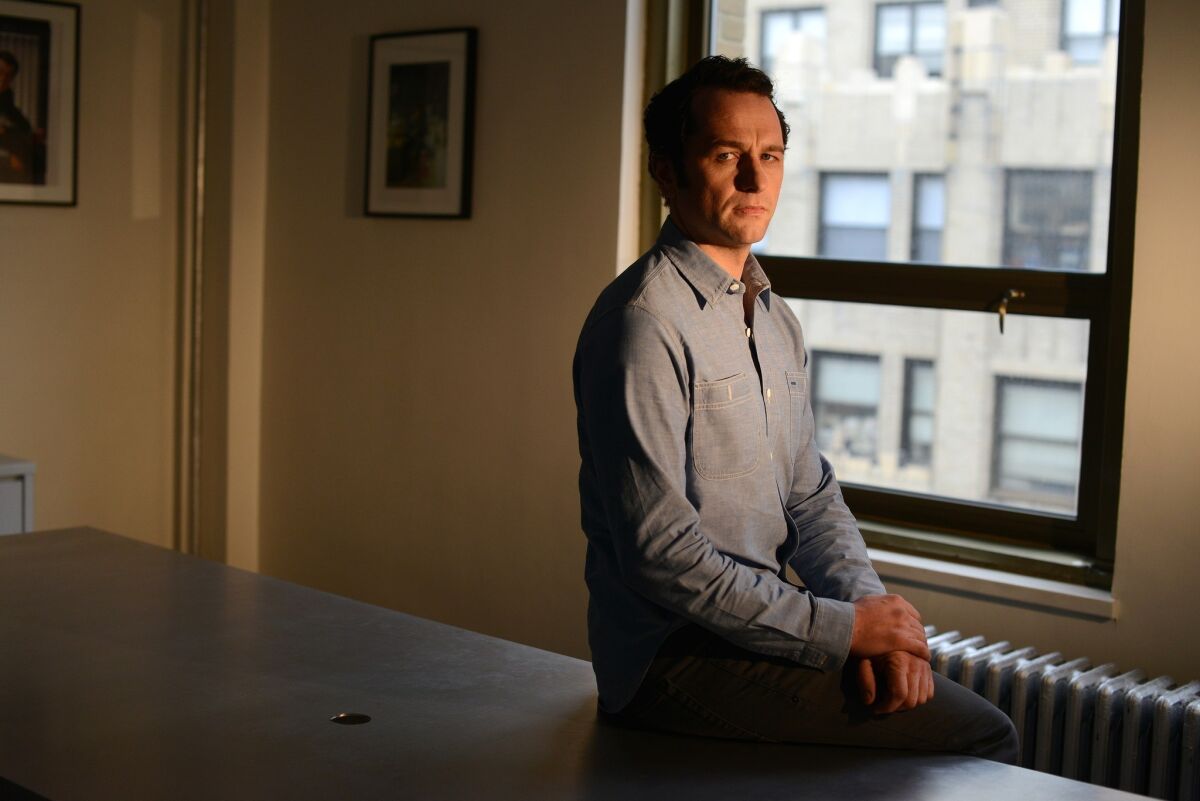 In person, Welsh actor Matthew Rhys is charmingly evasive. Rather than offering long-winded answers about himself, Rhys is just as likely to respond to a question with another question, a tendency which makes it easier to understand how he effortlessly slips into so many disparate identities on FX's Cold War drama "The Americans."
Each week, Rhys plays a Soviet spy posing as a suburban American dad named "Philip Jennings." In the line of duty, he assumes numerous other personas, relying on an impressive array of wigs, facial hair and eyewear to maintain his cover.
Though the gloriously authentic 1980s hair and makeup certainly come in handy, it's Rhys who deserves the credit for pulling off such remarkable dramatic contortions.
PHOTOS: TV shows and their spinoffs
"I'm always trying to find what's the truth in this moment," says Rhys, clad in a chambray shirt and cargo pants, an inconspicuously cool ensemble that would be a great disguise for a spy hiding out in Brooklyn — though his rolling native accent, so thoroughly masked in "The Americans," would be a dead giveaway.
Over the course of a shape-shifting career dating back to the late '90s, Rhys, 39, has starred as a gay Southern California lawyer in the prime-time network soap "Brothers & Sisters," an opium-smoking choirmaster in an adaptation of Dickens' "The Mystery of Edwin Drood" and poet Dylan Thomas in the pedigreed biopic "The Edge of Love."
"There's something in Philip who's always figuring out his place," says Joel Fields, executive producer of "The Americans." "I sometimes wonder whether that is deeply imprinted in Matthew's soul somehow. I can't help but feel there is something in that Welsh upbringing, in the culture of being an outsider inside a larger country, being Welsh in Great Britain, that goes to the way he comes at acting in general and this role in particular."
Now in its second season, "The Americans" puts a new spin on the antihero drama by centering on a married pair of KGB spies living in suburban Falls Church, Va., in the early days of the Reagan administration.
PHOTOS: Behind the scenes of movies and TV
On the surface, Philip and his wife Elizabeth (Keri Russell) are unusually attractive but otherwise unremarkable, with two kids and a cover job running a travel agency. In truth they are ruthlessly effective, cold-blooded agents, willing to lie, cheat, torture, kidnap and kill in service of the Motherland. Their seemingly content marriage is also intensely fraught: What began years ago as a partnership arranged by their KGB handlers has evolved into a loving relationship, and their growing attachment to each other has made certain aspects of their job, like seducing sources, less palatable.
For Rhys, the Jennings' complex marriage was the main reason he signed up for the show. "It's the sort we've never seen before, two people who've been together for 'x' amount of years and now begin to forge a real relationship. The spy stuff was just a bonus."
In a refreshing gender reversal, Philip is the more sympathetic protagonist, both a warmer parent and more conflicted spy. Though for now he remains committed to the Soviet cause, Philip has evidently been seduced by the West: In last week's episode, he even bought a Camaro on a whim, creating tension with his dogmatic wife.
"His thing is always family and their safety and his realization that it's not a career or a life that can be sustained," Rhys says. "His mandate is simple: He just wants to stay alive."
For series creator and executive producer Joe Weisberg, finding leads with convincing chemistry was a crucial part of making the show work. "It's such a subtle and crazy thing this couple has to have, but they just had it," Weisberg says. "We had to find two people who were believable as a suburban couple who were also killers. It seemed impossible until we found them."
BEST TV OF 2013 Lloyd | McNamara
There is a moment from Rhys' audition that has taken on almost mythic proportions: He and Russell were acting out a scene from the pilot in which Elizabeth slaps her husband. Russell, swept away in the moment, slapped him so hard her handprint was visible on his cheek.
"He did not even flinch," Russell recalls. "His eyes looked straight back to me like, 'Yeah, what you got?' That's the point. He's unflappable."
(The onscreen dynamic between Rhys and Russell has contributed to rumors of an offscreen relationship, though both have denied a real-life romance.)
When he was cast on "The Americans," Rhys was perhaps best known to U.S. audiences for "Brothers & Sisters," the drama about a wealthy Pasadena family that ended its five-season run on ABC in 2011. He calls the experience a "golden age," particularly working with the "breathtakingly professional" Sally Field. "You realize what the standard is," he says.
Working with a two-time Oscar winner was at first intimidating for the Cardiff-born actor, who studied at the Royal Academy of Dramatic Arts before moving into roles in British stage, film and television. A major breakthrough came when Rhys was cast opposite Kathleen Turner's Mrs. Robinson in a West End production of "The Graduate."
In moving to L.A. for "Brothers & Sisters," Rhys joined an ever-growing horde of Britons-playing-Americans on TV, a talent exodus he attributes to the "strong and steady demise" of the British film and television industries.
PHOTOS: WGA's top 101 shows of all time
"It's not dissimilar to the 1840s. It's the drama famine at home," he says. "We're all coming to America, the promised land."
After several years on the West Coast, Rhys is now happily settled in Brooklyn, where "The Americans" films, though, as he jokes, "My jeans get tighter every week."
And now he's apparently the one setting the standard on set. "There's that term when in the Tour de France you have someone that you draft off. I really feel like I draft off him — he's that good," says Russell.
Despite its critical acclaim, "The Americans" was overlooked at last year's Emmys, which only seems to have inspired more vociferous acclaim in Season 2.
"I'd recommend skipping work, ignoring your family, going directly to iTunes or Amazon, and watching the first season, binge-style, while drinking vodka," wrote the New Yorker's Emily Nussbaum earlier this year. Though its live audience is relatively small, "The Americans" does well once delayed viewing is factored in, averaging 3.1 million viewers, and was just renewed for a third season by FX.
PHOTOS: Celebrities by The Times
As of yet, Rhys does not have anything lined up for the show's hiatus. An avid traveler with a fondness for trekking on horseback — "Let someone else do the walking," he reasons — the actor says he'd be happy to throw a pack on his back and spend the next six months on the road. But he also feels pressure to seize the moment created by "The Americans." One immediate hope is to do more theater; Rhys made his New York stage debut in 2012's "Look Back in Anger," in a role played by countryman Richard Burton in the 1959 film version of John Osborne's tale of class resentment.
For his next major TV role, he'll star as none other than Mr. Darcy in "Death Comes to Pemberley," an adaptation of P.D. James' murder-mystery sequel of sorts to "Pride and Prejudice." Rhys was initially wary of signing on to the three-part miniseries, which aired on the BBC over Christmas and will play stateside on PBS' "Masterpiece" later this year, because of the long shadow cast by Colin Firth and his legendary wet shirt, but eventually came around.
"It was like a box-tick, a big, punchy BBC Christmas period drama, filming at all the big houses in England in the summer. It's like, what's not to enjoy?"
Rhys will also turn 40 later this year, a milestone that occasionally gives him second thoughts about his career choice. "I catch myself going, 'What am I doing? I'm almost 40, running around in a wig, pretending to be a spy. What am I doing for a living?' Don't get me wrong, you couldn't ask for better, but the older I get, the louder that is in my head."
For our sake, let's hope he doesn't grow up too soon.
--------------------------------------
'The Americans'
Where: FX
When: 10 p.m. Wednesday
Rating: TV-MA (may be unsuitable for children under the age of 17)
---
The complete guide to home viewing
Get Screen Gab for everything about the TV shows and streaming movies everyone's talking about.
You may occasionally receive promotional content from the Los Angeles Times.