Six things we learned from watching the 'Breaking Bad' doc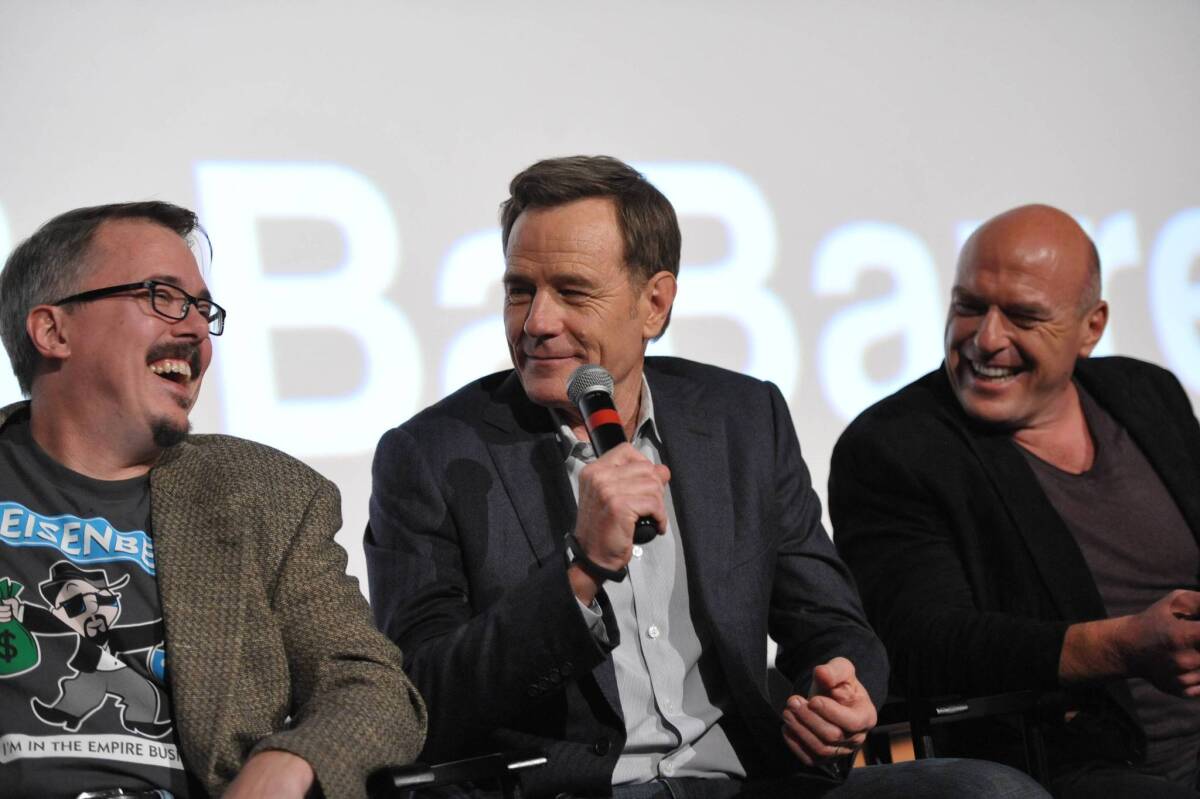 It's been eight weeks and two days (or about 1,392 hours) since the series finale of "Breaking Bad" took (some of) America by the throat with its conclusion -- but who's counting?
For those who feel a hole in their heart from its absence, the complete series is now available on DVD and Blu-Ray--the Collector's Edition comes packaged in a cash-less barrel and contains a Los Pollos apron. Also included is "No Half Measures: Creating the Final Season of Breaking Bad."
The two-hour special-features documentary, as the title suggests, offers a behind-the-scenes look at the making of the final eight episodes--fans will get to know the crew, will see how prone to crying Aaron Paul really is, and just how much of a potty-mouth Dean Norris has.
PHOTOS: 'Breaking Bad,' every season, every episode
To promote the release, creator Vince Gilligan and cast members Bryan Cranston (Walter White), Dean Norris (Hank), RJ Mitte (Walt Jr.), Bob Odenkirk (Saul), and Lavell Crawford (Huell) took part in a Q&A following a screening of the documentary in Los Angeles -- Paul was out of the country shooting a film.
Here are the six things we learned/loved from watching the documentary and two things we learned from sitting through the Q&A:
--Like any good ol' American, Gilligan enjoys a mammoth-sized, 44-ounce soft drink from McDonalds. It makes a cameo on his desk at a makeshift writers' room. And hey, if that $1 of carbonation and sweetener contributed to the heart-pounding drama, let's send our thanks to the Golden Arches.
--Cranston and Paul, as some of us may already know, read the final script at Cranston's home in Albuquerque (Paul picked up the beer). And yes, seeing the pals get emotional is heartwarming ... but hearing Cranston's voice imitation of gunfire is not to be missed.
PHOTOS: Behind the scenes of 'Breaking Bad'
--Gilligan's handwriting is insanely neat. While he was writing a bit on an index card for the writers' room during one scene, I could only look in shame at my scraggly notes on the documentary being written on old receipts.
--Piggybacking off the above, the final card to be pinned in the writers' room read: 516--the episode number of the series capper, "Felina." The writers celebrated the moment by drinking champagne out of blue plastic cups.
--If you ever wondered how Saul gets those lucious locks (which we'll be seeing more of in the spinoff "Better Call Saul"), the documentary provides a look into the process. Yes, Bob Odenkirk sports a weave.
--Gilligan likes to give the back pat. This type of hug may be OK in oridinary situations, but not when saying goodbye to longtime colleagues, according to Betsey Brandt (Marie), who playfully scolds Gilligan about it when she's wrapped her final scene. After getting the pat hug, Brandt later tells Gilligan: "Can you give me the real thing?"
--One of Gilligan's "Breaking Bad" regrets, revealed during the Q&A: that Jesse Pinkman's teeth remained so white after all those years. Oral care is surely a top priority of small-time methamphetamine users and drug kingpins, no?
-- During the Q&A, Crawford, who plays everyone's favorite safe house hostage, said he considers Cranston to be the white Samuel L. Jackson (because he's in everything). And the world ended.
ALSO:
'Game of Thrones': King Joffrey says he's almost done with acting
AMC orders sci-fi and historical pilots
'Family Guy' fans protest death of Brian the dog
---
The complete guide to home viewing
Get Screen Gab for everything about the TV shows and streaming movies everyone's talking about.
You may occasionally receive promotional content from the Los Angeles Times.