'Sleepy Hollow': Seven things to expect from Season 2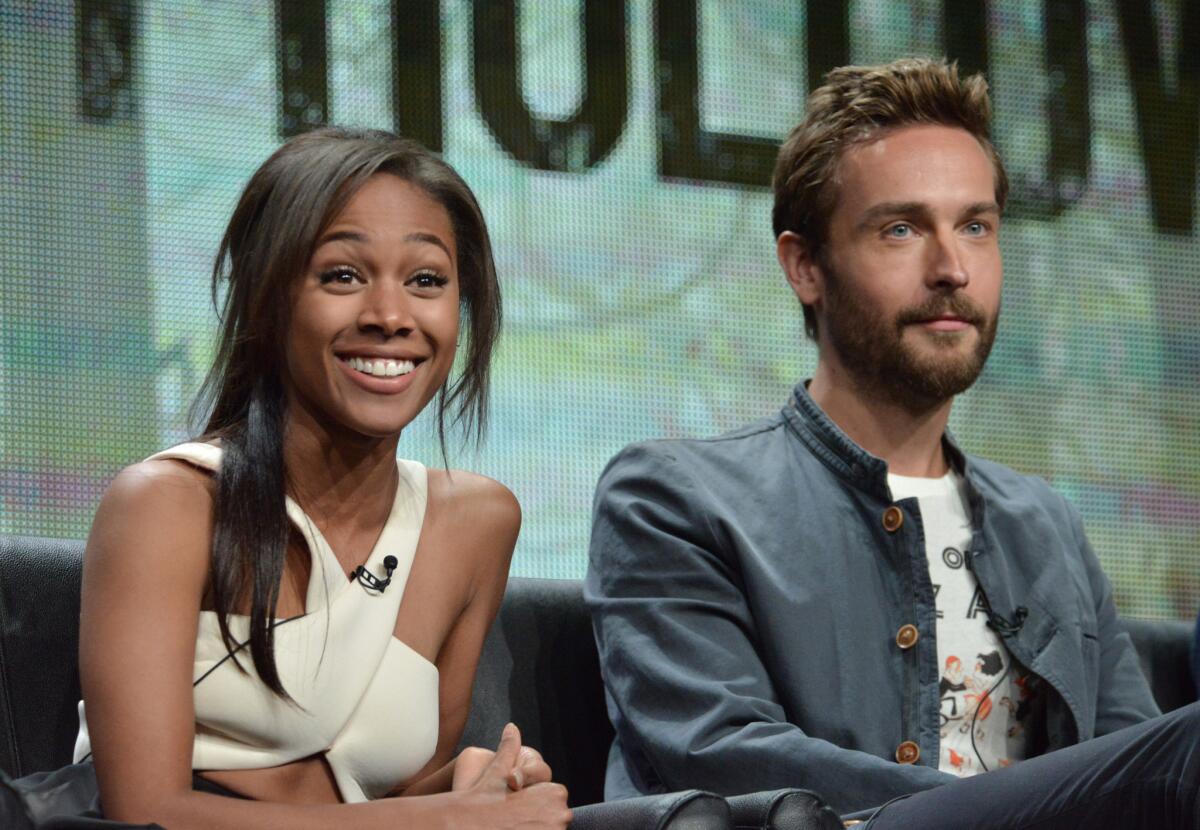 "Sleepy Hollow" had heads spinning with the campy twists and turns of its first season. And the mind-bending experience isn't likely to slow down in its second outing.
"There's not really a shark to jump," said actor Tom Mison, who plays Ichabod Crane. "In the pilot, we kicked the shark in its teeth."
As Sleepyheads continue to cope with the drawn-out hiatus -- the show's first season wrapped in January -- and await updates on the massive cliffhanger that left nearly every character in a dicey situation, the show's executive producers and cast gathered Sunday for the Television Critics Assn. press tour to dish out some tidbits of what's to come in the second season, which launches Sept. 22.
And there's plenty to dish out. The writers room is boarding the story for Episode 11 and beginning production on Episode 7.
Here what we learned:
-- The working theme for Season 2 is "War has come into town" as personified by John Noble, said co-creator and executive producer Roberto Orci. "War can tear not only a town apart, but a family apart."
-- Crane will accompany Abbie to a voting booth. He will also -- wait for it -- learn to drive, inspired by a decision by Tom Mison (who plays Ichabod Crane) to learn how to drive.
-- New clothes are coming for Crane in Season 2. Hey, considering that all the attention Ichabod's unchanging attire received last season ultimately led to Crane in skinny jeans, we're all for seeing what he tries on next.
-- New creatures introduced in Season 2 will include a Wendigo that is unearthed, a succubus, kindred and a pied piper. And two new human characters will also roll through town, including a new sheriff, Lina Reyes, played by Sakina Jaffrey, who will cause new problems for Crane and Abbie as they try to work with the precinct because she is not as malleable as Irving. This new sheriff has a history with the town of Sleepy Hollow but has been working with border patrol for a while.
-- There are some bumps in the road for Crane and Katrina. "We're going to drop a few bombs this season with their relationship ... that they were not possibly prepared for," Orci said.
-- Will Crane become unburied? Yes, but be patient. "We spent so much time getting him in the box, what we didn't want to do was get him right out and make it easy," said co-creator and executive producer Alex Kurtzman.
-- Although its freshman outing consisted of 13 episodes, its second go-round will stretch out to 18 episodes. And that's taken some getting used to, story-wise. "It's a blessing and a curse," said co-creator and executive producer Len Wiseman, saying it offers more breathing room for stories.
Bonus: As far as the undeniable Crane/Abbie chemistry, Nicole Beharie (Abbie) finds it refreshing that things aren't muddled by romance: "I really think it's interesting and kind of fun. She has a relationship with a man, and it's not romantic." Mison, in return, says he can understand the tension, though: "Running around the woods in the middle of the night, chasing after monsters, is profoundly erotic.
For more TV news, follow me on Twitter: @villarrealy
Get our L.A. Goes Out newsletter, with the week's best events, to help you explore and experience our city.
You may occasionally receive promotional content from the Los Angeles Times.