'Sleepy Hollow' EPs reflect on first season, tease what's to come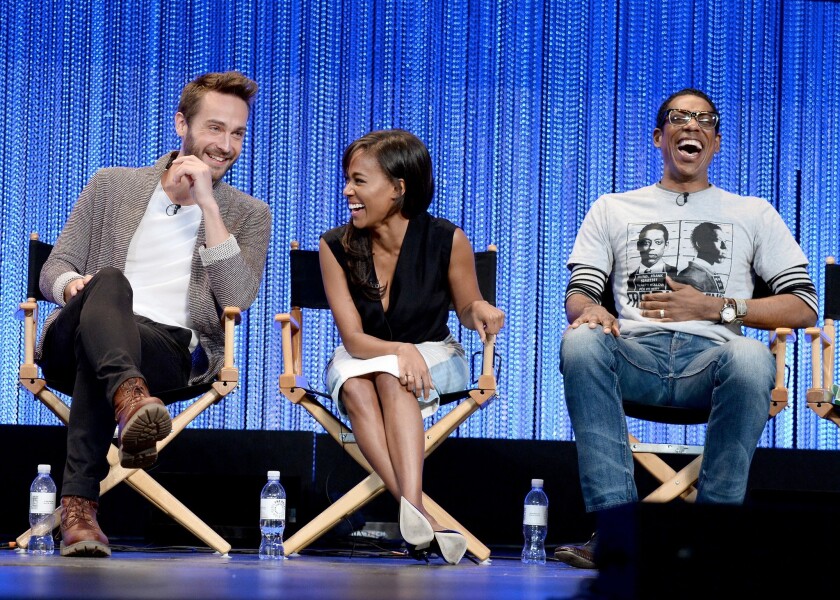 Bringing a show like "Sleepy Hollow" to life can be a heady experience.
There's revisionist history. Sprinklings of the Bible. Modern day. Race relations. A classic tale. Skinny jeans. A lot of fusion is at play. Executive producers Alex Kurtzman and Roberto Orci said their freshman experience in the school of TV last season was a lesson in consumption.
"One thing we've learned is how much audiences can take," Orci told The Times ahead of the show's Wednesday night panel at PaleyFest in Hollywood. "They can take a lot of crazy stuff if it's mixed correctly. We were afraid. I mean, we're giving viewers a lot to digest. But in the writers' room, we all love going mad, and we knew if we were having a good time, then maybe the audience would feel that it was familiar, but also original. We learned that they're hungry for twists and surprises. We try to make every show like a season finale."
PHOTOS: TV shows and their spinoffs
It's a mindset that could very well have backfired, they acknowledged. But it didn't. The first season was not only a hit on Twitter, the season averaged 7.5 million viewers--that number jumped to 11.5 million viewers when DVR viewings are included. Crucial to making all the pieces work was intention, Kurtzman added.
"It's hard if you don't have a plan," he said. "But we knew where we were going from the beginning of the season. The hard part was making sure we were misleading viewers correctly, so by the time you got there, it was inevitable. You realized it all along in a weird way."
The writers are back at work on the new season, with production set to begin in May. Executive producer Mark Goffman indicated that a plan is already in place for Season 2, and promised that its finale is just as tweet-worthy.
"But it all starts with the premiere," he said. "Whatever you think is going to happen in that first episode, you're wrong. There are some surprises in store. Our characters are in a lot of jeopardy and I think that's an important thing to really play out. And it's going to be fun to watch it come to fruition."
And what would a season be if long-delayed Ichabod Crane (Tom Mison) wasn't confused and curious about the modern world?
Goffman hinted that Crane might get some more lessons in transportation.
"We all get so excited about his firsts," he said. "Like his first time on a plane. We all talk about it and we think it's going to be the best episode ever."
So we'll see that this season?
"I mean, if he wants to travel, he's going to have to get on a plane at some point. He's also never been on a train."
More teases about the upcoming season came once the panel started:
The showrunners promised that Sleepyheads, as the show's fans have dubbed themselves, will meet some new faces of the human and supernatural order. One of them will assume control now that Captain Irving (Orlando Jones) is locked up. "This person is going to be very 'not on your side, pal!'" Goffman said.
BEST TV OF 2013 Lloyd | McNamara
And while the first season served as "catch up," in Goffman's words, with background on Crane, the new season will provide more opportunities to give glimpes into the backstories of other characters, specifically Abbie (Nicole Beharie) and her sister, Jenny (Lyndie Greenwood).
"Assuming Abbie gets out of purgatory, she's going to start to wonder what she's got inside her that makes her the way she is today," said Goffman. He added that Andy Brooks (John Cho) also has an interesting past they're hoping to shed some light on should Brooks go through another resurrection.
Speaking of Jenny and Andy ... the season finale left fans wondering what would become of the two seemingly ill-fated characters. Jenny was left unconscious, and maybe worse, in an overturned car after a clash with the Headless Horseman. And Andy was left for dead after that whole Washington's tomb incident. The showrunners dodge outright giving an answer.
"One of the great things about Sleepy Hollow is that you can be dead but it doesn't mean that you're gone," Goffman said.
PHOTOS: Behind the scenes of movies and TV
The season will also include some parental struggles. Ichabod and Katrina (Katia Winter) have their son Henry (played by John Noble, who will return in the second season) to contend with, following his nefarious actions last season.
"As evil as he is, it's still their son — so it's not gonna be easy to decide what to do with him," said executive producer Len Wiseman. "At the end of it, can you kill your own son? That's gonna cause conflict."
The 13-episode second season will roll out on Fox in the fall.
ALSO:
Did the Funky Chicken land Emilia Clarke her 'Game of Thrones' role?
'American Idol' recap: The Top 10 take on top-10 hits
'The Americans' recap: Elizabeth tracking down killer of KGB spies
---
The complete guide to home viewing
Get Screen Gab for weekly recommendations, analysis, interviews and irreverent discussion of the TV and streaming movies everyone's talking about.
You may occasionally receive promotional content from the Los Angeles Times.