Review: 'The Improv' charts the comedy club's early days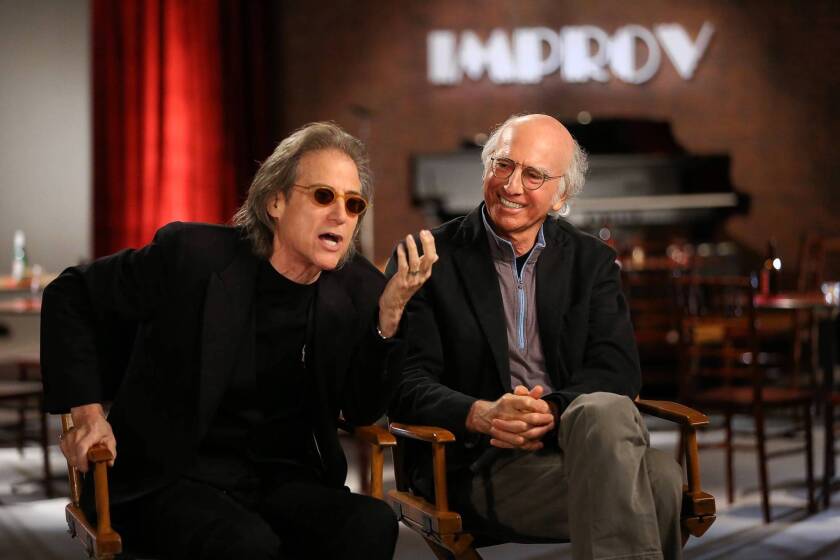 For a short and breezy documentary narrated by Adam Sandler in which a group of famous comedians talk about themselves, "The Improv: 50 Years Behind the Brick Wall" packs a surprisingly provocative punch. In these days of digital "stardom," when fame is tweet-fleeting and the goal too often seems more Simon Cowell-approved branding than original voice, the rigors of an old-fashioned comedy club seem historically artisanal, like candle-dipping at Colonial Williamsburg.
In the post-"Seinfeld" years, stand-up comedy, once the province of the scruffy and outrageous, has become increasingly sleek and well fed. Ray Romano, Jay Leno, Bill Maher, Judd Apatow, Jerry Seinfeld, Larry David, the Wayans brothers, Sarah Silverman, Kathy Griffin, Jimmy Fallon — the people reminiscing here about the Improv are among the media elite, with studio deals and television shows, car collections and famous divorces. It's almost impossible to imagine any of them squinting against a backlit fug of beer fumes, cigarette smoke and audience hostility, sweating their way through an imperfect 10-minute set.
PHOTOS: Behind the scenes of movies and TV
So to see them rhapsodizing about the early days, the hungry days, when the obsessively courted dream was a spot on Merv or Johnny, takes a little empathy adjustment — oh, Jerry Seinfeld, how difficult life has been for you.
But it was, actually. Quite difficult.
Comedy of any sort is difficult, which is why those who do it well are often handsomely compensated. And stand-up, with its lack of props and reliance on personal pain, is the toughest of all.
"Trapped between a hostile audience and a solid stone wall," says Russell Brand, describing his early days at the Improv. "No escape. And your only possible way out: a microphone and a few half-assed jokes."
Although it has become all but synonymous with stand-up, the original Improv, which opened in New York's Hell's Kitchen in 1963, was not established with comedy in mind. Stage producer Budd Friedman and actress Silver Saunders (the two would eventually marry) wanted to create a place where performers could come after their shows and hang out, eat a little "black bread and cheese." Musicians and singers dominated the mike in the early years, with comedians slipping in between to hone their acts.
"It was always 'OK, there'll be a singer and then you,'" Leno says. Stage time was at a premium; a good set at the Improv quickly became a shortcut to success.
PHOTOS: 13 memorable stars from 'Saturday Night Live'
"I know people who would go and have a great 15," Kathy Griffin says, "and get a TV deal." Leno remembers sleeping in an alley behind the club, hoping for a slot. Fallon haunted it even when he wasn't on, just to see what other comics were doing.
By the time the L.A. Improv opened in 1975, the stand-up revolution was gaining steam, and when A&E began airing its "An Evening at the Improv" in 1982 it seemed like everyone was a comic. "Suddenly I'm having to compete with a dentist by day, comedian by night," Maher says. "Too many comedians."
Virtually every one of them did time in front of the Improv's iconic brick wall, creating a system of quasi-mentorship — Silverman watching Lily Tomlin, everyone looking to Pryor — and facilitating friendships among performers that would change comedy in America.
"50 Years Behind the Brick Wall" does a lovely job chronicling the life span of an odd and influential institution, but more than that it reminds us that even with the wonders of the digital universe, nothing sparks the creative spirit more effectively than like minds working in close physical proximity.
------------------------
'The Improv: 50 Years Behind the Brick Wall'
Where: EPIX
When: 8 p.m. Friday
Rating: TV-MA (may be unsuitable for children under the age of 17)
---
Inside the business of entertainment
The Wide Shot brings you news, analysis and insights on everything from streaming wars to production — and what it all means for the future.
You may occasionally receive promotional content from the Los Angeles Times.