"The Walking Dead" -- Carol on her own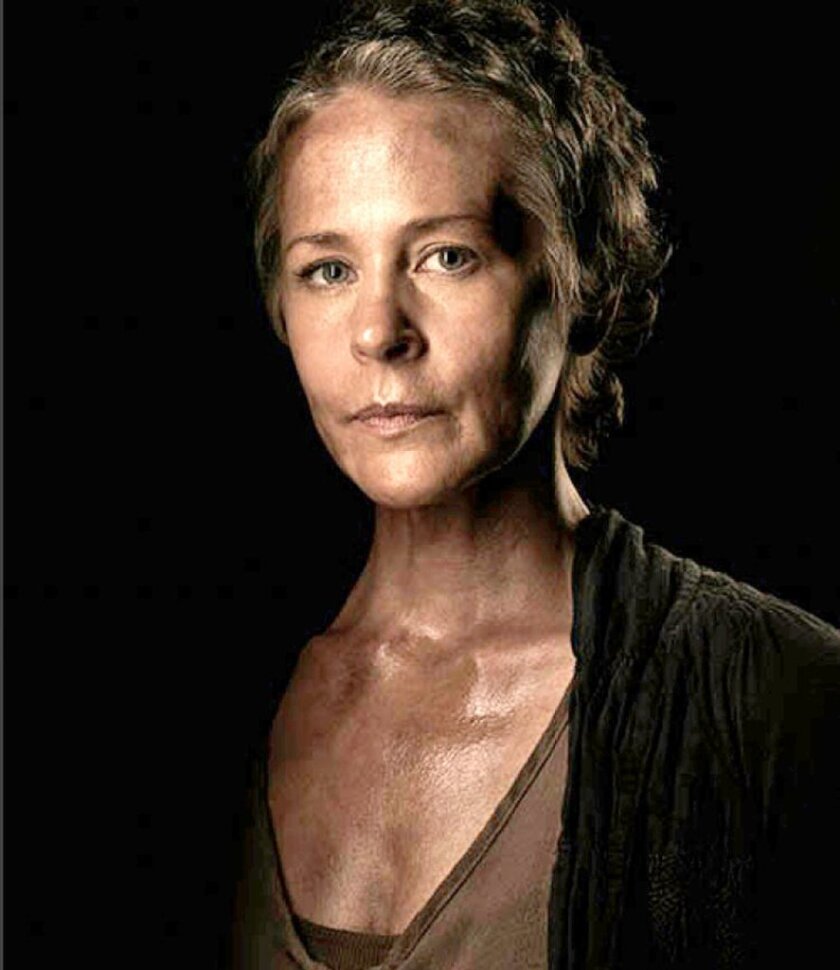 Spoiler alert: The following post contains revelations about Sunday night's episode of "The Walking Dead."
Forget the zombies. When it comes to "The Walking Dead," no one has shown more guts this season than Carol Peletier.
In the course of four seasons, the AMC genre drama has fine-tuned the delicate balance of gut-wrenching — and gut-spilling — moments against its zombie apocalypse backdrop. Behind the din of knives being jammed in heads or the sloshing of innards as they get consumed, are the quiet, equally disquieting, junctures — those that show how brutality of the environment has left its stain on the band of characters.
PHOTOS: Behind the scenes of 'The Walking Dead'
When Rick, the reluctant leader of the survivors, asked increasingly zealous Carol in a recent episode whether she killed two additions to the crew who contracted the flu-like illness at the center of this season, her reply was a matter-of-fact, unrepentant 'yes.'
"That one word just hits you in the face," said newly minted executive producer and show runner Scott Gimple. The three letters would also prove to be a critical moment for the long-suffering outlying character — with it all coming to a head in Sunday's episode.
Carol, played by Melissa McBride, was introduced in the first season as a meek, battered wife. Bit by bit, the unassuming weakling found her strength after losing her husband, Ed, and, later more tragically, daughter Sophia.
It's all led to the Carol of this season — one who quickly segues from storytime to secret weapon training for the kid survivors. And one who also killed two not-yet-zombied people and, in Sunday's episode, one who is ultimately excommunicated from the group by Rick.
As she drives off into the unknown in a rundown station wagon, Rick tells her: "You're not that woman who was scared to be alone. Not anymore."
PHOTOS: 'Walking Dead' and the many meanings of zombies
"She was someone who used to be afraid to even make a decision or voice an opinion and had so much self-doubt," McBride said of her fictional alter ego. "To see her come this far — to be confident, to fight back, to find her voice — has been such a treat. I think a lot of that has always been there, it was just so diminished and so squashed by circumstances prior to the apocalypse."
McBride's rise to the fore as Carol comes at an opportune time in the show's run. After already riding high last season as the top-rated scripted drama on cable and broadcast, "The Walking Dead" shattered expectations with its season 4 premiere last month — pulling in 16.1 million total viewers, with 10.2 million of those in the advertiser-coveted 18-49 demographic.
"There's no room to be shy," McBride joked.
"She isn't loud," said Gimple, who says Carol is a favorite. "Everything feels so real with Melissa's acting — which can be tricky when zombies are involved. But whether she's calling Daryl 'pookie' or admitting to murder, she makes it authentic. With everything that's happened to Carol, it just felt like the right time to explore the theme of 'Are we too far gone?' "
McBride appreciates the heftier storyline, sure. But the biggest coupe for the actress, promoted to series regular in the second season, was just having her name appear in the opening credits this go-round.
INTERACTIVE: Fall 2013 TV preview
"My parents were so relieved," she said, mentioning their vision problems. "My dad was like, 'I was just about to go buy one of those 200,000-inch TVs just so I could see your name at the end if they hadn't put it up front in bigger font type.' It's all very fancy to us."
Born in Lexington, Ky., McBride is one of four children — her father was a business owner and her mother was a housewife who had previously studied at the Pasadena Playhouse. McBride moved to Atlanta in the mid-'80s, where her acting career consisted mostly of bit parts including a waitress in a 1993 episode of "Matlock"; a doctor in "Walker Texas Ranger"; and two small roles in "Dawson's Creek" — with long, cork-screw curly hair in full display.
She would shift her focus on being behind the camera in 2000, working as commercial casting director. It was in that position that she first encountered two future "Walking Dead" co-stars Chandler Riggs (Carl) and Madison Lintz (Sophia). It was also around that time where an opportunity to appear in a film, "The Mist," directed by Frank Darabont, would come her way. She took a day off from her casting gig to accommodate the part of "woman with the kids at home."
"That just goes to show you never know what can happen from a day of work," McBride said. "You can't poo poo the small parts. I never heard another word from anyone on 'The Mist' until my agent called three years later and said there was a show and a part for me if I wanted it. Just like that. No audition."
PHOTOS: Hollywood Backlot moments
She'd bring short hair, a look she had been sporting for years, to the role — now an iconic feature of the character, whose hair is shoulder-length in the comic. McBride reasons that, for Carol, the short hair is a byproduct of her abusive husband: "Maybe he cut it to make her feel less pretty. Or maybe she did it so he couldn't pull her hair? That's my back story for it."
For those who wonder how its upkeep has remained impeccable, Robert Kirkman, an executive producer and creator of the comic book series the AMC drama is based on, joked: "There are scissors in the prison."
But McBride's contributions to the character, who dies in the comic while her daughter lives, don't end at hair follicles, Kirkman added.
"Carol, in the comic, was an attempt at showing someone who just crumbles and is not able to deal with everything that is happening to her because of the zombie apocalypse," he said. "For the show, we did a little bit of that, but from the get go, we were trying to do something different with television Carol. And Melissa was a huge part of that. She was too capable of an actress and had too much of a presence."
Part of the dynamism has shown through an unlikely friendship. Amid Carol's devastating ordeals, she developed a strong bond with bad-boy-with-a-big-heart Daryl Dixon (Norman Reedus). A friendship that has long had hardcore fans rooting for some loving.
WATCH: The Envelope - Emmy Round Table | Drama
"I love all my scenes with Norman," McBride said. "They bring out such vulnerable and playful sides of each other. When Daryl swoops in and rescues her in that jail cell last season, I loved it. That reunion with him is probably my favorite Carol moment because she finally got her knight-on-a-horse moment."
To say the death toll on "The Walking Dead" has been brutal would be an understatement. From secondary cast members such as T-Dog (IronE Singleton) and Dale (Jeffrey DeMunn) to key players such as Shane (Jon Bernthal) and Lori (Sarah Wayne Callies), there's no telling who is next on the munching block. Carol's future on the show is in question.
Sunday's episode ends with Carol driving off on her own in a ragged station wagon — not welcome back at the prison under Rick's watch.
"Talking to her about Sunday's episode was not easy," Gimple said. "But I thought it was the proper way for the character to go. It's not fun being the grim reaper."
But, hey, Carol's isn't dead — yet. "I would say it would be very strange if this was the last we see of Carol," Kirkman said. "But it's not guaranteed. We saw Merle again, didn't we?"
---
The complete guide to home viewing
Get Screen Gab for weekly recommendations, analysis, interviews and irreverent discussion of the TV and streaming movies everyone's talking about.
You may occasionally receive promotional content from the Los Angeles Times.