Review: Comfortable, confident Trevor Noah takes over as host of 'The Daily Show' ... and survives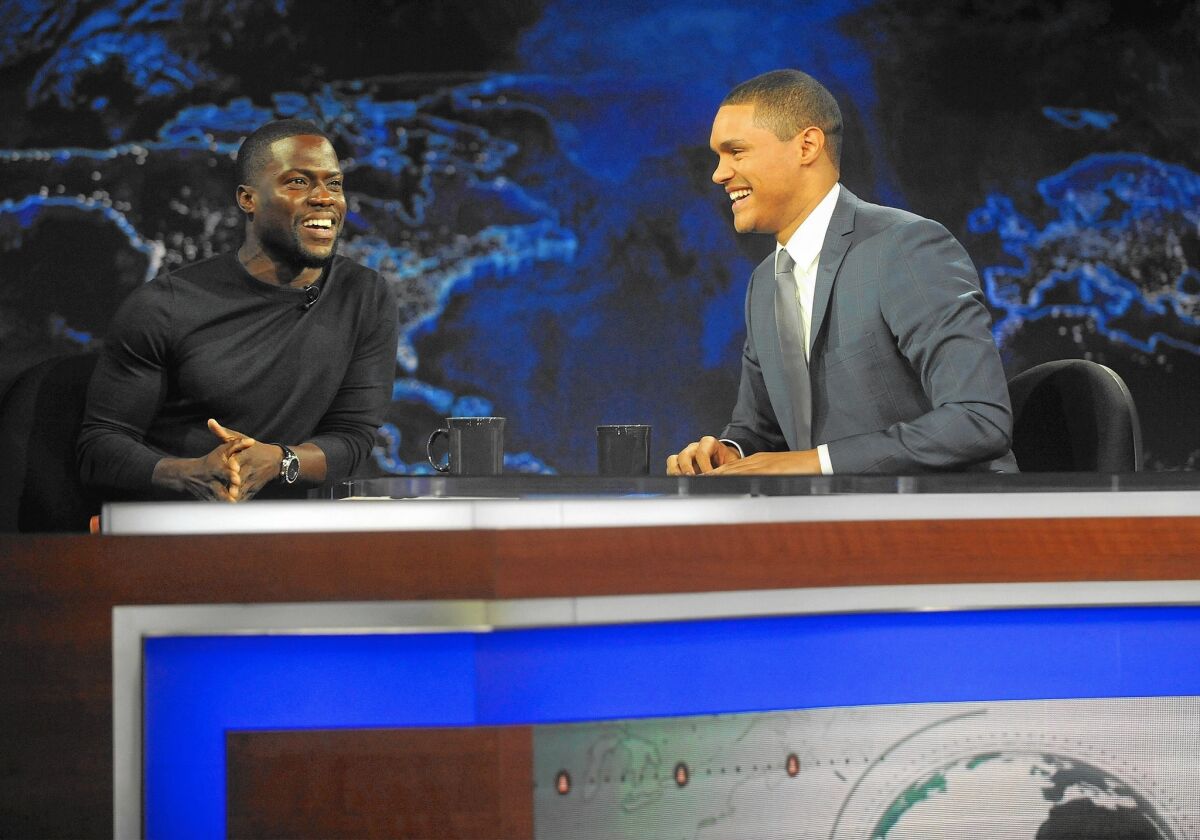 Monday night, as prime time crept off to bed, Trevor Noah began his tenure as host of Comedy Central's "The Daily Show." His celebrated predecessor, Jon Stewart, had handed in his keys after 16 years, apparently to have a life, a decision some still regard as unfair to them and to America.
Warning: Clip contains some offensive language
Life is change. Change is hard. Nothing I say about Noah here should be taken as anything more than a first impression. This is just the beginning of what, fingers crossed, will be a long voyage of discovery, and he is not even out of the harbor yet. But he held the wheel steady, the ship did not run aground.
And it's true of all new late-night talk show hosts that they are liable to be found wanting when they arrive. Armchair and professional critics alike are overly alert to the smallest fumbles, the pause that takes too long, the stumbled-over word; every joke that falls flat is like a bomb going off. There is the sense, with every show that has become "historical," that history is being made when a change like this happens, and that history might somehow end if the players are not up to the game.
Noah arrived with some extra baggage. He was roasted on the spit of social media for some unfunny jokes he posted on Twitter several years ago; he had appeared on "The Daily Show" only three times — they were all good bits — and is otherwise not especially well-known here. And he comes from another continent and two other hemispheres and speaks with an accent.
And there's this. Stewart, Noah said, was like our "political dad, and it's weird, because dad has left, and now it feels like the family has a new stepdad. And he's black." But there were cheers.
SIGN UP for the free Essential Arts & Culture newsletter >>
His more significant disadvantage, as it would be anyone's, is that our entire idea of a "Daily Show" host comes at the end of an equation that runs "Jon Stewart + time = most trusted man in fake news." With a couple of minor changes — new graphics, new desk — Noah's first show kept everything in place. The theme song, the correspondents, the Moment of Zen. The bent remains political. It is not a case, as in some late-night handovers, of a new broom sweeping clean.
He is charming and composed — almost inevitably low-key compared with the habitually antic and astonished Stewart, as Larry Wilmore is low-key compared with Stephen Colbert, whose old time slot his "Nightly Show" now occupies. New correspondent Roy Wood Jr., in a bit about Mars, and returning correspondent Jordan Klepper, in a bit that conflated the John Boehner resignation with Stewart's, were more animated — but a certain amount of what Noah has to do is just partnering. Other people can yell.
As with every new host since the beginning of hosts, he was the least comfortable in the interview segment — with "comedic rock star" Kevin Hart. It made him seem young in a way the rest of the show did not. But even the old hands fail at it from time to time.
Warning: Clip contains some offensive language
Noah acknowledged that offers were made to other people — women, Americans. But if he wasn't a first choice, neither was he a last resort.
To think that there's anything reckless in this choice, though he made a joke about that too, would be wrong. The franchise is too important to the network to throw at the first handsome 31-year-old biracial South African comedian who has had a movie made about him to come along.
See the most-read stories in Entertainment this hour >>
The times cry for satire. But we are not without political comedy, even putting aside the comedy the political world creates without any help from the professionals. There is John Oliver, doing his HBO variation on themes from "The Daily Show"; there is a compact version of "The Colbert Report" embedded into the heart of his new "Late Show"; while Wilmore's "The Nightly Show" is cool and confident. Do not panic!
What else? They covered the pope. There were more sex jokes than usual, it seemed to me. The host noted that some of his audience would be watching on their phones — it's a new age.
"And the Mets made the playoffs," Noah said to cheers. "I don't know what that is, but Jon told me that would work."
What a country!
MORE:
'The Daily Show' recap: America meets its 'new stepdad,' Trevor Noah
Trevor Noah keeps his cool in concert performance
Trevor Noah: Jon Stewart's a white 'Jewish guy' from New Jersey; 'I'm not'
How the new generation of late-night hosts could affect the presidential election
Get our L.A. Goes Out newsletter, with the week's best events, to help you explore and experience our city.
You may occasionally receive promotional content from the Los Angeles Times.