Greg Kinnear, a man for all screen sizes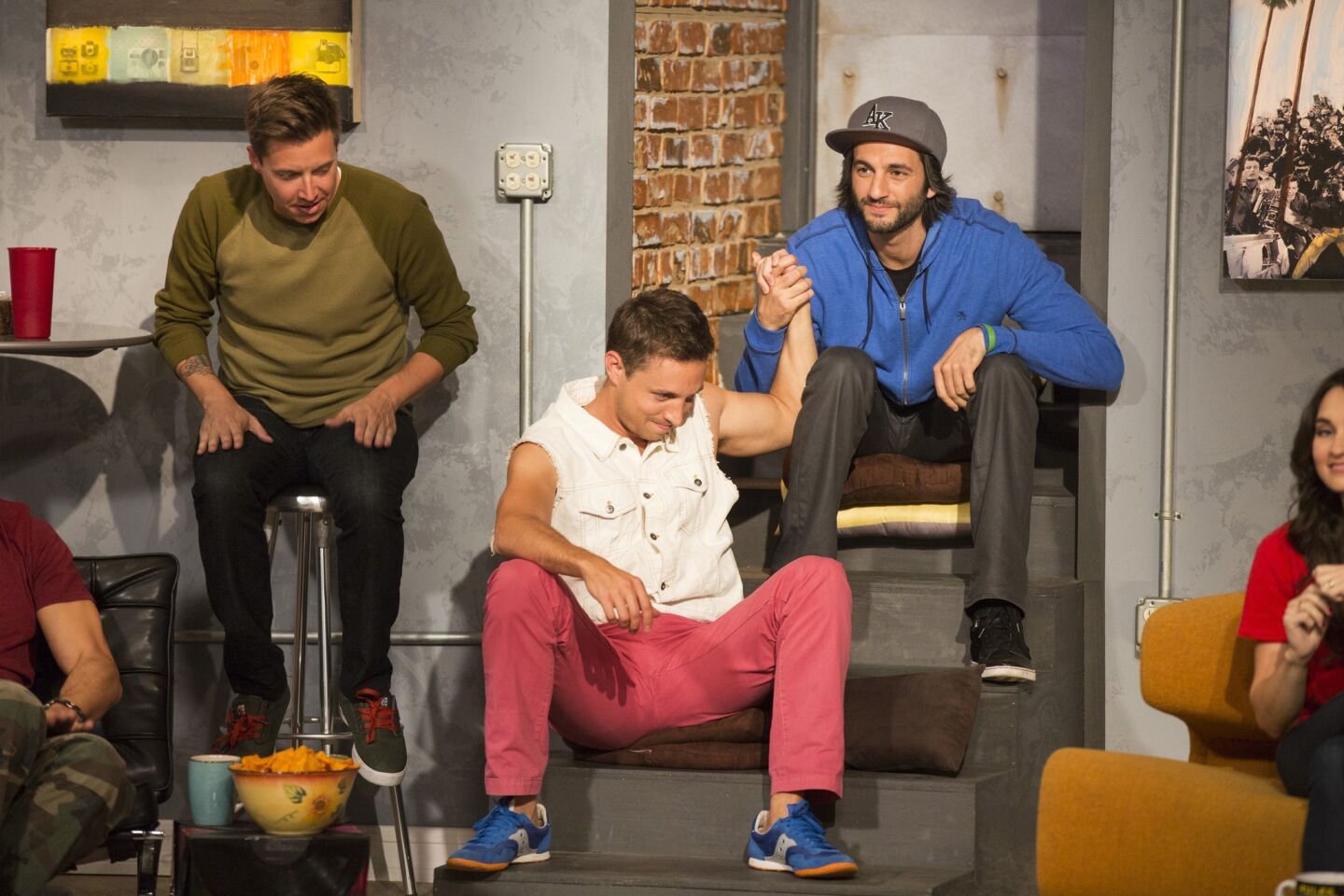 A scene from "Jerks with Cameras," which premieres at 10:30 p.m. Jan. 16 on MTV.
(Colin Young-Wolff / Invision for MTV)
Greg Kinnear just might be the poor man's antihero.
At a time when the television scene is seemingly at capacity with its band of flawed leading men plagued by moral ambiguity, the actor is tasked with dining alongside the brooding men of prestige television — the Don Drapers, Rick Grimes, Nucky Thompsons, etc. — as degenerate Keegan Deane in Fox's reworking of Australian-import "Rake," which gets its midseason unveiling Jan. 23.
Only it's highly likely he'll dine and dash.
"Keegan's the guy who can't afford the dark tones or the sulking," Kinnear said during a break from shooting on the Sony Lot in Culver City. "All his faults are in natural light, which is never sexy or cool."
The character at the center of "Rake" is that guy who always manages to scrape by. He's a passionate defense attorney — albeit of the gypsy order, since he can't afford an office (hence, the brown bag of files he schleps everywhere); he takes cases that deal with cannibalism and bestiality; he owes both the IRS and his bookie way more than he has; and he's in love with a prostitute. He's the sort of guy that might pal around with another seedy TV lawyer, "Breaking Bad's" Saul Goodman.
"There's a corrupt Peter Pan element in him," Kinnear said, taking guard against the sun in Keegan's outmoded black sunglasses beneath a 94-foot-tall rainbow art installation on the lot that serves as an homage to "The Wizard of Oz."
"There probably was plenty of that in my early life. But with three young kids, I've learned you don't get to have those moments anymore or else Triple A is unlocking your door to remove your baby from the back seat. So you become more careful."
BEST TV OF 2013 Lloyd | McNamara
Peter Duncan, the co-creator and executive producer of the Australian version who is also co-piloting the American rendition, said Kinnear's guy-next-door quality is the most striking difference from the rapscallion persona actor Richard Roxburgh brought to the Aussie character, known there as Cleaver Greene.
"You see Greg Kinnear on the screen and you'll forgive him for almost anything," said Duncan, who drew from his experience as a lawyer in writing the show. "He has that unthreatening charm."
It's a trait that has served Kinnear well through the years. It helped offset his snarky musings as host of "Talk Soup" in the early 1990s, and it has chaperoned a steady movie career as the everyman in films such as "Little Miss Sunshine" and "As Good as It Gets." Now he's discovering whether it can help him carry a TV series.
PHOTOS: Faces to watch 2014 | TV
"I've never done anything like this," Kinnear said. "So far, it's a wonderfully horrific experience."
The 50-year-old actor dials down the rakish shtick away from the cameras and lights — his is a more serious and contemplative demeanor that is expertly peppered with quips. In this case, the sarcasm holds some truth.
He is an executive producer on the show and is in every scene as its top-liner, leaving little time for much else — the interview for this piece took weeks of wrangling and ultimately had to be rescheduled because Kinnear couldn't break away from filming.
Behind the scenes, there's also been an adjustment period. Duncan said it took a few episodes before writing for Kinnear, not Roxburgh, came with ease. That tidbit might bring comfort to the role's originator, who also carries an executive producer title and who said by phone that he requested the U.S. character be known by a different name.
"I sort of selfishly didn't want to share it," he joked.
Then there's cutting down the material, since the Australian episodes run about seven minutes longer that the U.S. installments And making it palatable for American broadcast standards.
"We'd be lying if we said it's been smooth sailing," said Duncan, who works in tandem with show runner Peter Tolan ("Rescue Me"). "It's a lesson in creativity to dial down the nudity and profanity."
Ahead of its premiere, "Rake" already has been likened to Fox's onetime long-running series "House."
Not that the viewer-friendly aspect has Kinnear fretting about how the show will compete against some of its edgier cable competition.
"Most of our explicit drug use and cursing is done when the cameras aren't rolling, so that has to count, right?" Kinnear ribbed. "No, but really, what I liked about this show is it didn't take itself too seriously. And that's hard to find in this town."
At that moment, a production assistant requested Kinnear's return for the next shot. He adjusted the sleeves of his un-sleek suit and walked under the rainbow.
"I didn't mean for this to be poetic," he called out. "I'm not that guy."
---
Get our L.A. Goes Out newsletter, with the week's best events, to help you explore and experience our city.
You may occasionally receive promotional content from the Los Angeles Times.