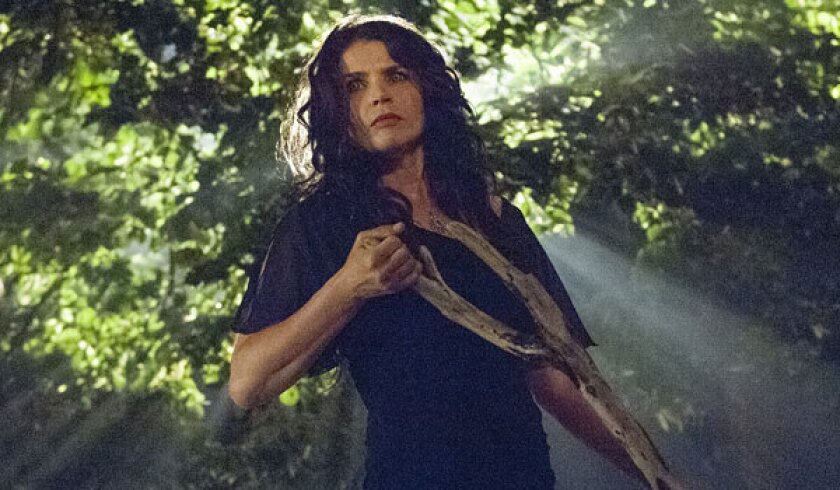 Adapted from Melissa de la Cruz's bestselling novel, "Witches of East End" follows the lives of a mother and her two daughters. The supernatural drama series from Lifetime, premiering Oct. 6, stars Julia Ormond, Madchen Amick, Jenna Dewan-Tatum, Rachel Boston and Eric Winter. Here is a Q&A with Julia Ormond and Madchen Amick.
How closely does the TV show follow the novel's plot? What is different?
Julia: It's fairly close; however, there are a bunch of aspects that are different too. For example, Wendy, who is played by Madchen, is a character who is brought in; she didn't exist in the novel at all. The novel is really just used as a springboard for the show.
PHOTOS: TV witches — the funny, the spooky, the ugly
Does the show follow solely the first novel from the the Beauchamp Family series or does it also include the novel's sequel, "Serpent's Kiss"?
Julia: I haven't read the second one; I just read the first one to anchor myself into the role. However, the show actually changes the plot from the first novel so much that it is hard to tell if it took anything from the sequel.
Is there added pressure to the show's production and reception to be as successful as the bestselling novel? How does that affect your performance?
Julia: I feel like whatever you do, you just have to dive in and commit to it, and do it the best that you can.
Madchen: I think that everyone is just excited about it, just by itself. They are just really backing the idea of it — there doesn't seem to be a comparison to the books at all.
PHOTOS: Leading ladies of the fall TV season
With so many science-fiction shows out there right now, how does this show stand out from the others?
Madchen: I really like supernatural stories, but, to me, "Witches of East End" is really grounded. It's not just going for the magic tricks and keeping it superficial and action-y. Instead, it really is a story about a family and family dynamics, with some witchcraft that happens to play in as another layer.
The characters that you two play on the show are sisters. How would you characterize the dynamic between Joanna and Wendy?
Julia: I play Joanna, and she is the mother of the two girls. Joanna and Wendy have not been speaking for over 100 years. However, Wendy comes back to warn Joanna that their family is in danger. This kicks off what Joanna is trying to do — protect the two daughters.
Madchen: Wendy coming back to warn Joanna of their family being put in danger opens up the sisters' relationship again.
PHOTOS: Hollywood Backlot moments
Other than witches, can viewers expect to see any other supernatural beings on the show? If so, what?
Julia: I presume that there will be other supernatural beings; we cannot disclose which specifically, though.
Madchen: There may be another dimension of magical beings that may come in. Wink, wink.
What are some of your other favorite science-fiction shows out there today?
Madchen: "True Blood," "Game of Thrones" and, to me, "Vikings." I know "Vikings" isn't really based in magic, but it goes back to Old World spirituality and different religions, and a lot of voodoo. I loved "Witches of Eastwick" as well.
Julia: I loved "Witches of Eastwick" too. I also really loved the "Twilight" series [laughs].
ALSO:
Jimmy Kimmel quizzes a 4-year-old Marvel expert
'Breaking Bad' finale: Vince Gilligan shares alternative endings
Tom Clancy dies: Tom Selleck says writer sought 'Magnum, P.I.' film
---