24 Images
TV's axings and exits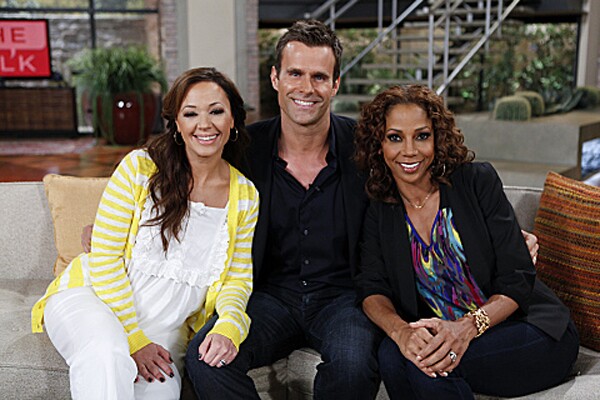 Abruptly departed:
Leah Remini
and
Holly Robinson Peete
(pictured with Cameron Mathison)
Lasted:
One season (2010-2011)
Why they left:
Much speculation has been made over the co-hosts' abrupt exits. At first, rumors swirled that fellow "Talk" personality Julie Chen was behind the axings (she's married to CBS executive Leslie Moonves). Later, Remini
accused Sharon Osbourne
, tweeting, "Sharon thought me and Holly were 'ghetto.' " Although Osbourne denied it.
How it went down on air:
Awkwardly, the show avoided Remini and Peete's departures when it returned for a second season in September 2011. Of course, they weren't the only stars who left before their TV show had given up its soundstage. Here's a look at cast members from other programs who left their roles early and how they were replaced.
(CBS)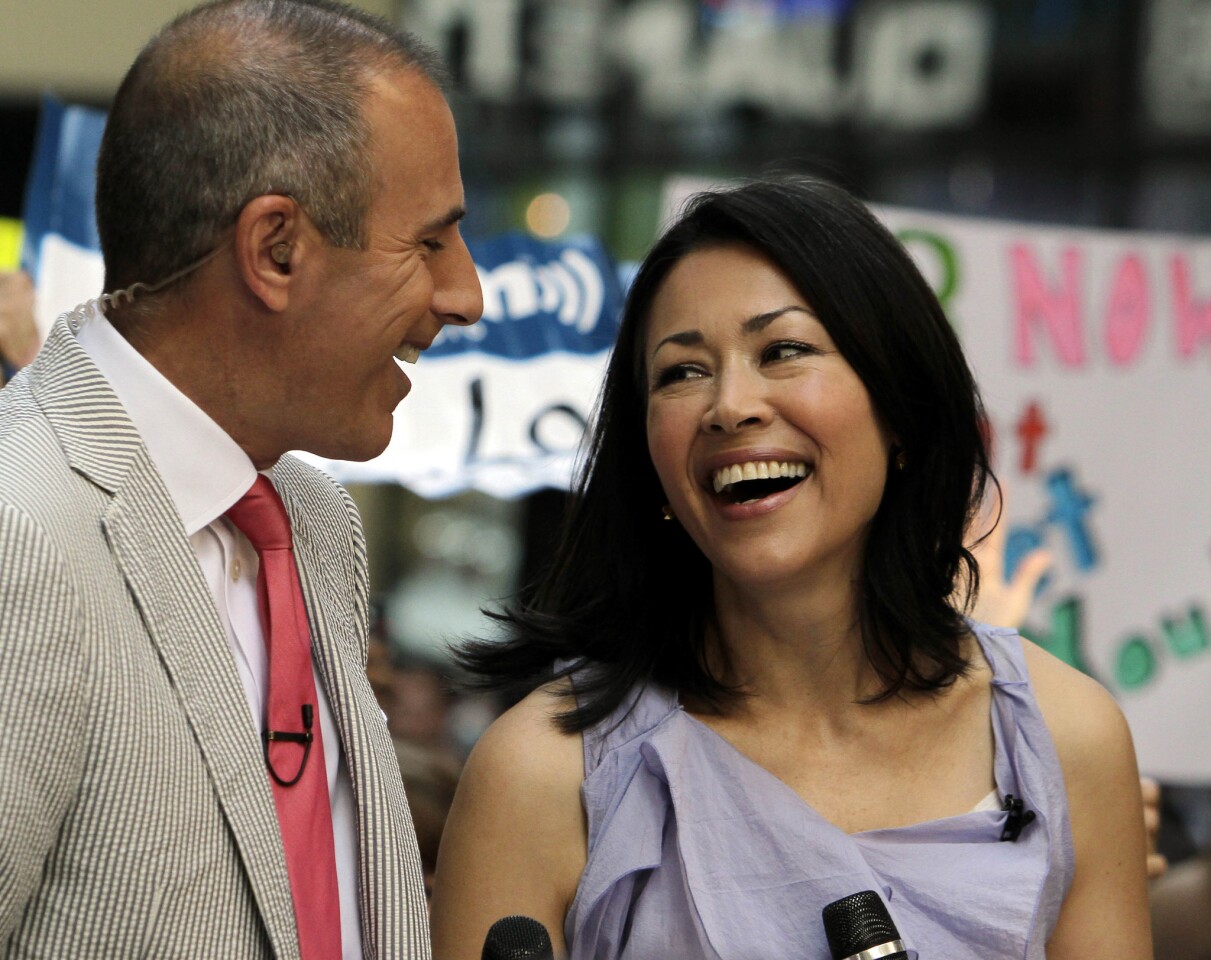 Abruptly departed:
Ann Curry
Lasted:
One year (2011-2012)
Why she left:
During Curry's tenure the morning juggernaut was bested in the weekly ratings by ABC's "Good Morning America" for the first time in 16 years, ending an unprecedented 852-week winning streak. It was beaten three more times since then. Curry's perceived lack of chemistry with co-host Matt Lauer, left, was widely believed to be a contributing factor in the show's decline, though Curry rejected that idea.
How it went down on air:
Curry revealed that she would be leaving in a USA Today interview published the morning of her departure, June 28, 2012. Later that morning, the host bid farewell to her viewers dressed in a bold red dress but otherwise appearing downcast. She said that she would be moving into a new position as "Today" anchor at large and a national and international correspondent for NBC News.
(Richard Drew / Associated Press)
Abruptly departed:
Nicolette Sheridan, right (pictured with Teri Hatcher)
Played:
Voluptuous and scheming single neighbor Edie Britt
Lasted:
5 seasons (2004-09)
Why they left:
In April 2010, Sheridan filed a $20-million lawsuit against the show, alleging that show creator and producer Marc Cherry had assaulted her. The lawsuit said that when she filed a complaint to the network, she was wrongfully terminated and included a slew of other complaints in the filing.
How it went down on air:
Bent on learning more and revealing her husband's past, Edie barely gets away from him when he tries to strangle her. She gets in her car and drives off, swerving not to hit one of her neighbors and hits an electric pole instead. She survives that, but when she gets out of the car, she steps into a puddle of water and is electrocuted to death.
(Danny Feld / ABC)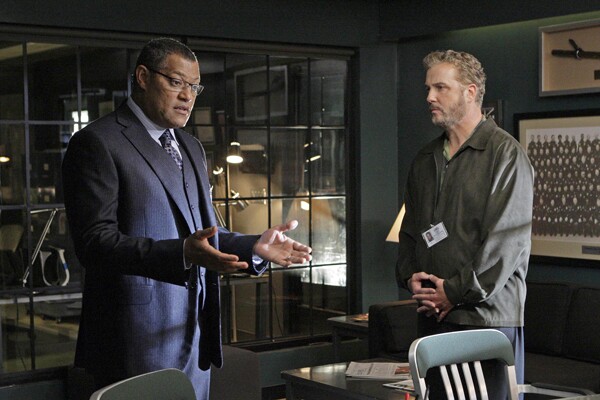 Abruptly departed:
Laurence Fishburne
Played:
Pathologist Raymond Langston, who replaced Gil Grissom (William Petersen) as the show's focal character.
Lasted:
2½ seasons (2008-11)
Why he left:
Fishburne never disclosed his reasons for leaving but said he was still a fan of the show, despite not having watched it since his departure. Fans felt he never gelled in his role as Dr. Raymond Langston, and the forensics drama 12th season was downgraded from its Thursday showcase to Wednesday.
How it went down on air:
Fishburne's "CSI" alter ego killed his ex-wife's kidnapper and tormenter and left the show on a dark note. The writers toiled on on story lines for the following season and soon replaced him with "Cheers" star Ted Danson.
(Sonja Fleming / CBS)
Abruptly departed:
Chord Overstreet
Played:
Sam Evans, the bleach-blond, fish-lipped add-on to New Directions after transferring to
William McKinley
High School during the show's second season.
Lasted:
One season (2010-11)
Why he left:
The recurring guest star was
not asked back
as a series regular.
How it went down on air:
Sam was just beginning a secret romance with the persistently out-shined Mercedes, but his character fell on troubled times when his father lost his job and their home. It seemed like they would pack up and leave any minute, and they did. But "trouty mouth" returned the following season in a guest spot to help New Directions once again.
(Beth Dubber / Fox)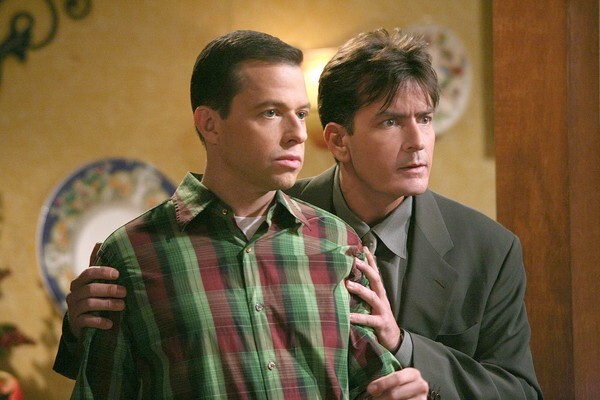 Abruptly departed:
Charlie Sheen
Played:
Jon Cryer
's character's playboy brother, Charlie Harper
Lasted:
Eight seasons (2003-11)
Why he left:
After months of personal problems and tabloid terror stories, Sheen was put on hiatus from the hit
CBS
sitcom. Sheen then appeared on
Alex Jones
' radio show and threw down some fighting words for "Men" producer
Chuck Lorre
. Soon, after a slew of high-profile TV interviews and the birth of the "Sheen's Korner" webcasts, he was fired from the show for alleged breach of contract.
How it went down on air:
Charlie Harper is killed off screen by a moving train. Showrunners promptly replaced him with Internet tycoon Walden Schmidt (Ashton Kutcher, "That 70s Show"), who buys the old Harper house and moves in with Alan (Cryer).
(Greg Gayne / Warner Bros.)
Abruptly departed:
Christopher Meloni
Played:
Detective Elliot Stabler
Lasted:
Twelve seasons (1999-2011)
Why he left:
The star left after contract negotiations fell through between him and the network.
Mariska Hargitay
, who signed on for a reduced role, further throws the stalwart series into disarray.
How it went down on air:
While the network is still searching for big name replacements for its stars, NBC has since signed on two new detectives who will be played by
Kelli Giddish
(
"Chase"
) and
Danny Pino
(
"Cold Case"
).
(Chris Haston / NBC)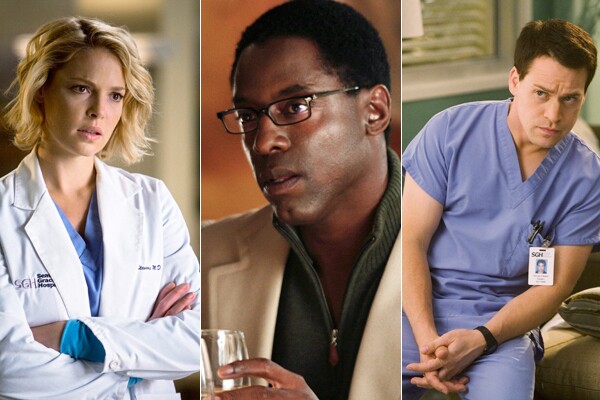 Abruptly departed:
Isaiah Washington
, center,
T.R. Knight
and
Katherine Heigl
Played:
Hot-tempered Dr. Preston Burke, mild-mannered Dr. George O'Malley and big-hearted Dr. Izzie Stevens
Lasted:
Three seasons (2005-2007), five seasons (2005-2009), six seasons (2005-2010), respectively
Why they left:
The doctors were dropping almost as quickly as the patients in the first few seasons of the
ABC
show.
Washington
was ousted after an altercation with costar
Patrick Dempsey
, during which he allegedly used a homophobic slur to describe Knight. Knight decided to leave the show after
weak storylines and a lackluster fifth season
, and Heigl left to focus on her film career.
How it went down on air:
Burke got cold feet and ran off before his wedding to Dr. Cristina Yang, George was the nearly unidentifiable bus accident victim who heroically saved a woman before becoming severely disfigured. Izzie was fired after Seattle Grace's merger with another hospital and ultimately decided to leave Seattle to get away from her husband, Alex, believing he was the cause of her dismissal.
(ABC)
Abruptly departed:
Lisa Edelstein
Played:
Dr. Lisa Cuddy, the on-and-off love interest of
Hugh Laurie
's House
Lasted:
Seven seasons (2004-2011)
Why she left:
The actress announced her own departure in May 2011,
saying
"after much consideration, I am moving on with a combination of disappointment at leaving behind a character I have loved playing for seven years and excitement of the new opportunities in acting and producing that lie ahead."
How it went down on air:
Cuddy and House have lunch to discuss their never-discussed breakup; when he later returns to her house to find she's been set up on a date,
he drives his Buick into her dining room
. Cuddy tells the cops she wants him arrested if he comes near her, but come fall 2011, it seems like she will be the one who'll stay away.
(Greg Gayne / Fox)
Abruptly departed:
Shelley Long
Played:
Pretentious waitress Diane Chambers
Lasted:
Five seasons and the finale (1982-1987, 1993)
Why she left:
While there were reports of tension between Long and the rest of the cast and crew (namely Ted Danson, also pictured, who played her oft-love interest Sam Malone), Long's movie career was doing well and she maintains that it was her choice to leave.
How it went down on air:
Diane and Sam get engaged! Diane is offered a book deal! Now Diane must choose: Stay with Sam and the Boston bar she knew or take the huge advance she's offered for the book and finish it. She went with the book.
(NBC)
Abruptly departed:
Valerie Harper
, center
Played:
Mother Valerie
Lasted:
Two seasons (1986-1987)
Why she left:
Harper disagreed with the producers' plans to introduce more slapstick humor and shift attention to the younger cast members. After being fired, Harper sued for breach of contract and won $1.4 million.
How it went down on air:
Valerie dies in a car accident. Michael's sister Sandy moves in to help the family through their time of loss.
(NBC)
Abruptly departed:
Alicia Goranson, second from left
Played:
Eldest daughter Becky
Lasted:
Five seasons and 11 additional episodes in Season 8 (1988-1992; 1995-1996)
Why she left:
Goranson left to attend Vassar College after five seasons. However, she returned during Season 8, sharing the role with her replacement, Sarah Chalke a.k.a. "Second Becky."
How it went down on air:
Becky leaves home after five seasons to marry her boyfriend Mark and move to Minneapolis. After a temporary absence, Becky returns, this time played by Chalke.
(ABC)
Abruptly departed:
David Caruso, right
Played:
Det. John Kelly
Lasted:
One full season and four additional episodes
Why he left:
Caruso demanded a hefty pay raise for the second season to match the amount of press he got. When producers balked, he left to pursue soon-to-be-DOA movie career.
How it went down on air:
Kelly left the department in disgrace after many suspected that he withheld evidence in his girlfriend's murder trial.
(Timothy White / ABC)
Abruptly departed:
Kim Delaney
Played:
Det. Megan Donner
Lasted:
10 episodes (2002)
Why she left:
Reported clashes with star David Caruso, rumored drinking problems and overall tense working conditions led the former "NYPD Blue" actress to quickly burn out. She checked into an Arizona clinic soon afterward for "relapse prevention" and returned to "NYPD Blue."
How it went down on air:
After returning to work at the CSI lab following her husband's death, Donner found the pressures of the job too great and went on leave again.
(Tony Esparza / CBS)
Abruptly departed:
Farrah Fawcett, right
Played:
Jill Munroe
Lasted:
One year (1976, but came back for guest appearances through 1980)
Why she left:
The producers wanted her to stay, but her iconic swimsuit poster catapulted her to worldwide fame. She left to pursue film projects.
How it went down on air:
Jill decides to leave the Townsend agency to be a race car driver.
()
'Bewitched' Director Bill Asher dies at age 90.
(Agence France-Presse)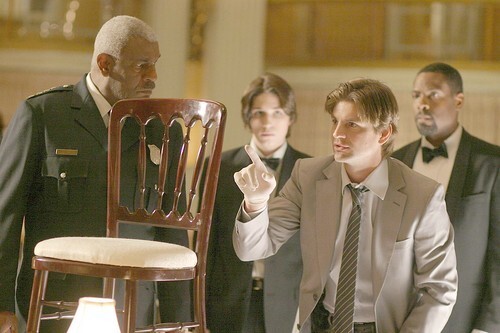 Abruptly departed:
Gale Harold, second from right
Played:
FBI Agent Graham Kelton
Lasted:
Seven episodes (eight if you count a shot of his corpse) in 2006
Why he left:
The "Queer as Folk" star had a loyal fan following, but it wasn't big enough to make "Vanished" a ratings hit. In an attempt to shake things up (amid rumors of on-set clashes) the producers let the star go just before the show took a hiatus for baseball playoffs. The series was canceled two episodes later.
How it went down on air:
While attempting to unravel the vast conspiracy surrounding the kidnapping of a senator's wife, Kelton is gunned down by the same mysterious forces he was tracking.
(Peter Iovino / Fox)
Abruptly departed:
Janet Hubert-Whitten
Played:
Vivian Banks
Lasted:
Three years (1990-93)
Why she left:
She reportedly broke her contract by getting pregnant. The pregnancy was written into the show, but she left anyway. She accused Will Smith of having her fired.
How it went down on air:
It didn't. Daphne Maxwell-Reid, who replaced her, played the exact same character.
(Chris Haston)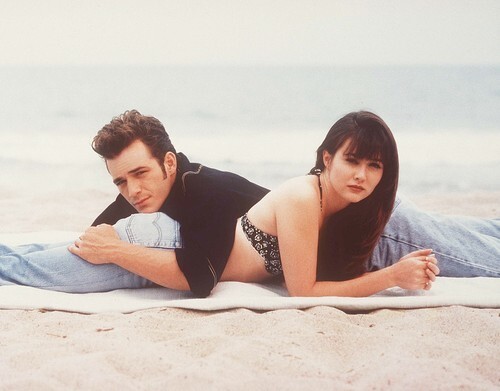 Abruptly departed:
Shannen Doherty
Played:
Brenda Walsh
Lasted:
Four years (1990-94)
Why she left:
Doherty was reportedly as difficult on the set as she was off the set. When alleged clashes ensued between Doherty and Jennie Garth, she and the producers had a sit-down and all parties agreed that Doherty should leave.
How it went down on air:
After her first year at college, Brenda moved to London to pursue her acting career at the Royal Academy for Dramatic Arts and was never heard from again.
(Andrew Semel / FOX)
Abruptly departed:
Shannen Doherty, left
Played:
Prue Halliwell
Lasted:
Three years (1998-2001)
Why she left:
Doherty claims she asked to leave the show because she didn't find the work fulfilling. Rumors persist that the creative shift from the show being a Shannen-starring vehicle to an ensemble sister piece with Alyssa Milano caused her departure.
How it went down on air:
Prue gets murdered by a demonic assassin named Shax.
(Richard Cartwright / The WB)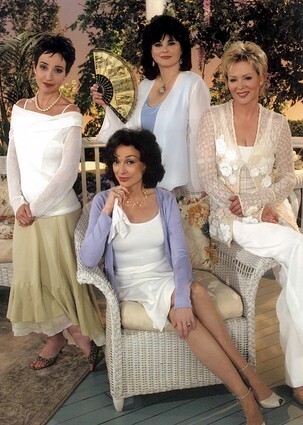 Abruptly departed:
Delta Burke, top center
Played:
Suzanne Sugarbaker
Lasted:
Five years (1986-91)
Why she left:
Burke feuded with the creators of the show and then with fellow cast members. When she went public with her grievances, she was out.
How it went down on air:
Suzanne moved to Japan, of all places, and sold her part of the business to her cousin Allison (Julia Duffy).
(Lifetime Entertainment)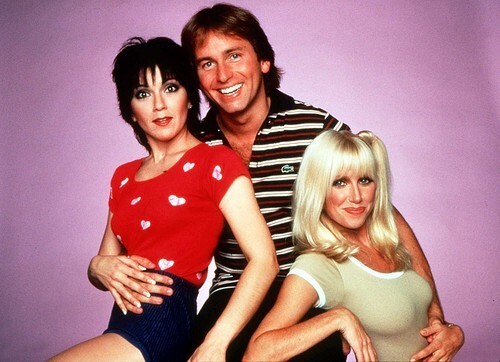 Abruptly departed:
Suzanne Somers, right
Played:
Chrissy Snow
Lasted:
Four years (1977-81)
Why she left:
Somers thought she was the star and started acting like it, co-opting photo shoots and demanding big money. She and her managers argued that she was irreplaceable. They were wrong.
How it went down on air:
Chrissy moved back in with her parents, occasionally calling her roommates until Somers' contract was over.
(Associated Press)