Beau Bridges, Margo Martindale enjoy double-dipping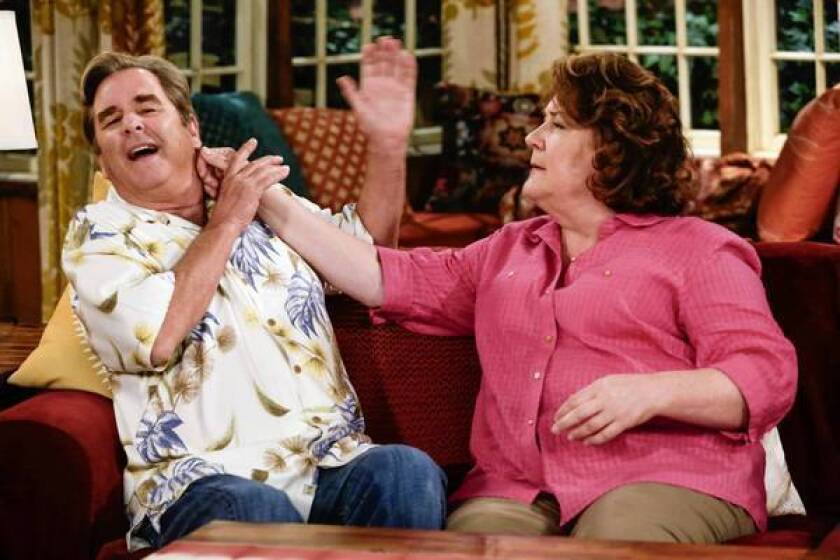 Margo Martindale leans conspiratorially toward Beau Bridges on a love seat in an sparse second-story lounge at CBS Studios in the San Fernando Valley.
"Where are you in 'Masters of Sex'?" she asks.
Bridges' jaw drops, and his trademark bushy eyebrows flutter up in mock surprise.
"What do you mean?" he gasps. "You want to know if I'm a master?"
"Why, yes, I do, dah-ling!" Martindale says with an exaggerated Southern drawl and batting her eyelashes.
"That's a very personal question!" Bridges warns her, and the two collapse in laughter.
PHOTOS: Celebrities by The Times
The actors appear to have known each other for a long time, but in reality they have only recently met. Their keen rapport comes courtesy of the married couple they play — parents to Will Arnett's TV news reporter — on the new Thursday night CBS sitcom "The Millers."
They also appear in Showtime's "Master's of Sex," although Martindale's character only appears in the pilot and they didn't actually interact on set during the filming.
Still, with two high-profile television shows on the air, Martindale, 62, and Bridges, 71, are experiencing particularly auspicious periods of their careers. Martindale's much-admired turn as Mags Bennett on the dark FX drama "Justified" won her an Emmy in 2011, and moviegoers will soon see her with Meryl Streep, Julia Roberts and Benedict Cumberbatch in "August: Osage County."
"I'm always very happy to have a job, and when I'm done with a job I wonder if anyone else is going to hire me again," says Bridges, whose roots in the business run deep in his family. "So to have two shows that have the possibility of being well received — yeah, that's the best."
On "The Millers," which was created by Greg Garcia ("My Name Is Earl," "Raising Hope"), Bridges and Martindale play Tom and Carol Miller, an irascible couple who separate after 43 years of marriage. Carol moves in with their son, Nathan, played by Arnett, and Tom moves in with their daughter, Debbie, played by Jayma Mays.
The couple is based on Garcia's own parents, so it was important to him that the casting was pitch-perfect. Bridges was a former neighbor of Garcia's and his first pick. Martindale read for the role, but the second Garcia saw her he knew she was right.
"She's just so powerful, she's a real force," says Garcia of Martindale. "When I watch her on screen, not only do I enjoy her, but much like my mother, I have a healthy fear of her."
So does Bridges' character, who can't seem to function without her domineering sense of order. He doesn't even know not to put metal in the microwave.
Bridges says he can relate to the characters because they remind him of his maternal grandparents.
FALL TV 2013: Watch the trailers
"They were just constantly bickering to the point where we just howled and laughed at them," Bridges says. "Then when my grandfather lost my grandma, he just fell apart. He cried like a baby. And this woman used to say, 'You look like the east end of a horse going west.' And he'd always say, 'And then they shot Lincoln,' and no one could understand what the hell that meant."
Neither actor has had much experience filming a multi-camera sitcom in front of a live studio audience, which is what they do every week with "The Millers." "Masters of Sex," based on the lives of legendary sex researchers William Masters and Virginia Johnson, was shot about a year ago, and was filmed at a slower pace.
"The Millers" is like NASCAR by comparison. Each week the actors have a few days to memorize their lines and rehearse before they spend Friday night on set shooting scenes at a rapid-fire pace while a comedian keeps the audience warmed up and laughing between takes. The process lasts for hours — if the actors fumble a line or miss a mark, they have to start over.
At a recent taping, Bridges sported hair extensions for bangs because Tom can't cut his own hair without Carol. Bridges kept blowing the same line, and the scene had to be reshot nearly half a dozen times. Martindale and Bridges compare the process to live theater without the months of preparation.
PHOTOS: Hollywood Backlot moments
"It's the most demanding work I've ever done," says Martindale, whose bright red hair only emphasizes the fierceness of her character. "You never know what's going to happen. I thought I did a good job on 'Justified,' and they killed me."
Of course, "Justified" led to her current embarrassment of riches.
In "Masters of Sex," Martindale plays a prudish secretary at the St. Louis hospital where Masters and Johnson conducted their groundbreaking — and extremely racy — work. Bridges plays Barton Scully, the prudent university provost who fears that the controversial research, which involves watching humans mate, will reflect badly on the institution.
Martindale won't appear in a second season of "Masters" if one is ordered, but Bridges will, and he hopes that he can continue to work on both shows.
That is, of course, if "The Millers" gets renewed as well. The show's first-week ratings were encouraging, despite mixed reviews that, nonetheless, praised the actors. If "The Millers" becomes a hit, then Bridges and Martindale could go down in the coveted television canon of lovable sparring partners. Think Archie and Edith Bunker, Al and Peggy Bundy, and Ralph and Alice Kramden.
"This is a business you can't get too deep into," says Bridges, brushing off the thought. "You hear once in a while about somebody striking gold, but it doesn't happen too often."
---
Inside the business of entertainment
The Wide Shot brings you news, analysis and insights on everything from streaming wars to production — and what it all means for the future.
You may occasionally receive promotional content from the Los Angeles Times.