James Gandolfini: A gut reaction to his on-screen style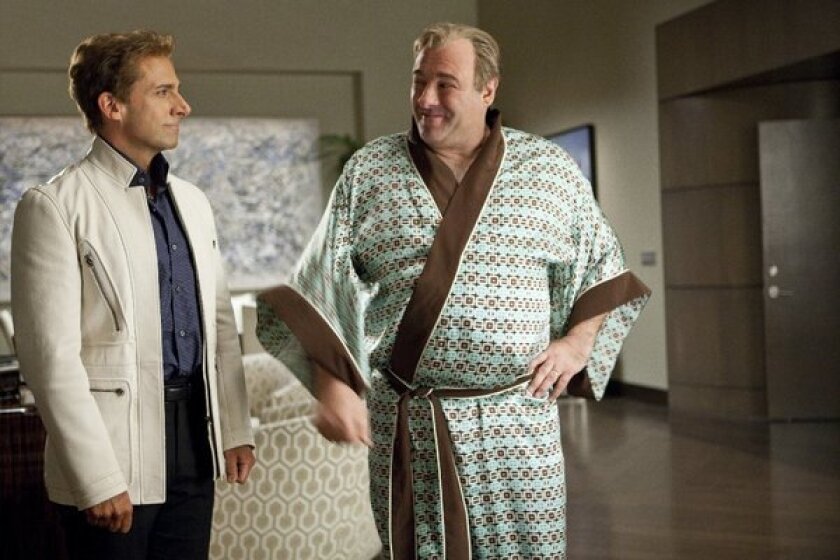 One thing should be dispensed with up front: James Gandolfini, who shuffled off this mortal coil Wednesday at age 51, was not a style icon — nor was his most memorable character, Tony Soprano.
But if one speed-clicks through stills and screen-shots of Gandolfini's on-screen career, a certain throughline begins to emerge. Not through the sharp, peak-lapel suits and French cuffs of mob boss sit-down formality but via voluminous color-blocked Nat Nast bowling shirts, patterned polos, wife-beater undershirts and particularly the belted bathrobe look that seemed to follow Gandolfini from the New Jersey driveway of "The Sopranos" to the Las Vegas hotel suite of his "Incredible Burt Wonderstone" casino owner Doug Munny.
In the Steve Carell-Steve Buscemi movie, which hit theaters in March, Gandolfini's character memorably appears in one scene wearing a boldy patterned, particularly unforgiving, kimono that, according to the film's costume designer, Dayna Pink, was made at the actor's request.
"The kimono was his idea," Pink said, "and that was not a hider, it wasn't masking him. He definitely embraced that part of himself, but at the same time he was also a man who looked really, really good in a suit."
Pink remembers the late actor as a "really lovely, sweet collaborative man. He was very thoughtful about his [wardrobe] choices for the character. He really did put the time in to think about who that character was and what he wanted him to look like."
To Pink's point, when Gandolfini wore a suit — on screen or off — he could come across as powerful and comparatively svelte. And not just as a casino owner, dapper don or medal-covered military man but also as a tuxedo-wearing actor taking the stage to accept one of his three Emmy Awards.
But when the role called for it, Gandolfini seemingly had the ability to go pear-shaped on command, using his paunch to disappear into his characters the way other actors might use a Southern drawl, a limp or a nervous tic.
That power-schlub persona was heightened all the more by the wardrobe choices like the flower-festooned aloha shirts that swathed his long-suffering stuntman Bear in 1995's "Get Shorty," the Carhartt duck jacket and holiday sweaters he wore in 2004's "Surviving Christmas" and most especially season after season of velour track suits, tank T-shirts and bold, busy camp shirts of his off-duty don wore throughout "The Sopranos."
A style icon? Surely not, but for men of a certain silhouette (myself included), there's a lesson in Gandolfini's ability to shape-shift. Simply put, to serve up smorgasbord of awkward, anguished, out-of-control and uncomfortable characters that he did, the man behind them ultimately seemed to be comfortable in his own skin.
ALSO:
Remembering the star, 'The Sopranos,' the ziti
Band of Outsiders to livestream from the Chateau Marmont
James Gandolfini dies at 51, villain, hero, sex symbol and slob
---