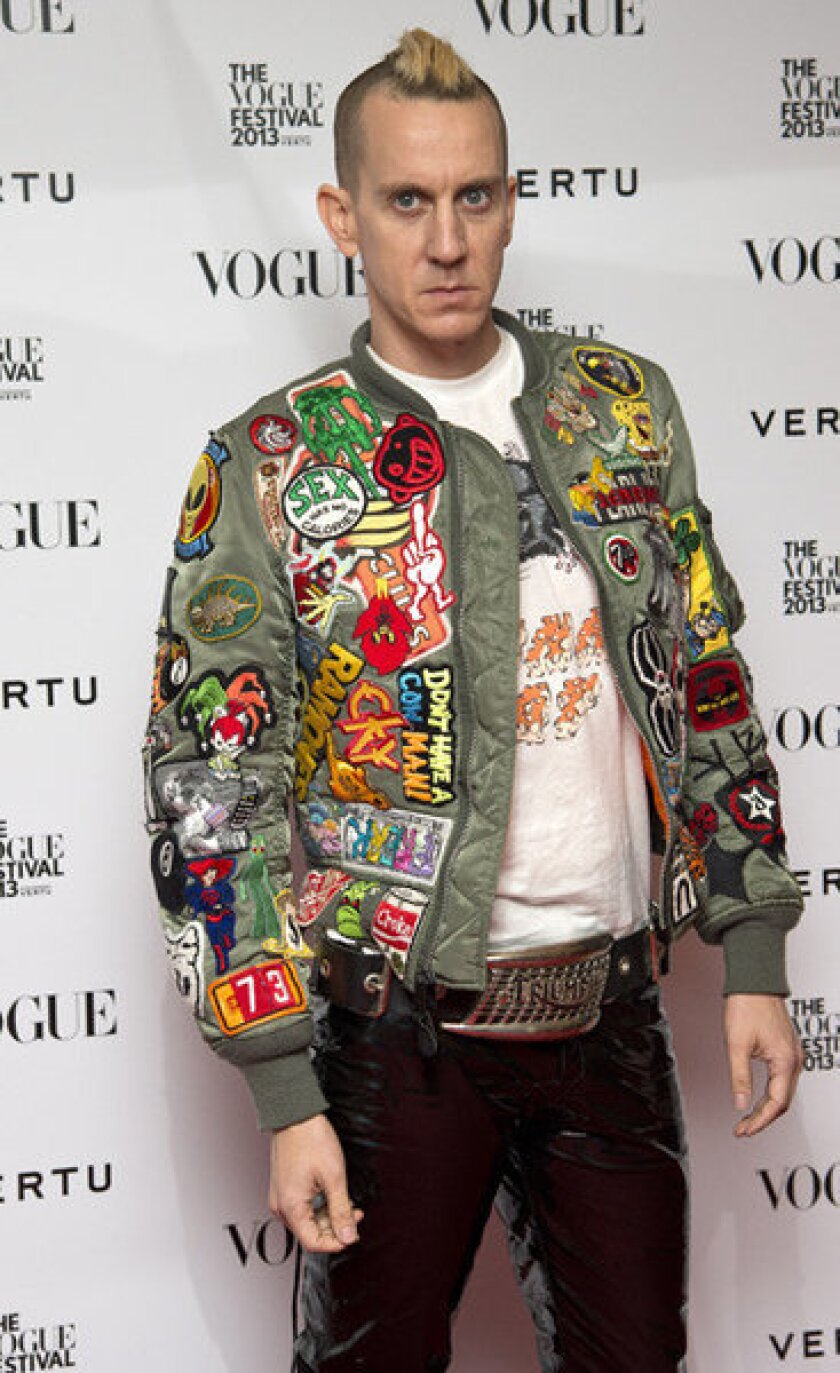 Los Angeles Times Fashion Critic
Jeremy Scott is the new creative director at Moschino, the brand founded in 1983 by the late Franco Moschino, who was known for his tongue-in-cheek approach to fashion.
Starting with the fall 2014 collection, the L.A.-based Scott will be infusing the Italian brand with all the whimsy and street cool that have made Katy Perry, Nicki Minaj, Kanye West, A$AP Rocky and nearly every other pop star on the planet fans of his namesake label, as well as making him an attractive collaborator for brands such as Adidas, Swatch, Longchamp and Smart Car.
I rang Scott on Monday afternoon to talk about his new role, catching him before he takes off for Milan on Sunday to work on his first collection, which will debut in February during Milan Fashion Week.
How long has this been in the works?
Michelle Stein [president of Moschino parent company Aeffe] called me in July and left word that they were interested in talking to me. I'd actually interned for her during my last year of college at Pratt in New York, working for the press team with Moschino there, so I have known her for some time.
What do you admire about Moschino?
So much. The whimsy of the brand, the irreverence, the play with fashion itself and the tease and taunt of fashion as an establishment. Teddy bears, which are emblematic of what Franco Moschino did, are such a part of my work. I also love the dinner silverware on the dinner jacket, the safety pin bustier, even the smiley face biker jackets Franco created over the years. I have so much respect for the brand and affinity for its DNA. That's ultimately why I agreed. It's hand in glove, it fits. It's going to be a lot of hard work but not effort to bring to life that kind of vision but keep it true and of today's voice.
How will the Moschino woman be different from the Jeremy Scott woman?
It's a more opulent woman, more decadent, but with the same elements of humor, whimsy and irreverence. It's similar notes but a different spin.
Have you started the new collection yet?
I have because I'm an eager beaver. I'm excited, and I want to make everyone proud.
How will you split your time between L.A. and Milan?
I haven't figured it out. I will be in Milan in November, and I will get an apartment there. But I will still have a studio in L.A.. I love it here. We are so spoiled!
So you are still going to continue work on your namesake brand, with Adidas, and design for performers?
Yes, I will just have to continue to carve out more time and not toil too much on every decision. Everything I do, when I work with performers or on a collection, one thing always brings something to the other. I thrive on all the vibrations and creativity.
ALSO:
L.A.'s Jeremy Scott appointed creative director of Moschino
New York Fashion Week Spring 2014: Jeremy Scott review
Jeremy Scott: From sly to sublime
---