2 L.A. men win gold at the World Beard and Moustache Championships in Austria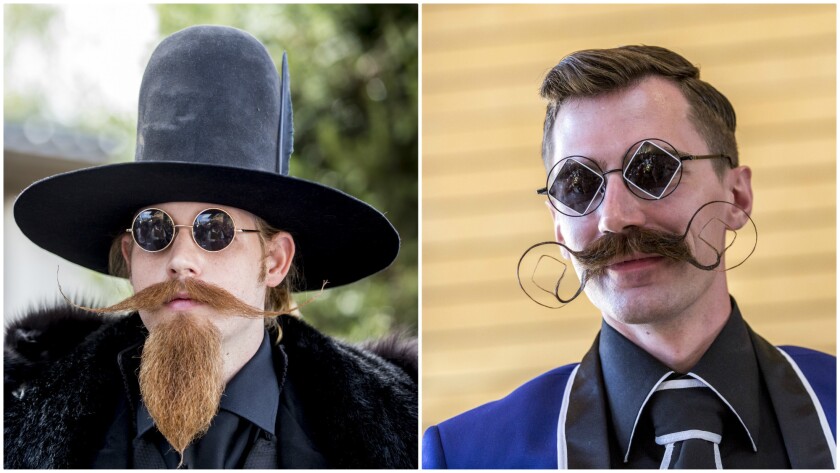 Several American beardsmen and 'stachethletes took home top tonsorial honors at the 2015 World Beard and Moustache Championships in Leogang, Austria, over the weekend, including a handful of gentlemen from the Golden State who were among the more than 300 competitors in 18 categories of mustache, partial beard and beard.
Los Angeles' Jeffrey Moustache took home gold in the Musketeer partial beard category while fellow Angeleno Dan Lawlor earned a first-place trophy in the Freestyle mustache category, making it the second straight world title in that category (he won gold in Germany in 2013).
Additional California medalists included L.A.'s Benjamin Juergens (who earned a silver in the Imperial mustache category), Sacramento's Sean Raiger (a silver in the Fu Manchu mustache category) and Aarne Bielfeldt of Willits, Calif., who took home a bronze medal for his Freestyle beard.
See the most-read Life & Style stories this hour >>
Austin, Texas, was also well represented on the winners podium with Jackie Lynn Ellison earning gold in the Imperial mustache category and Patrick Langley taking home top honors for his Fu Manchu 'stache. Louisville, Ky.'s Patrick Fette earned his second consecutive gold in the English mustache category and Madison Rowley of Portland, Ore., won big with a gold in the highly competitive Full Beard Natural category.
The long-running World Beard and Moustache Championships, which are held every other year, are next set to take place in Austin, Texas, Sept. 1-3, 2017, and will be hosted by the Austin Facial Hair Club. The last time the international competition took place in the United States was 2009, when those in pursuit of hirsute bragging rights decamped to Anchorage, Alaska.
The beard and mustache clubs that gathered in Leogang, Austria, over the weekend also voted on the location of the 2019 competition -- which will be held in Antwerp, Belgium.
For the latest in fashion and style news, follow me @ARTschorn on Twitter.
---