He's spinning the really big discs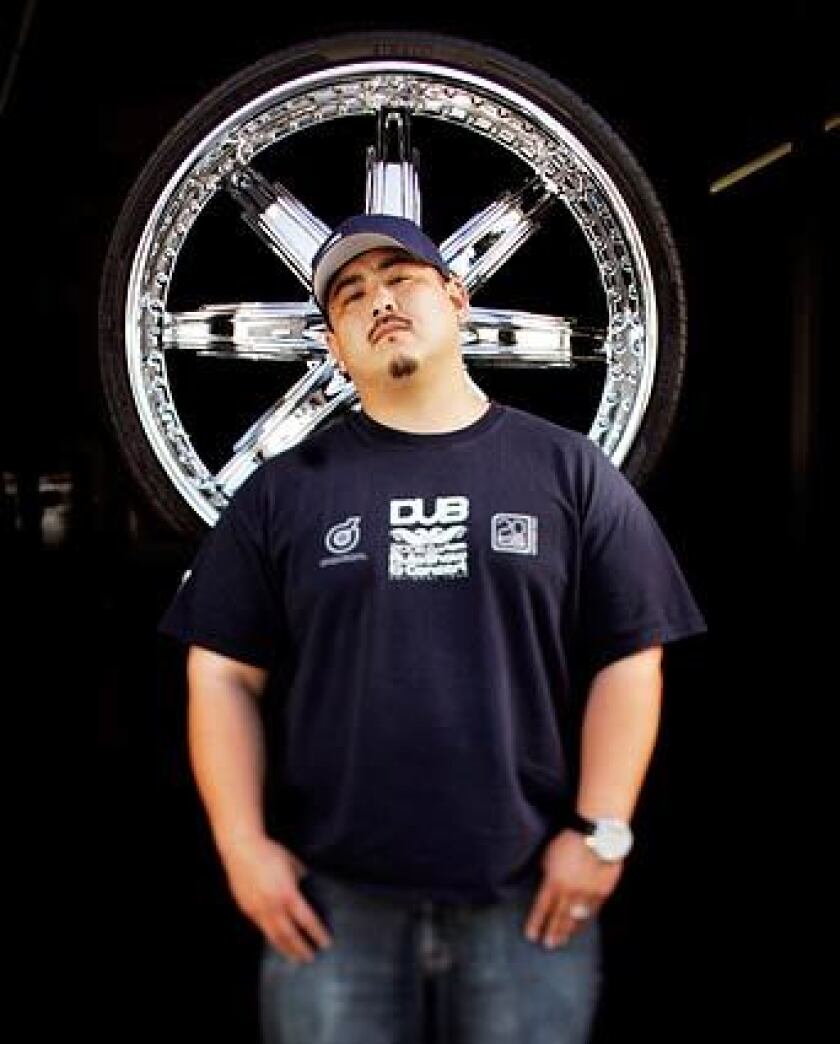 Times Staff Writer
LOS ANGELES reinvented the wheel.
Back in the dark ages — say, before MTV's "Pimp My Ride" — America's cars and trucks went around practically barefoot. Steel rims, lug nuts, hubcaps. Today, stand on any corner in America — or Russia or Japan — and you'll see dazzling metallic spirographs, stupendous chromed starbursts of forged steel and billet-cut aluminum alloy. We've got diamonds on the soles of our shoes.
They're called "dubs" — street slang for "double dime," wheels 20 inches in diameter — but actually the wheels have already outgrown their nickname. Today, 22-inch wheels are the minimum ante if you want to compete in the realm of fly-tastic urban whips. Then things get really dope. Want to fill your Cadillac Escalade to the brim with rims? Drop $12,000 for a set of four 28-inch rims and watch the playas stand aside from your cylindrical magnificence.
"I remember in the late 1990s when 20-inch wheels were huge, the biggest ever," says Peter MacGillivray, spokesman for the Specialty Equipment Market Assn. But it's not just the wheels that are huge. The aftermarket wheel and tire industry notched $3.8 billion in retail sales in 2004, up 65% from 1998. At the recent SEMA show in Las Vegas, 357 wheel and tire companies were represented, 112 from Southern California.
It doesn't surprise MacGillivray, who places the epicenter of the custom wheel business "in Bell, at Cragar Wheels in the 1960s." Cragar started making hot street wheels as an adjunct to its motorsports and speed equipment business.
Southern California's hot-rod heritage played a part, as did its industrial diversity. "All the chrome platers that did the finishes on these wheels were here," says Myles Kovacs, co-founder and publisher of Dub Magazine. "All the big wheel manufacturers, their foundries and platers are based in California."
Kovacs, 34, is perhaps the person most responsible for the dub phenomenon. Raised in East Los Angeles, he was imbued with the low-rider car-customizing ethic, "low and slow." Yet dubs, Kovacs says, pulled together many strands of Southern California car culture, not only low rider but pimp, import tuner, hot rod. "Every 10 years or so, there's a transformation in youth car culture," he says. "As the progression went along in the past 10 years, the wheels went big, really big."
Named by Newsweek as one of the 10 Big Thinkers for Big Business in 2005, Kovacs presides over a $50-million company based in the city of Industry that includes his magazine, three wheel companies, toys, car and music showcases and more. At the New York Auto Show in April, his company TIS (Twenty Inches Strong) unveiled a set of mega-dubs, the world's first 30-inch production rims. They cost $150,000 to build. And for anyone who thinks this circular jewelry is purely for rhyme-spitting hip-hop artists, Kovacs notes that they were bought by pro skateboarder and MTV personality Bam Margera. "The first 30-inch rims went to a white guy."
To be sure, hip-hop ostentation drove the bigger-is-blinger trend. "Hip-hop glamifies the luxury, aspirational lifestyle," says Kovacs. So does hip-hop's slavish worship of status.
But like urban tastes in music and fashion, car customizing in general — and aftermarket wheels specifically — have rolled into the mainstream. "Those trendsetters," Kovacs says, "have influenced the yuppies. Now you have lawyers and doctors and soccer moms with rims on their cars."
---
dan.neil@latimes.com
---