4 Images
Miu Miu boutique is back — in Beverly Hills
Miu Miu
By Erin Weinge, Los Angeles Times Staff Writer
The wait is finally over. Almost two years after closing its boutique on Melrose Avenue, Miu Miu is back in Southern California. But Prada's spirited sister isn't returning to the now-flourishing shopping street where Balenciaga and Alexander McQueen have recently opened. Instead, the brand is unveiling a 1,600-square-foot space on Rodeo Drive, just two doors down from its older sibling.
Miuccia Prada started Miu Miu in 1993 as an irreverent take on her main collection's structured designs. But now Miu Miu is a luxury brand in its own right, with Paris runway shows and Prada-level prices to match.
"That was a niche location," Miu Miu spokesman Tomaso Galli says of the old space. "We don't want to be niche."
Miu Miu Popeline Pois Nero Glitter dress, $1,150.
Also in Image:
•
•
•
(AXEL KOESTER / For The Times)
Miu Miu, Prada, Beverly Hills
The new strategy, in place for five seasons now, is working: Miu Miu has doubled its revenue, raking in more than $250 million last year, Galli says.
In recent seasons, Miu Miu accessories have set the trends for all levels of the market. The bug-jeweled sandals from Spring 2008; the color-blocked, patent leather spectator pumps and bow-trimmed bags from Fall 2007; the satin platform Mary Janes from Spring 2007; and the studded belts from Fall 2006 have all trickled down to the mall.
Miu Miu Popeline Pois Rosso Glitter dress, $1,250.
Also in Image:
•
•
•
(Axel Koester / For The Times)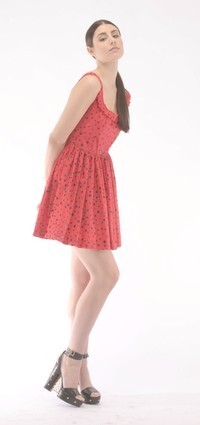 Miu Miu, Prada, Beverly Hills
Some of this season's most coveted fashion candy includes a $695 pair of coral patent-leather shoes with heels that resemble teacup handles and a $1,595 harlequin patchwork bag.
Accessories were once little more than an alternative to Prada's pricier wares. But when Demi Moore and
Reese Witherspoon
started toting the ruched-leather Coffer tote in 2006, the brand proved it could stand on its own.
Though it hasn't had a retail presence here for a while, Miu Miu has maintained ties to Hollywood. Chloë Sevigny and
Drew Barrymore
have starred in ad campaigns for the brand, and Kirsten Dunst is the face of the spring collection, which features harlequin-inspired, short, party frocks, colorful capes and baby-doll blouses.
Miu Miu Organza Glitter Dress in Rosa: $1,590.
Also in Image:
•
•
•
(Axel Koester / For The Times)
Miu Miu, Prada, Beverly Hills
The new store has the feel of a French boudoir, heavily mirrored with luxe gold damask details. It was designed by architect Roberto Baciocchi, who designed the Milan store that opened on Via della Spiga in 2006. The Beverly Hills flagship features a collection exclusive to L.A. that includes four dresses, from $1,250 to $1,590, in bubble-gum pink, red or black organza and in poplin embroidered with glittery fireworks and polka dots. No doubt the town's starlets are already in line.
Miu Miu, 317 N. Rodeo Drive, Beverly Hills. (310) 247-2227. 10 a.m. to 6 p.m. Monday through Friday, 10 a.m. to 7 p.m. Saturday, noon to 5 p.m. Sunday.
Miu Miu Popeline Pois Glitter Dress in Nero: $1,150.
Also in Image:
•
•
•
(Axel Koester / For The Times)