The hardest buttons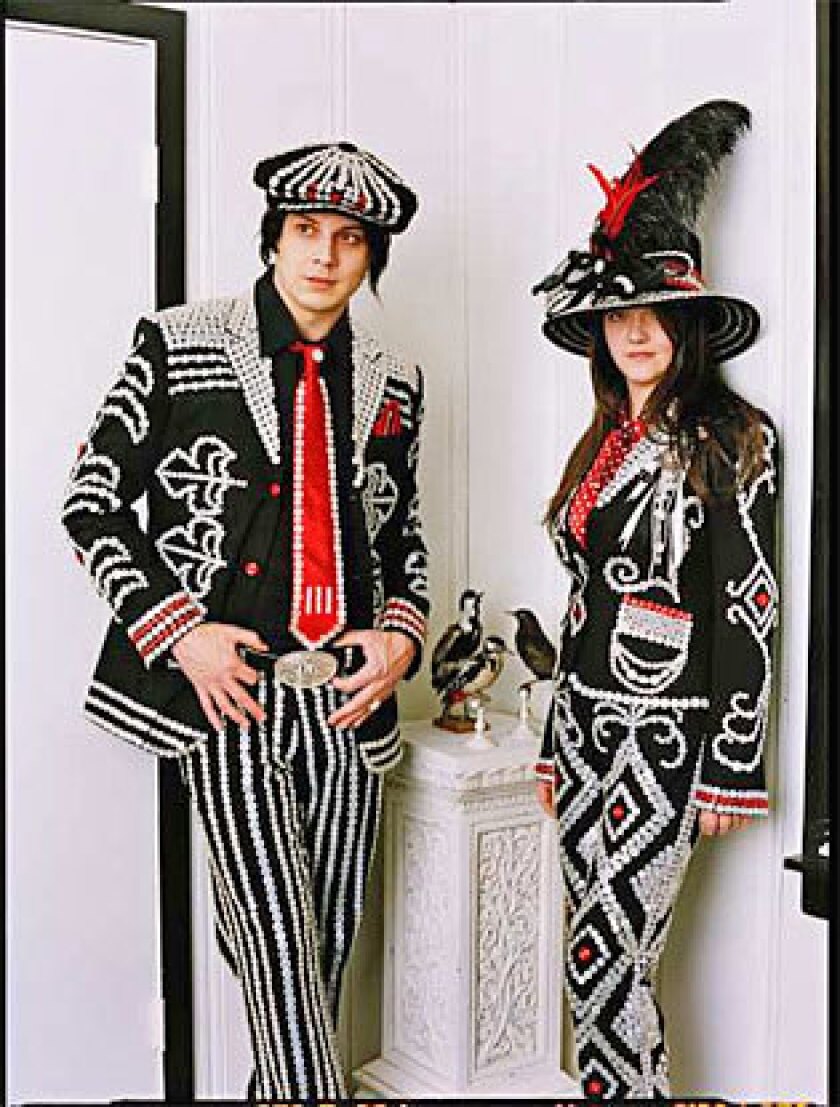 Special to The Times
ROCK stars just aren't what they used to be.
"They all want to look the same," laments music stylist Brandy St. John. "They all want clothes from the same stores, the same designers. But rock 'n' roll should be about one-of-a-kind outfits no one will have, or even want to wear."
No wonder St. John — a pale brunette with a personal sense of Goth chic — didn't balk at musician Jack White's idea, even if it would inspire terror in most stylists. The guitarist charged St. John with re-creating the traditional cockney dress of the "pearly king and queen" for him and his White Stripes bandmate Meg White. She'd already collaborated with the duo on the peppermint candy motif-meets-mariachi style of their previous album. And Jack had roped her in to wardrobe his other band, the Raconteurs.
The pearlies were another matter altogether. The costumes are elaborately covered in decorative patterns created from an endless number of mother-of-pearl buttons. An anchor signifies hope. A fan of playing cards symbolizes life is a gamble. Vests, walking sticks, hats, ties — everything is buttoned up.
The pearly suits are the signature look of the Stripes' latest album, "Icky Thump," set for release June 19. The title riffs on the Yorkshire colloquialism "by ecky-thump," an exclamation of surprise.
It all went thump a couple of times for St. John too. She spent five months researching, experimenting and sketching patterns. The number three is a White Stripes hallmark, so she had a computer-savvy friend twist and flip it into the baroque design. Despite all the planning, when she started sewing, she realized she'd need a lot more than the allotted 3,200 buttons. Then, two weeks from the March photo shoot in Nashville, St. John had to recruit two girlfriends to complete the work.
"We became an old-fashioned sewing circle, each evening getting together in our heels and dresses, gossiping about our boyfriends," she says. "But we were so excited about what the project represented: a return to the kind of hand-crafted, crazy, custom clothing we loved on our favorite rock stars growing up."
According to lore, the pearlies trace back to London's Victorian-era fruit and veggie street vendors, a lowly, rebellious bunch who would elect a queen and king to keep order among them. More than a few stories explain how the flashy garb came about. St. John's favorite cites a cargo spill on the Thames River that resulted in a bounty of pearl buttons sweeping up on the shore. Another credits an orphan vegetable monger named Henry Croft who distinguished himself by embellishing his rags with buttons he swept up off the streets. Today in England, pearly royalty turn up at festivals and charity events.
For the 13,000 buttons ultimately hand-stitched onto Jack and Meg White's suits, St. John hit International Silks & Woolens on Beverly Boulevard in Los Angeles. "I would go there every two weeks," she says, "and the staff would look at me incredulously and say, 'More buttons?' They couldn't understand what I was up to."
---