7 Images
How to make your own rosette cashmere top
Koi Suwannagate uses vintage sweaters to create rosettes. "I like cashmere because even when you cut it up, it's still luxury," she says.
(Genaro Molina / LAT)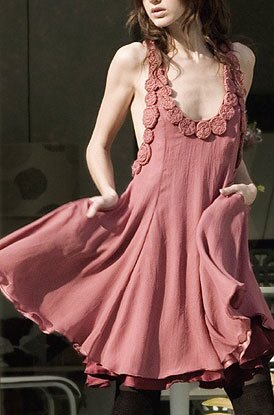 Rosettes line a dress by Mintee.
(Genaro Molina / LAT)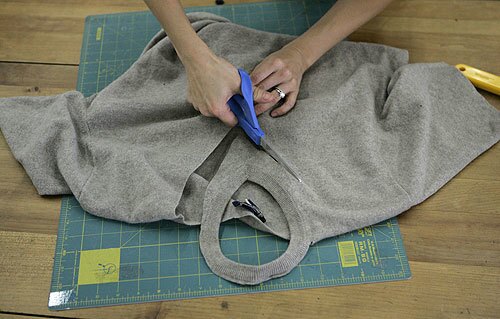 HOW TO MAKE THE ROSETTE CASHMERE TOP
Time: About 45 minutes
Materials: 1 long-sleeved, V-neck, loose-fitting men's cashmere sweater; 1 belt; optional: paper flower stamens (available at craft shops)
1. Using sharp scissors, cut the sleeves off just above the elbow, making sure the sleeves are even. Carefully and evenly cut around the neckline, about an inch away from the stitched edges. Try on the sweater to make sure the sleeves are the right length; if they're too long, trim them.
(Genaro Molina / LAT)
2. To make a pattern, cut 2 1/4 -inch and 3 1/4 -inch circles out of a piece of paper (you can make the circles as large or small as you like).
3. Take the cut-off sleeves and cut along the seams so that the material is flat. Pin the circular patterns to the material. Cut out three circles of the same size for each flower (for three flowers, cut out nine circles).
4. Try on the sweater — the V should be in the back — and determine the position of the flowers, using pins to mark the spots.
(Genaro Molina / LAT)
5. Fold each cashmere circle in half, then in quarters. With a needle and thread, sew the folded base of the circle to the spot where you want the flower. Repeat for the remaining two circles, sewing and anchoring the base of each of the three folded circles close together, but not overlapping. (You needn't be too exact.)
6. Repeat Step 4 for the other two flowers, anchoring them close to the first flower.
(Genaro Molina / LAT)
7. Optional: Take 3 flower stamens, fold them in half and sew them at the fold into the center of a flower. Repeat for one more flower, leaving one plain.
(Genaro Molina / LAT)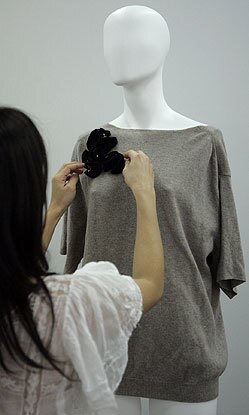 8. Wear the sweater with a belt, cinching the sweater at the waist.
(Genaro Molina / LAT)