SoCal standouts: Menswear brands helping put L.A. on the map
In late May, reports began to circulate that the L.A-based Band of Outsiders label had canceled fall 2015 orders to retailers. Then, in mid-June, founder Scott Sternberg took to Instagram to post what amounted to a farewell, explaining that he couldn't comment on the future of the brand "as that's out of my hands at this point."
It's a head-scratching turn of events for a brand that just notched its 10th anniversary last year. In that time period it grew from a menswear line offering just two products – super-skinny neckties and slim-fitting dress shirts – into a global men's and women's apparel, footwear and accessories brand with celebrity-filled advertising campaigns, a wholesale business (as of a 2012 Los Angeles Times profile) somewhere in the $10 million to $20 million range and standalone retail stores in Tokyo and New York City. And, while the future of the brand may be hazy, what it's done for Los Angeles-based menswear brands is crystal clear: It got the New York-focused fashion flock to pay attention to the West Coast. In 2007, Sternberg was one of 10 finalists for the Council of Fashion Designers of America/Vogue Fashion Fund award, and the following year he took home the CFDA's emerging menswear designer of the year award. In 2009 he earned the group's menswear designer of the year award.
In honor of Sternberg's status as godfather of L.A.'s current menswear moment that has local brands like Stampd and NSF (see our recent profile of both brands) recently named to GQ's best new menswear in America list, here's a list of our own. It includes some of the SoCal stalwarts, standouts and serious up-and-comers that are on our radar – and should be on yours.
Aether
Founded in 2009 by Jonah Smith and Palmer West, Aether (pronounced like "ether") Apparel is an L.A.-based brand focused on marrying technical outerwear to good-looking gear.
The look: Performance pieces with a stylish edge — think Patagonia by way of James Perse with a splash of Prada.
The key piece: An abrasion- and wind-resistant black leather motorcycle jacket with box-quilting detail and removable armor at elbows, shoulders and back.
The fans:All kinds of well-heeled adrenaline junkies — motorcycle enthusiasts, heli-skiiers and mountain climbers among them.
Women's too? Yes.
Where to buy: Aether's three standalone stores in New York City, San Francisco and at 161 N. La Brea Blvd. in Los Angeles (which includes a walk-in freezer for testing the garments) and online at aetherapparel.com.
Apolis
The look: Military- and workwear-inspired basics with a do-gooder appeal. With a business motto of "advocacy through industry," founder-brothers Raan and Shea Parton scour the globe for artisanal manufacturers to produce their designs.
The key piece: The washed linen Civilian blazer with a relaxed silhouette, lived-in patina and flap pockets, made in Portugal using "the highest social and environmental standards," according to the website.
The fans: Global citizens of the creative and entrepreneurial sort.
Where to buy: The Apolis flagship in downtown L.A., the brand's Nomad Markets in Venice, Calif., and Tokyo and online at ApolisGlobal.com and at more than 100 independent retailers worldwide.
Women's too? No.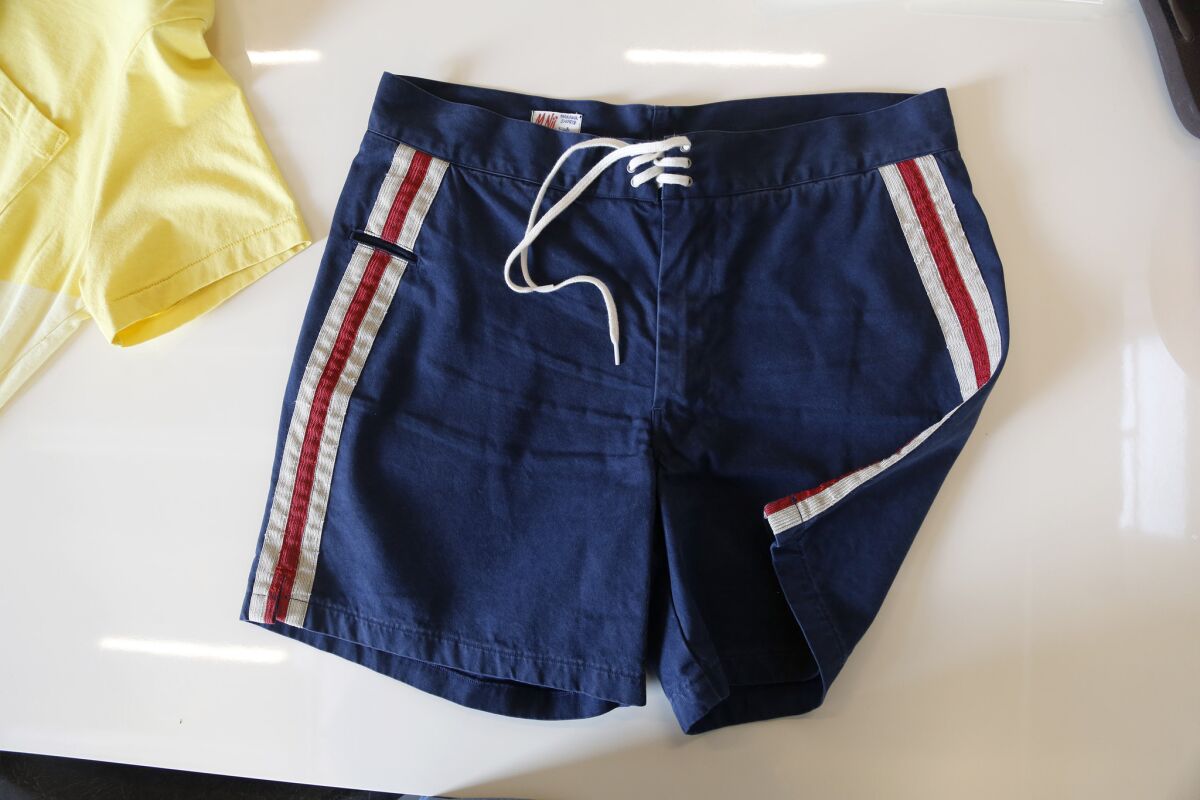 M.Nii
The look: A nostalgia-infused retro-surf vibe rooted in '50s-era Hawaii but based in Culver City that earned John Moore a spot on GQ's Best New Menswear Designers in America list for 2014.
The key piece: The Mahaka boardshort with lace-up waist and button-flap back pocket.
The fans: Guys with an equal appreciation of surf culture and well-crafted classics.
Where to buy: Local stockists include Union Made at the Grove, Ron Herman at Fred Segal Center Melrose and Mohawk General Store. Also available online at mnii.com.
Women's too? No.
Outerknown
The look: Although the soon-to-launch contemporary ready-to-wear label Outerknown is mostly an unknown at this point — details are being kept under wraps —it's worth mentioning for three reasons: founder and 11-time world champion surfer Kelly Slater, creative director John Moore (see M.Nii above) and backer Kering, the luxury conglomerate that owns Gucci, Alexander McQueen and Volcom. The press release that announced the line late last year stressed core values of: "Style, Sustainability and Travel," and included a photograph of Slater posing atop a pile of fishing nets that were going to be recycled into textiles for the line.
The key piece: Also currently unknown but if there's not some version of a board short in the mix we'll eat our responsibly sourced hat.
The fans: Whatever it looks like and however much it costs, we're betting it'll catch a killer wave of support with the eco-conscious sustainable surfer crowd.
Where to buy: We'll all find out in July when the line officially launches.
Women's too: Not yet. The Fall 2015 collection is men-only, but women's is in the pipeline for Resort 2015.
Women's too? No.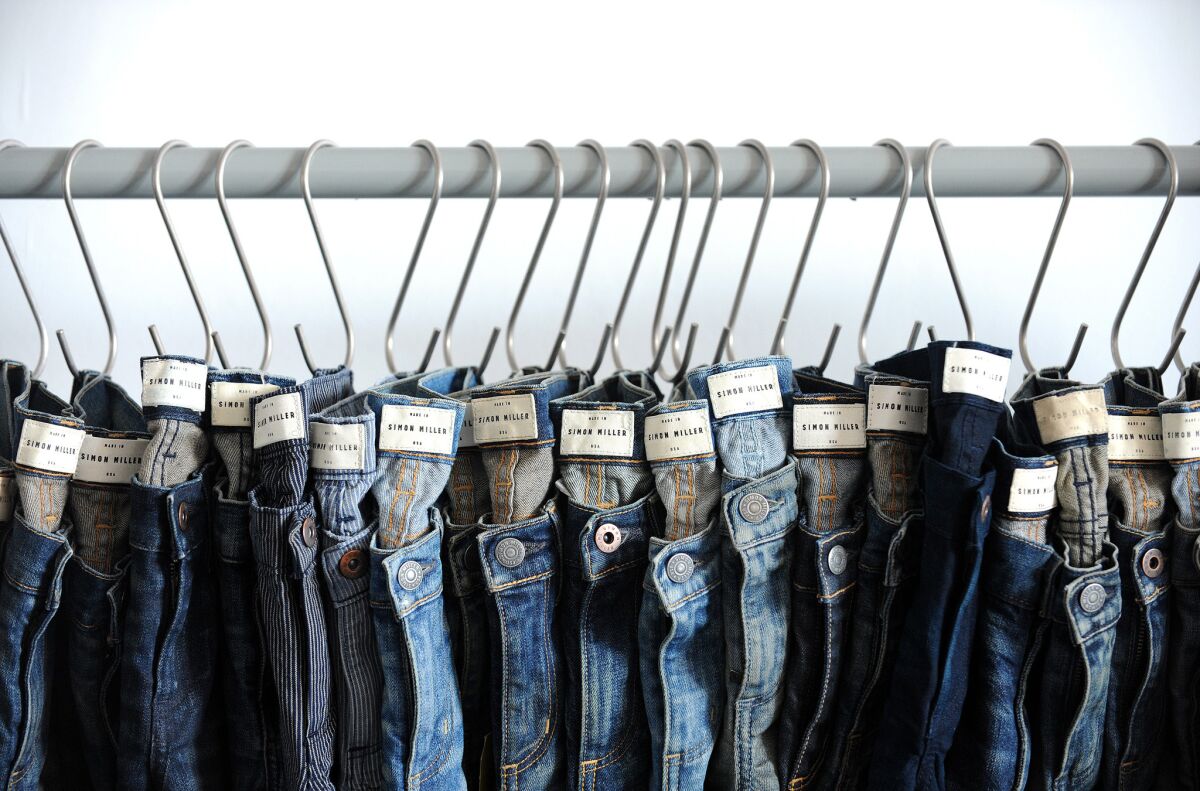 Simon Miller
The look: Council of Fashion Designers of America / Vogue Fashion Fund Award finalists for 2014, the denim-based Simon Miller brand helmed by co-creative directors Daniel Corrigan and Jake Sargent focuses on pairing intricate washes with luxurious fabrications. The
The key piece: Low-rise, slim-fit Japanese indigo canvas trousers.
The fans: Denim-heads, indigo junkies and lovers of artisanal luxe.
Women's too? The brand expanded into women's denim for fall 2014 and a full women's collection for spring 2015.
Where to buy: The line can be found at Barneys New York in Beverly Hills, Santa Monica and Glendale, American Rag, Ron Herman at Fred Segal Center and online at simonmillerusa.com.
Skingraft
The look: Founded in 2006, Skingraft has steadily grown beyond its signature second-skin leathers into tunics, T-shirts and layering pieces inspired by everything from post-apocalyptic nomads to motocross and hockey gear.
The key piece: While the brand is no longer just luxe leathers, the defining garment will always be one of the myriad riffs on the leather jacket.
The fans: Anyone angling for an edgy, just-gotta-be-me rock 'n' roll look.
Women's too? Kitson, Wild Style, the Well and the brand's flagship at 758 S. Spring St., Los Angeles, as well as online at skingraftdesigns.com.
Where to buy: Yes.
George Esquivel
The look: Buena Park based George Esquivel's new-school take on the old-school art of making shoes earned him a finalist's berth for the 2009 CFDA/ Vogue Fashion Fund. Classic monk straps, slides and wingtips are served up in traditional burnished brown and black leathers as well as nontraditional colors (think green suede, pink ostrich or silver metallics) often with hand-painted details.
The key piece: Artisan brown leather dress shoe with hand-painted captoe details.
The fans: The classics-with-a-twist crowd. His custom kicks are coveted by NBA players and rock stars.
Women's too? Yes.
Where to buy: Local stockists include Barneys New York in Beverly Hills, A'maree's in Newport Beach and Douglas Fir in Los Angeles as well as online via esquivelshoes.com.
The Elder Statesman
The look: Chait's exercise in slouchy, laid-back super-luxe knitwear earned him the 2012 CFDA/Vogue Fashion Fund Award.
The key piece: A striped Baja pullover hooded sweater in 100% cashmere.
The fans: Coachella-goers with VIP wristbands, haute hippies.
Women's too? Yes.
Where to buy: Various high-end boutiques globally as well as the brand's own flagship store at 607 Huntley Drive, West Hollywood, and online at elder-statesman.com.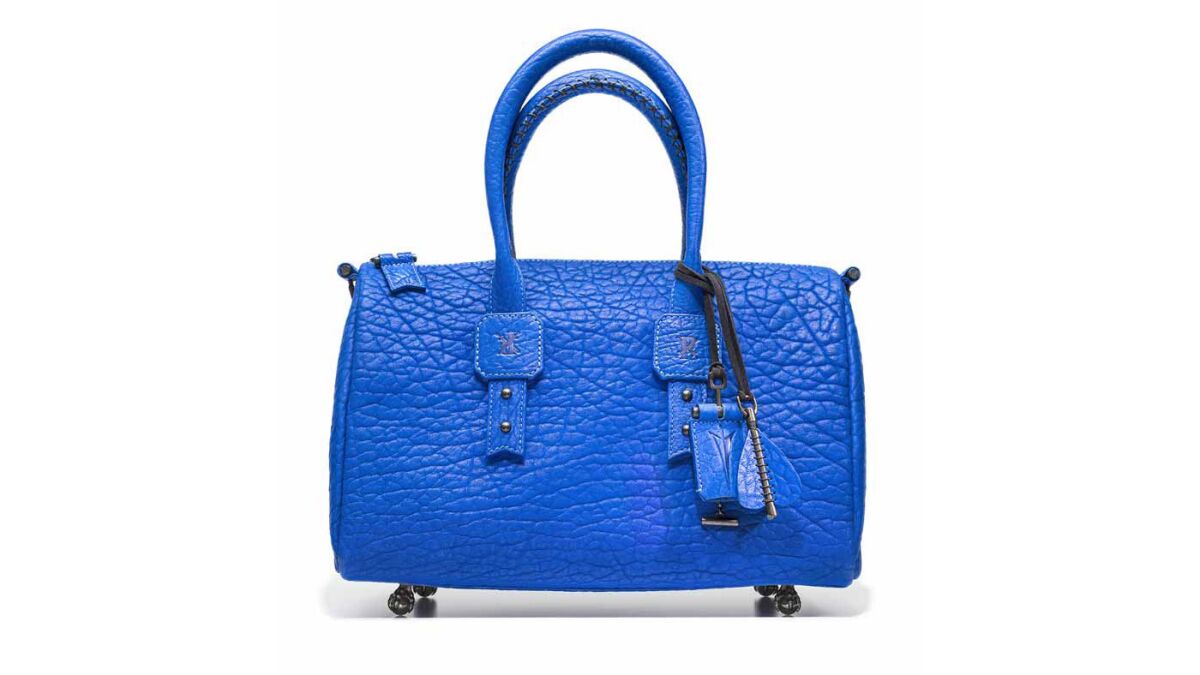 Parabellum
The look: Mike Feldman and Jason Jones, CFDA/Vogue Fashion Fund finalists in 2013, pair deeply textured free-range American bison leather with gleaming space-age ceramic hardware on a range of wallets, Kevlar-reinforced belts, bags and other leather accessories.
The key piece: Despite all the goods made for guys, the piece that truly epitomizes the Parabellum aesthetic is the Medicine Woman handbag in free-range bison leather with suede lining and ceramic ball and claw feet.
The fans: Lovers of luxe leather goods, space cowboys and those appreciative of the rough-meets-refined aesthetic.
Women's too? Yes.
Where to buy: Maxfield in West Hollywood, Union Los Angeles, Parabellum's flagship at 8251 Melrose Ave. Los Angeles, and online at parabellumcollection.com.
---