Moments in 'Zoolander 2' made for fashion insiders
While you certainly don't need to be a hard-core follower of fashion to enjoy "Zoolander 2," if you're the kind of person who can identify all the faces in a fashion week front row and compulsively correct total strangers when they mispronounce Ralph Lauren's name ("It's LAUR-en, not lau-REN"), there are some blink-and-you'll-miss-them moments in the movie you might appreciate almost as much as a Chanel sample sale.
See more of Entertainment's top stories on Facebook >>
A not-real Richardson: One scene with hipster designer Don Atari (Kyle Mooney) includes a background actor with close-cropped hair, eyeglasses, plaid shirt and camera slung around the neck that evoke the signature look of famous fashion photographer Terry Richardson.
Super-fast fast fashion: Minutes after Zoolander utters the line: "I'll call Billy Zane," the phrase turns up on a screenprinted T-shirt along with a stylized drawing of Zoolander talking on his tiny clamshell phone.
An out-of-the-way runway: The venue for a pivotal runway show in the film is an abandoned medical waste dump accessible only through a hole in chain-link fence. Not quite a Manhattan funeral parlor or a Milanese velodrome (to name just two honest-to-goodness past fashion show venues) but not too far off either.
Career-ending cleavage: Before she was with Interpol's Global Fashion Division, the voluptuous Valentina Valencia (Penelope Cruz) had a successful run as a swimsuit model. She had to switch careers because she couldn't transition to print advertising campaigns. The reason? Her ample bosom kept her from being "sample size." (Extra points if you noticed that the beauty mark on Valentina's upper lip switches sides over the course of the movie.)
Mugatu's zingers: At one point in the movie, Jacobim Mugatu (Will Ferrell) lobs a couple of barbs at some of the cameo designers, calling Marc Jacobs "Marc by Marc Jacobs" (a lower-priced line Jacobs absorbed into his eponymous label in 2015) and describing Tommy Hilfiger as "brought to you by white privilege." (Hilfiger zings him right back with: "You don't even know how to sew a down jacket!")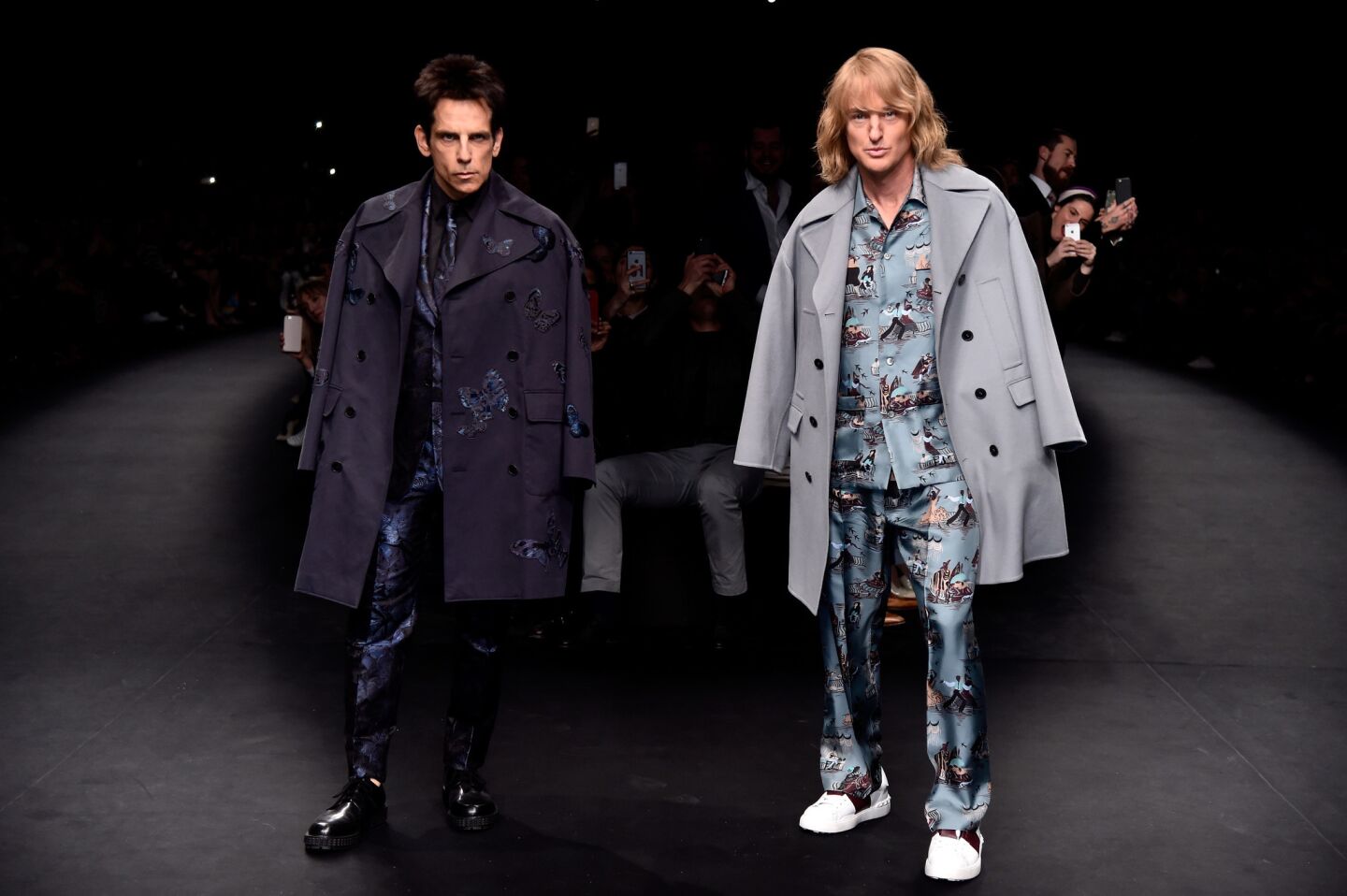 Derek Zoolander (Ben Stiller), left, and Hansel (Owen Wilson) on the Valentino runway during Paris Fashion Week in March 2015.
(Pascal Le Segretain / Getty Images )
Model teachers: When Zoolander and Hansel visit a boarding school in Rome, the teachers walking children back and forth in single-file lines in the background are, to the one, lanky and lithe, clad in thigh-grazing mini-skirts, with their hair pulled into high and tight ponytails atop their heads. (That the student they're there to see turns up in a schoolboy outfit and head of hair that make him resemble AC/DC's Angus Young makes it all the funnier.)
Fashion crimes: The prison holding Mugatu also houses a handful of others responsible for "fashion crimes" against humanity — among them MC Hammer (played by MC Hammer) doing time for popularizing roomy drop-crotch "Hammer pants," the inventor of the Members Only jacket and an inmate who keeps muttering the phrase "smart casual" over and over.
---