'Sex and the City': The top 10 looks from the fashion-forward series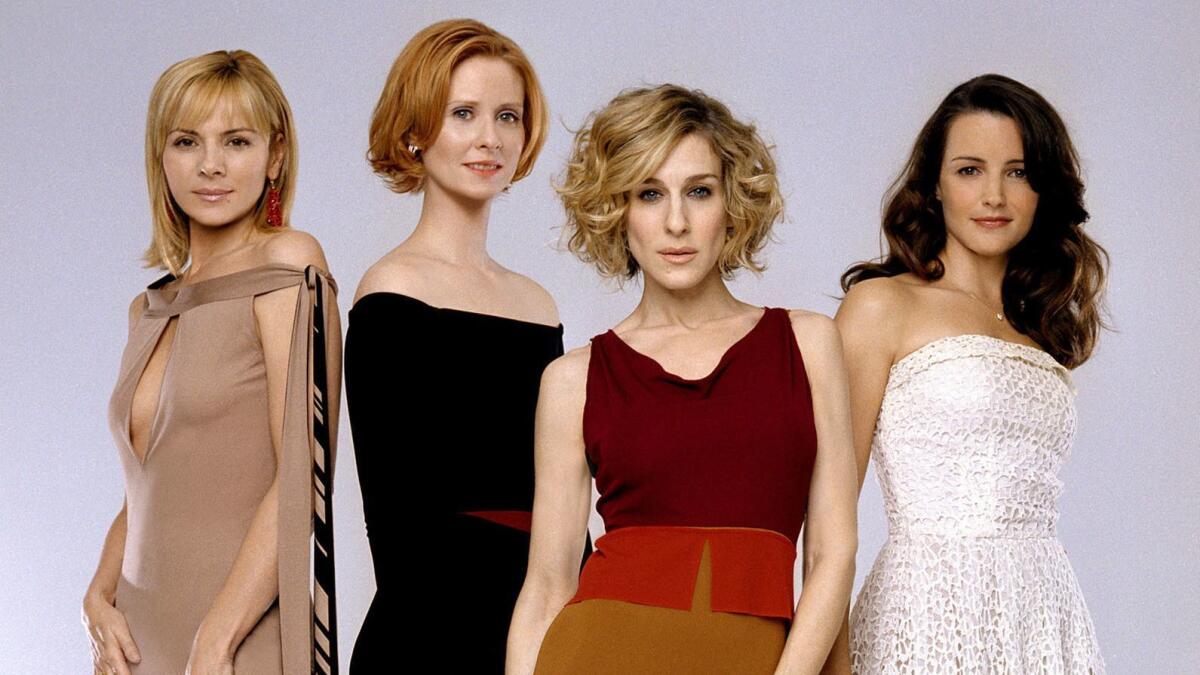 On June 6, 1998 one show flickered onto screens across the country and not only revolutionized television for women but sent lasting reverberations into the fashion industry. In HBO's "Sex and the City," Carrie Bradshaw's closet became the envy of women everywhere. Think: tutus, tube tops and Manolo Blahniks galore that magically sprang from her closet every episode. Every outfit for Carrie, Samantha, Charlotte and Miranda meticulously complemented and informed their characters. The effervescent fashion (almost a central character in itself) dazzled audiences and over time became an integral part of the show's legacy. To mark the 20th anniversary of the show's premiere, The Times rounded up 10 of the best looks styled by costume designer Patricia Field to unleash the (fashionable) green-eyed monster in all of us.
10. Samantha's teal crop top and pants
In the Season 3 episode "Escape From New York," the four women venture to sunny Los Angeles. Here we see Miranda, Carrie and Samantha walking out of their hotel. Samantha in particular is dressed in an eye-catching (somewhat outrageous) ensemble that make us wonder if is she is subconsciously channeling Princess Jasmine? However, this daring look is both glam and avant-garde — so we applaud Ms. Jones for taking a risk.
9. Miranda's pinstripe suit
Miranda's pinstripe suit from the sixth and final season of the series looks classic and sleek. We all know Miranda is an authority on the law, but here we see her moving into a sartorial master as well. In and out of the courtroom this suit is a triumph, case closed.
8. Samantha's white coat with fur trim
Winter on the East Coast can force even the most stylish of people to bundle up in dreary and drab outerwear. But leave it to Samantha Jones to find a posh white jacket with fur trim and geometric printed trousers that peek out from underneath to heat up the streets of NYC. Samantha maintains her sultry sense of style no matter how cold the temperature.
7. Charlotte's forbidden-fruit bathing suit
This tongue-in-cheek outfit appears when the whole gang visits the Playboy mansion in the Season 3 episode "Sex and Another City." Cherries have been a sexual symbol for centuries, which makes Charlotte's stone fruit printed bathing suit an amusing but also trendy-meets-sexy option.
6. Miranda's denim dress
This classic piece is so effortlessly stylish. The belt and hoop earrings are Western accents that add some causal drama to the outfit. Plus we like the reusable tote bag — eco-conscious never goes out of style.
5. Charlotte's strapless bow dress
This fitted strapless blue plaid dress mirrors the confused and blue mood Charlotte is in after her failed marriage with Trey McDougal. The color tones of the dress can also be seen as a clever nod to the iconic Tiffany & Co. blue color, which parallels the narrative as Charlotte debates selling her Tiffany engagement ring in an effort for independence in the Season 4 episode "Ring a Ding Ding." Even in sadness, Charlotte manages to look good as ever.
4. Carrie's Parisian debut
This trés chic look designed by Sonia Rykiel has got us dreaming of our next trip to The City of Light. A romantic and feminine twist on Parisian style, it is hands down the perfect outfit for Carrie's arrival in Paris in the Season 6 episode "Out of the Frying Pan."
3. Samantha's sheer orange top and printed pants
A sheer fiery-orange blouse + black and white printed trousers + pale blue slingback heels = one big fashion win. Samantha's outfit is both sexy and smart. We can appreciate the playful use of color costume designer Patricia Field implemented for this outfit. Samantha is a bold and daring character that never shies away from sex, taking control at work and everything beyond in her daily life and that is paralleled through the strong clothing she wears.
2. Carrie's Dolce & Gabbana floral dress
Dolce & Gabbana has nailed the romantic floral dress. This stunning D&G dress appears in the Season 4 episode entitled "The Real Me." Carrie originally gets fit to model the show-stopping look above, but at the last-minute the dress goes to supermodel Heidi Klum. Shucks.
1. Carrie's tutu skirt
The only thing more instantly recognizable than the show's distinctive theme song? Carrie Bradshaw's signature mini white tutu skirt and pink tank top (as also introduced in the opening credits sequence). The high meets low fashion look, which also made an appearance in the 2008 film, easily danced its way to the top of our list.
ALSO
'Sex and the City': Every single person Carrie, Miranda, Charlotte and Samantha dated
Yes, 'Sex and the City' was unrealistic and too white. But it leveled the playing field in a man-dominated world
'Sex and the City' turns 20: How the HBO series revolutionized TV and dating forever
'Sex and the City' was the frothy guilty pleasure this man needed. Until it wasn't